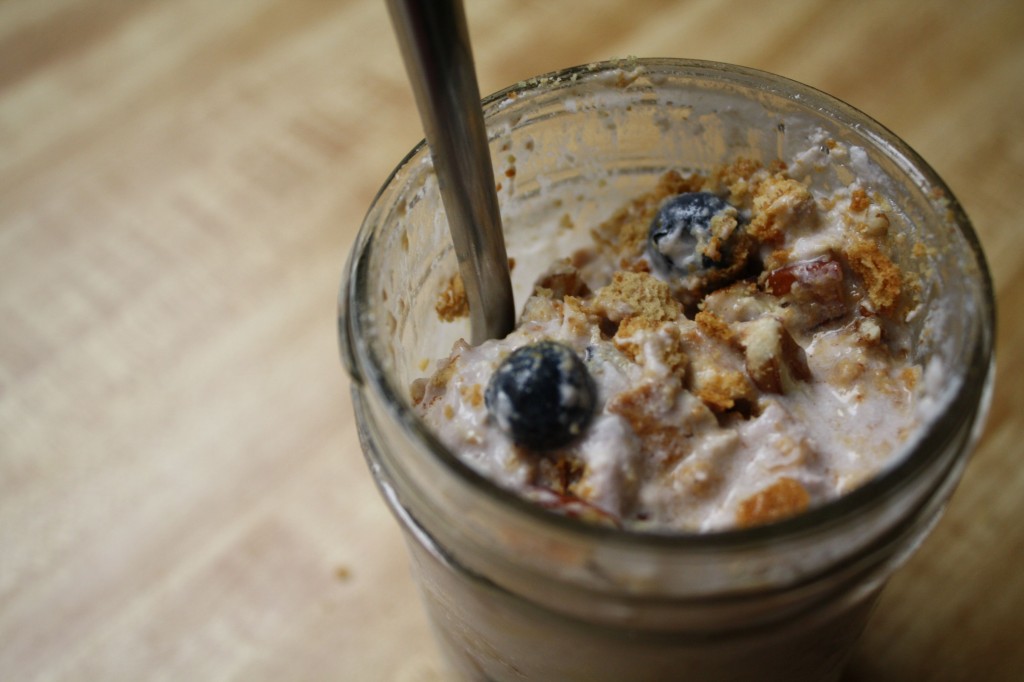 Sometimes I'm late to the party. And this would be one of those times.
Overnight oats is an online blogging creation and like all good things online, it does feel a bit crowdsourced. Some people like it with nut butter. Others with chia. I've been personally drooling on a variation with cacao nibs but for this particular recipe of breakfast decadence, I went the route of pie.
Blueberry cream pie.
I'm not sure about you, but I go through spurts of ingredient obsession and this is the year smitten by blueberries. They are my sweet treat in bite-sized morsels. And sometimes they like to get dolled up.
I make my overnight oats in small mason jars and they really are the perfect take-to-work breakfast for those days when something more indulgent is called for. I've made it with non-fat cow's milk yogurt and with goat's milk yogurt, but sometimes you don't want the tang. Sometimes you want to splurge.
And this friends, is the recipe to make my non-morning self excited to get out of bed.
You're still getting oats and lovely probiotics from yogurt, but what makes this recipe fall in the category of decadence is sugar and fat. We're talking whole milk yogurt here, the kind you might bypass in favor of something less fattening. Then add to that shredded coconut and coconut milk–  this is one creamy dish  to get your week started on an unexpected celebratory note.
Because let's be honest. Monday needs a bit of oomph sometimes.
[print_this]
Blueberry Cream Pie Overnight Oats
(Here's the thing. I love oatmeal by itself and most overnight oats recipe use a ratio of 1 part oats to 1 part yogurt and 1 part milk (nut / soy / cow's). I've had it that way and wanted more oats. So to compensate, I let my oats and goodness gel a whole day longer and added another 1/4 cup coconut milk the next day. The result was silkiness and a ridiculously creamy texture. They might be more aptly named Double Overnight Oats but lest there are too many descriptors already, so we're staying as is. *You can try this recipe below without the extra day factored in and using the ratio mentioned in the beginning of this pre-cursor cum diatribe if you're wont to. )
YIELD: Makes 1 decadent little jar of goodness
1/2 cup rolled organic oats
1/4 cup Straus whole milk organic vanilla yogurt
1/2 cup coconut milk
1 tablespoon shredded coconut, unsweetened
2 tablespoons organic blueberries, rinsed
1 tablespoon pecans, chopped or broken by hand
1/8 teaspoon ground Saigon cinnamon
1/2 sheet organic honey graham, crumbled
1. Place the oats, yogurt, 1/4 cup of coconut milk, shredded coconut, cinnamon and rinsed blueberries in your small mason jar. Stir and then seal. Let sit overnight.
2. The next morning add in 1/4 cup of coconut milk. Seal and let sit overnight.*
3. Add crumbled graham cracker and pecan bits to your oats and stir.
[/print_this]