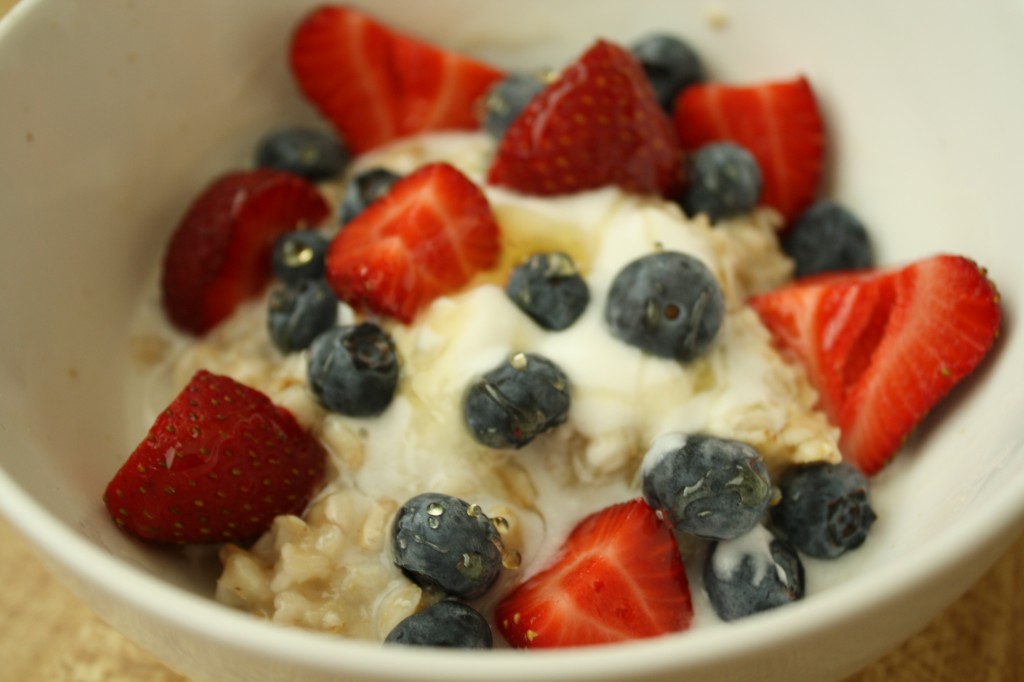 I have a soft spot in my heart and at the breakfast table for oatmeal. Something about starting the day with a bowl of warm and comforting oats just seems right. Instant oats are not my favorite way to enjoy them, but in a pinch, they can do just fine- the secret as with most things is seasoning.
This recipe is simple and probably easy to assemble from your cupboard and fridge at this time of year. "Patriot oats" celebrates through color the hopefulness of independence day – in this case the Independence of America from the Brits so long ago. The blueberries, strawberries and coconut milk lend themselves to be patriotic in scope of the celebration of July 4th. In that vein, I did some digging to better understand why red, white and blue became our country's colors and learned:
"Congress of the Confederation chose these same colors for the Great Seal of the United States and listed their meaning as follows: white to mean purity and innocence, red for valor and hardiness, and blue for vigilance, perseverance, and justice."
Betsy Ross, the woman who sewed our first flag is a name for history books and yet she has something still to teach us about change and character. While her life was marked by hardship, she exhibited the tenacity and verve of spirit necessary in sussing out what living out independence looks like.
If you look at your life today, do you find need of winning the battle for independence? Perhaps you're mired in a job that is joyless, succumbing to addiction or even beleaguered by a pesky habit. There is no time like the present to make a change. And as I mentioned here, change is sometimes an arduous feat, the bit of a bridle in the horse's mouth and waiting as the entire animal turns. It takes courage to admit the need to change course. Then comes adherence to the recognition. I'm told lasting change comes a bit at a time.
So let's start with breakfast.
[print_this]
Patriot Oats – Mixed Berry Oatmeal
YIELD: 2 servings 
1 1/4 cups water
2/3 cups thick & rough oatmeal like the Silver Palate
2 tablespoons coconut milk
1/4 cup organic blueberries, rinsed
1/4 cup organic strawberries, rinsed, hulled and chopped
Drizzle of local honey
1. Set pot of water on stovetop and cover over high heat until boiling.
2. Then remove the lid and lower the temperature, adding in the oats gradually. 3. Cook for 8-10 minutes and stir occasionally.
4. Let oats sit for 1-2 minutes and then ladle them out into two separate bowls. 5. Add a dollop of 1 tablespoon per bowl of the coconut milk.
5. Then equally divide the berries into both bowls.
6. Lastly drizzle local honey over the top- just a drizzle to augment the berries natural sweetness.
[/print_this]