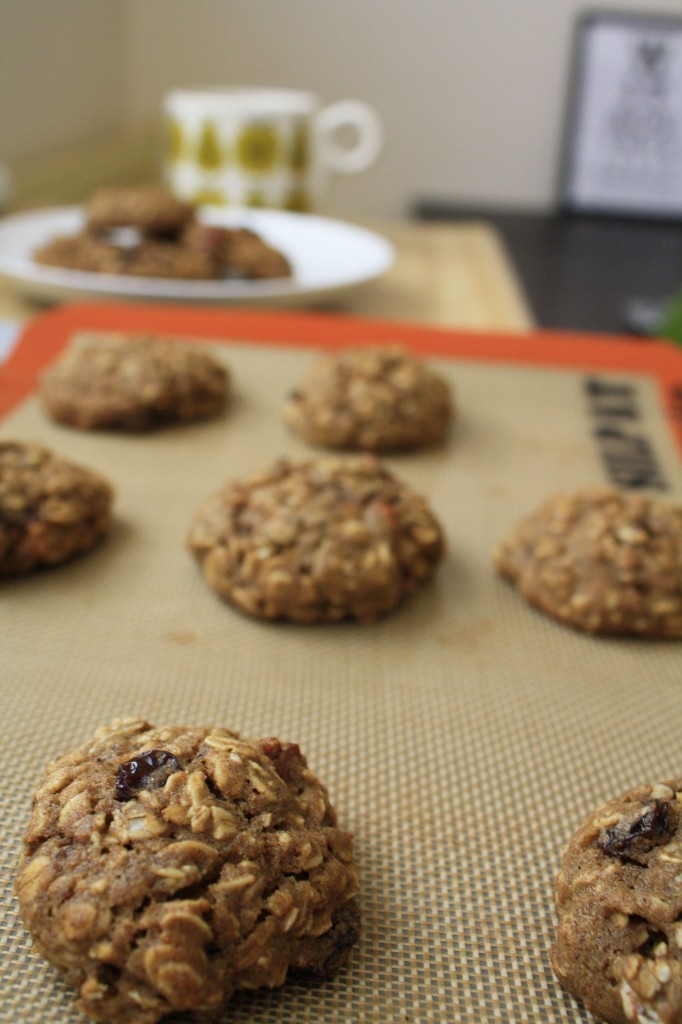 A certain Mister has a fondness for oatmeal cookies. He and I talked ad nauseum about the variations on Oatmeal Raisin and we agree, there's something extra special about a basic oatmeal raisin cookie. How do you take something delightful and basic and make it better? Easy.
Bake it with fall spices, a bit o' pumpkin and play with different flours. Those of you reading this who are gluten free- so is this cookie. Adding teff flour boosts the iron, protein and calcium and pairs well with the brown rice flour. The smell of mesquite flour hearkens back somehow to a Texas sunset and makes your kitchen smell warm and inviting. I decided to experiment with using half refined sugar and half maple sugar, which is less sweet than refined as I really wanted the sugars to accent the natural sweetness of the raisins. Cinnamon, cardamom, nutmeg and pumpkin kick it up a notch. You'll find the texture to be hearty as the toothsome flours play to that of the oats. My taste-testers all gobbled up the cookies- everyone from the Mister to the artist friend, the retired soccer player and the amiable bus driver. And I have a hunch you might like them too.
[print_this]
Spiced Oatmeal Pumpkin Pecan Cookies
YIELD: 2 dozen cookies
TIME: 15 minutes – overnight – 30 minutes
¼ cup teff flour
¼ cup mesquite flour
1 cup brown rice flour
1 teaspoon kosher salt
1 teaspoon nutmeg
2 teaspoons cinnamon
¼ teaspoon ground cardamom
1 teaspoon baking soda
1 cup butter, melted
½ cup maple sugar
½ cup refined sugar
¼ cup pureed pumpkin
2 large eggs
1 teaspoon vanilla extract
2 ¼ cup rolled GF oats
½ cup raisins
½ cup chopped pecans
Combine teff flour, mesquite flour, brown rice flour, salt, nutmeg, cinnamon, cardamom and baking soda in a large bowl. Whisk until combined.
In a separate bowl, mix butter, pumpkin puree, maple sugar and refined sugar until completely combined. Then whisk in the eggs and vanilla.
Add ½ flour mixture into the sugared butter bowl and mix until combined. Then add the rest of flour mixture and mix until completely combined.
Mix in oats with a spatula. Then mix in raisins and chopped pecans with spatula until combined. Cover bowl tightly and refrigerate overnight.
Preheat oven to 375.
Place sheet of parchment paper or silpat on your cookie sheet. Use a tablespoon and scoop out medium sized portions of dough onto cookie sheet. With your hand, press down on dough without pressing cookie flat.
Cook for 16 minutes. Let cookies cool on wire rack.
[/print_this]