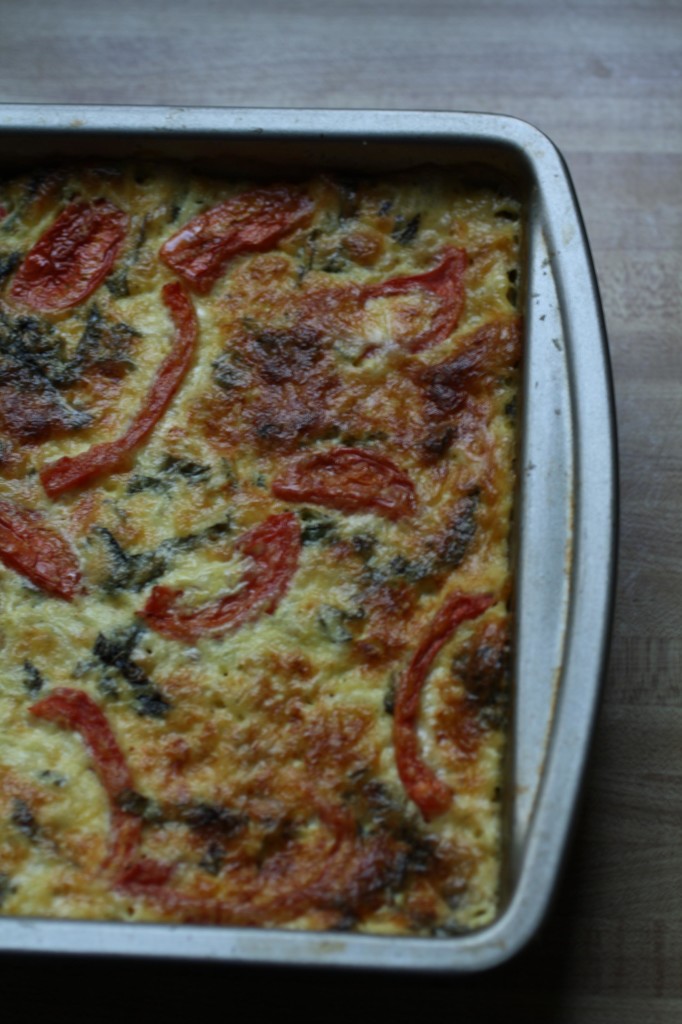 Whoever first stirred a pot of hot steel-cut oats did themselves and the world a favor. Hailed for its high fiber and stick-to-your-ribs qualities, oatmeal might be the grandfather heavyweight of breakfasts. Indeed, I worked with a man named Bob who would make a bowl of quick oats for breakfast and lunch, though I can't speak on behalf of his dinners. He claimed he ate it for heart health and because he couldn't think of anything that could surpass this economic convenience food.
Like Bob, you might already be a fan of oatmeal. Perhaps you pour milk into your hot oats. Maybe you drizzle in a slow stream of maple syrup. Before you reach for your sliced banana or impulsively unzip the bag of dried cranberries, I'm about to say something a bit unpopular.
In the wake of its massive groundswell of consumption, oatmeal has gotten short shrift. Poor oatmeal has been consigned to a neverending buffet of breakfasts. Something about this whole grain has pigeonholed it too easily into the before 10 a.m. meal bracket. The years of palate conditioning have provoked a response to reach for those familiar aforementioned ingredients to jigger up a bowl of breakfast. Perhaps I'm being irrational- I can't think of anything better to eat on cold winter mornings, but maybe there was a lesson to be learned from Bob's mealtime habit years ago. Why relegate this whole grain to winter mornings and let the midday and evening opine?
I'm not advocating for turning out sheet upon sheet of oatmeal raisin cookies, which might just be the crunchy equivalent of that morning bowl of oats in round, portable form. No, I want more for us. Let's unshackle the pot of oatmeal from the breakfast bar. Let's wrest it from the middling, and, may we say, boring place it currently holds. Instead, let's bring oatmeal into a sophisticated side dish that's easy to prepare, colorful and full of comforting flavors reminiscent of the end of summer.
Enter Tomato Basil Savory Baked Oatmeal, a mistake sponsored by hunger, and one that satisfied on several levels. Last September, when the tomatoes began roundly asserting themselves in farmer's markets and local stores, several ventured home with me. Our San Francisco summers officially begin in October and so on that chilly sixty-degreed September morning, I craved something hearty and only oatmeal would do. But, I also lusted after a fresh egg cracked into a sizzling pan and served over easy.  Before I knew it, the egg had leapt on top of the oats and basil joined the fray along with its best pal, tomato. All that remained was a deft hand to shave some parmesan atop. What happened next is the stuff of secret societies- some great truth had been passed down and like all with an inclusive bent, it needed to be shared. But, then the vine dried. The breakfast faded into memory.
If you look into your produce bin, perhaps you spy a tomato or two? Out back, maybe shoots of basil bask in the sun? The fridge should never be bereft of a good hunk of parmesan- do you see it lurking in the cheese drawer? In your possession are three of the star players in this Tomato Basil Baked Oatmeal. You are on your way to bypassing staid side dishes. Because you may not have a quart sized jar of oat groats in the cupboard, visit the bulk bin and scoop deeply. The crusty parmesan cheese burnished into the top of this casserole will pay back your efforts. May you take heart in the green ribbons of basil and red hunchbacked tomato slices punching in overtime on color. May your tongue do a tango as it takes in the custardy filling and chewy whole oat groats reminiscent of a corn pudding.
In other words, now is the season to exult and rejoice in the bounty before fall arrives. Then it will be time for popsicles- if you live in San Francisco. And, as for breakfast, perhaps you will pull a dinner ingredient into the before 10 slot. Or, make this for brunch, giving homage to Bob.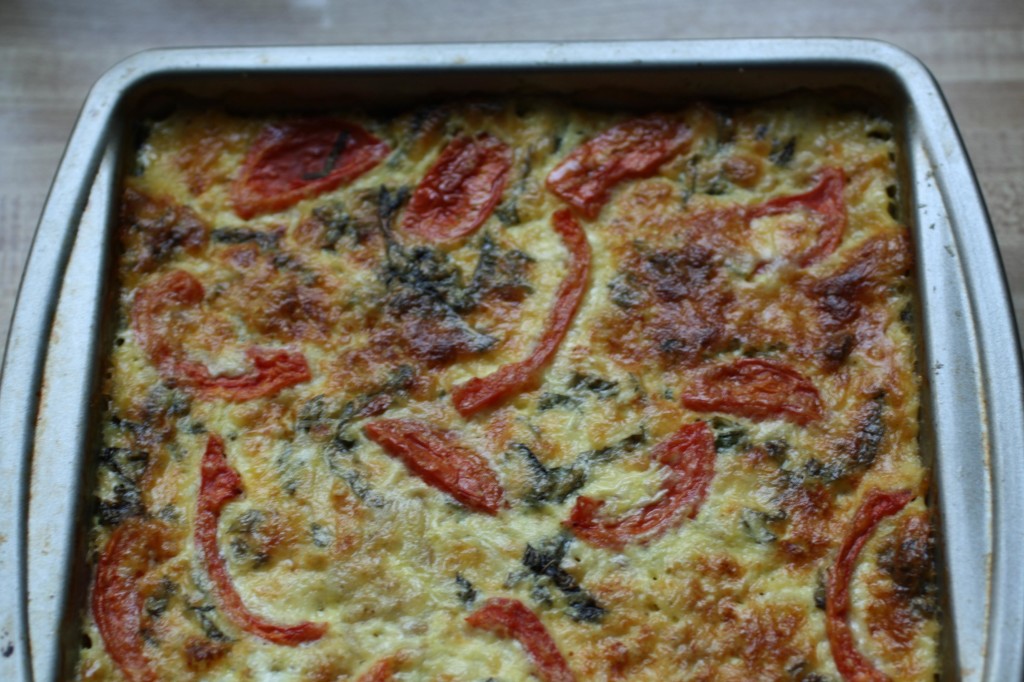 [print_this]
TOMATO BASIL BAKED OATMEAL
YIELD: 6-8 servings
INGREDIENTS
3 small tomatoes
1/3 cup basil
1 tablespoon baking powder
2 cups cooked oat groats, cooled
2 tablespoons melted butter, cooled
1 cup whole milk
1/2 cup heavy cream
2 eggs
1 teaspoon kosher salt
1/4 teaspoon freshly cracked pepper
1/3 cup plus 2 tablespoons grated parmesan
INSTRUCTIONS
Preheat the oven to 375. Dip a paper towel into your cooled melted butter and swipe it over a square pan and cover its surface lightly with the melted butter.
Rinse and core the tomatoes. Cut them in half and then cut each half into 1/4 inch slices. Using a grapefruit or tomato spoon with teeth, pull out the guts of the tomato slices and discard.
Pull off basil leaves from their stems and stack them on top of one another. Once you have around 15, curl the leaves into one another like you might roll dried fruit leather. Curb your left hand fingers over the basil roll-up and with a chef's knife in your right hand, begin chopping right to left with precise straight cuts to get the basil ribbons from the chiffonade.
Stir the baking powder and cooked oat groats into a large bowl. In a medium sized bowl, whisk together the eggs, milk, cream, remaining butter, salt and pepper. Stir in the 1/3 cup of grated parmesan to the egg mixture.
Arrange half of the tomato slices in the bottom of the square pan, scattering half of the basil ribbons over them. Spoon out all of the oat groats. On top of the oat groats, arrange the other half of the tomato slices and basil ribbons. Pour the egg batter over the tomato basil and oats until all of it is covered. Sprinkle the 2 tablespoons of remaining grated parmesan on top.
Bake for 55-60 minutes or until the top is browned and the contents of the pan do not jiggle when jostled. Cool for 5-10 minutes on a wire rack before serving.
[/print_this]