Like a deejay with a favorite song in regular rotation, Chicago used to get played at least once a year in my life. I would exit the McCormick Center after working the NRA show (and lest you envision me donning a rifle, those initials stand for National Restaurant Association show) set out on the Metra for downtown reveling in the architecture and the creative culinary scene in those few evening hours set aside for a bit of exploration. As things go, I haven't had the occasion in a while to set foot outside of O'Hare or Midway airports. Recently, during a family trip, we carved out 24 hours to claim as our own. If you find yourself in a similar situation or want to take this tasting menu approach to deep diving into a city quickly, you might find it not only a fun challenge but a memorable adventure. And so, with 24 hours in Chicago at your disposal, here's your cheat sheet of where to go and what to eat.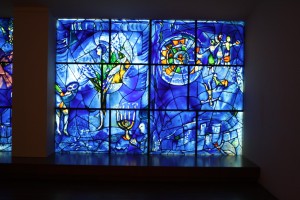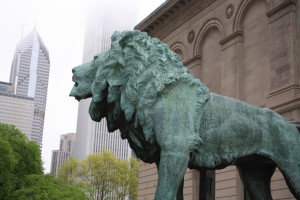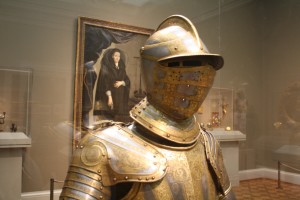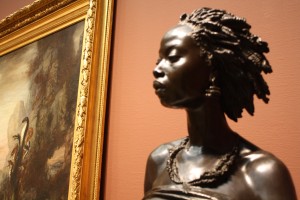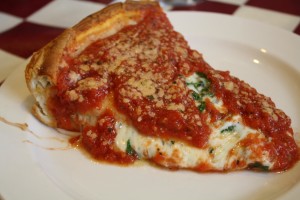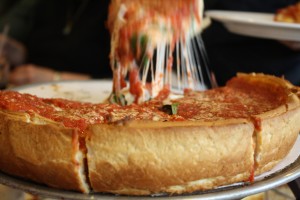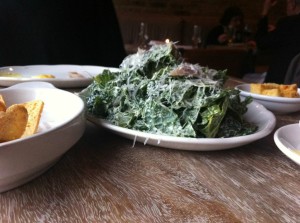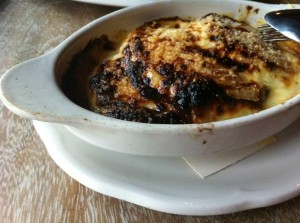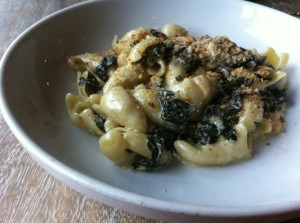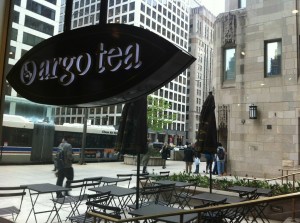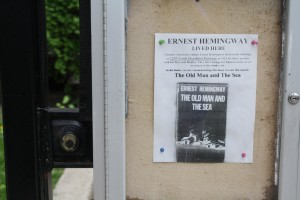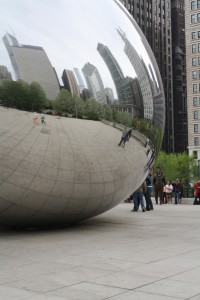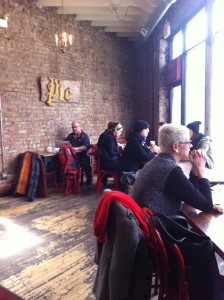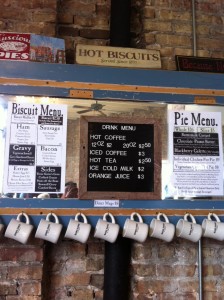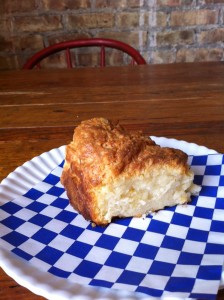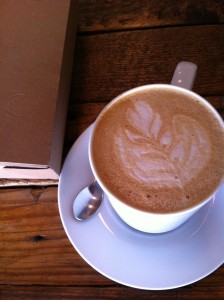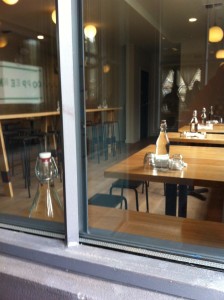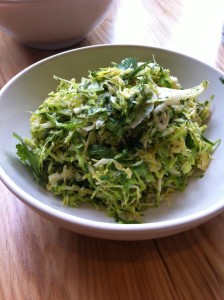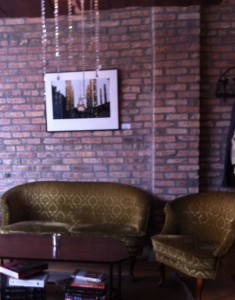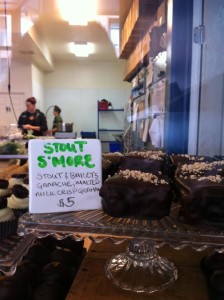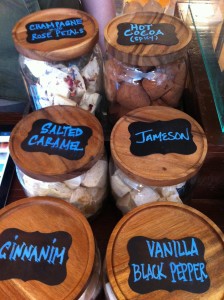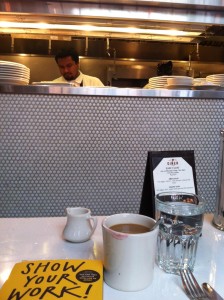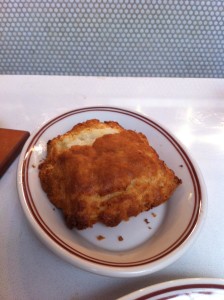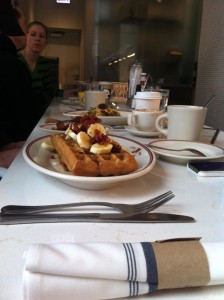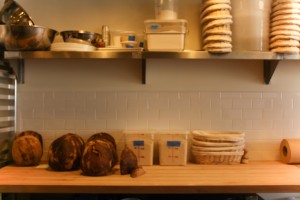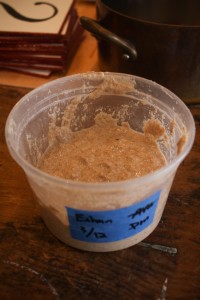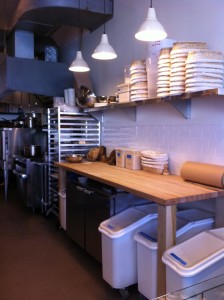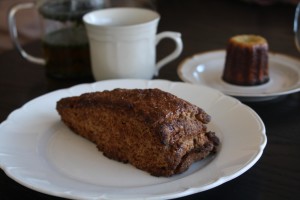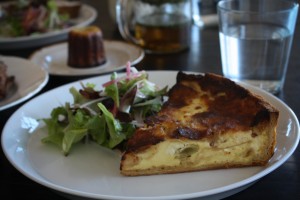 —————————
ERNEST HEMINGWAY HOUSE / WALK ALONG WATERFRONT
If you read "The Paris Wife" by Paula McLain, then you know Ernest Hemingway's early days with first wife Hadley Richardson began in Chicago. What you may not know is that his house happens to be near the waterfront at 1239 North Dearborn. Out for a leisurely stroll through the park toward downtown one morning we happened upon his house. I couldn't believe it and had to glance at the sign in front of the house several times just to make sure it had read it correctly. Sure enough, in 1921, he and Hadley rented the top flat for four months after they first married. Standing outside the fenced in house, I wondered about this phase of his writing life, all of the utter potential that still lay before him largely untapped and how time spent in this flat as a newlywed all culminated to impact his writing.
GIORDANO'S
If you want a slice of Chicago deep dish pizza, the responses vary. Call me sentimental, but only one place satiates that urge. I first happened upon Giordano's with a local friend and stumbled upon their spinach deep dish. The steel spatula cuts through the layers to move a slice onto your plate with the melted cheese reticent to tear itself away from the rest of the pie. The thick chunky tomato sauce, paired with the buttery crust, cheese and spinach is reminiscent of SF favorite, Little Star Pizza.
MICHIGAN AVENUE- WALKING BEYOND THE MIRACLE MILE
Walking in Chicago can take you to unexpected places. Most people are familiar with the "Miracle Mile," that stretch of North Michigan Avenue that puts you on the path of posh boutiques and familiar brands of clothing stores. If you have it within you to stretch your legs for a while, let them take you well past that mile and down to South Michigan. This is one of my favorite jaunts in the city because of the breathtaking architecture, the lazy river that dissects downtown and the incredible public art. So much of downtown Chicago is meant to be experienced on foot and you can miss the small details when whizzing by in a car or cab. Millenium Park with its beloved stainless steel "Bean" sculpture delights people who walk up close and marvel at their reflection or the cityscape and sky reflected that make it look transparent in the right light. Just beyond it are two tall sculpture towers that broadcast filmed facial expressions along the stonework and water streaming down the surface. If you keep going you end up at the Art Institute and then even beyond that is another sculpture garden. Chicago makes art open to all, displaying natural alongside created beauty on this long walk.
ARGO TEA
Before you head over the bridge from North Michigan to the Art Institute, stop at Argo Tea. By this point, you might be parched and in need of refreshment. This local tea company has really ramped up their national distribution of iced tea in sleek reusable glass vessels, now available in specialty stores and convenience stores but there's nothing like going into their teahouses with their vast selection of tea flavors and varieties of presentations. I'm partial to the Mate Latte, a blend of yerba mate, coconut and cocoa that when paired with a splash of milk and served over ice needs no sweetener and gives a lift of caffeine without making you jittery. They also serve bubble tea, hot tea, snacks and small meals. Rejuvenate in the summer with their iced tea sangria or a steaming cup of Charitea in the fall.  
ART INSTITUTE OF CHICAGO
Dirty little secret: if you head to the Art Institute an hour before they close, they drastically reduce the entry fee. If you decide to visit the museum with that approach, have a game plan in place and figure out what exhibit matters most to you, otherwise you might not get to it. I always make a beeline to visit my favorite painting of theirs: "Meekness" by Eustache Le Sueur, a gilded pastoral depiction of this virtue. I also make my way to see "The Bedroom" a fairly frenetic painting by van Gogh. Something about repeat visits to paintings that have left impressions reveals something new about the painting and the viewer. If time allows, visit the Frank Lloyd Wright pieces. But the piece de resistance, the one that is not to be missed are the Chagall windows in the basement. As one of my favorite artists, these windows are an incredible homage to America with the motifs I've come to appreciate from Chagall. As you leave the museum, make a pit stop in their museum store for unique finds and think about fist bumping the copper lion statues guarding the museum out front as you exit.
BALENA
Choosing one restaurant to eat at for dinner in Chicago is like asking a mother of 8 which child is her favorite. It can't be done, at least without devastating consequences for the other seven, right? Contenders for this spot included favorites like Frontera Grill for Mexican, Avec for rustic comfort food, Mercat a la Planxa for Spanish and others that came to mind. But, given that it had been far too long since the last visit to Chicago, we opted for something new with help and advice from local friends in the know. That Balena's head chef was nominated for a James Beard award in 2013 stood out as did key selections on their menu. Then again, getting to venture down to Lincoln Park also had its perks. What I really appreciated about Balena (pronounced Balayna) is their rock solid hospitality as they had presented a printed gluten free menu for Beck to peruse upon being seated. In the end, we shared a cheese course to start and split a kale caesar salad. For my main course, the Orecchiete, Kale, Lemon, Bread Crumbs and Chili arrived well seasoned and al dente. I still crave the side dish of Sweet Onion Gratinato with white wine and grand padano, highlighting the naturally sweet quality of onions in a creamy sauce with burnished cheese atop. Balena treated us just right.
THE GREEN MILL
After dinner, head over to The Green Mill, which is conveniently right off of the EL at the Lawrence stop. We had made plans to spend time with a local friend, who suggested we meet up at this popular locale for Chicagoans ready for a bit of late night jazz. Arrive early as you might be hard pressed to snag one of the small tables after 9 p.m. We grooved along with the music and made friends as our table became communal. Before long, the dance floor filled with  regulars who then frequented a few other tables, peppering them with "hello's." This is the place to go for old Chicago swing.
HOT CHOCOLATE
Seeing as I am a fan of chocolate and all things dessert, I can't recall why I never skipped across town to check it out for myself before because, let's face it, this is the Charlie and the Chocolate Factory of restaurants in Chicago. Mindy Segal's playful dessert menu sidles up well with her no joke savory side. This particular day, a few of us swooped into a steaming pot of macaroni and cheese, creamy, gooey and a good side dish to share. I tried a bite of my friend's burger because he audaciously claimed it is the best in town and I trust his tastebuds, and it was really quite amazing. I gobbled up half of the Philly-style chicken thigh cutlet sandwich with broccoli rabe pesto and taleggio on a garlic-toasted house made hoagie but didn't leave room for dessert. How that's possible is beyond me. But, I snuck in a sip of the signature dark hot chocolate and promptly joined the fray at the counter, wrestling over whether to purchase Mexican or Espresso Hot Chocolate, as if any choice existed for this Mexicana. 
EATALY
While the founders of Eataly would cringe if they heard this, now having visited both locations in New York and Chicago, I would call this the Ikea of the slow food world. First of all, the egress of Eataly pulls in would-be shoppers and diners into discovering items they didn't know they needed. Since Eataly happened to be a short distance from my conference hotel, it proved the perfect place to steal away with a book for a quiet meal at the counter. If you dine at the counter in La Pasta, line cook Oscar will give suggestions about menu items. The Cacio e Pepe gave the requisite kick of black pepper and creamy Parmesan as I twirled the noodles around my fork. Another time, I sampled the Pappardelle con Funghi, a housemade egg pasta with shiitake mushrooms in a comforting tomato sauce. Yet another time, a small group of us wound our way to La Verdure, a vegetarian restaurant steps away from the ever-popular La Pasta / La Pizza. The notion of multiple restaurants inhabiting the open space makes for easy alternatives. At La Verdure, I ordered the Cavolo Nero salad composed of black Tuscan kale with grapefruit, pomegranate, Parmigiano Reggiano Frico that made a satisfying lunch. On yet another occasion, I opted for the Cannelloni, a decadent trio of housemade egg pasta stuffed with ricotta and spinach, sauced in béchamel. If you happen to be in the neighborhood and want a little something sweet,  head to the Lavazza Café for a short shot of liquid dessert in the form of their Neve Sulla Lava, three layers of flavor and temperature. Thick Italian drinking chocolate makes up the base with espresso granita on top and freshly whipped cream. Yowza. 
LITTLE GOAT DINER
Situated on the corner of West Randolph, this diner does a good job of playing up its fun modern interpretations on comforting brunch fare that they call "cereal killers," sandwiches and more. I knew I wanted to visit for breakfast. Little Goat offers a steal of a deal of $10 breakfasts in three combinations with one of them being gluten-free, if you dine between 7-9 a.m. My Simple Goat selection of eggs, hash browns and biscuit offered a lot of food for a small price. Did you miss that time window because of a late night yesterday? No worries. The menu at Little Goat is as creative as you would expect coming from Stephanie Izard. Perched up at the bar looking into the action-paced kitchen window, I watched as the "Fat Elvis" was delivered to the patron next to me, all crispy waffles with a dollop of peanut butter, banana slices, candied bacon and syrup. On my other side, the Spiced Apple Pancakes arrived as big as the plates on which they were served, garnished with oatmeal crumble and buttermilk butter. Next time, I want to try the Spanish Omelette, loaded with cheddar, pickled peppers, masa chips, tomato and sour cream. The portions here are hefty, so come with friends and share or brown bag it. Also, head over to Little Goat Bread to pick up a freshly baked Miche loaf made of wheat, spelt, rye meal and buckwheat to take home, or if you're in a hurry and can't wait to be seated at the Little Goat Diner, nab a housemade Onion Rye Bagel smeared with kimchi cream cheese.
CELLAR DOOR PROVISIONS
What is happening at this small neighborhood outpost in Logan Square is so exciting I couldn't help but gush with co-founder Ethan about bread for at least five minutes. The restaurant name tipped me off as to what I could expect: whole grains and solid baking. Their canneles, still warm from the oven might depose macarons or cupcakes with the creamy, custardy middles and  crisp candied exteriors. I relished a hearty slice of Bordeaux spinach quiche with roasted onion so creamy and the crust so light that it made for a comforting winter breakfast. What intrigued me the most were the Levain loaves being turned out in the kitchen during our time there. The open kitchen allowed us to peek in from the communal table as Ethan turned the fermenting dough in the cambro where it rested on the shelf. CDP just opened in late February and resembles in the best possible ways the kind of rustic handmade qualities loved in San Francisco's Bar Tartine. Had we gone for lunch instead, I would have hankered to try the tartine of kefir, charred onion, shaved radish and carrot or the beet salad with sprouted rye. They also have a black garlic sable cookie I will try next time.
GASLIGHT COFFEE
One thing most of humanity can agree on is that hipsters know where to find good coffee. I'm not sure if it's the roasting that draws them in, or theme of a genteel hunting lodge, but Gaslight was definitely the place to be seen and sipping for good reason. The latte commanded creaminess with an assertive espresso foundation. Rishi loose teas, the laid-back vibe and counter seating added to the charm.
BANG BANG PIE & BISCUITS
It's no secret that I am obsessed with biscuits. And after trying what I deem to be "the best biscuit in the U.S." I am ever on the hunt for it to find a viable contender. The biscuits at Bang Bang Pie are just such a biscuit. Since they bake them every hour, they take freshness to a whole new level because biscuits straight out of the oven, all flaky, hot, crumbly goodness. They serve them with fresh jam and fruity compound butter- two gold stars for Bang Bang. Maybe you crave salty over sweet, their Biscuit Muffin Strata brings together squash, nutmeg and pepitas for a savory breakfast or lunch. The sweet pies boggled my mind. I logged the selection of buttermilk custard pie in a vegetarian cornmeal shortbread crust as a must-try for my next visit.
KATHERINE ANNE CONFECTIONS
Before Katherine Anne and I had ever met, I knew we needed to be friends after trying one of her caramels. Given that I would opt for chocolate any day over caramel, hers swayed me to the chewy side. Our wedding favors came in small glassine bags of his and hers Katherine Anne caramels. I exulted to see her first storefront confiserie. Along with those ridiculously good chocolate and walnut caramels, the candy case held chocolate truffles in exotic flavors like Goat Cheese Walnut or Fat Elvis. I eyed the Stout S'more. Intriguing flavors of marshmallows included Vanilla Black Pepper. Located in Logan Square, stop here for a cup of hot chocolate with a Champagne and rose petal marshmallow.
THE WINCHESTER
Located on the corner of Winchester and Augusta, this Ukraine Village restaurant is tucked away and serene. Decked out in white tile and pale wooden tables, something about this restaurant feels both comfortable and modern. This holds true while perusing the menu. The shaved Brussels sprouts salad blends with shaved fennel, salty grana padano, dill and chive for an interesting salad that easily emptied. What is described as Winter Squash Curry consisted of spaghetti squash in a riff on Pad Thai, bringing together a bit of surprise in each bite, bright color, and differing textures. For a future breakfast, I'm keen to try the quinoa hash brown or the mixed grain porridge with apple, cheddar and almonds.
UNION SUSHI & BBQ
Think you can't eat a delectable vegetarian meal at a sushi and barbecue bar? After exploring the extensive menu, my skepticism melted away. Cozy up to a table near the fire and pass the sake at this urban restaurant. Start dinner off with the Mushroom Salad with its savory umami notes pairing with peppery rocket leaves. Plumb the clever depths of their sushi offerings including the black rice rolls and order a Shiitake and tempura enoki roll with green onion, avocado and sesame along with their Devon roll, stuffed with sweet potato, chives, pickled radish and drizzled with curry mayo. Next time, I will be sure to try a slice of Yuzu Pie. (Update: Since returning to San Francisco, I have scoured for vegetarian sushi as good as Chicago & Portland. I'm still looking.)
NELLCOTE
Across the street from the Little Goat Diner, Nellcote is one part swanky decor and two parts eclectic menu. We dove into their assemblage of trumpet, oyster, royale and cremini wood-roasted mushrooms over warm silky polenta along with a kale salad with pecans to start off our meal. Did you know they mill their own flour in-house? Once I learned this detail from scavenging their menu online, a plate of pasta was foreseen and came in the guise of butternut squash agnolotti served in a brown butter sauce with quince, sage and Parmesan. A decadent choice for the evening, I skipped dessert but almost left with a bag of homemade dried pasta using their on-site milled flour. Be still my whole grain heart.
ADAGIO TEA
It grieved me to learn about the Adagio tea store on the day before leaving Chicago. Clearly, I don't get out enough and founder Michael Cramer brews a fine cuppa. This oversight needs to be rectified next time but I peeked into the windows minutes after they had closed, marveling at the modern interior and all the selections of teapots.
—————————
Next time, I'm keen to venture over to Spritzburger because the idea of burgers, brunch and bubbles sounds like far too much fun plus Gale Gand is one of the folks at the helm. Also, and trust me it's from the lack of not having another stomach or self to go everywhere I'd like, I'm still jonesing to visit the Purple Pig, Longman & Eagle and revisit the Violet Hour or their new bar, Analogue which I hear has a ridiculously good chicken sandwich. Next time, Chicago. Until then, I remain fixed in my regret that I don't live closer to Chicago and the creative food being plated in that fine city.
When you're in Chicago, where do you like to eat and what do you like to do?