Let's talk about Orange County, the one which spawned such TV hits like "The O.C." or "Real Wives of the O.C." Given that we don't have a television and happily qualify ourselves as Northern Californians, I've got a few reasons up my sleeve to want to head back to Costa Mesa again soon that do not involve made-for-television drama. Though maybe we will wait until it's not flirting with temperatures in the low 90s. Santa Ana has a vibrant local handmade scene and Costa Mesa sports a spirit of independence that I can get behind. If we spent 24 hours in Costa Mesa, here's an itinerary of what we could do after landing at the nearby John Wayne airport.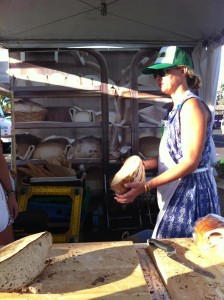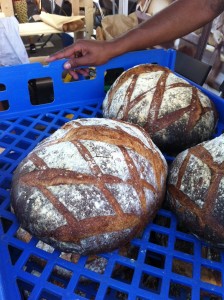 BREAD ARTISAN BAKERY
Be still my wild yeast loving heart. The Campagna boule crafted at Bread Artisan Bakery can stop a person in their tracks by the sheer size of the bread round or the tight crumb and ever so slight sour flavor aspect. With a friendly personality, this family-owned wholesale business sells their bread to cafes and restaurants in Santa Ana. Check out their website to find locations that carry their bread. Kristen and her team are passionate whole grain enthusiasts and I happily snagged half a loaf to take back home to freeze which will mean we will have amazing bread within reach for quite some time.
CREATIVE OUTLET STUDIOS
Call it bias, but I abide by the motto, "Do something creative everyday" and can get behind a business that gives an outlet for creativity. I met Susan and Lauren, the two owners of Creative Outlet Studios back when their business was an idea. Upcoming workshops include making a dish towel apron or indigo and shibori dyeing. This mother-daughter duo will unleash your creative side even if you have never considered yourself artistic. Make sure to visit their retail store for art supplies and handmade items for purchase. If you're local to Costa Mesa, you can rent space in their studio too.
LIBRARY STORE
Okay, this is kind of cheating because the actual store is located in Los Angeles proper, but they have a store on wheels- think of it as a library truck but infinitely cooler and without any shushing from resident librarians. What makes the library store truck worth seeking out is their cheeky paraphernalia of the literary kind. Here, you can procure a Romeo and Julienne wooden cutting board or an Edgar Allan Poe pen bag (I'm seeing Poe everywhere these days). I picked up some postcards "from the desk of Jane Austen." As a prolific post card writer, I leapt at the opportunity to brighten a person's day (and a postmaster's) with pithy quotes from the lady Austen. (If you email me your mailing address, I just might send one of them out into the world to you!)
SEABIRDS
Seabirds started out as a popular food truck serving creative vegan food and has recently set up shop in a storefront location in the LAB Anti-Mall (which is worth a visit in its own right). What makes them a cut above the rest (move over Native Foods) beyond their friendly customer service and clean, streamlined look is the food. The beer battered avocado tacos with Seabirds sauce and lime-kissed cabbage pulls in long lines. Keen on trying something even more fun and playful? Opt for their Jackfruit tacos with barbecue sauce, cabbage and pickled red onions. Their version of a kale caesar salad is more exciting than the John Stewart late night show with almonds and pepitas in a garlicky caesar dressing. You can't go wrong with a Holy Heck Bowl made of brown rice, sauteed kale, and nut chorizo served with Seabirds sauce. You can also get it topped with homemade guacamole and coconut bacon (trust me you want to try this) which is smoky and crisp.
SOUTH COAST COLLECTION
In my family, if my cousin is the shopper, I'm the power shopper: decisive about what I like and what I don't like (shopping). Here's where South Coast Collection (SoCo for short) steps in. In an open floorplan, they feature a sampling of small shops including Birdie Juicery (go with the Green Basic- one of the cleanest and best green juice flavor profiles I have tried hands down) or Seventh Tea Bar  for loose tea and sweets. Let's say you want to shop for unique clothing pieces or single piece of wood dining tables- they can meet those needs too and then some. Don't forget to visit Surfas Restaurant Supply store and find kitchen contraptions you never knew you needed until now like the aqua cake stand or foodstuffs like olive oil.
HABANA
Go for the food, stay for the outdoor dining ambience. Outfitted with candles that give an intimate evening glow, go early as Habana starts getting busy and keeps going that way until 2 a.m. It's also located in the LAB Anti-Mall (are you sensing a trend here of where we might spend our time?) The cocktail menu offers interesting drinks like a Jalapeno Margarita or you can order a whole coconut if you're feeling more tropical and less spicy. They boast a fried avocado appetizer that is just okay in comparison to the offering at Seabirds. Instead, save your appetite for the Ropa Vieja (translated "old clothes") of shredded spiced beef, onions and peppers served with amazingly good white rice, black beans and maduros (fried plantains). My fork belongs to the Salmon a la Parilla that gets a nice char on the edges and is served with a creamy spicy sauce and fresh tomatoes alongside the trifecta of Cuban cuisine: beans, rice and plantains. This is comfort food like no other.