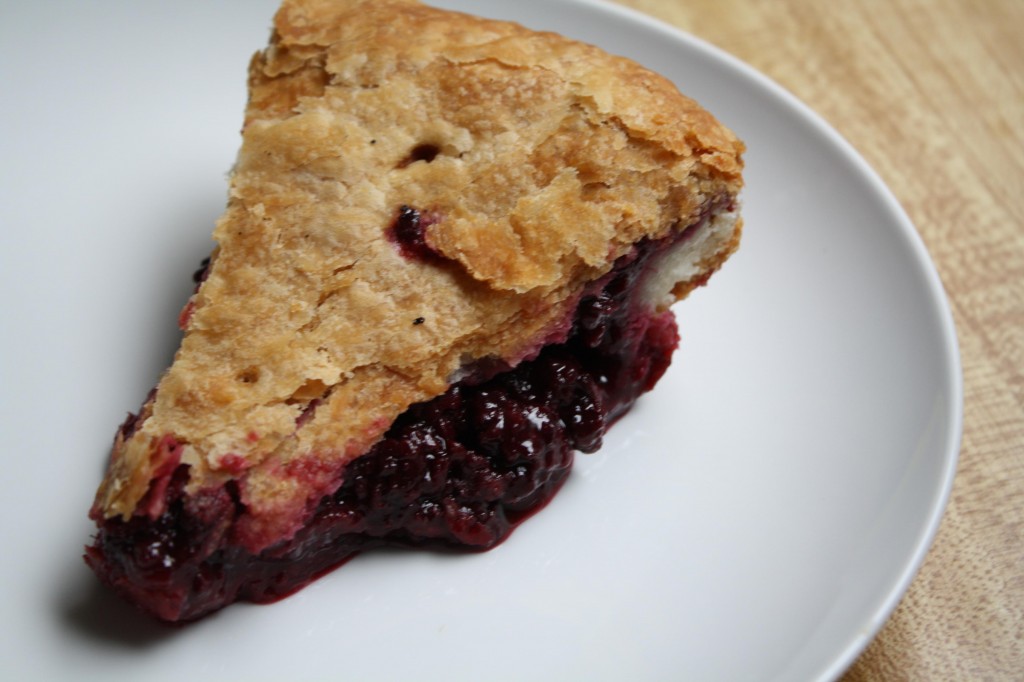 Okay, well maybe all I have for you is a picture of pie, but look at it. Let all that flaky love make you want to lick the screen. It's okay. I won't tell anyone. And this pie is worth it. Which is to say, Saturday, we took our time waking up.
Alarm clocks turned off, we opted for the sun to rouse us from our slumber. A few weeks ago, we had made our way down to Pescadero for an excursion with the sole purpose of a visit to our favorite U-Pick farm to partake in the end of ollalieberry season. If you've never heard of an ollalieberry, take heart as I am also a recent convert. This cross between a loganberry and young berry  is fragrant and the right amount of tart-kissed sweetness.
Almost a year ago, as we capped off our one year wedding anniversary, our car meandered along the coast. The sunlight glinted upon the ocean waves breaking against the rocks not so far below, making the water sparkle. We wound our way back toward the city, our lives, the to-do lists we had left behind. One thing Beck and I share is a love of the open road and the desire to explore what comes into our path. We neared Pescadero and Beck suggested we pull into town for a slice of pie. He began telling me the story of once missing a surprise birthday party from a visit to Duarte's with his best friend and two slices of their infamous Ollalieberry Pie. I noted the gleam in his eye as he told the story and as he began describing the pie.
With the anticipation of a kid in a candy shop, we swung open the screen door of the family-owned tavern and walked to the front counter.
"One slice of ollalieberry pie, please."
The clerk rang up the order and told us to wait five minutes. I perused their jams, syrups and book. My eyes ran over the mounted sepia-toned photographs lining their walls with the history of a restaurant well-loved in California lore. The clerk stepped out from the kitchen with a small plastic clamshell container. As my hand received the offering from his, I could feel the bottom, warm to the touch.
We walked back to our car, parked across from the greening by Arcangeli Bakery. The day had grown hot and we left our doors open like two wings on the back of an ant. Beck took hold of one fork, and I, the other. Together, we attacked the pie with aplomb. That first forkful left me speechless. My tongue rolled around mashed berries and noted brown spices. I chewed the crust thoughtfully and found my eyes had closed.
Ollalieberries and notably a slice of Duarte's Ollalieberry Pie had inextricably woven themselves into our love story.
It shouldn't come as a surprise that in our day trip down to Pescadero this past weekend, ZZ Top blaring from the radio with the squealing run of electric guitar riffs, we found our way back to Duarte's. A knowing look exchanged between two people was all it took- a hunger and satiety with the thought of a quick trip to a certain tavern. And this time, we let the screen door bang on our way out, two pieces of pie stowed in our keep. That evening, back in a city engulfed by grey fog, what a sweet recollection we brought home of our day's adventures, licking the tines clean.
Later this week, fingers crossed, expect a big change.
I am moving and bringing the poetry, food and art with me. I hope you will join me and the revelry-making that will commence to kick things off. After all, what may be waiting around the corner is the best sort of thing- a discovery that's so delicious that it calls to mind a tiny town with the best pie in California.