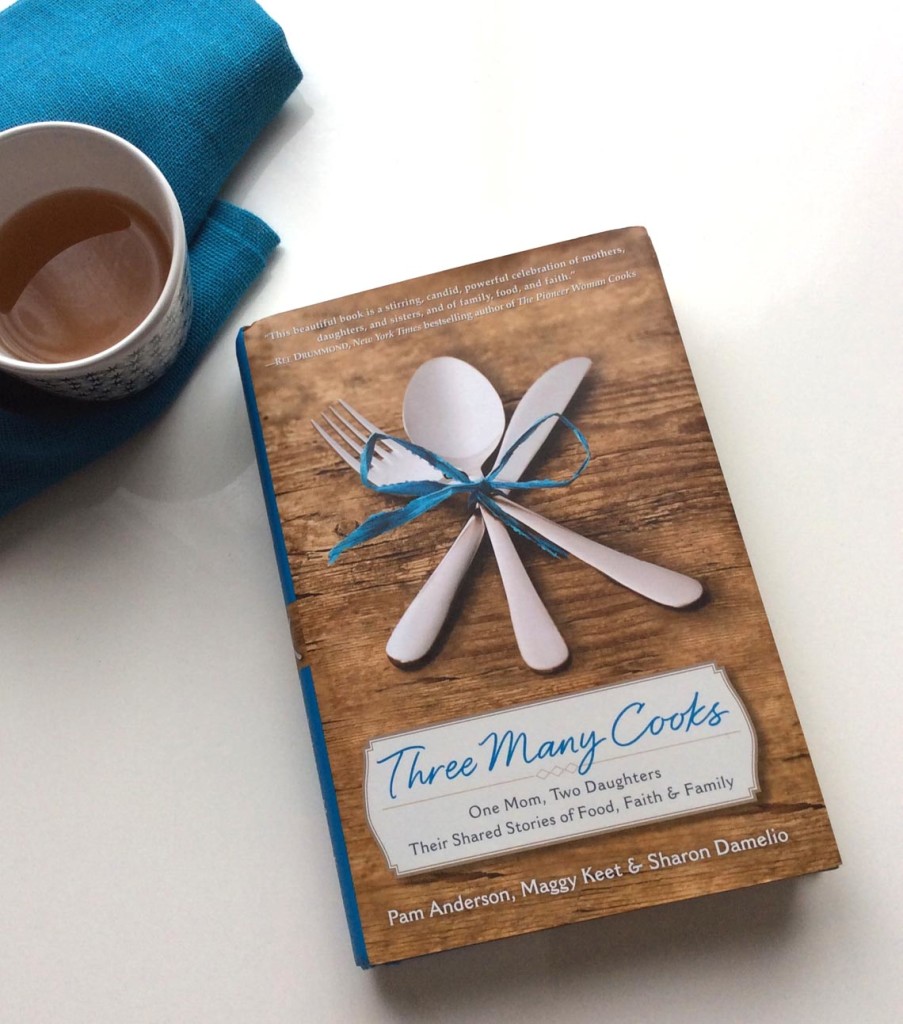 When I first stumbled upon the food blog, Three Many Cooks, the idea of a mom and her two daughters collaborating on a food blog together seemed like a winsome idea. Through the medium of food and narrative, they showcase individual cooking styles and personality. Several years ago, I had the occasion to meet and befriend the mom, Pam Anderson and one of the daughters, Maggy Keet at a blogging rendezvous and found them to be as warm and effusive as their inviting blog. Their memoir was published this spring and I had been looking forward to reading it even as Maggy offered to send me a copy (and I had already bought the e-version.). Three Many Cooks: One Mom, Two Daughters and Their Shared Stories of Food, Faith & Family is this week's selection in my summer reading series.
The book chronicles the lives of Pam and her two daughters, Maggy and Sharon (Damelio) through chapters where each author takes her turn to tell her story and ends in a recipe mentioned in that chapter. This model for food memoir is one I have long enjoyed ever since I devoured Molly Wizenberg's first book, A Homemade Life. Including a recipe at the end of each chapter has a way of really solidifying the story, by grounding it in something tactile and delicious. This device also has a way of making the personal universal—in sharing the story and recipe, the author invites the reader to make it their own. I'm making a plan to prepare the Chicken Vindaloo and Grilled Lemon Chicken this fall and keeping my eye on the Blue-Cheese Crusted Beef Stout Pie—I know someone who would eat that up! Let me tell you, I relished this book, anticipating my pocket of reading time each evening.
In the book, we follow Pam's foray into the culinary world, long before she established herself as a veteran cookbook author and former executive editor of Cook's Illustrated. I appreciated the grace her chapters conveyed both with herself and others, moving from the idea of perfection to prioritizing relationships. Her story starts in the South where the cuisine is summed up eloquently by Maggy: "That's what Southern food is. Love cooked until it falls off the bone, melts in your mouth, runs down your chin, or drowns your heart in the oil of gladness." Pam is the kind of hostess I aspire to be and I found a certain synchronicity with her stories. Maggy, the eldest daughter, leaves her mark, discovering how to cook after she married and moved abroad. The youngest daughter, Sharon, seemed to find an early fluency in the kitchen, sticking close to her mom. If you take a wide-angle view at the book it's really about three cooks coming into their own.
But in some ways, while the book is about food and memorable anecdotes like Sharon's chapter, "Thighs that Bind," family is more important than the food. The reader learns of the lineage of cooking passed down from Mama Skipper to her only child Pam, who then in turn passes it down to Maggy and Sharon. Their lives are interwoven and so even as Sharon is telling a story, Maggy or Pam play central characters. It's refreshing to find that food's importance lay not just in preparing delectable flavors but really in bringing family together.
The last F in the trifecta of the title and telling of their tale is faith. While this word embodies its spiritual definition, it also embodies the faith that each of these women place in each other and that they are found faithful. One instance involves Maggy transporting multiple bags of groceries on the New York subway to her parent's house in Connecticut, preparing to keep the Christmas Eve tradition alive for her Episcopalian minister father as Pam is visiting her ailing parents. Maggy might say it best on page 300, "I was raised to my faith in food—around the table in my mother's kitchen, around the altar in my father's church where bread and wine were offered to all."
Sometimes the world we live in can seem cold and lonely. This book is warmth and welcome in 308 ivory paper pages. It's quite possible that you might find yourself rooting romantically for Sharon when she first spies a classmate hoisting his Dutch oven of caldo verde to study group. You might find yourself getting cozy on the mat under the mango tree with Maggy in Malawi (where she lived in a tea plantation!). You might find yourself choked up with Pam as she hears the provenance of the piece of sinker cypress that would eventually become the counter of her bar. This book touched me with its candor that really resonates with the reader because while it's a book about food, family, and faith, it's really a book chronicling love.