The city that scintillates, the one that's got me all aflutter with a desire to return in a hot minute only to continue to eat my way through it is L.A. While the city of lights typically brings paparazzi for celebrities, all I'm interested in is the exciting food cropping up all across town. Let me explain. Recent events took me to the city of Angels on successive trips. I began learning the puzzle that is LA traffic and figuring out the thoroughfares. What stood out to me on the trips this time: a pervasive multicultural diversity where Mexican might be the main descriptor of cuisine served but then roots down regionally in specifics. Each night, I passed signs for Little Bangladesh. Little Armenia. Good luck finding parking in Koreatown. So, on each trip, each meal felt like an important decision. Though the hours posted on the door of Baroo reflected they should have been open, a metal gate barring the way turned my smile upside down. Gjelina's always on the list (though GTA is just fine with me. Sandwich to go, anyone?) And, my rule this time was to try to branch out and go where no fork of mine had gone before. Mostly. Baco is one of my favorite DTLA haunts. Grand Central Market didn't happen this go-round and my eggslut breakfast sandwich dreams haven't come true just yet. Someone once told me that Northern Californians are supposed to hate Southern California. So, I guess it's a good thing that I'm a Texas transplant since Texas means "allies" or "friends." Just don't talk baseball. I bleed black and orange. So, here are my favorite spots–what are some of yours?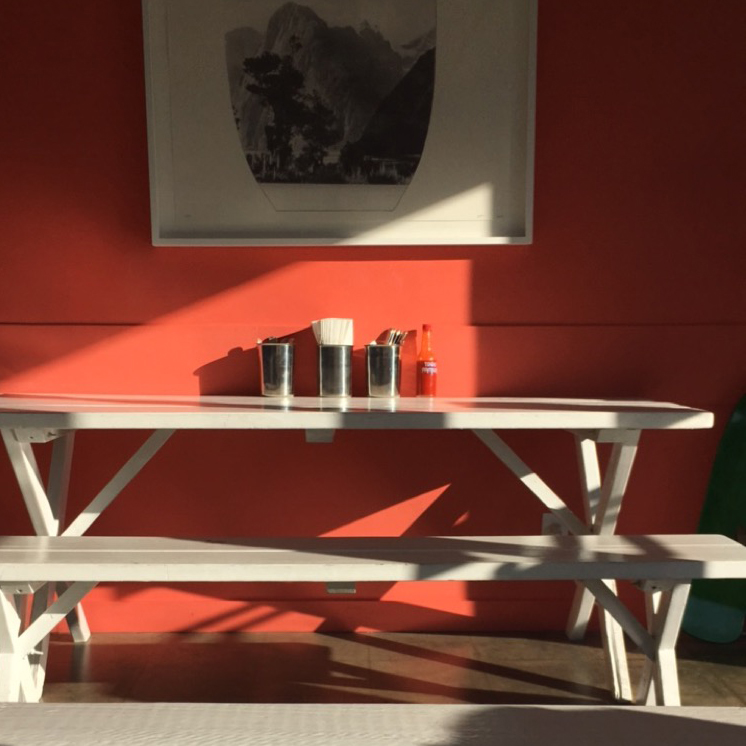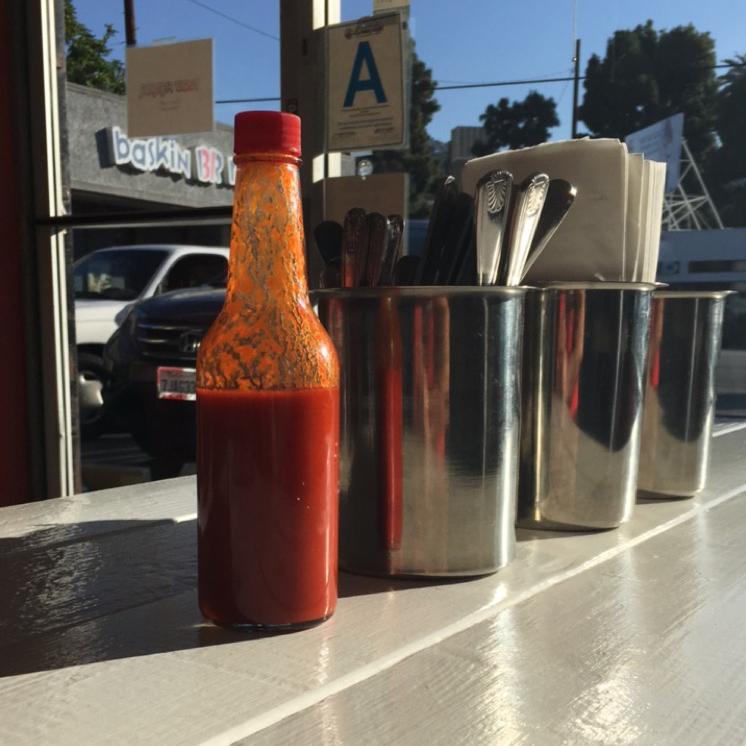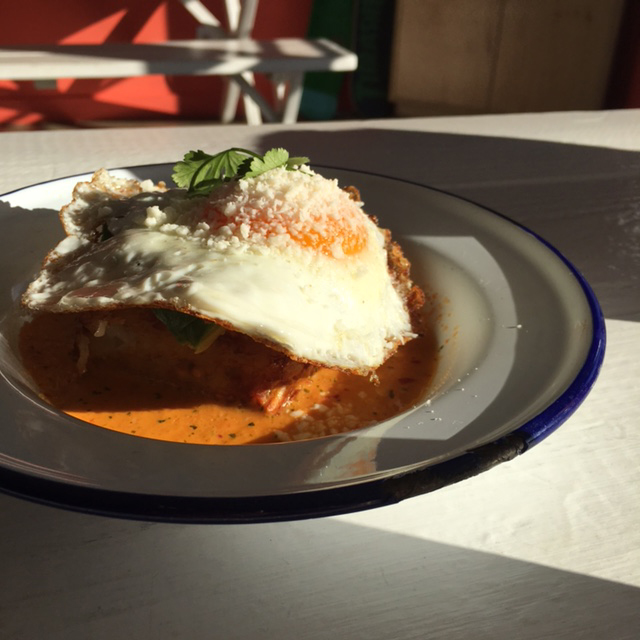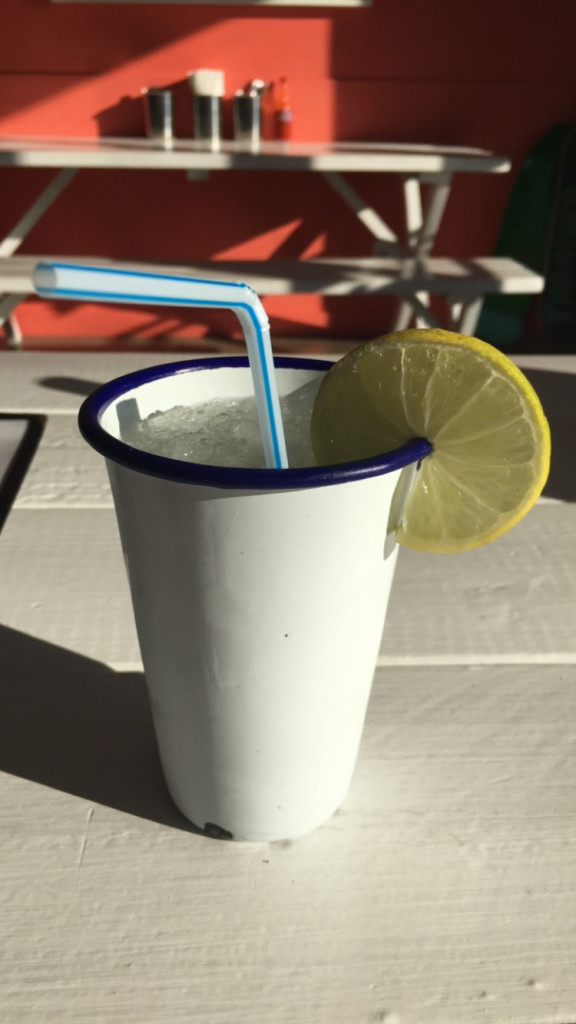 Trois Familia
– Silver Lake –
Instead of fusion food, recently, Evan Kleiman suggested that mash-up might be a better phrase and I couldn't agree more. This restaurant from Jon Shook, Vinny Dotolo, and Ludo LeFebvre introduces a different take on Mexican, bringing French technique to the table. I'd heard about their lengthy wait time for breakfast and plotted a plan for a drive-by. Take a seat at one of the white wooden slat picnic tables and benches as Johnny Cash croons from a record player in the corner of the room. I like the chill vibe, so relaxed that you might forget this trio of chefs have been making a name for themselves as a collective unit at other spots like Trois Mec. I like the lack of pretension of this place and all the bright orange bottles of housemade hot sauce accenting the tables. Their Hash Brown Chilaquiles places an irresistibly crispy hashed brown in the middle of a moat of pureed salsa. Opt for the sliced avocado that sneaks underneath a fried egg–it tasted great and yet I guess I discovered that I'm a Chilaquile purist, as the word itself has a Pavlovian effect making me think of Tia's method for making this memorable Mexican standard. Pair it with Horchata Cold Brew and you're set. Next time, I'm jonesing to try the Beet Tartare Tostada with Cornichon, Lime and Avocado Crema. Next time.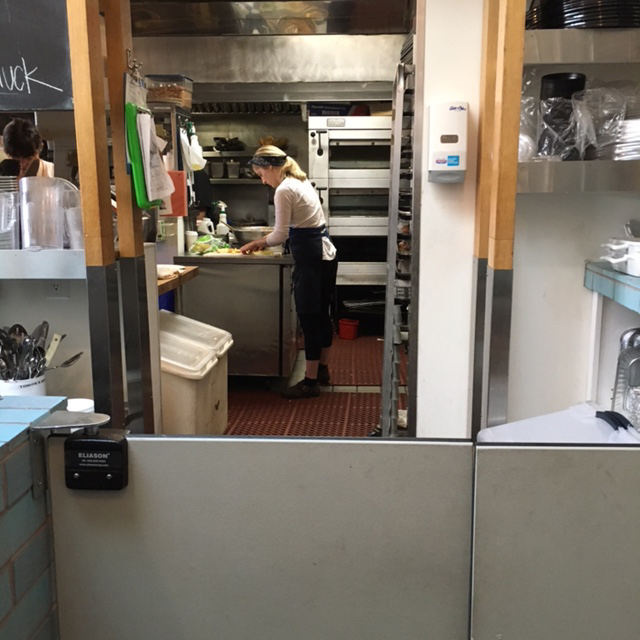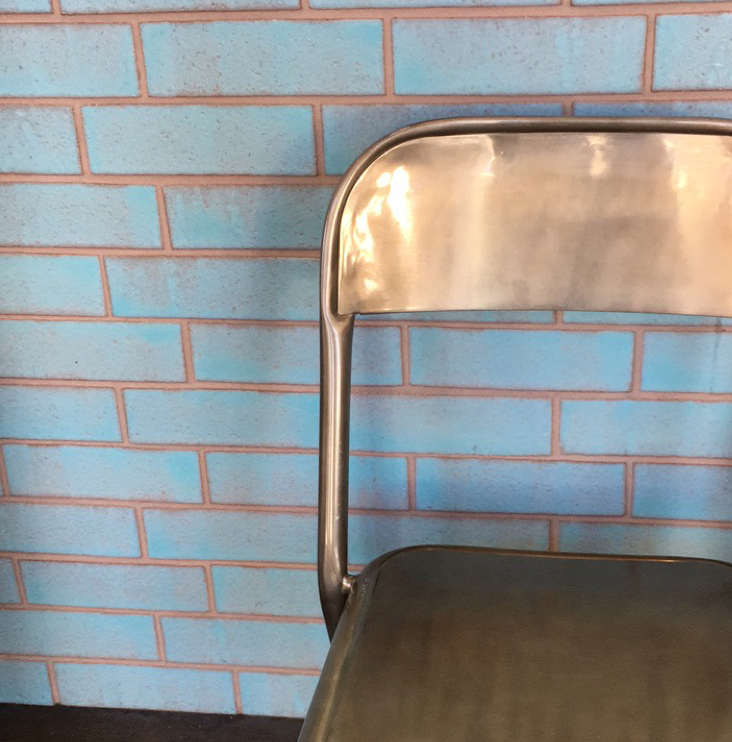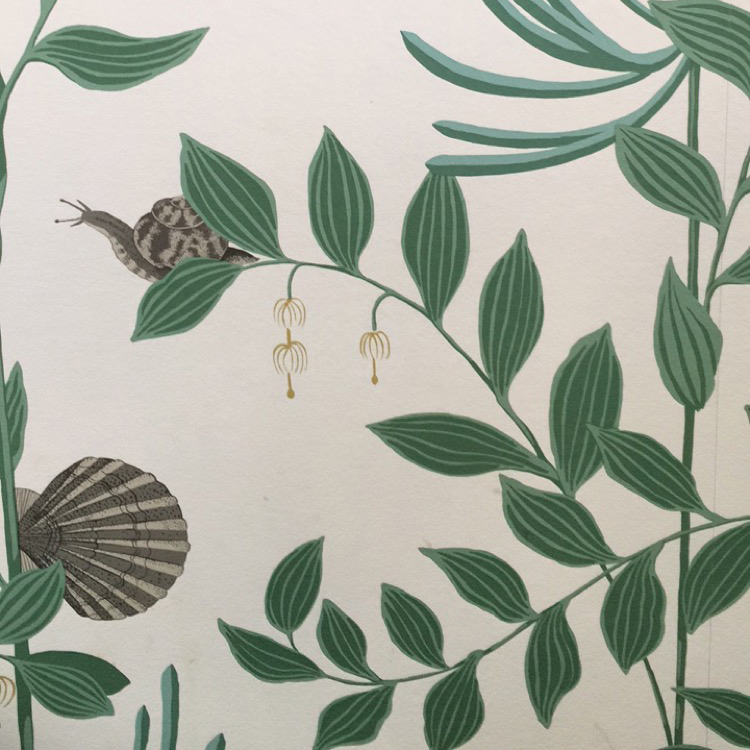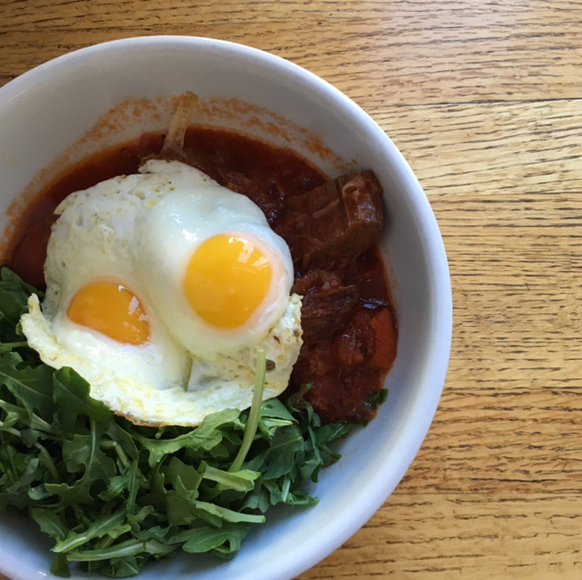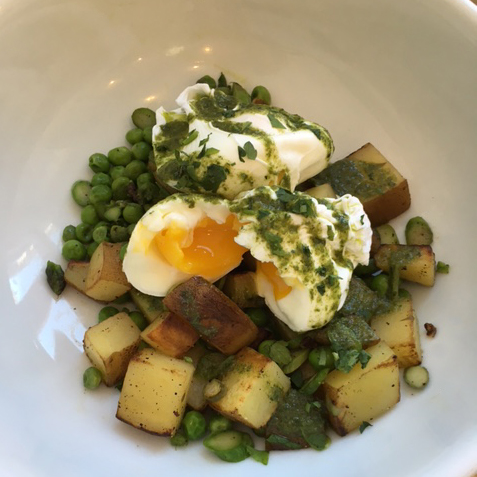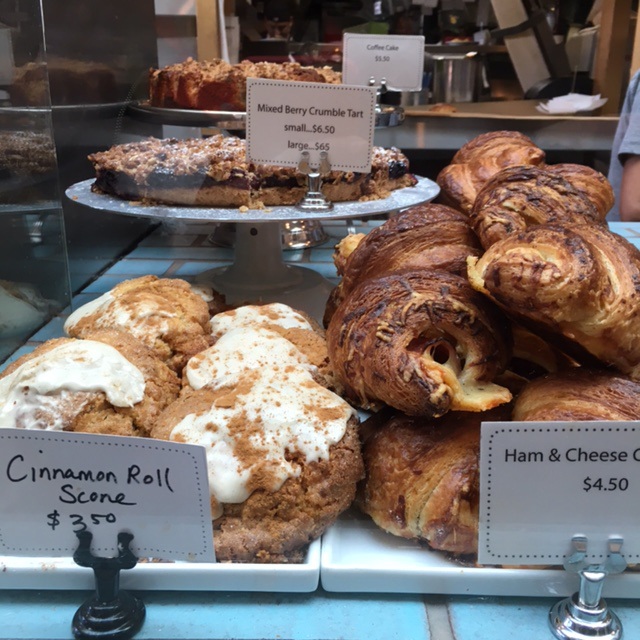 Huckleberry
– Santa Monica –
Zoe Nathan wrote a winsome cookbook for this bakery which was my first foray into becoming a Huckleberry fan even before I visited. I mean, who doesn't love a baker whose acknowledgements page is entitled, "Apologies" with a list of brief apologies that border on humorous and others that express deep gratitude to her team. I knew I wanted to try her food firsthand. So, a plan was hatched, the rental car dispatched to arrive at 7:58 on a Saturday morning. We dove into Brisket Hash with Arugula and Two Sunny Side Up Eggs (juicy with a pleasant peppery flourish), as well as Poached Eggs with Farmers' Market Vegetables Tossed in Pesto. I will dream of that Cinnamon Bun Scone, though the Kouign Aman Tart with Roasted Banana impressed too. And, truthfully, the Maple Bacon Scone enjoyed the next morning reminded me of one sweet morning and a good decision to drive down to Santa Monica early to beat the crowds. Also, their coffee tasted pretty exceptional and wasn't in need of any of their housemade syrups, though the Iced Vanilla Latte with housemade syrup looked enticing.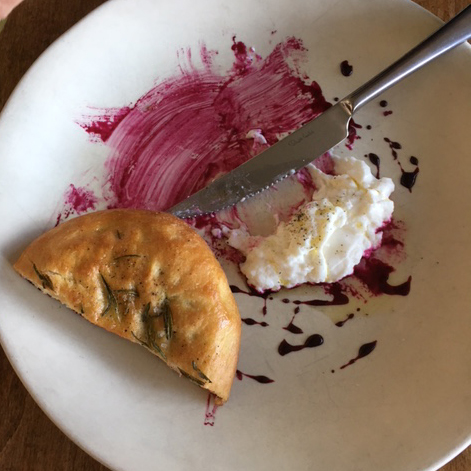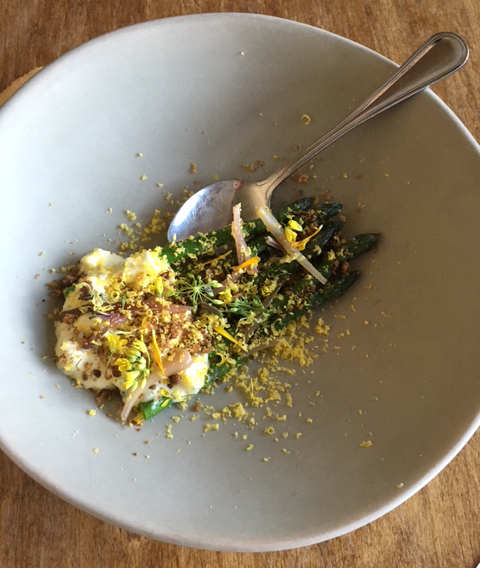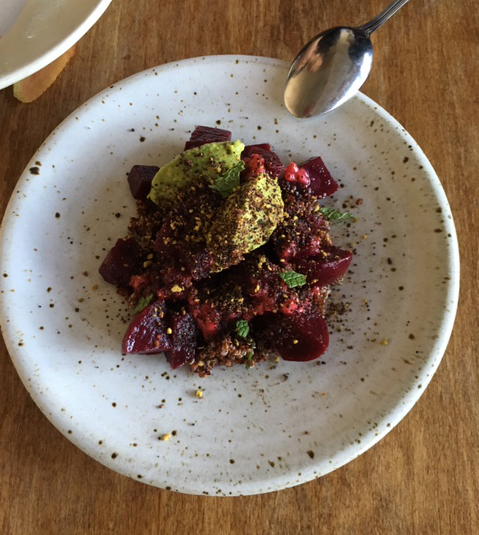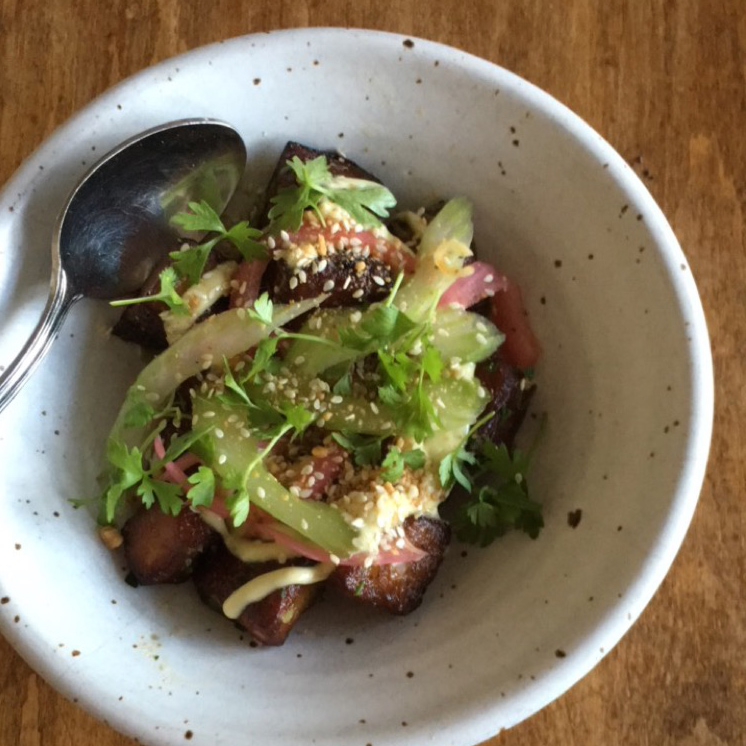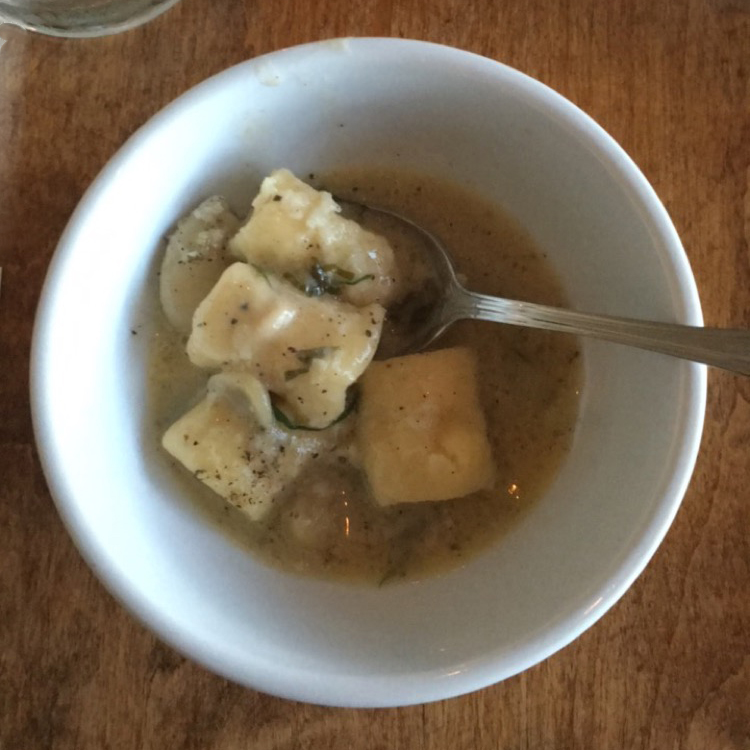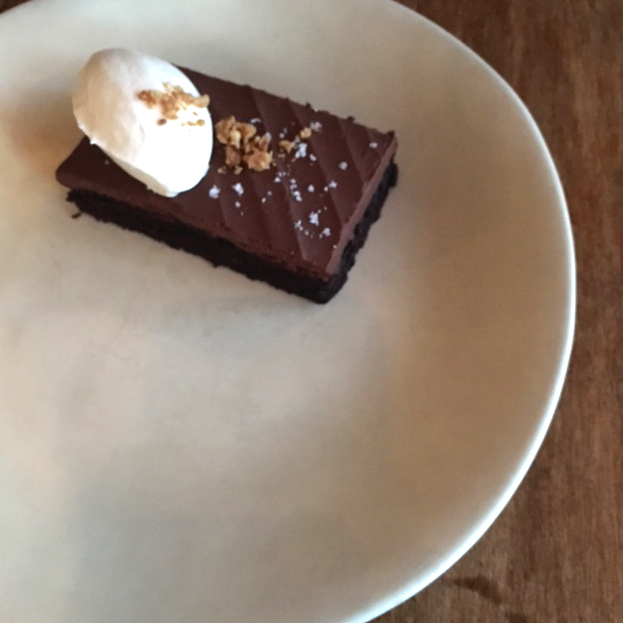 Rustic Canyon
– Santa Monica –
Truth. Ever since Chef Jeremy Fox joined Rustic Canyon and my feed started showing his truly beautiful food, I made a mental note to go. Here's the thing, I missed Fox's stint at Ubuntu, but admired from afar the way he elevated vegetables through thirdhand commentary. I love vegetables and have deep appreciation for chefs who think vegetables are superstar ingredients in their own right. So, this restaurant had high expectations as the second restaurant in LA on my must-go bucket list (I'm still saving myself for Lucques and the right occasion). I wasn't disappointed. That meal will go down as one of my most memorable, one that can't be beet. And, really, where to start– Beet Royale (Brooklyn Gin – Geranium Infused Beet Juice – Lemon – Prosecco). Then, more beets cooked down into molasses drizzled on a plate with burrata and housemade focaccia. Variations on a theme? More beets sauced in raspberries with quinoa, avocado, and pistachio (tangy, bright). I think our forks might have scraped the plate not wanting any of the gribiche to go to waste after the asparagus, ramps, breadcrumbs, and egg bottarga had been finished. The flurry of vegetarian plates continued circulating as white yams, green garlic butter, celery, hazelnut duke, and aioli came out–my second favorite dish of the evening. Cacio e Pepe presented an interesting flavor interpretation to Ricotta Dumplings with Butterbeans and Sorrel. Black Magic Cake with Macadamias and Homemade Salt provided a sweet finish to a sweet evening.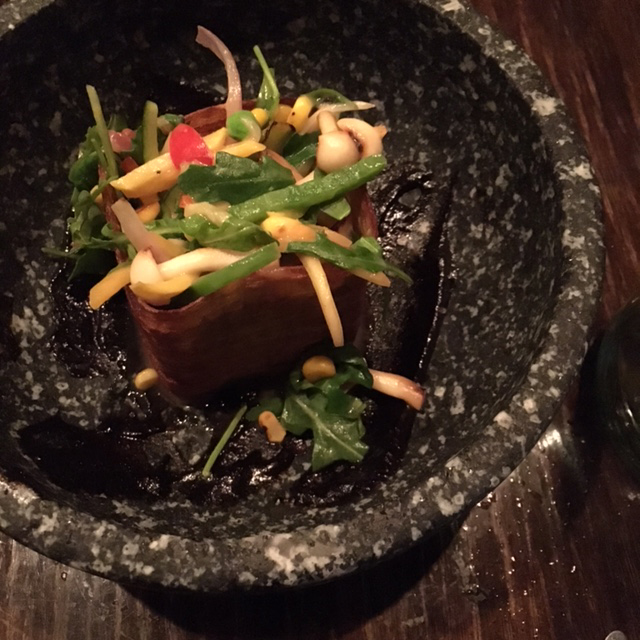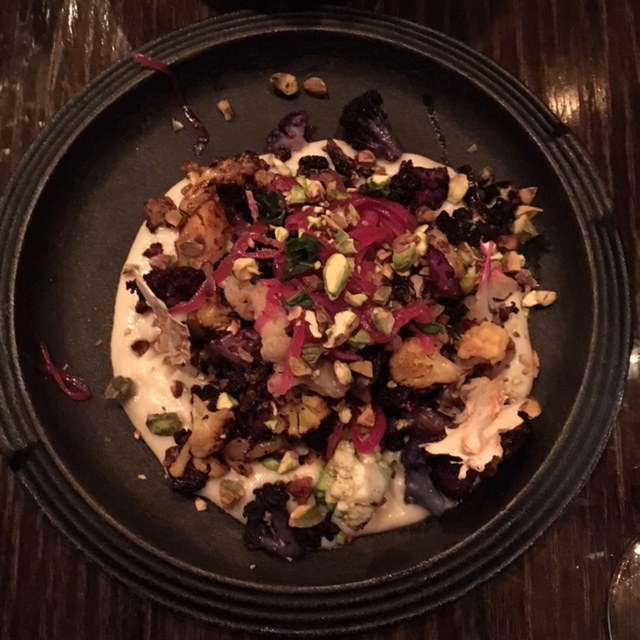 The Gadarene Swine
– Studio City –
Vegan tasting menu? Yes, please. At the Gadarene Swine, you can always go a la carte, but put yourself in the hands of the kitchen and opt for one of the three nightly dinner menus. Start off with one of the Bangkok Dangerous cocktails, well named because this cocktail could be my kryptonite– the nigori sake gives this drink a creamy quality paired with pineapple juice, ginger, and turmeric. This restaurant would make an intimate spot for a date night–rustic interiors with twinkly candles and low lit ambience give it a cozy feel. Of the courses that came our way, the Blackened Cauliflower dish was a study of textures and bright flavors, and my favorite of the evening, only to be closely followed by Vegetables in a Box, a crispy rosti-style "box" made of potato filled with julienned carrots and zucchini that I don't think I might have tried otherwise. This felt like the kind of place one might speak about in hushed tones. On the wall, a mirror reflected out into the dining room the simple phrase, "I do not exist." that made me think it might bring a smile to my favorite philosopher's face.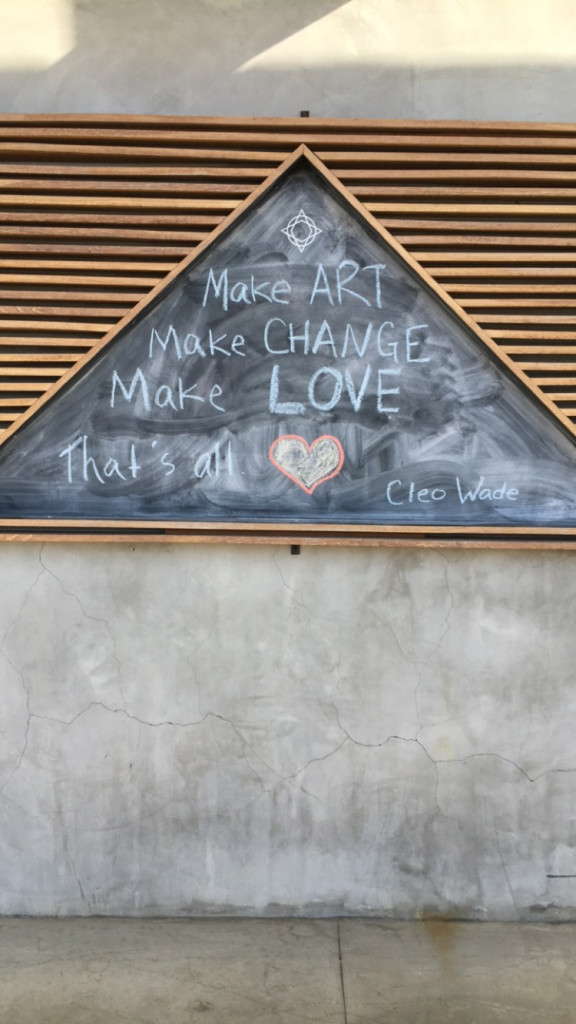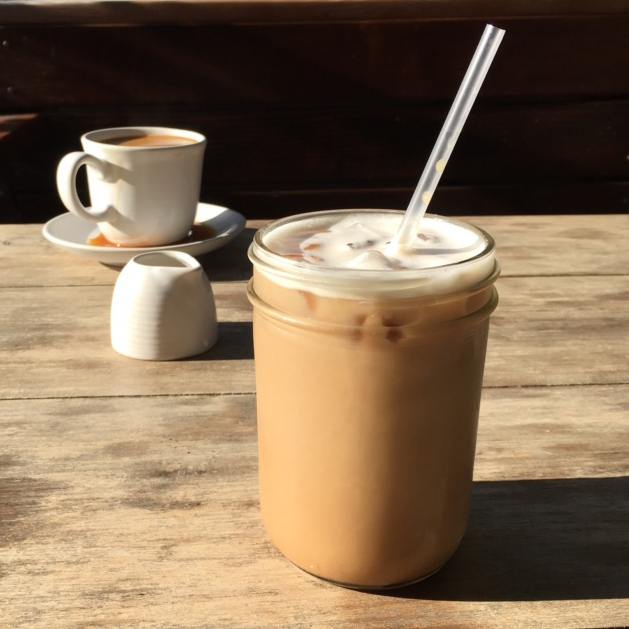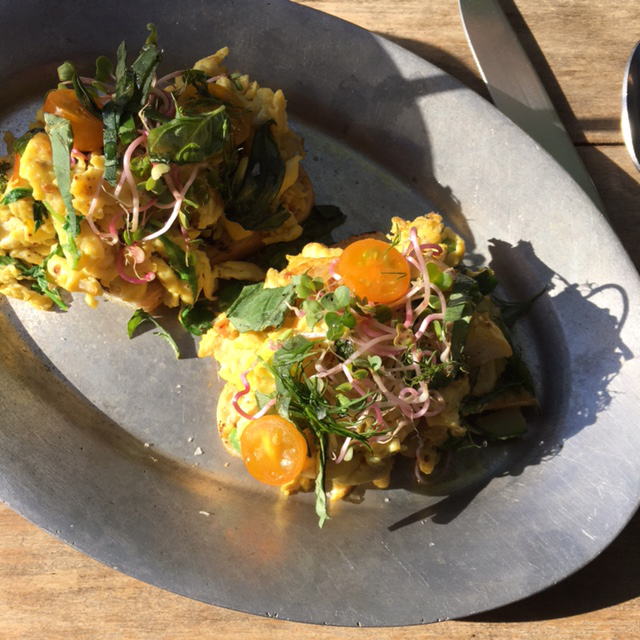 Wanderlust Cafe
– Hollywood –
After visiting Tertulia in New York and reading the Hero Food cookbook by Chef Seamus Mullen, it's evident that Spanish cuisine is a big part of his cooking vernacular. Then again, his food philosophy pivots around food as medicine where each chapter of the cookbook centers on one of his hero food ingredients for dealing with RA. So, when he shared that he'd developed the menu at Wanderlust Cafe based on that ideology, I knew I wanted to try it out. Two things: take a seat in the patio. The cafe is located in a yoga studio and while you could sit inside, the patio is the place to be. They serve Moon Juice and won bonus points for handmade Cold Brew Chai and also offering Matcha and Pu Erh on the tea menu. The Shakshuka comes with herbed labneh and the Open Face Soft Scramble Eggs are almost too pretty to eat with market vegetables folded into the eggs, served on sourdough toast. If we had visited at lunch instead of breakfast I would have had difficulty deciding between the Kitchari or Kimchi Forbidden Fried Rice, even though I was eyeing the MALT (Royal Trumpet mushrooms – avocado – lettuce – tomato – sriracha aioli). In some ways, I think a sign of a good restaurant experience is not wanting to leave and I could have lingered on at Wanderlust much longer.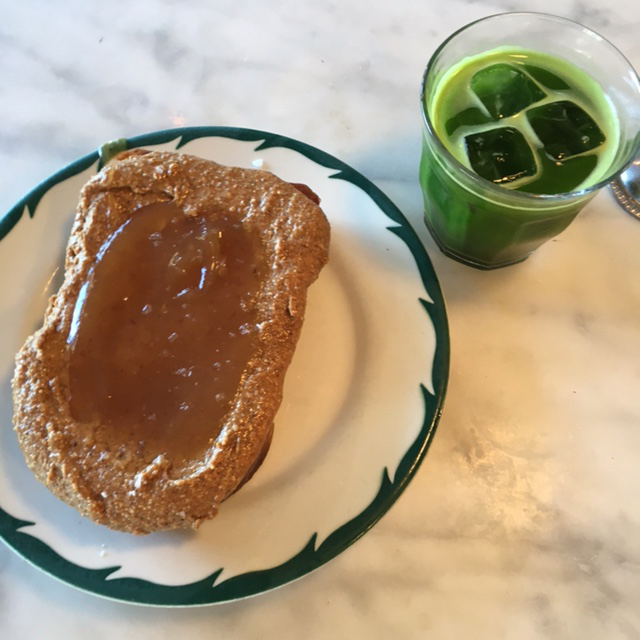 Sqirl
– Silver Lake –
Several years ago, a friend who lives in Silver Lake introduced me to toast with jam, and a sorrel pesto rice bowl that made an imprint. So, when I learned they open early, I beelined to Sqirl for breakfast. Pastries and drinks get served before 8 a.m. but plan on stopping by after that time to try their ubiquitous toast and breakfast fare. This time, it came slathered with almond butter and pear preserves that dripped like honey, and avocado toast to make all others blush with envy (pickled carrots for the win). Delicata Squash Hash with Poached Eggs made a savory stand-out that might get overlooked for that rice bowl, which is still worthy in its own right. Two grades of Matcha make it on their menu so emerald green that its vegetal flavor doesn't need any additions though a spot of almond milk mixed still lets the stout tea shine. If you're planning to check a bag, procure one of their jars of namesake jam to smear on toast at home as you hatch a plan to return to Sqirl.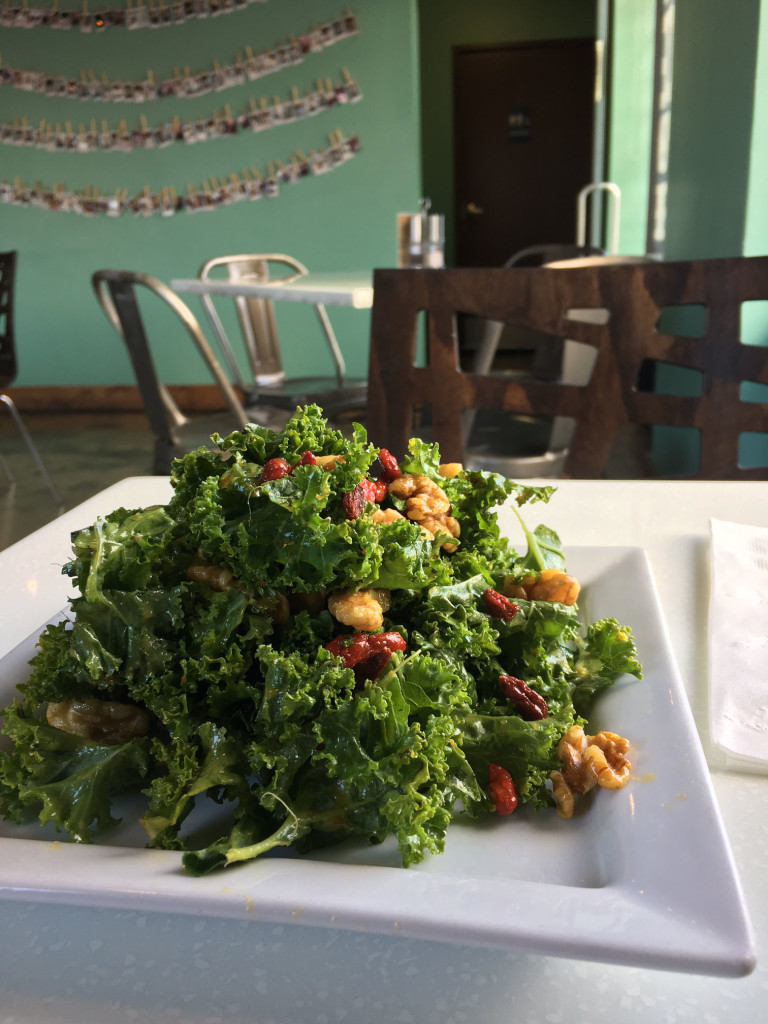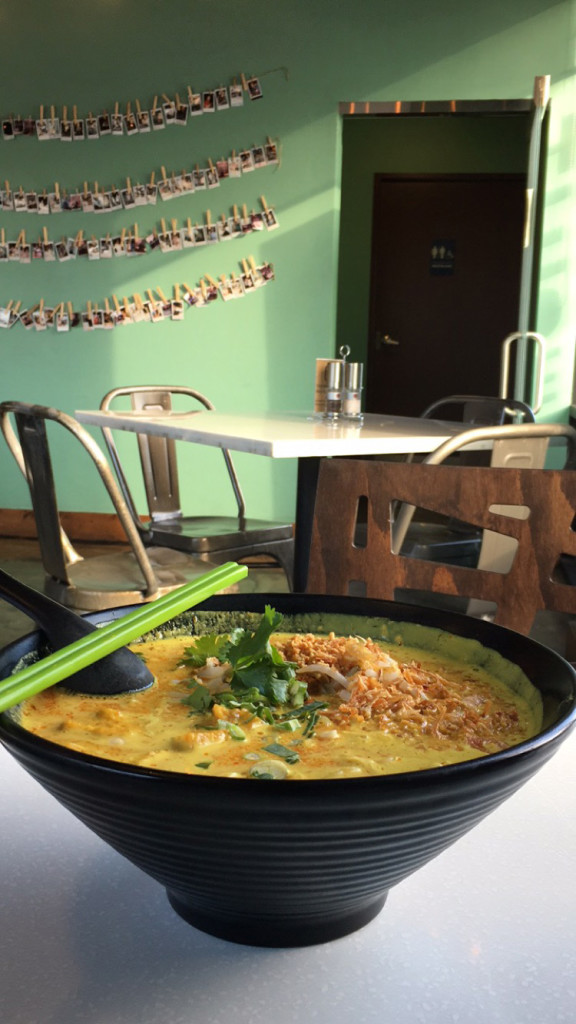 My Vegan Gold
– Silver Lake –
I've lately become entranced by strip malls in L.A. and the idea that though they may be overlooked, they often hold restaurant gems like My Vegan Gold. Prepare yourself for a formidable menu and servers who help navigate all the options. This is my kind of place–kombucha on the menu, kale salad as a side or main–and that Kale Salad–the dressing pops with flavor but doesn't overwhelm the sturdy greens. I often eat kale salad at home and desperately want to make that dressing. Making a decision for a main almost stymied me–did I mention the menu possibly has 30 options front and back? I ordered a bowl of Golden Curry Noodles, in a broth so silky and comforting that I almost went back the next night just to order the dish again and rekindle that feeling and to experience that flavor. Next time, I'm planning to take a few more friends so we can eat our way through the menu more proficiently, and am still wanting to try their Shiitake Larb that's off the menu and scrawled on another menu at the counter register.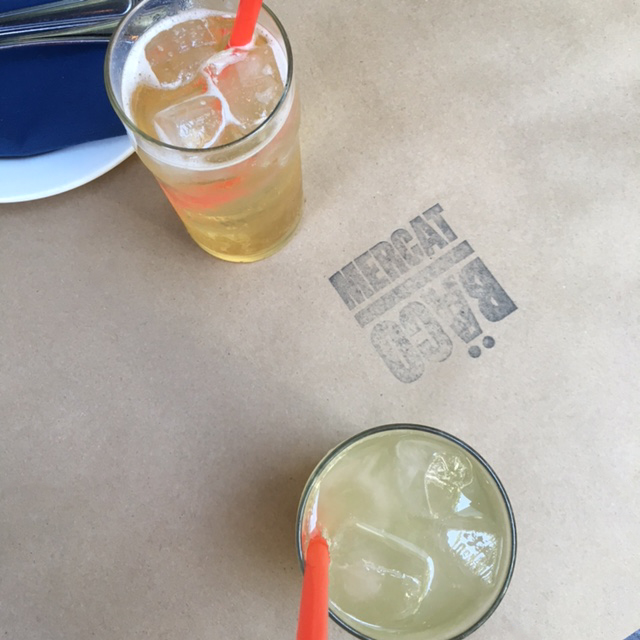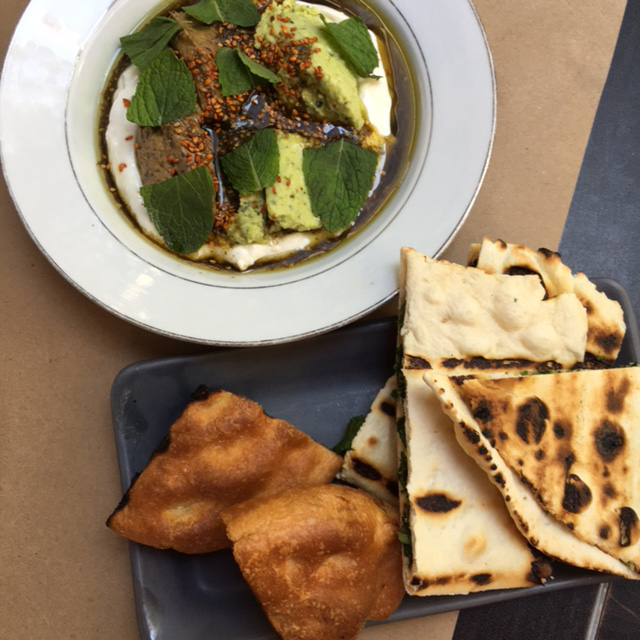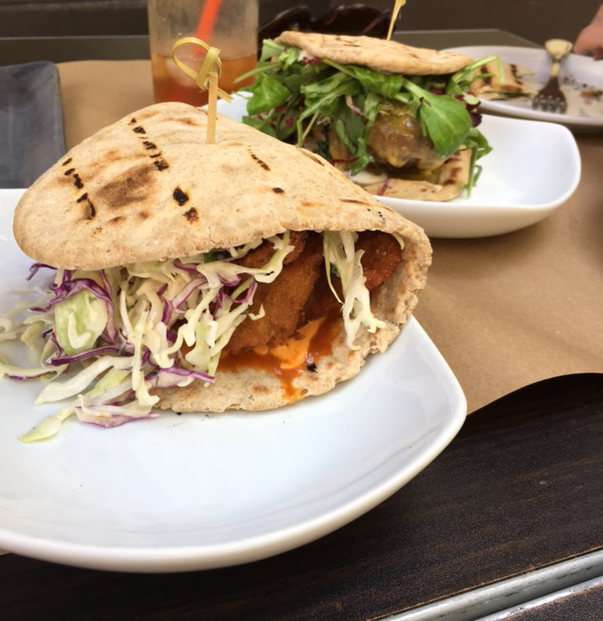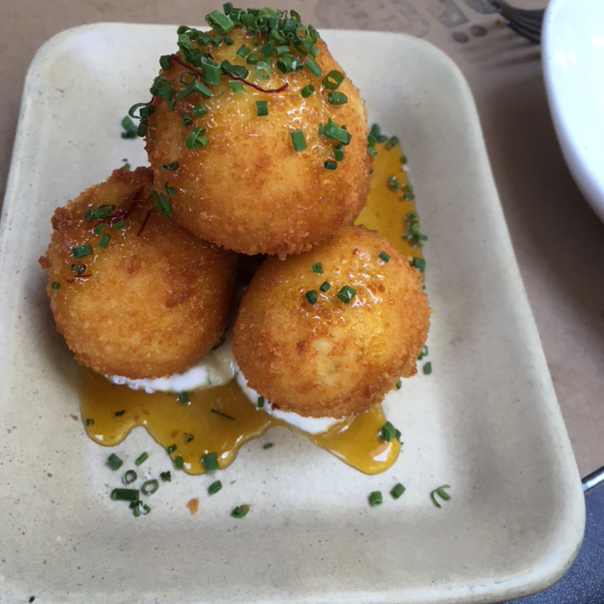 Baco Mercat
– DTLA –
Almost everything on the menu at this hot spot from Josef Centeno sounds crave worthy, but the baco is what brings me back. Imagine the best possible flatbread folded around a perfect assemblage of ingredients–El Pesco (crispy shrimp – sriracha – chive dressing) combined texture and flavor playfully. The Carne Picada Coca brought together spiced beef, yam, pine nuts, and pomegranate molasses to great effect. And quite possibly what held our attention almost as much as the baco itself was the za'atar starter with eggplant, fava beans, labneh, feta and grilled flatbread–I'm pretty sure we didn't leave a scrap or speck on that plate of dip and tried to be as ladylike as possible as we took turns dipping. They make their own sodas in-house in interesting flavors like ginger or hibiscus, but I'm partial to ordering one of their shrubs–this time I opted for Celery though Papaya Clove also looked enticing. If your sweet tooth has saved room, the paleta from nearby Gelateria Uli in amarena cherry yogurt then dipped in thick decadent dark chocolate is enough to tell Cherry Garcia to hit the road.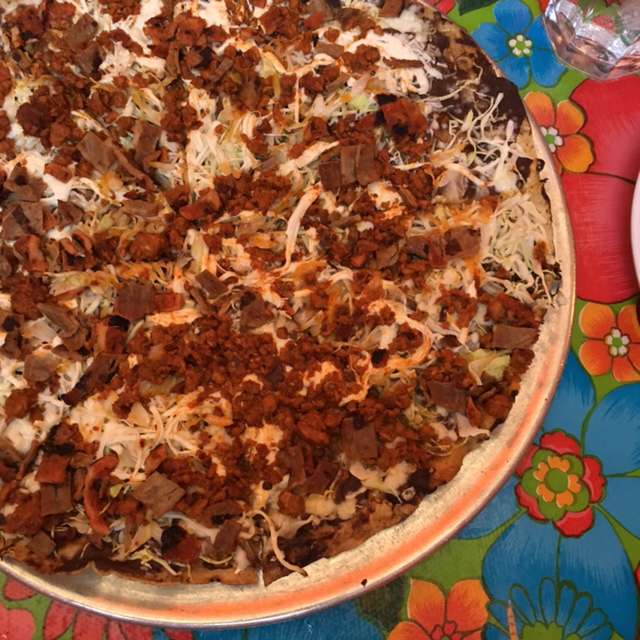 Guelaguetza
– Koreatown –

It's not often I start lunch with a shot of mezcal, but when in Oaxaca, which is to say in L.A., at Guelaguetza, you're in good hands. Inside this restaurant with an Asian-style exterior is mole negro so good it might make you weep–there's a reason their website is simply: ILoveMole.com. We noshed on tlayuda, a pizza made of masa, crunchy and thin, topped with cabbage, queso fresco, oaxaca cheese, thinly sliced beef called tasajo, dried meat known as cesina, and chorizo. The meal felt like an education into a region of Mexico I haven't had as much experience with, as chapulines imported from Oaxaca came out as an early entrance to the meal, merely sautéed in olive oil with a toss in salt and pepper. The chips come served with a creamy salsa on top and queso. I would go back again just for the tamale de rajas and of course, to try one of the other moles on the menu.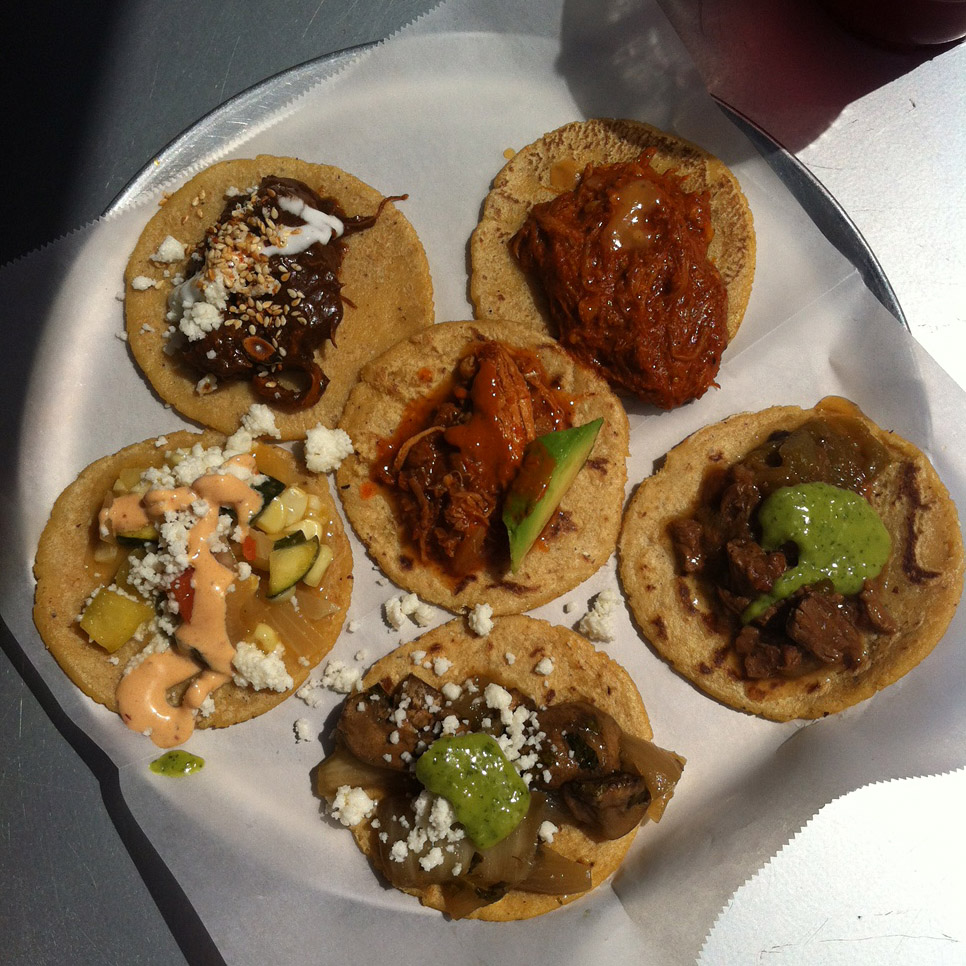 Guisados
– Echo Park –
If someone offers you tacos served with carne guisado, just say yes. This style of cooking, better known as braising, cooks the meat low and slow so the results are fall apart tender. Imagine then, stumbling upon a taqueria that offers around seven kinds of taco fillings made in that method? Are you with me?! On the afternoon we visited, the line snaked out the door. You can order single tacos in the standard 4-inch tortilla size, but I would suggest going for the sampler plate of tiny tacos that offer two bite tacos in several flavors of the stewed veggies or braised meats. Yes to the Cochinita Pibil. Double yes to the Mole Poblano or the Tinga. Bonus points for the entire menu being glorious and also gluten-free. Pair them with an Armando Palmero (a brilliant combination of Jamaica — hibiscus agua fresca–and limonada) or a Negro Modelo and you'll be set. Horchata cold brew is on the menu too, so if you need a shot of caffeine try that.