When you live in San Francisco, you live for long weekends. We find particular joy in gallivanting around the state, letting the car whip around those scissor sharp turns that weave around mountains and alongside the coast. Mendocino, for the uninitiated, is one of the best places to escape from the urban environs for the lush beauty that is the Northern California coast.  If you're planning a trip to Mendocino, take a coat and good walking shoes as there are many places to explore on foot. If traveling between late December to May, and you're lucky, you might meet a friendly Mendo resident,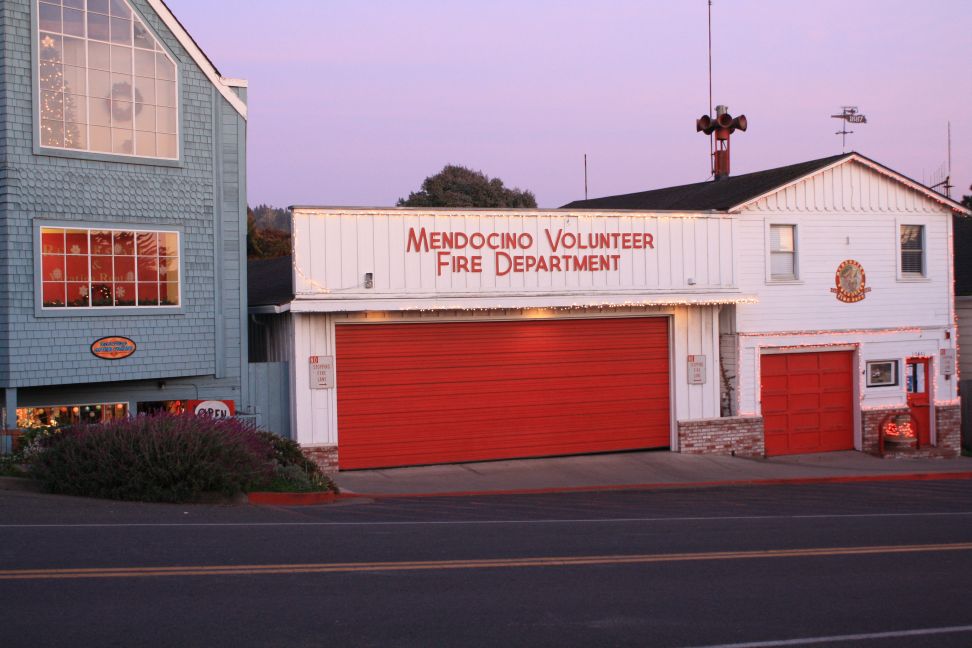 at the ridiculously beautiful Mendocino Headlands, who points out the whales passing by. Downtown Mendocino is charming and highly walkable. If you're making your travel arrangements, keep this in mind. A more expensive bed and breakfast or hotel stay downtown is worth it unless part of your Mendocino experience is to get off the beaten path. Mendocino has a certain isolated quality to it that's happy to be set apart. We learned on the radio about the town scandal of the missing whale statue only to later walk by the posh MacCallum House and find the whale statue had mysteriously returned after "needing to swim." I appreciate the focus Mendos' put on organic foods and natural meat options on menus. One restaurant offered single serve packets of agave along with refined sugar and raw sugar. While I don't usually reach for agave, I loved this detail.
Thanksgiving Coffee Company
We stumbled upon Thanksgiving Coffee Company as they were closing for the day. I made a mental note to drop back in the next day and was tickled to find that their fair trade coffee is set off by pastries that have many allergen-friendly options. They have a breakfast and lunch menu as well as a glass case full of organic pastries. The staff are genial and the room full of tables felt inviting.  I settled on a cup of drip coffee to draw my impressions to the main item they touted. Deep and dark, rich and nutty, I kind of wanted to kick myself for not buying a pound of beans. If we'd had more time in town, I could have become a temporary "regular".

Mendo Burgers
It's always a good sign when you see "foraged hedgehogs" and "chanterelles" on a hand-scrawled sign outside of a restaurant.  The lovely purveyors of Mendo Burgers, Jeff and Barbara run a tight ship. Walking up the path leading to Mendo Burgers, you get a sense that you're discovering something special. It's a little off the main path and as such has been around for 25 years.  We ordered our burgers and watched Jeff slap the natural ground beef patties onto the giant griddle, listening to them sizzle. Barbara selected the potatoes and hand cut them using the French Fry crank and fried them up for us. I snacked on sauteed chanterelles and enjoyed a taste of Mendo life.


Mendocino Cafe
One evening we were walking around downtown in a night that was quickly falling. Hungry and looking for an open restaurant, we happened upon the Mendocino Cafe. The cheery lights and inventive menu quickly pulled us inside. We split the Vietnamese salad and the Thai Burrito. The salad was a refreshing mix of cabbage, and carrots seasoned with cilantro, basil, and mint. They served it over a rice noodles and strips of grilled free range chicken. We found it to be filling without being heavy. The Thai Burrito played a good counterpoint to the salad. Rich peanut sauce mingled with veggies, free range chicken and rice. Their sweet and spicy Thai chili sauce tasted great sprinkled on top. The evening was made sweeter with a local guitar player who serenaded the restaurant. Jammed into the tight space next to the restroom, he rocked out on his guitar as if he was alone in his living room or on a stage. We could have stayed for hours listening to him play! We finished off the meal sharing a Cranberry Apple cobbler served with freshly whipped cream and truth be told, we ordered dessert and hot tea so we could stay and listen a little while longer to the guitarist jam. Mendocino Cafe made a lasting impression.

Navarro Vineyards
I have been secretly hankering for a trip to Mendocino for two simple reasons: a quiet place to retreat and write and a strong desire to visit Navarro in person. I'm slightly addicted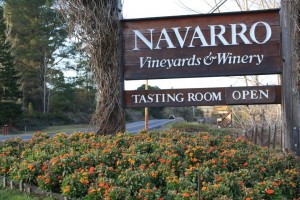 to "highbrow grape juice." Local restaurant B Star features the Navarro Gewurtztraminer grape juice on the menu. It is served chilled and boasts the sweet nuanced flavor you'd expect in wine. This is not your kid's grape juice! Located in Navarro, a short distance from Mendocino, it's a very easy side trip for the wine-tasting  crowd with several wineries on either side. We tried the Pinot Noir grape juice and found it slightly astringent with less of a sweet flavor profile than the Gerwurztraminer, which I'd be happy to call "dessert juice." Lastly, we tried the Verjus, crafted from tart green grapes. Verjus is often touted an ingredient to use for cooking or salads, but we think it makes a great accompaniment to sparkling water (and our guests at New Year's Eve happily guzzled up the Verjus before the wine.) Several bottles in hand, our visit to Navarro was worth the anticipation.

Paysanne
My hands were cold. Beck stayed in the spacious Zina Hyde Cunningham tasting room sampling the different wines being poured and I went out scouting for a cup of hot tea. Downtown Boonville is darling with storefront after storefront sidled up next to each other for maybe a mile at best. A few doors down from the winery, I made my way into Paysanne and knew I'd found a good place. I noticed on their beverage menu that they served Thanksgiving Coffee and various hot teas, along with housemade chai, which changed and made up my mind.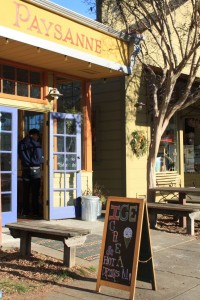 As I waited for the chai milk to be frothed, I took in the  glass case of ice creams made with Straus cream and the candy cabinet set atop one of the counters. I didn't leave without one of their chocolate caramels, wrapped in a slip of wax paper. This popular afternoon spot receded as the caramel melted and melded with the flavors of chai in my mouth. Paysanne is a tiny and fantastic place to stop if you're on your way to Mendocino and itching for a cup of coffee or perhaps a cone. Boonville is about 45 minutes away. Plan to stop and walk downtown Boonville on the way up to Mendocino or on the way back to the Bay Area.