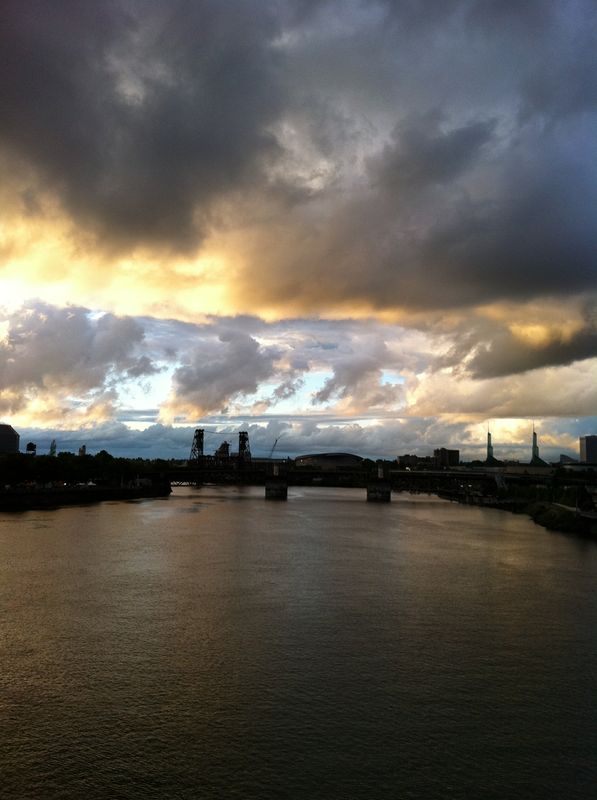 I'm not sure what got into me, but on a recent trip (okay, trips) to Portland, I found myself knee deep in biscuits. While I would like to say I offset the indulgent and oh-so flaky crumbed days of biscuit-eating with vegan food to depose my butter and flour consumption ratio, I'm not certain I succeeded.
TASTY N ALDER
I'm not sure there is a reward for it, but I have visited all three food emporiums in the Tasty n Sons trinity. Perhaps there is a gold star sticker for frequenters. I tend to think if you've got 24 hours or even 48 hours and want to experience Portland through your fork, head to a Tasty N Tasty restaurant. This proved true even more recently when we ambled to Tasty n Sons at 3:30 in the afternoon and found tables of hipsters congregating and filling up the communal table, noshing off the happy hour menu. While the original Tasty n Sons still holds a special place in my gut for their warm, friendly service and put an egg on it swagger, there's a good chance my first love has actually become Tasty n Alder. I blame the biscuit. More directly, I blame the server who suggested that the biscuit might be good to try. I don't typically go for the whole fried chicken and egg on a biscuit with cheddar, but I heeded the server's recommendation and she did not steer me wrong. Oh my goodness, the crumb on this biscuit. Thankfully, it is diminutive enough that any notion of wrongdoing is minimized as it's not the behemoth-size served at Pine State (and I'd vouch is the better biscuit).
On another occasion, I opted for the patatas bravas, which I shared with some strangers also set up in the front window with some friendly Portlanders. That particular day I also ordered the off-the-menu special of mini biscuits in venison gravy which resembled a redeye gravy in all the right ways and also featured a smattering of diced bell peppers for flavor and a bit of texture. If you're staying downtown, Tasty n Alder is the one to visit. Get there early and avoid a wait or if dining alone, make friends.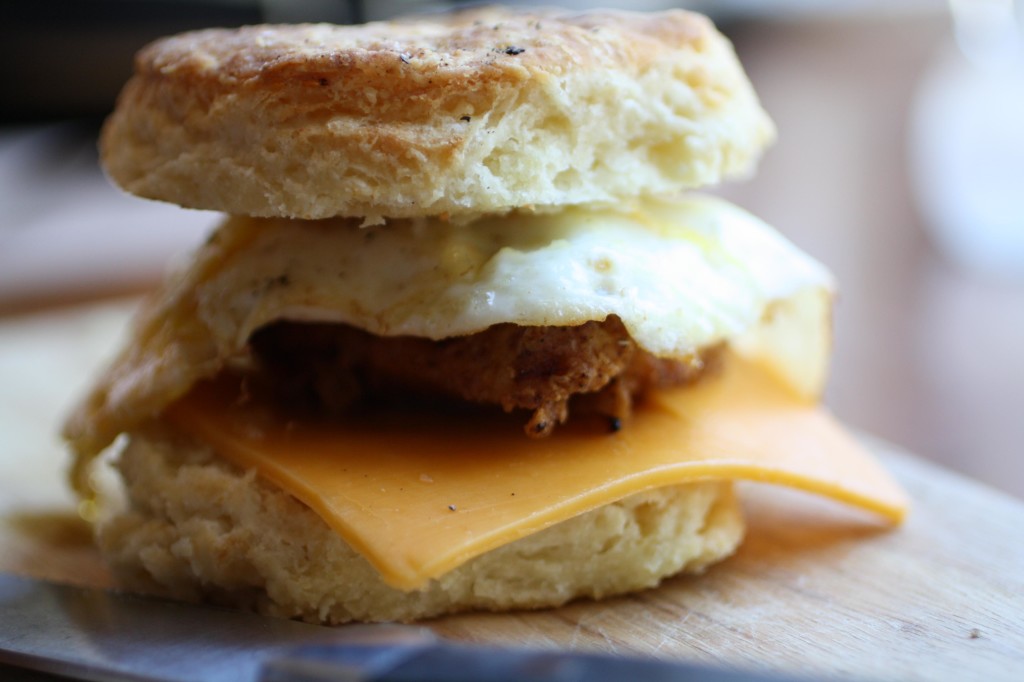 PINE STATE BISCUITS
It should be disconcerting when people warn you in advance about a restaurant and you decide to go anyway. After the ridiculously good biscuit at Tasty n Alder, it set a chain of events into motion. I jumped on that biscuit train with the eagerness of a teenager just behind the wheel for the first time solo. Take note, there will be a line at Pine State Biscuits, even if you arrive early. Gabby had cautioned on the large portions here and it's true. This meal will cover the requirements nicely. The line moved quickly and before long, the cashier stood in front of me taking down my order of The Reggie, a biscuit slathered in gravy and sandwiching cheese and fried chicken, and a cold-brewed Stumptown iced coffee. Slung together in seamless motion, the cooks worked so fast that watching them was its own form of entertainment. When the biscuit arrived, it was of epic proportions. This meal is almost a challenge and most definitely is aiming for the eater with swagger. Juicy fried chicken held up the melted cheddar cheese and bits of biscuit flaking off onto my fork. Since this was my second (shudder!) fried chicken biscuit sandwich in 48 hours though, I'm more amenable to the size and flavor of Tasty n Alder. If you happen to be keen to get your biscuits buttered, head to Pine State.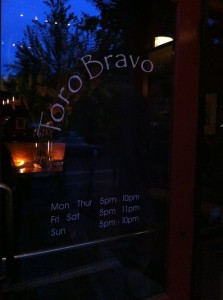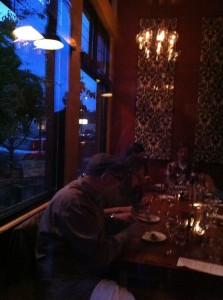 TORO BRAVO
Fabiola set about giving us her three ideas of where to eat while in Portland, and while selecting between Clyde Common and Toro Bravo was difficult, we made the right choice for the evening. Upon arriving at the overtly Spanish outpost of the Tasty n Sons empire in Portland with twilight settling on the city, Toro Bravo boasted dim lighting and ruddy surfaces. The effect is both intimate and mysterious, as if you are walking into an experience as much as a restaurant.
The sheep's cheese with rose petal harissa and mint sounded compelling on the menu but left a bit of a thud as the rose was indiscernible from the heat that blanketed our tongues. The marinated olives and pickled vegetables kept us reaching for more, and the radicchio salad with green olive toast and manchego vinaigrette satisfied our salad course. The tortilla espanola at Toro Bravo is pretty special and by special, I mean custard enfolding potatoes prepared perfectly. It was my stand-out dish. Toro Bravo also easily provided a vegan menu for a friend which didn't consist of barely dressed salad or steamed vegetables. The meal at Toro Bravo stood out as a clever interpretation of Spanish tapas.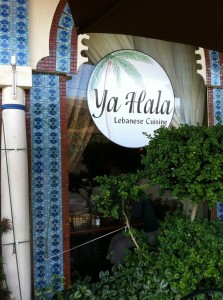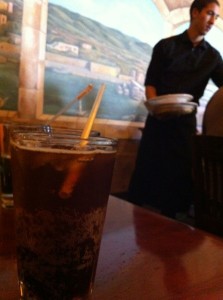 YA HALA
You know how a restaurant can work its way into repeat visits every time you're in town? Dreena had been vocally dreaming about their artichoke hearts dish during a trip in Portland, and we wanted to experience the flavors she lavished upon us, extolling their food. If you don't have a car, Ya Hala can be a bit of a long ride in a cab, but the food at the other end of that pay stub is well worth the visit. Situated in a darkly lit back room, we were greeted in this Lebanese restaurant with more tantalizing options than just the braised artichokes stuffed with carrots, potatoes, squash and onions in a tomato onion sauce that brought us to the restaurant. I couldn't resist their puffy housemade pita or the fire-roasted baba ghanouj as a starter and sipped on a date soda. Seeing labneh on the menu almost made me atwitter and I had to winnow down my choices from the Makloube, upside down rice and eggplant casserole or the Sheik Al Mehshi. I ended up going with the Sheik, a dish of baby eggplants sautéed and stuffed with vegetables and served with a tomato sauce and basmati rice. When the dishes arrived, we dove into them eagerly, but even the most enthusiastic appetite can't finish the large portions they serve. For a bit of Middle Eastern flair in Portland, I was thrilled to discover Ya Hala.
BAKER & SPICE
Tucked into a residence not close to downtown, but accessible by taxi, the bakery, Baker & Spice boasts treasures of the flaky and crusty variety. Fabi had mentioned the rigors of perfection by which they make their croissants each day and I jumped at learning of another bakery in Portland at the top of their game.  One thing you quickly notice upon entering Baker & Spice is how the open kitchen is directly behind the counter and extends far back. It distracted me from the rich bounty in the glass case as I tend to be a bit of a kitchen voyeur and appreciate watching others bake and cook. With so much stimuli, I ordered a box of goodies and retreated to enjoy them with friends. The Katie bun, a Danish covered in brown sugar, cinnamon and golden raisins turned out to be our favorite, a not-too-sweet and sticky bun perfect for pulling apart and sharing. The Maple twist Danish pastry with Vermont maple glaze also enticed. I didn't try a hand pie or a slice of chocolate chip angel food cake that looked light enough to ascend from the pastry case. Of course, tarts, drop cookies, shortbread and bread puddings joined the rank in the glass case. All in all, this bakery exceeded expectations. If you visit, make sure to pick up a bag of Baker & Spice granola, which travels well as a food souvenir.
VEGAN
Hotel restaurants can certainly leave little in the way of intrigue, so when Kristina mentioned that I should check out the restaurant at the top of my hotel during a recent visit, I kind of balked at first. We rode the elevator to the top floor and stepped out into what felt like a narrow passage way to a space ship. Walking into Departure what struck me immediately was the host asking us if we needed a vegan or gluten-free menu. That touch of hospitality lets me know that people with food allergies or dietary preferences are not second class citizens but are welcome. This left a welcome impression as he whisked us into the dining room and we were quickly seated across from stunning views of the city bridges and river streaming through glass walls.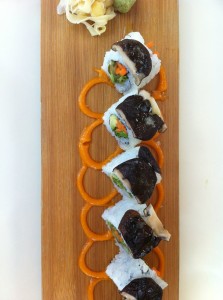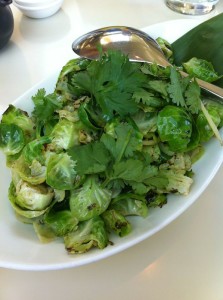 We split several vegan sushi rolls including the Grilled Shiitake Roll with scallion, avocado, butter lettuce and carrot sauce that equated to a flavorful bite. I smeared my sushi with the carrot sauce, not wanting to lose any of it. We also shared a Sweet Potato Tempura Roll with spinach, ginger and spicy miso where the sweet potato served as a bit of crunchy texture. Lastly, we ended up perfectly pairing the sushi rolls with their wok-fried Brussels sprouts tossed with chili, lime and mint.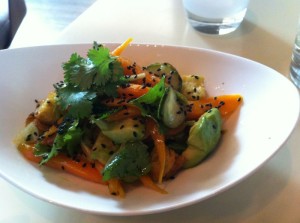 I must admit, the food here is good in a way that had me sheepishly admitting I was wrong… so wrong that the next night I went back to Departure by myself to relish the Grilled Shiitake Roll. I also tried their spicy carrot and avocado salad with pickled cucumber and sourdough croutons that the server mentioned is the staff favorite and on the list of food the staff can't order because of that fact. He was so right and in some ways it was a quintessential Portland salad with its pickled veggies and fermented dough croutons. And, wouldn't you know it, on my way out, I saw Kristina sitting at the bar finishing off a Grilled Shiitake roll. Clearly, something good needs to be savored twice sometimes.
KURE JUICE BAR
Downtown, I had spied a juice bar called Kure Juice Bar. Inside, Kure is essentially a walk-up counter with a list of juices that can be concocted as you wait. In addition to their juice offerings, I appreciated small details of fare for breakfast like steel cut oats  or acai bowls. For lunch, I noticed they also carried millet burgers and kale salad. Their "bells and whistles" list of mix-ins for smoothies included esoteric offerings like veggie probiotics, maca root and bee pollen. Since our visit coincided with the droopy hours of afternoon that require a pick-me-up, I selected the "Portland Farmacy" juice, a combination of cucumber, celery, spinach, kale, parsley, romaine, lime, apple and cayenne. If you haven't caught onto the burgeoning juice movement taking on the U.S. right now, let me just tell you this is a trend not founded in hype. Sucking down the juice, I was amazed again how revitalized this infusion of veggies and fruit made me. If you typically turn to caffeine to help you wake up, try a green juice. You might just find that its effects happen quickly and are more long-lasting. The Portland Farmacy blend was one of their more savory blends, and I ordered it with a boost of ginger because I like the zing. Other juices stood out like the Tiger's Blood with carrot, extra ginger and beet, which I can easily imagine is sweet with a bit of that beloved ginger fire. Kure is closed on Sundays, so I didn't get to try anything else, but imagine the Matcha Matcha Man is a popular choice when it gets chilly outside.
OBLATION PAPERS
Let's talk about paper, shall we? It's my experience that writers have a fixation on paper goods. Whether it's finding a handmade journal or letterpress cards that look all business but speak with snark, if writers are collectors, I'm inclined to think that paper factors highly into their collections. I stumbled across Oblation with a friend (who's a writer), Susan. She had a short list of must-visit PDX spots and Oblation factored high on her list. Within a minute of entering this quirky store, I understood why. Before long I had picked up a "You Look Like You Could Use Bovine Growth Hormone" card and a birthday card that celebrated on its cover, "Here's a Mini Stratocaster for Your Birthday" with a tiny electric guitar sketched onto the front. The store boasts boxed sets of letterpress cards of the more vanilla variety, "Thank You!" and others in the cheeky realm like one emblazoned with a pitch from "the Department of Homestead Security."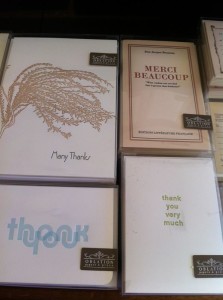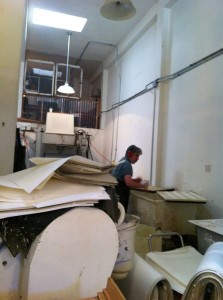 In the back of the shop, behind the resident parakeet, a man was making paper, dipping long molds into wide vats of grey water. I stood there, watching him work, trying to be inconspicuous and marveling at the effort involved in making what my pen cherishes. If you tend to be a card collector, be prepared to walk out of Oblation with a stack of sassy cards.
So, what are some of your can't miss Portland restaurants or shops?