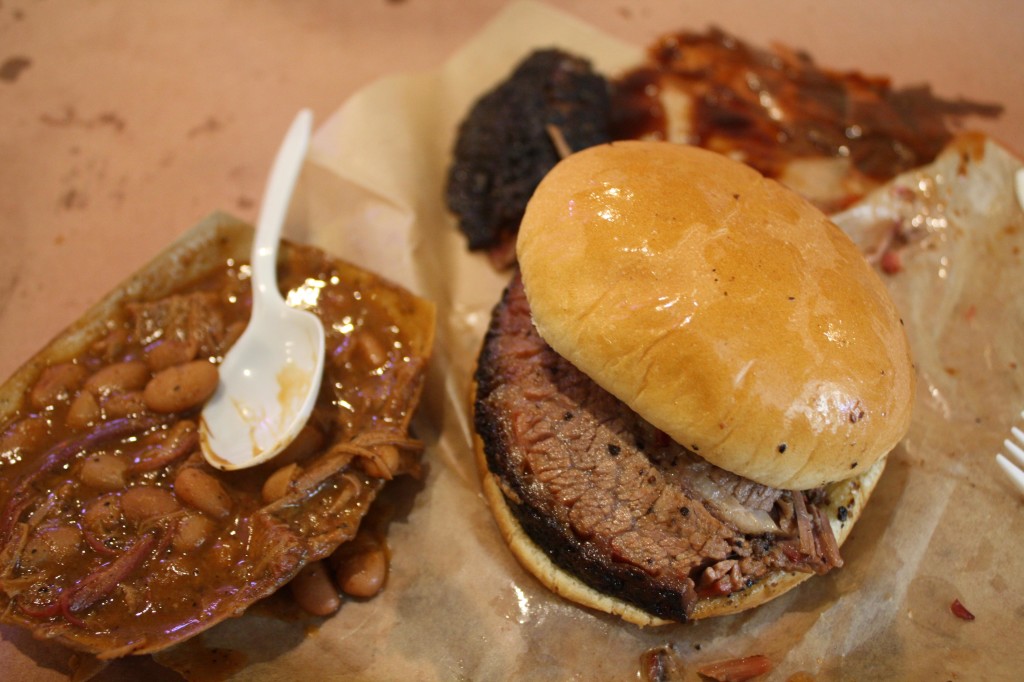 Franklin
Sometimes the hype surrounding a place is undeniable. I am not easily taken in by such terms as "best restaurant" or "most popular"- call it a confounding need to go against the crowd. The line snaking out of the front door of Franklin did not surprise me nor did the 45 minute wait, which could easily have been several hours long. Like others in line, I braced as the server came outside to announce out of stocks and then slackened my shoulders as she listed brisket among the current meats still available. Brisket, my barbecue touchstone, how I hankered for a hunk as the line crawled forward slowly. Once we arrived at the counter and the butcher hacked into the crusted meat, I was salivating with anticipation. And you know what, the brisket is as good as the critics say. No, it is better. I found myself acknowledging the obvious aloud as we left, "I don't ever need to eat brisket again." Nothing can compare with Franklin's brisket. So settle in for the ride, especially if you're thinking of going for lunch… ride the BBQ crest and go with it, especially if they run out. Crack open a Shiner Bock while you traverse the line and indulge your barbecue cravings at Franklin's. Also, make sure to serve up some of the espresso BBQ sauce and original, though in truth, the meat is just simply good on its own.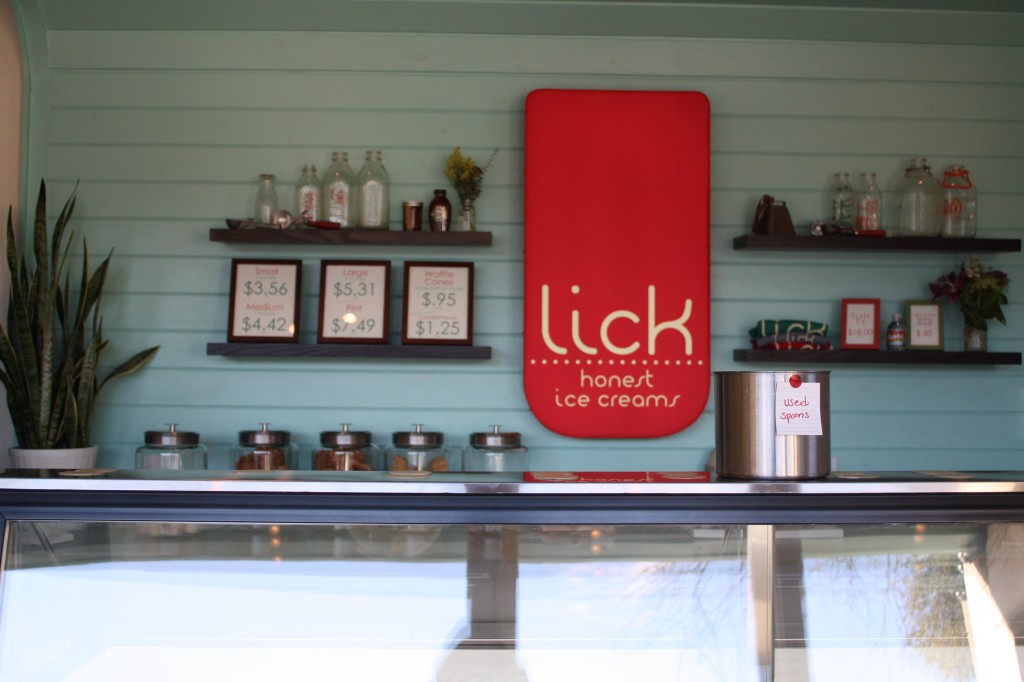 Lick
When a food friend casually mentioned Lick in passing, I made a mental note. I'm a bit of a sucker for "handcrafted," "organic," "small batch," "local." A visit to Lick was imminent. I found myself pulled in by their colorful, friendly logo and their tagline of "honest ice cream." Making decisions at Lick proved to be difficult for this chocoholic with flavors such as Dark Chocolate, Olive Oil & Sea Salt or Too Hot Chocolate, chocolate ice cream with cayenne, cinnamon and chipotle peppers. Then again, the Texas au Lait with a bit of espresso steeped in and Mexican vanilla caught my eye. I settled on a combination of Dark Chocolate with Olive Oil & Sea Salt, paired with Savory Pecan & Bourbon, sucking on the candied pecans and catching the hints of cardamom and hit of bourbon. I'm pretty sure Lick is giving Amy's a bit of healthy competition. Decadent and creamy with a homemade texture that tastes slow-churned, if I decide to indulge in ice cream when in Austin, I'm heading to Lick.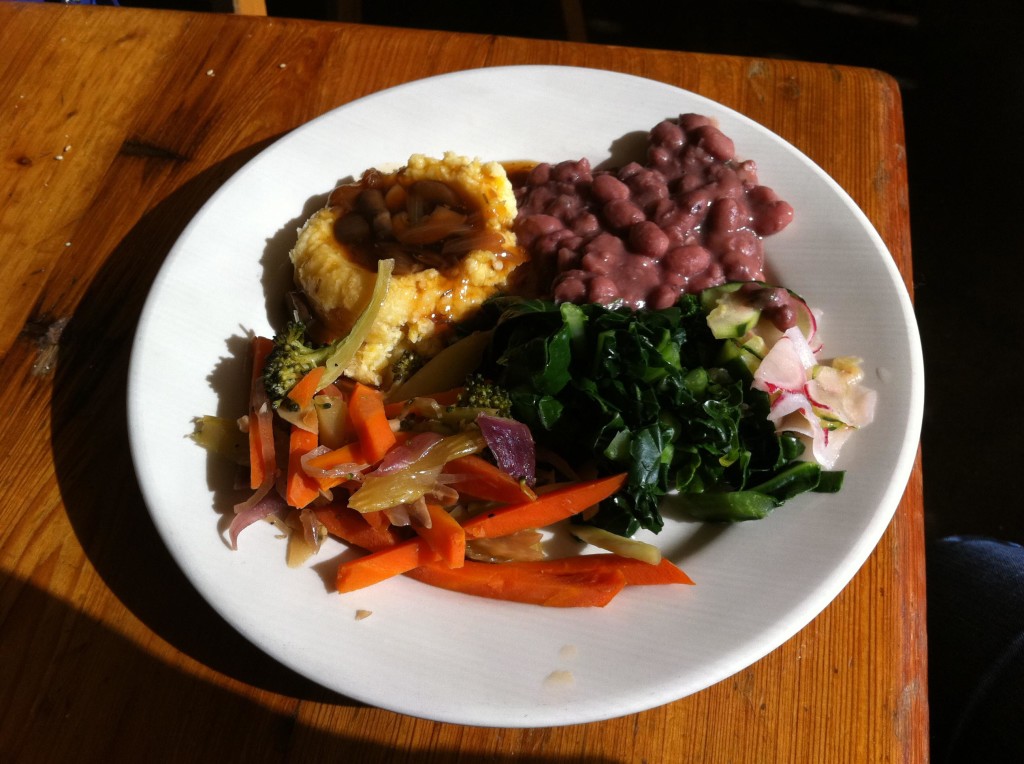 Casa de Luz
Looking for Casa de Luz will take you down a side street and plant you near a school. Walking into Casa de Luz transports you to Costa Rica or at least the type of environment this community has created. This plant-based restaurant operates on a donation basis and serves macrobiotic food. The menu changes everyday at this organic vegetarian café, which boasts a banner in the kitchen that says, "Nature is our menu planner."  On the day I visited, lunch consisted of an organic mixed greens salad and creamy cilantro dressing. A large pot of vegetarian soup could be ladled into bowls and one of the cooks delivered a plate of whole grains, steamed vegetables and legumes to the table as I perused the tenets of "Macrobiotic" living. Pockets of people scattered through the dining hall and the outside deck. The spirit of Casa de Luz with its vegetable-driven menu and inclusive environment makes it a special place in Austin for those pursuing clean eating.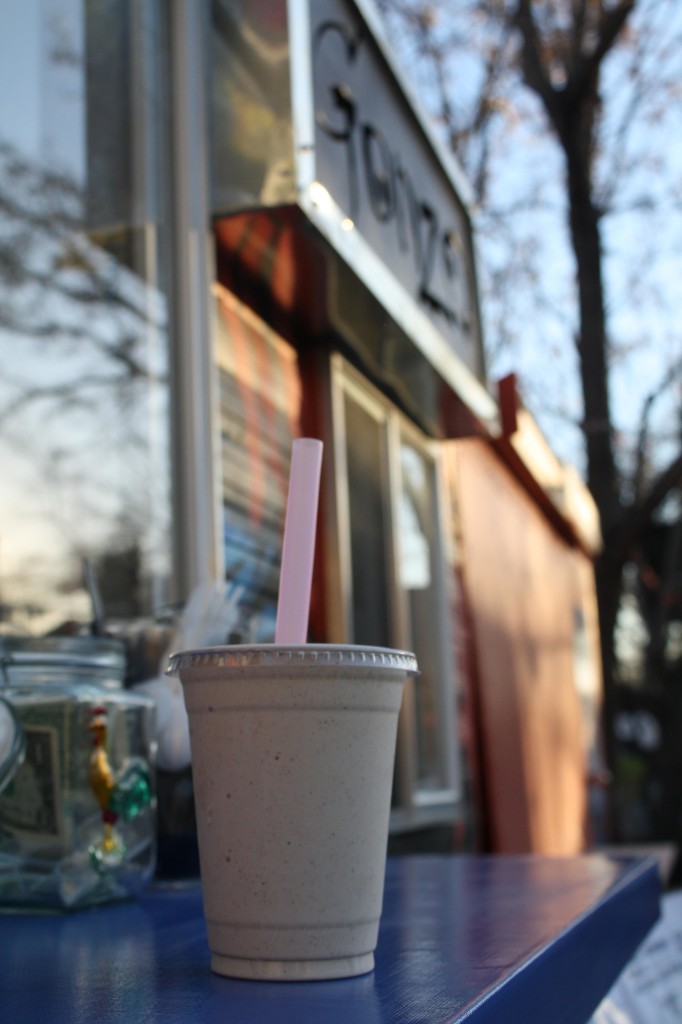 Gonzo Juice
You can't really go to Austin without visiting a food truck. Like the bastion of food truck food, Portland, what defines the food truck culture in Austin is the permanence of these vehicles. One evening, I found myself in close proximity of a food park and made time to peruse the trucks' offerings. The gigantic chicken head jutting off of the Gonzo Juice food truck pulled me in to further investigate their offerings. As it happened, I found myself only marginally hungry and particularly in the mood for something cold, frosty and able to contend with the sunshine beating down from above. Ordering the Honey Pie was a very good decision. I discovered this as I slurped the milkshake made with honey, almond butter, and almond milk vowing that next time I would try their Watermelonade because what could sound more thirst-quenching in a Texas summer?
Town Lake
After all that eating and drinking or let's face it before, finding and thinking through a workout regimen when visiting a city is part of unlocking its charm. Renowned for the large flock of elite athletes who live and train in the city, Austin has something to offer people of all fitness levels like the walking path around the lake known as Town Lake. Different path lengths exist and provide space enough for runners, walkers, cyclists, families and dogs. One afternoon we took our time walking three miles around Town Lake and I discovered it is the social epicenter of Austin. From the lush scenery of the still water to the lost and found rock near the mouth of the bridge, that route around Town Lake let me get a glimpse of the locals' "watering hole."
Barre3
When thinking of working out, if you tend to veer toward classes or yoga and haven't tried a barre class, you're in for the kind of treat that will leave you sore the next day. I attended my first barre class at Barre3, a studio situated close to West Lake and with visions of a green juice at nearby Whole Foods afterwards. It's all about priorities, right? The barre class worked on flexibility. We squatted; we lifted. We sank into plies and by the time we stretched into cool down, my body resembled human jello in the best possible way. Barre provides a great workout and the team at Barre3 led by Tara made a newbie like me feel welcome as much as someone more experienced.