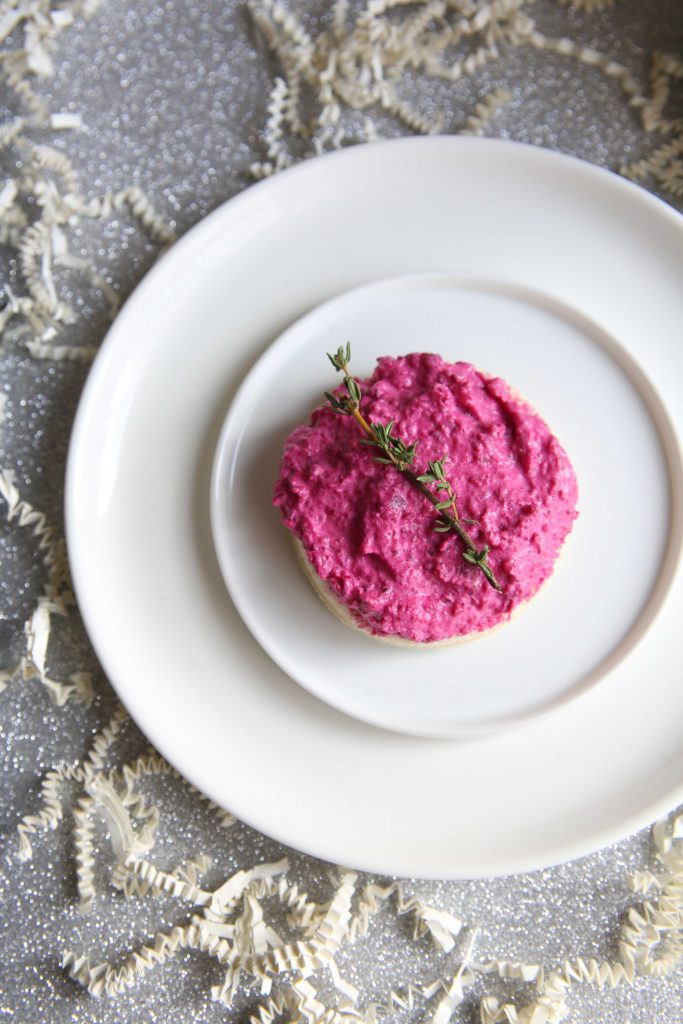 Gone are the days when I diligently jotted a note here letting you know about writerly goings-on elsewhere. But! My fondness for cabbage took an interesting foray into a letter I penned to that cruciferous vegetable, printed in Volume V of the New Guard. And so, I recently began musing about how wonderful Borscht never makes it into the food headlines. It should. Something about the sweet earthiness of beets with enough cabbage to keep it grounded and a touch of dill to lift it up into a heady high-tail into the clouds makes it a soup for the ages.
I haven't had enough of open-faced finger sandwiches just yet and am enamored of the soup, Borscht. It doesn't get quite the attention of other soups, but makes a marvelous spread on bread in Borscht Toast. These bright pink bites are the stuff of Valentine's miracles. Let it be known the bread can be ejected from the scenario and the beet caramelized onion topping can easily sub as a dip with crudités. We find it particularly good with carrots or shoveling it into endive leaves with a few snips of dill or chives on top would be good too. I have a hunch that even ham would play well with this bright pink dip that's savory and a cheery addition to a winter spread.
Borscht Toast (Beet Caramelized Onion Toasties)
MAKES ABOUT 16
1 medium white onion, thinly sliced
1 tablespoon olive oil
1 teaspoon kosher salt
1 cup finely shredded cabbage
¼ teaspoon fresh thyme leaves, chopped
¼ teaspoon freshly ground black pepper
1 small Yukon Gold potato, quartered and cooked until fork tender
2 small beets, peeled and cooked until fork tender (about 3 1/2 – 4 ounces total)
¼ teaspoon dried dill or ¾ teaspoon fresh dill
16 white sandwich bread slices
Fresh thyme or dill sprigs
Create the bread rounds by placing a biscuit cutter dead center in the slices of bread. Reserve the leftover bread for another use.* Toast the bread. Drizzle and swirl the oil into a sauté pan set over medium heat. When it shimmers, add the onions and salt. Saute them for about 10 minutes or until soft, stirring occasionally. Stir the cabbage, thyme, and pepper into the pan. Saute for 2 minutes or until the cabbage softens. Cool the onion mixture for 10 minutes. Grate the potato pieces using the fine holes on a box grater—the potato skins will make it easier to grate the potato and you can toss the peels afterwards. You should have about ½ cup finely grated potato. Place the onion mixture, grated potato, beets, dill into a food processor. Pulse until almost smooth, but still a bit chunky. Scoop about 1 tablespoon onto the toasts.
PS- These open-faced toasts look pretty with a sprig of fresh dill or thyme for decor if desired.
PPS- If you go with thyme, it's a pretty decoration. Thyme sprigs are woody after all and not quite so edible.
*PPPS- I like using the leftover bread slices missing their middles for egg in the hole at breakfast.