"Cooking made me appreciate food. It made me slow down and enjoy. Today we call this 'mindful eating.' I believe this happens naturally- when you cook (Speck, p. 5)."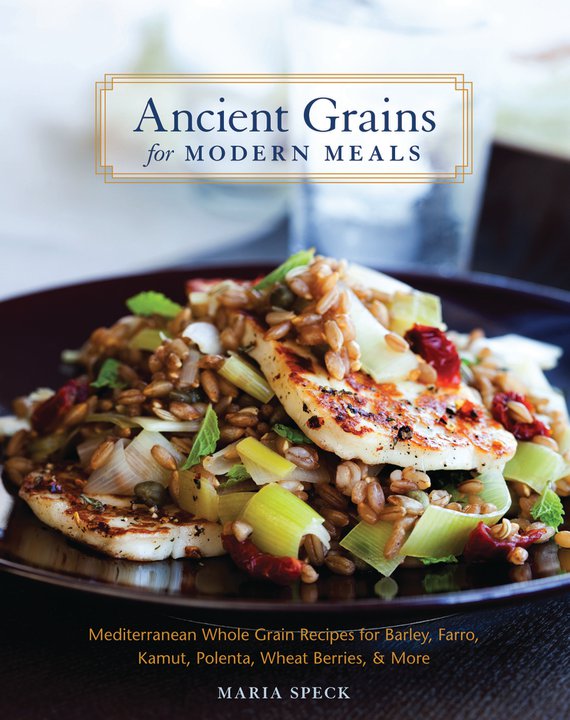 If you ask a person on the street what they think about whole grains, healthy might come to mind. Whole grains are the rage right now and touted by everyone from diet books to call-outs on the front of food packaging.
Author and self-declared whole grains enthusiast Maria Speck takes a very different approach as she starts her cookbook "Ancient Grains for Modern Meals" when she says, "I don't want to tout the health benefits of whole grains because I don't believe this will actually make us eat them (Speck, p. 6)." She describes her style of eating by something she calls "the truffle theory" wherein she could easily eat more store-bought truffles but finds herself satisfied with only one or two truffles rolled by her hands. Her preface in a book on whole grains comes from a passion for eating good food that happens to be good for you.  She cooks what she likes to eat.
"[E]ating is about pleasure first, and dieting last. I believe food has to be mouthwatering and seductive to stay in our meal plan for good. This is why I use rich natural ingredients like butter, cream and bacon, though in moderation. To me, whole grains, are the ultimate comfort food (p. 3)."
Her playfulness essay "Never Give up Baguette, with Butter" points to indulging but comes after 33 pages disseminating interesting details on specific whole grains as well as tips on baking with whole grains. In these pages, she shares historical data, provides tips on what to look for when you shop for whole grains and defines the differences between whole grains and pseudo-grains or pseudo-cereals like quinoa.
This book serves as a sturdy resource and Speck makes a good teacher, coaxing you on the way to store whole grains (in glass jars to line the pantry shelf, p. 19) and providing two excellent charts on quick-cooking whole grains and slow-cooking whole grains on pages 24 and 25 that serve as good advisors on which whole grains should be reserved for weekend cooking projects when time is not as much of an issue and which can make it into your weeknight meal in 30 minutes.
Throughout "Ancient Grains", Speck includes helpful endnotes on how to get a head start with a recipe or how to make a recipe vegetarian. I particularly found the surplus of tips peppered through her book to be helpful such as inverting a baking pan if you don't own a pizza stone (p. 176) or how to quickly soak your grains (p. 7). The par-boiled brown rice recipe on alone (p. 26) will add a handy tool to the busy home cook's weeknight arsenal. She asserts that the most important tool you have in the kitchen are your hands. I couldn't agree more and credit my early developmental years in pottery class for a penchant in getting my hands dirty.
Knowing that I would be embarking on a gluten free regimen, I considered the ample opportunities that discovering other whole grains would allow. For those avoiding gluten, they cannot eat wheat, rye, barley, triticale, spelt, kamut, einkorn and others. This leaves a stunning array of other whole grains that are feasible and gluten free like the pseudo-cereals, quinoa, amaranth and buckwheat, to name a few. If we find that we get back on a gluten eating pathway, I will deftly turn to page 203 and whip up a batch of Wheat Berry Fools with Grand Marnier Figs.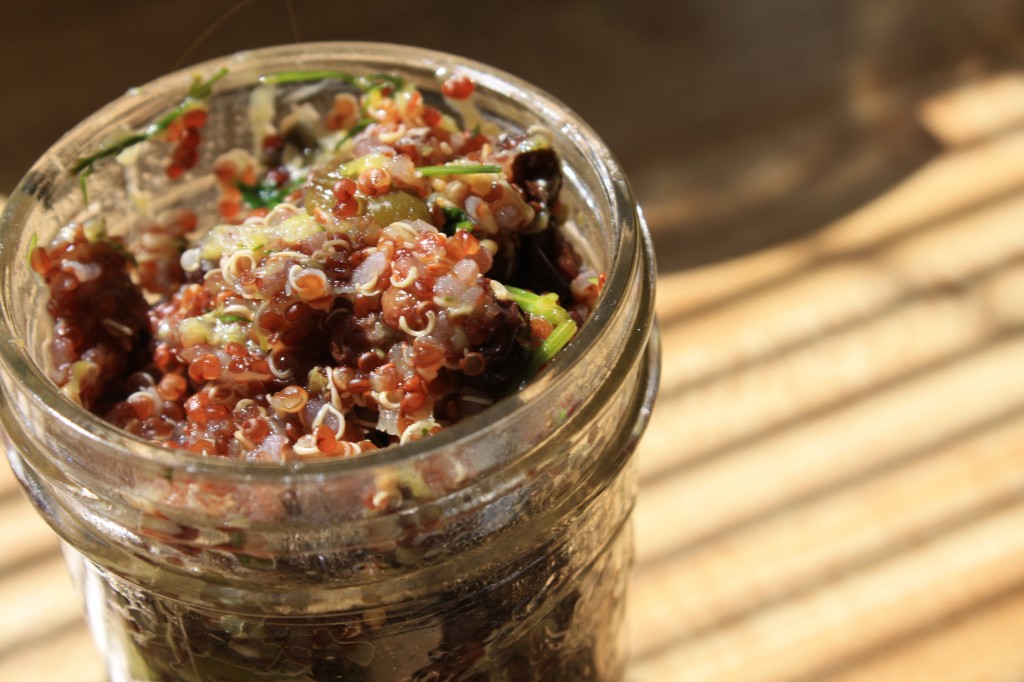 Last Saturday, the sun warmed our typically chilly city. The last thing I could imagine doing was staying inside instead of finding a spot of grass with a book in a park. The ease in making the Lemon Quinoa with Currants, Dill and Zucchini (p. 90) gave me something refreshing to nosh on for a late lunch and later accompanied me as a welcome substitute to airplane food on a recent flight. Fresh and bright lemon blends with the dill and zucchini along with a vaguely sweet flavor note of currants and the slight toothsome texture of quinoa.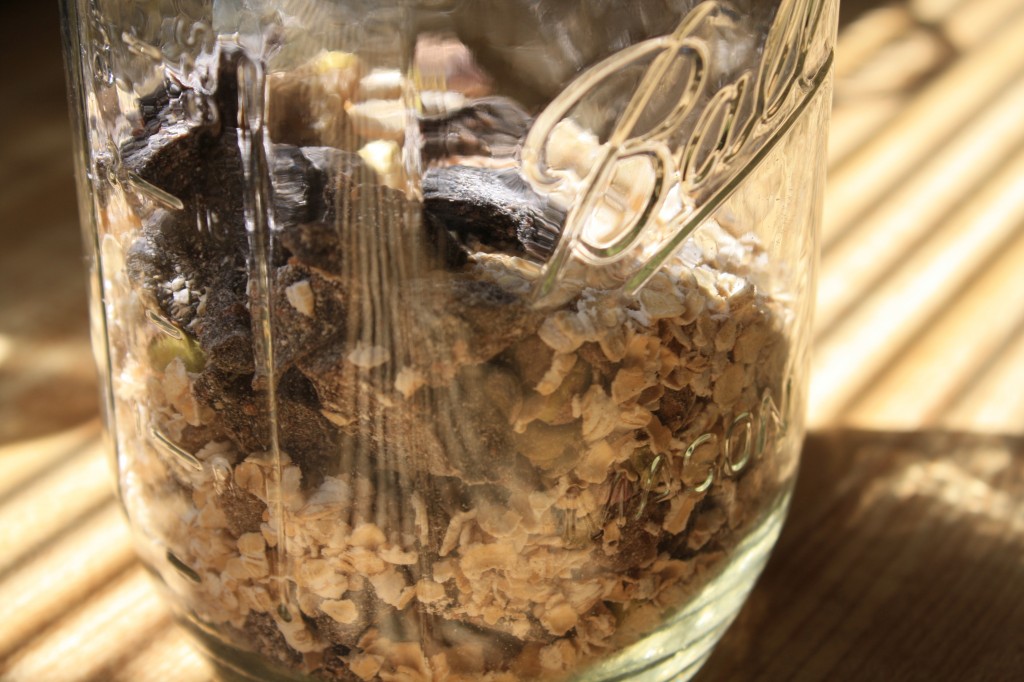 For a fast breakfast, one morning I pulled together the ingredients for the Warm Muesli with Figs, Pistachio and Anise (p. 42). While I opted for gluten free oats and serving this cool with a cup of kefir poured atop and left to sit for 10 minutes, I found this combination of dried fruits, nuts and oats satisfying.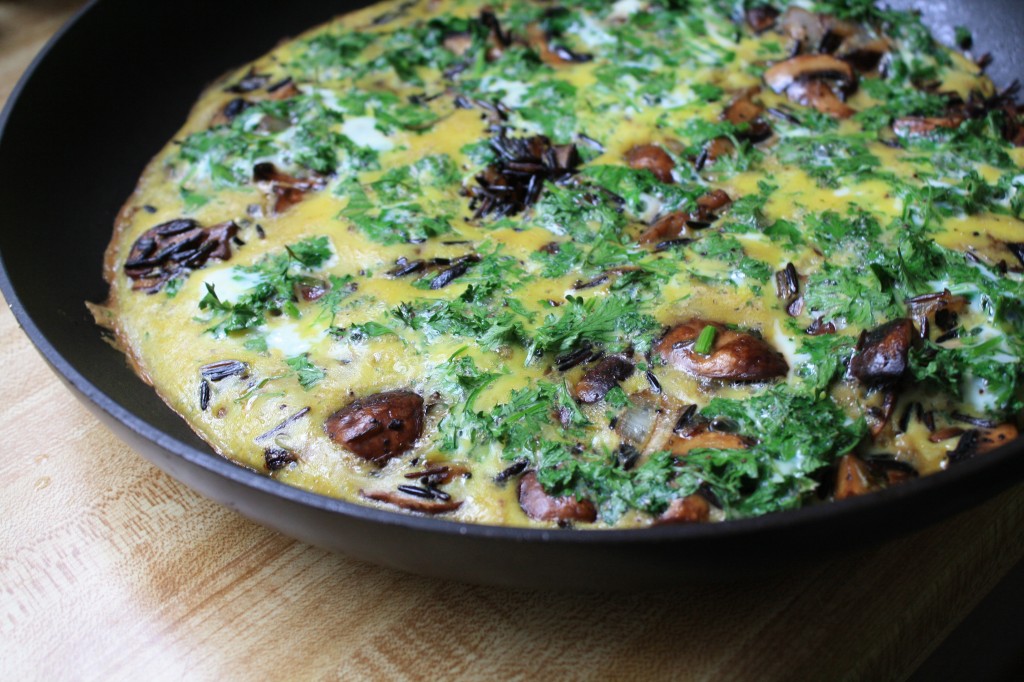 I had been eyeing the Wild Rice Frittata with Prosciutto (p. 67) from that quick glance at the table of contents in the bookstore and it did not disappoint. Instead of adding the prosciutto, we made it vegetarian and that combination of mushrooms, hearty herbs and wild rice imbued a meaty and savory quality to this dish. The frittata made a fantastic to-go lunch tucked in my bag as I rushed out for an appointment.
Are you still with me? If you are, good things come to those who read, er, wait, at least I've always thought so.
"Be it a quick meal on a weeknight or a slow feast for a special occasion, good food is worth the wait. Waiting helps me to appreciate the effort that goes into cooking (p. 166)."
If I was to summarize "Ancient Grains for Modern Meals" in one word, it could easily be "indomitable."  She won an IACP award recently for "Ancient Grains" and rightly so. This book is a life's work. The amount of research and kitchen time that went into writing this book is worth praise. I found myself in Thessaloniki and also wanting to be learning Greek cooking from her mother. Her storytelling is engaging. The one thing I think would serve it well in reprints is to add a page on gluten free grains or perhaps include this demarcation for gluten free recipes in the back of the book. While I know its intent is not to be a gluten free cookbook, I do find a curiosity and eagerness for tackling acceptable grains by the gluten free community.
Speck's appreciation for the good life with good food serves as a reminder that eating healthfully doesn't have to be boring or restrictive. A dash of cream or a dollop of butter sometimes really brings out the flavor of food. I like her European approach to cooking, cuisine and probably could talk her ear off about my adventures in Greece.
Stay tuned tomorrow for Speck's Artichoke-Rosemary Tart with Polenta Crust recipe.