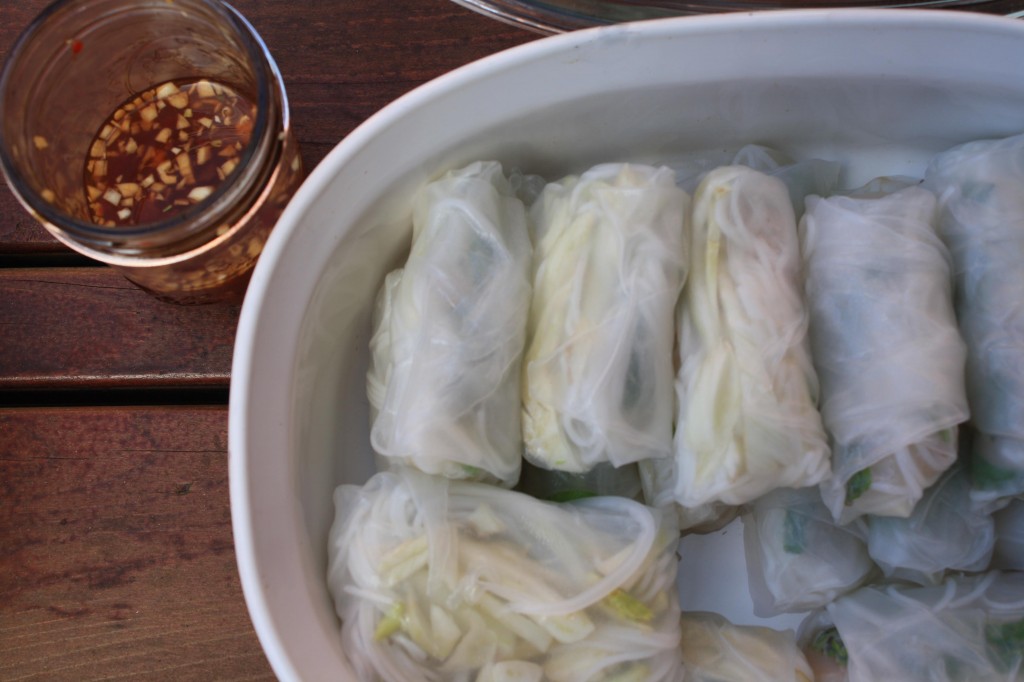 We stop to smell the roses. We stop to find their petals caress our fingertips, soft as rustling silk. We find their sweet aroma lingers into the rest of our day, its faint residue a recollection of gathering the mind swell of remembering we are part of life once.
Travel can be such a disjointed event, as if excising a limb from the rest of the body. Apart from the central nervous system, the phantom limb pains come in as text messages from the body of I miss you. Come home soon. With it comes the setting off to explore and entrench oneself deeply into the alien environs even if there is a modicum of familiarity in the place being visited. The adage, "You can never go home again" bodes true. Regardless of how deeply ingrained a place is with your spirit, something about you has changed since you last visited and the same is true of the place. Perhaps it's the old house knocked down to build a McMansion or the discovery of a second bakery opened up in the quaint small town.
Life does not stop as we move forward by plane, train or automobile. People still get married and people still die. We are just out of pocket to respond accordingly.
Recently, I traveled for a wedding and found myself consoling the bride in her dressing room. Her hair piled high and her face made up, she fanned her eyes to try to avoid letting tears that tugged at the corners from making their imprint in mascara. Some things you can talk away and others assert themselves as unexpected guests that you can't politely escort out. We sat there in the bridal dressing room with me trying to make the bride laugh, using my recent comical comings and goings as fodder. I succeeded once, but what transpired is not something easily passed off.
On the day of the wedding, a day several years previous that the father of the bride had passed away from cancer, the mother of the groom did not wake up but was instead non-responsive and rushed to the hospital, in the midst of her own battle with cancer. The classical guitarist charged through his set of music and repeated the set as the wedding was delayed and inevitably started without the groom's parents present. We hold the bitter and the sweet enough to understand that's why we've been given two hands. Ultimately, the joy of two families forging as one played itself out. The mother and father of the groom arrived at the end of the reception, their presence such a sweet gift and a reminder that like the bubbles we blew as the couple departed, our lives are iridescent and infinitely fragile.
Another trip followed. This time a phone call pulled me from the reverie of being ensconced in the small town where I ventured for a self-imposed writing retreat. After the usual cavalcade of conversation, we arrived at the gist of the phone call, the death of our friend and landlord. Just a week prior, he had been brought home with his living room outfitted to accommodate his hospital bed. I had barged into the room to usher in our eagerness to have him back and to give him a box of cereal. As my eyes took in the situation and the whiteboard with the words "difficulty swallowing" scrawled by black dry erase marker, the cereal box felt superfluous and I stood there trying to cheer the man whose blue eyes used to dance with the playfulness of a vibrant zest for life but now appeared lackluster. "See, I'm not teasing her," he said as he proceeded to tell me how I looked more svelte. Ever the generous bighearted fellow, he tried to pull himself from the bed to sit on the couch, wanting to properly spend time with his guest. We each acknowledged this misstep with "maybe later in the week" and my reclamation of the cereal box for a promise to make something "ridiculously good- a pureed soup!" He smiled at me and I told him I would come visit again in a few days.
We see what we want to see.
While his stalwart spirit had diminished and he appeared shrunken, I let myself believe he would be on the mend as he had been countless times before and that soon, we would hear him hollering through the floorboards when the Glasgow Celtics scored a goal or singing a song in his assured tenor. Sometimes what is required is bending to what must be, and finding the grace to let what will be begin its unfolding. The news on this telephone call with me as far from home as I could be without leaving the United States left me feeling distant and trying to process this new fact and that I would miss the memorial service. That his hand was held by his life partner in his final moments – that he rested comfortably as his spirit departed from his body makes the finality of his passing bearable and gives levity to something so somber.
During that stint on the East Coast, I talked with a fellow writer about how the seasons evoke themselves into friendships. Where one friendship may be in its peak of summer, another settles into autumn or winter. I have stopped fighting this natural progression. Call it a Darwinist evolution of living that as we change and others change, paths will diverge. Just as the bride and I have held our friendship since our mothers' meeting in lamaze class, so too the landlord and I find our friendship pinned to the memories of recollection, a flower pressed in between pages of a favorite book.
How sweet and rare are the friendships of kindred spirits who have moved far away and upon meeting up again, things resume as they once were. These are valuable gifts. 
In spite of what is happening around us, people still get married and people still die. In this truth lies the wisdom to celebrate the moments and opportunities as they come- to smell the roses and let their lingering aroma envelop us with sweetness.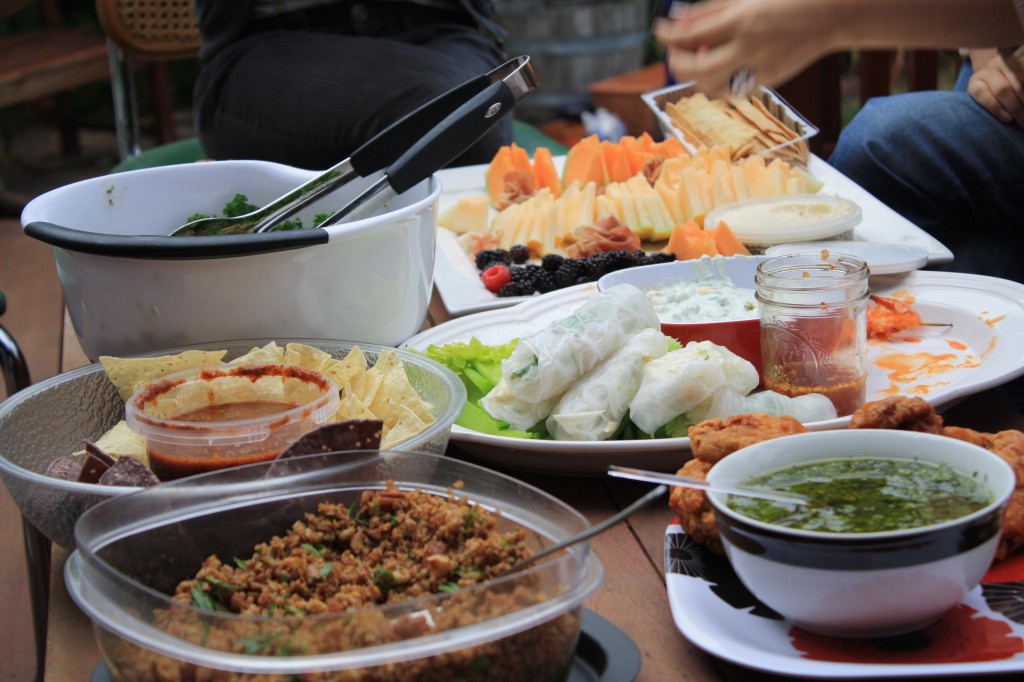 [print_this]
FRESH FENNEL LYCHEE SPRING ROLLS WITH BLACK TEA DIPPING SAUCE 
YIELD: Makes 20 spring rolls
My friend Pamela taught me how to make spring rolls years ago when she lived in the Mission district and we would get together weekly for dinner and conversation. I look back on those times with the fondness of creating community and a long-lasting friendship. This past weekend with a birthday party potluck in store, I found myself thinking of Pam and her Mango Spring Rolls. Given that the birthday girl has a bit of an adventurous foodie flair, I thought she wouldn't mind this revision as our potluck dish, even as I gifted her with Dark Chocolate Campari caramels and two books of poetry- one by Kaminsky and another by Prado. Indeed, the spring rolls brought a bit of  surprise by lychee that makes them a tasteful and refreshing dish for summer potlucks or parties. You'll find the black tea brings a bit of astringency to this dipping sauce that complements rather than masking the subtle flavors of lychee and fennel.
SPRING ROLLS
20 fresh lychees
½ fennel bulb
½ cup fresh mint leaves
3 ½ ounce rice noodles
20 rice paper wrappers
DIPPING SAUCE
1 tablespoon English Breakfast black tea
1 cup water
1 teaspoon sambal oelek (chili paste)
¼ cup rice vinegar
1 garlic clove, minced
1 ½ tablespoon raw honey
Bring 4 quarts of water to a boil in a medium sized pot. Turn heat off and add in the rice noodles to soak for 10 minutes. Assemble your mise en place ("putting in place" all the bowls of fillings) while the rice noodles soak.
Peel skins off of lychees. Then peel the lychee off of the nut in quarters. Set aside in a small bowl. Cut the fronds off of the fennel bulb and then cut the bulb in half. Then cut into thin matchstick slices and set them aside in a bowl. Pull fresh mint leaves off of the stem and place them in a small bowl.
Drain the rice noodles and then run cold water over them until cool. Set aside to drain the water from the noodles. Fill a pie plate or medium sized pan with warm water (whatever will fit the diameter of the rice paper wrapper). Position a dry cutting board next to the pie plate and you're ready to go.
Dunk one of the rice paper wrappers into the pie plate until submerged under the water and soft (between 10-15 seconds- you can tell when the rice paper goes from feeling inert to pliable). Remove the rice paper from the water and place on your cutting mat. Once you've gotten the rhythm of filling the rolls, put a new rice paper wrapper into the water as you're filling the ready-to-go wrapper.
Place a few pieces of fennel sticks in the middle of the rice paper (about 2 large ones and 2-3 small pieces). On top of that, add a pinch of rice noodles (eyeball it at about 1 tablespoon) and make sure they're nice and snug in that middle section. Place 4 quarters of lychee over the noodles lined up like a marching band. Then place one large mint leaf or two smaller ones atop. Next, sprinkle on a smidge of green onion.
Now that you're ready to wrap, take the top section of the rice paper and fold it down. Take the bottom section of the rice paper and fold up. Pull the left side of the rice paper wrapper and fold it in tightly. Then flip and roll the rice paper wrapper toward the open right side until the roll is sealed. Place in a large casserole dish, butted up against one another. Keep rolling until you've exhausted your ingredients.
Make your dipping sauce by setting the water to boil over medium high flame. Once the water is boiling, add in the tea leaves and turn the flame down to medium. Steep tea leaves for four minutes. Turn off heat and strain tea from the tea leaves. Set aside. In a small bowl (or pint sized mason jar), add rice vinegar, honey, sambal oelek and minced garlic, whisking together. Add in two tablespoons of the brewed black tea and whisk until combined. (You can add more to taste).
NOTE: If you struggle with the rolling technique, it should become easier as you do it. My first rolls always seem to be a practice run and opportunity for a teaser taste test.
[/print_this]