I fully expected to dislike Disney World but found myself sucked into the vortex. Appealing to an inner sense of adventure I often repeated a mantra, "When in Disney…" trailing off into whatever shenanigan I plunged into, particularly one evening spent in Fantasyland. While they claim this is a new area of the park, I find my thoughts often reside in a Fantasyland of my own making that usually involves a beach. This particular visit involved a three day park pass. What to do?
My last foray at the happiest place on earth easily can be summed up as me, a two year old desperately clinging to the legs of her dad considering the implications of falling out of the carriage at Space Mountain. That, and a rogue attitude toward pulling Chip and Dale's tales about covers it. Like all children visitors, leaving with a mouse ear hat was a must and I'm pretty sure I had affection for wearing mine to deflect my young mischievous antics. In high school, I collected porcelain figurines of heroines, auditioned for community theater belting out "A Whole New World" and bequeathed a nickname to my cousin from one of the animated films we watched repeatedly when we were young.
So, where did I go wrong?
Growing up and notably working in marketing can make a person sensitive to… we'll call it "opportunities." I call it the "Chicken Soup for the Soul" conundrum. At first, an idea is fresh and its newness has appeal, but without restraint or perhaps let's call it discernment, what can result is an oversaturation that can be quite vexing. I wonder about how popular actresses manage being seen, taking advantage of the opportunities in front of them without overdoing the exposure.
A champion in my youth of the game, "Where's Waldo," I found myself first surprised and then increasingly perplexed at all of the "hidden Mickeys" in the park and hotel. The suggestion of green mouse ears curled at the end of a banner woven into hallway hotel carpeting. Nearby, pink mouse ears whispered from the wallpaper donning hall walls. While I can sing the entire song of "It's a Small World After All" from early childhood indoctrination, I mused that the hidden Mickeys gave new meaning to the lyrics. I began considering this some elaborate ruse and perhaps the finest example of invisible marketing I had ever seen, all in the name of storytelling.
As a poet, I can appreciate repetition and the intentionality of a concept creatively repeated, but perhaps in growing up and out of my Disney nostalgia, the adage is true that you can never go home.
I relished time spent at this one-day blogger conference with friends like Janet and meeting many others. As it happens, even to the curmudgeon inside some of us, Disney slipped back under my skin with the simple words, "Star Tours Weekend." Visions of androids danced behind my eyelids as we arrived at the park and I espied a chewbacca backpack. My inner child sparked to life, in search of the ewok backpack and regalia of the bits of my childhood that still remain relevant. I squealed, surprising myself at an R2-D2 donning mouse ears (not so "hidden Mickey") and glommed onto a new friend, Alicia with intentions of finding Darth's Mall where I persuaded myself to pass on the toddler size Darth Vader, thinking TSA might find issue with his breathing apparatus, and settled on two t-shirts respectively. The anticipation of all things Jedi relaxed my reserve considerably.
Throwing caution to the wind, I repeated "When in Disney" and scarfed down a cheeseburger, trying not to think about how many ingredients might be in the bun or if there were soy isolates in the patty or even how they might address food supply chain management with a plethora of mouths to feed and also with knowledge that they are rolling out healthier park options for kids and adults alike.
After our band of star troopers, Kasey, Heather, Charles, Vijay, Erika, Alicia and I finished watching the water light show, Fantasmic, the reintegration might as well have been complete.  It should come as no surprise that we braved the threat of lightning and rain for an after-hours Magic Kingdom visit.
Waylaid this second evening by the musical mayhem of the Electric Machine Parade, I outpaced a Puff the Magic Dragon float festooned with lights as we set off to find the food blogger famed Dole Whip with the promise of a frosty pineapple soft serve float. For old time's sake, we all packed into an "It's a Small World" boat and jettisoned into the air-conditioned caverns of pint-sized animatrons clad in clothing representative of each country. Instead of thinking how this might be incredibly xenophobic, I snapped a photo of the Dutch girls clicking their mechanical yellow clogs together.
One more stop stood between us and a frothy Dole Whip. For the second time in two days, I made my way back to The Haunted Mansion with Kasey's remarkable insight into the ride and her challenge to "find the hidden Mickey." Sigh. I guess even Mickey can't contain his devilish impulses to join the ghastly feast. Finally, my hair slick against my forehead and a layer of moisture pressing in against my skin from the tangible humidity, we worked our way over to Tinkerbell's Nook for pineapple soft serve.
When my turn arrived to order, I leaned into the air-conditioned space, letting the fan blow through my thick and unruly curls and onto my face. Instead of considering the amount of fillers used in the soft serve, I chalked it up to "When in Disney" and just like the rest of the evening, rolled with it. The tangy swirl hit my tongue quickly as the creamy vanilla and pert pineapple began the time-honored process of body cool-down by ice cream. Sucking on the straw introduced pineapple juice to the mix and we all became pretty quiet in our own individual states of chilled contentment.
As one day faded into the near arms of another, and as the sucking of the straw pulled up air instead of any dregs of pineapple, our merry group disbanded with a few people making the trek to Space Mountain and a few of us taking the boat back to the hotel.  As for me and Space Mountain, I chose to cling to the two-year old memory of my dad's legs and my grasping fingers trying not to lose their purchase in space. Some things don't change and while my Disney appreciation has morphed into something different, I am grateful for a magical evening in the Magic Kingdom.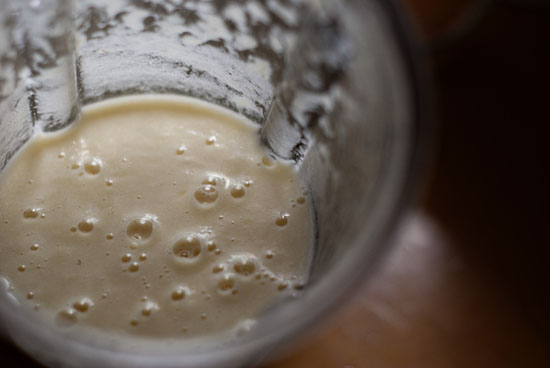 To understand the cult phenomenon that is the Dole Whip, click on the photo above, posted with permission from Heather who masterminded a homemade version- no park required.