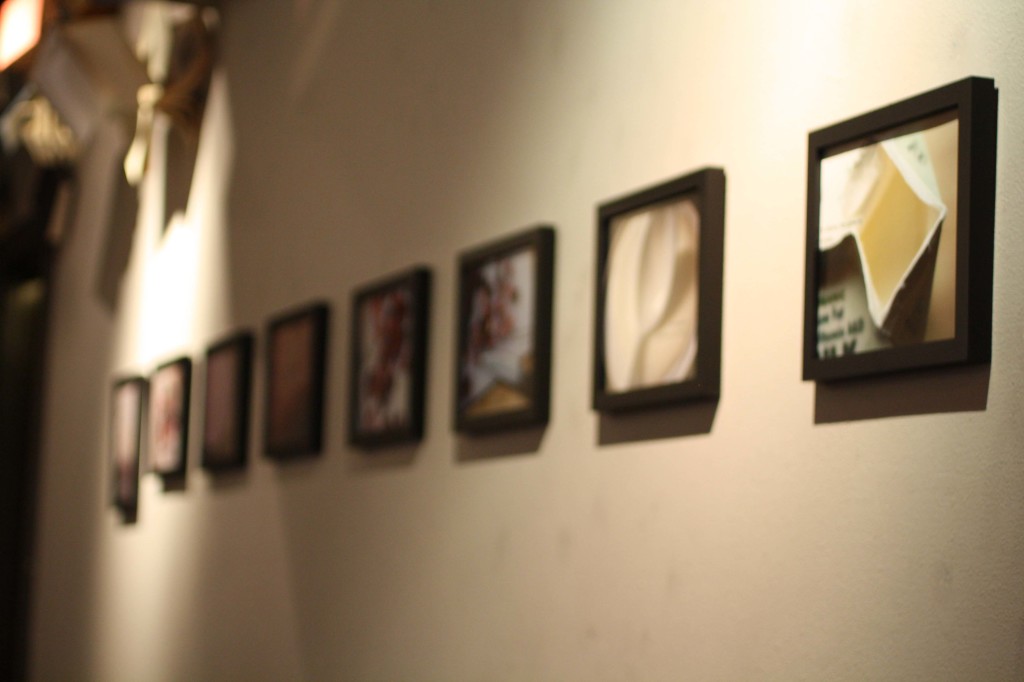 Nails in hand, hammer in the other we assess the long wall along the Abbey Coffeehouse, already pocked with the absence of previous nails. Along the muted grey hallway, we measured and marked, then hammered and nailed up the Cranberry Lassi Food Poem.
The day started long and lazy, dead center of Independence Day weekend. We lolled about the house, sipping tea and waking up until the clock forced us out into the beauty of an overcast Bay Area day in July. We drove down the 1, one side sturdy mountain, the other breathless Pacific Ocean surf slapping the cliff. This road is deeply woven into our relationship like the gold bands encircling our ring fingers.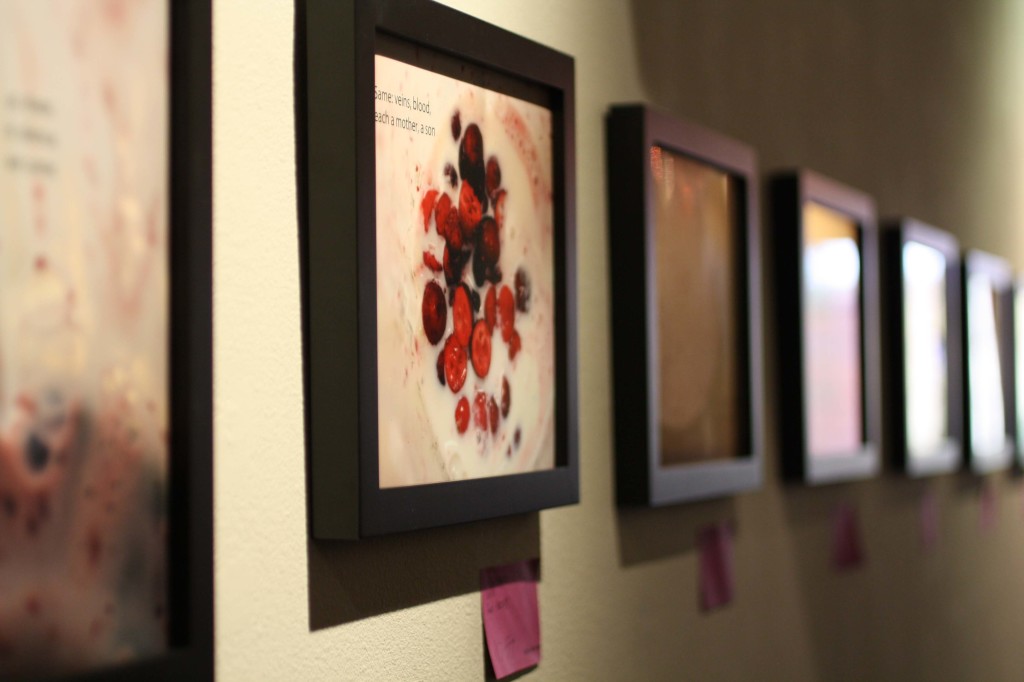 A slight rapping of wood on wood came from the backseat as we took a curve quickly, nothing that my balled up jacket stuck in the box couldn't suppress. In the backseat, two boxes with 21 picture frames in tow propelled us forward to one of our favorite California towns, Santa Cruz.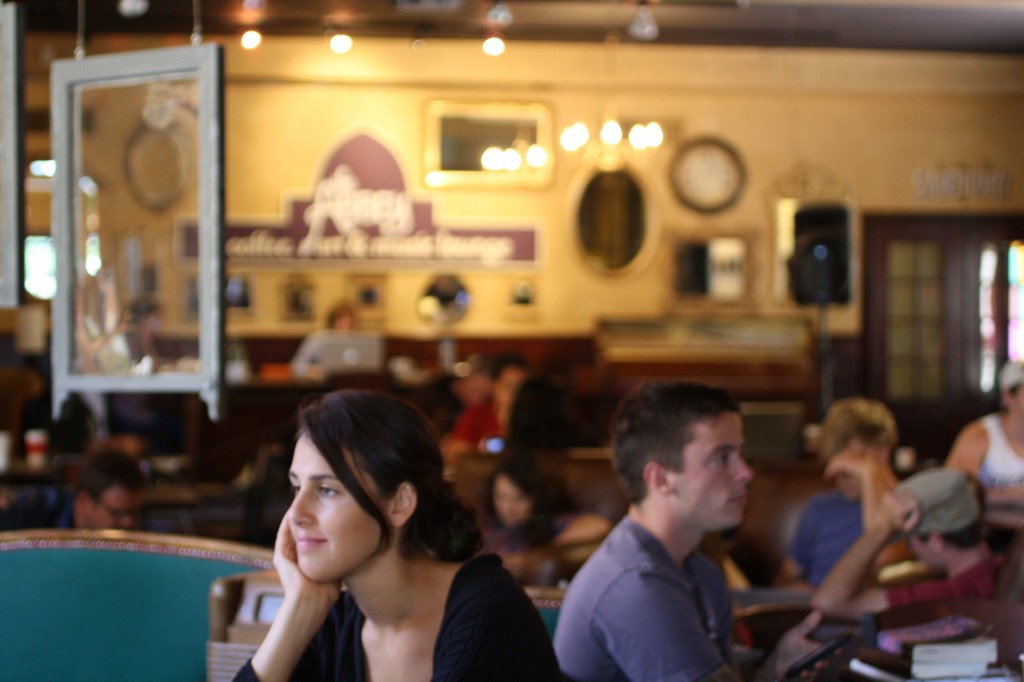 During July, two of my food poems, the Cranberry Lassi food poem and the Fennel Parsley Citrus Salad food poem will be hanging at the Abbey Coffeehouse. Put another way, I am the featured artist at the Abbey this month. It's a surreal thing to see your work out in the world, to actually watch as people engage with it or provide their interpretations.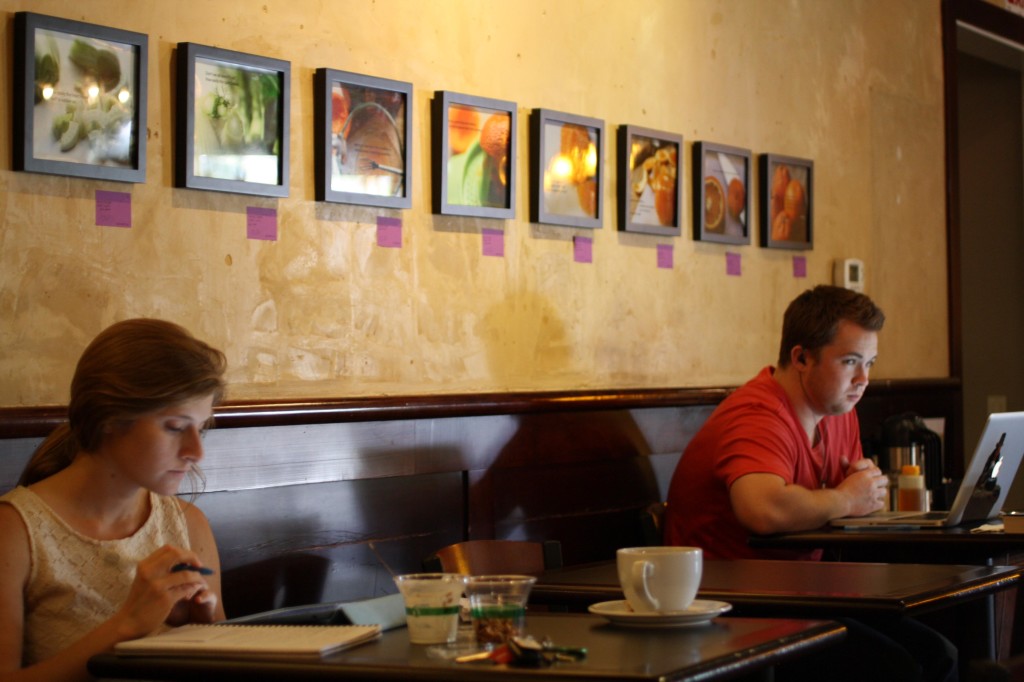 In the main front room where walls already are cheerfully checkered with mismatched mirrors, a barista pulls a shot of Verve coffee, its aroma permeating the room. College students and locals don their coffee tables as appendages much like the requisite open laptops. We scooted in between high top tables, doling out apologies to folks seated against the long wall where we would soon hang 13 frames.
Among the people we spoke with, one guy wore a tattoo on his forearm that clearly stated in block letters, LOVE. As I've learned every tattoo has a story, and I wanted to learn a bit of Brian's. So, in spite of being a bit of a gnat buzzing in front of him, I asked.
I wondered aloud if it might be a relationship- a special person, perhaps? He explained quickly that he saw it as a reminder of a spiritual love. He described it as a post-it tattooed on his skin. And just like that, he turned his attention back to his computer screen, plugging his ears with music.
I couldn't let it go. We measured and spaced out the first eight Fennel Parsley Citrus Salad food poem frames, later affixing the beet purple picture name tags. Afterwards, once we had gotten the hang of it, we hung the remaining five frames of a food poem inspired by a quote of Martin Luther King Jr's.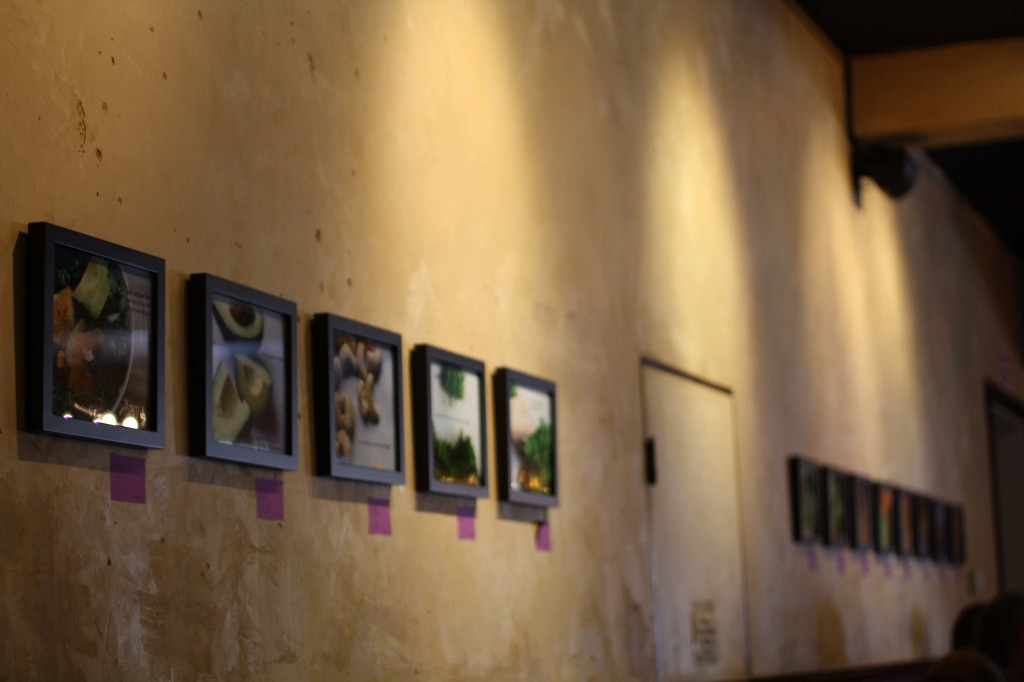 We pulled together and scanned the long wall, taking in the photos of oranges fusing into parsley, and fennel. We surveyed our handiwork and found it to be good. We gathered what tools had accompanied us down to Santa Cruz, as we prepared to exit the Abbey and head to lunch with friends. Before leaving, I meandered over to the counter where Brian stood, talking with friends.
"Love. It's one of the simplest mandates and one of the hardest to enact."
He stood, nodding, as I talked about how the notion that we cannot drive out hatred with hatred- that only love can do that, compelled to share MLK Jr's words and then point Brian to the Fennel Parsley Citrus Salad food poem and how it wrestles with the same issue of how do we adequately love our neighbor as ourselves. The golden rule isn't honed from  a lesser element. For a few more minutes we commiserated, the whine of a cappuccino being frothed in the background as music.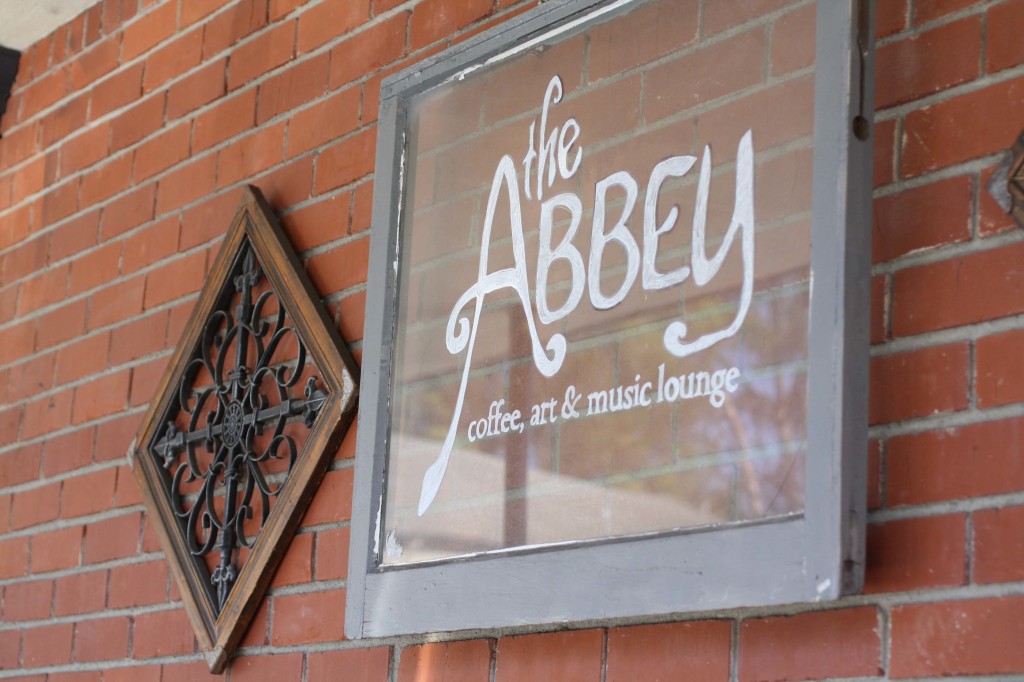 Should you find yourself in Santa Cruz during July, make a trip over to The Abbey for a latte (or Stumptown cold-brew) and a chance to see food poetry in the flesh. Well, maybe it's more accurate to say "in print." I'm pretty ecstatic about hosting my first exhibit of food poems at the Abbey. Each piece is for sale with a portion of proceeds going to the California Food Literacy Center. The show runs through August 2nd, so if you're local, jot down the Abbey address and check it out.