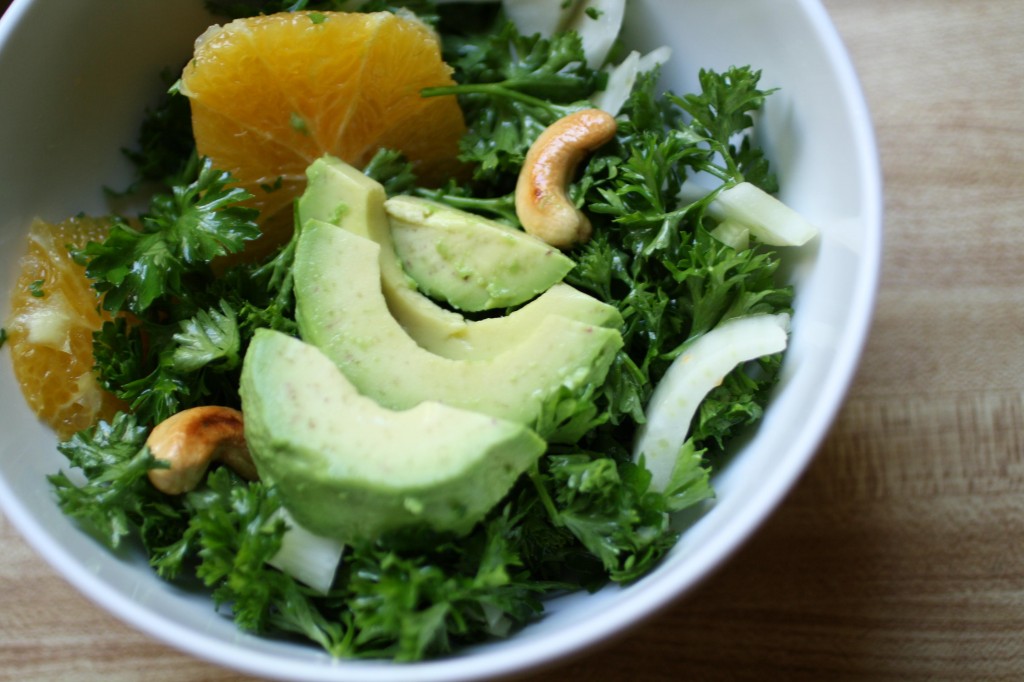 Every now and then you come across something so fabulous you must find a way to make it your own.
Last year, I attended a cookbook launch party for "Herbivoracious." Author, Michael Natkin served up a salad of sautéed grapes with chevre and parsley that piqued my curiosity. I circled the counter where he demonstrated the process, inching my way in to see the exchange of conversation begin between the ingredients. I peppered him with questions, eager to understand the possibility (!) of using parsley as the greens in a salad. My hand shot forward enthusiastically as he offered plates of his concoction. As attendees and friends began gathering to collect their salad plates, I retreated.
Crunching on the parsley, its innocuous flavor clung to a small clump of creamy chevre, tangy against the sweet warm grapes. I found myself swooning at the simplicity of this exchange and knew I needed to make this one mine. Then, later, I stumbled upon an entire chapter devoted to parsley in the cookbook, "Hero Food" by New York chef Seamus Mullen and continued my new amusement of parsley as more than a garnish. Parsley is part of Mullen's daily regimen for its health properties, helping manage his rheumatoid arthritis by what he eats. My curiosity was unabated.
It's akin to reading a poem that grabs you by your pantaloons, calling you to attention and making you wish you had written it. I love that. How often are we really moved to act by food we try or moved to re-create by words we read. I call this type of appreciation its own form of inspiration. It strikes me every time I read poems like "The Fish" by Elizabeth Bishop or "Tender" by Toi Derricotte.
And, like crayons in a crayon box, I shelved this idea away for the appropriate time to paint in parsley.
This is how on an ordinary Saturday afternoon I happened upon this salad below. I'm inclined to believe that if you stock your kitchen with good ingredients, even the dregs take on new, unexpected and delicious life. Such was the birth of this pairing. From the crisper, out came the head of parsley. In the fruit bowl, the citrus began conspiring a take-over. The fennel poked its fronds out from the seam of the CSA box and I'm pretty sure the cashews began clapping the sides of the small Ball jar trying to transform it into a maraca. The avocado didn't need to make its case. It sat smug on the counter, biding its time and shining its skin in anticipation of being used.
Nothing short of easy brilliance. You might find this salad to be an unexpected conversation starter.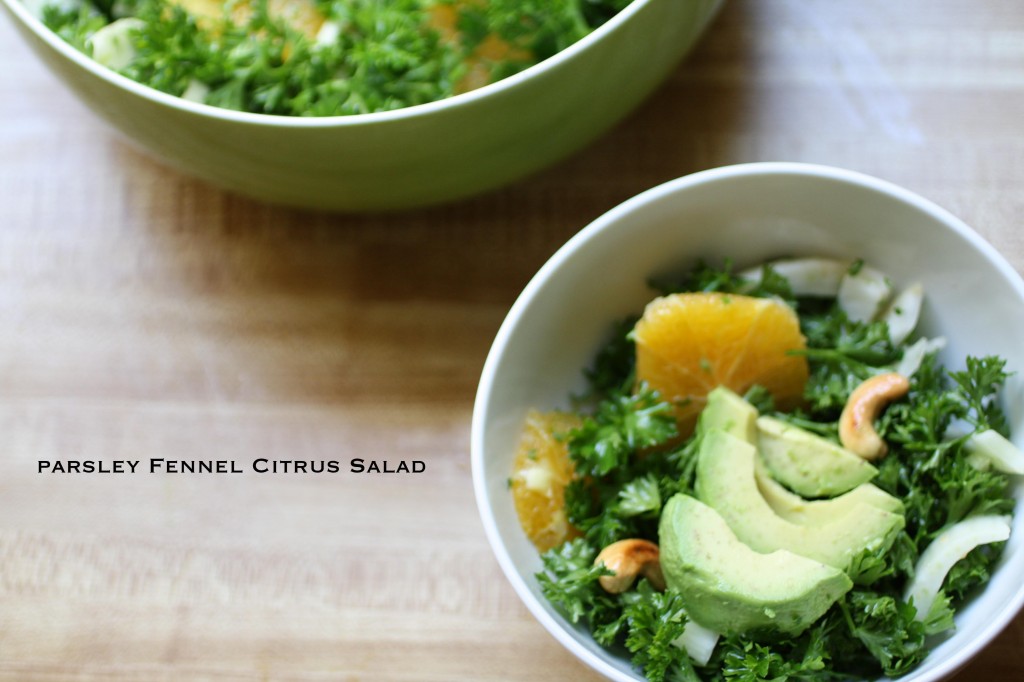 [print_this]
PARSLEY FENNEL CITRUS SALAD
You can play around with how much dressing feels appropriate to you. The dressing below results in a well dressed salad, but if you would prefer something more light, consider tossing each portion in 1 tablespoon each of the mandarin juice, olive oil and apple cider vinegar. You will find that to be a barely dressed salad that I find still works well. Also, some salads work well the day after and if you have any inkling that some of this salad may not be finished on the day it is prepared, don't toss in dressing or add the cashews and avocado. I took leftovers of the parsley fennel citrus salad for lunch to work with small containers holding my dressing, cashews and avocado for me to add later and to help maintain the natural crunch of the salad ingredients.
YIELD: 4 servings
INGREDIENTS
2 tablespoons freshly squeezed Satsuma Mandarin orange juice
2 tablespoons raw apple cider vinegar
1/2 cup mild olive oil
1 bunch parsley
1 orange
1/2 cup cashews
1 avocado (1/4 per plate)
1 fennel bulb
salt and pepper to taste
INSTRUCTIONS
Rinse your bunch of parsley well. Pat with a paper towel to catch some of the residual water on the leaves. With one of your hands, grab underneath the leafy part of the parsley and with a knife, lop off the leafy part from the stems, taking care to protect your fingers. Then chop the parsley leaves coarsely. Toss the chopped leaves into a large bowl.
Chop off the fennel fronds. Cut the fennel bulb in half. Then slice each half thinly. Toss the sliced fennel into the bowl.
Cut off the skin. Segment the orange by putting the bald orange on its side and cutting into slices.
Toast the cashews either in a saucepan over medium low heat until they start giving off an aroma or turn golden. Set aside.
In a small bowl, strain the juice of a freshly squeezed satsuma mandarin along with the raw apple cider vinegar. Drizzle in the olive oil slowly while whisking. Add salt and pepper to taste.
Quarter the avocado and then slice each quarter.
Toss the salad with the dressing and the cashews until fully combined.
Plate the salad, making sure each portion receives adequate amounts of cashews and citrus. Then distribute the slices of each quartered avocado onto each plate.
[/print_this]