Back in Sunday school class many moons ago, we memorized Bible verses. That simple act of committing words to memory acted as both a game and challenge to my budding brain. If you didn't go to Sunday school or attend church, how did memorization play its part in your life growing up?
What about now?
In exploring MFA poetry programs several years back, I researched the virtues of one program over another. Hours spent reading poets I *might* get to study with led to this nifty excel grid compiled of pluses and minuses, of stars and notes to self. One item that I starred for the MFA program at NEC consisted of a simple exercise that separated them from the others. The program required each student to memorize a poem per semester. This may not seem like a big deal, you'd say, poets memorize poems. To this I would counter and conjecture that the poetry they memorize is most likely their own.
When the semester began so did the poetry recitations. Students pulled aside one of the teachers to rattle off the poem in between seminars. Others recited them at the beginning of workshops in front of fellow students, one of which held the poem in hand and provided word prompts in case of flubs.
I think it holds an important place for each of us. Memorization stretches the muscle of the mind and tests my mettle. It lets the music of the poet and poem being memorized become part of us and perhaps even subconsciously suggest music for our own work. It asks us the hard questions: "Will I hang with the poem and let its rhythms coax their way into the recesses of my brain? Will I do the work to remember this in a week, a month, a year or is this going into the stores of short term memory?
Emily Dickinson inevitably holds a place in the library of most poets. My MFA friend Michelle deeply espoused Emily Dickinson and even began looking like her, albeit with blonde hair.  During my first semester at NEC, our band of poets carpooled to Amherst for a poetry reading. After the reading, most of us headed back to our cars and back to the campus. Later that evening, in the dorms, friends Sherry and Mercedes talked about wandering over to the graveyard after the reading and stumbling in the dark looking for the grave of  Emily Dickinson with two other poets. This later turned into a poem penned by Joe Gouveia and painted a story that kind of made me wish I'd been in their car.
Poem 254, "Hope is the thing with feathers" stands out among the poems memorized during my MFA program. This compact poem's building weight lingers long after the final stanza "it asked a crumb of me" is read. Early on the poem brings to mind a bird and the freedom of wings and flight along with the tittering of a joyfulness. The second stanza edges into darker terrain as it must when hope is involved. Even in the midst of the storm, her language still evokes a certainty that is not completely sorrowful. But that changes in stanza three, as she positions "chillest land" and "strangest sea" as examples of where she has heard hope. This stanza has an overriding sentiment of loneliness to it that makes me the reader sad. It's as if after all the things that hope can do and in which it can prevail, it doesn't reach fruition for the speaker in the poem.
Scrawled by hand on a robin's egg blue notecard above my desk hangs "254." This poem's importance to me cannot be underscored enough. The words came to me while lying still for an hour and a half recently in a plastic tube for an MRI. "Hope is the thing with feathers / that perches in the soul…" Aside from the classical music playing through headphones, the rag covering my eyes from seeing the curve of plastic inches from my face and my arms fallen against the narrow sides of the tube walls, against all of these things came Emily Dickinson's words. And then a litany of prayers of gratitude for the people populating my life and giving me hope.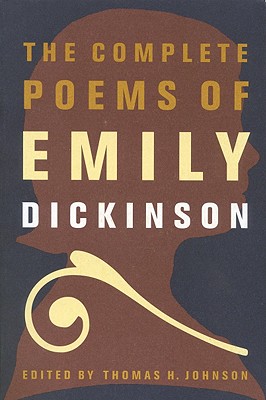 254
by Emily Dickinson
Hope is the thing with feathers
That perches in the soul,
And sings the tune-without the words,
And never stops at all,
And sweetest in the gale is heard;
And sore must be the storm
That could abash the little bird
That kept so many warm.
I've heard it in the chillest land,
And on the strangest sea;
Yet, never, in extremity,
It asked a crumb of me.