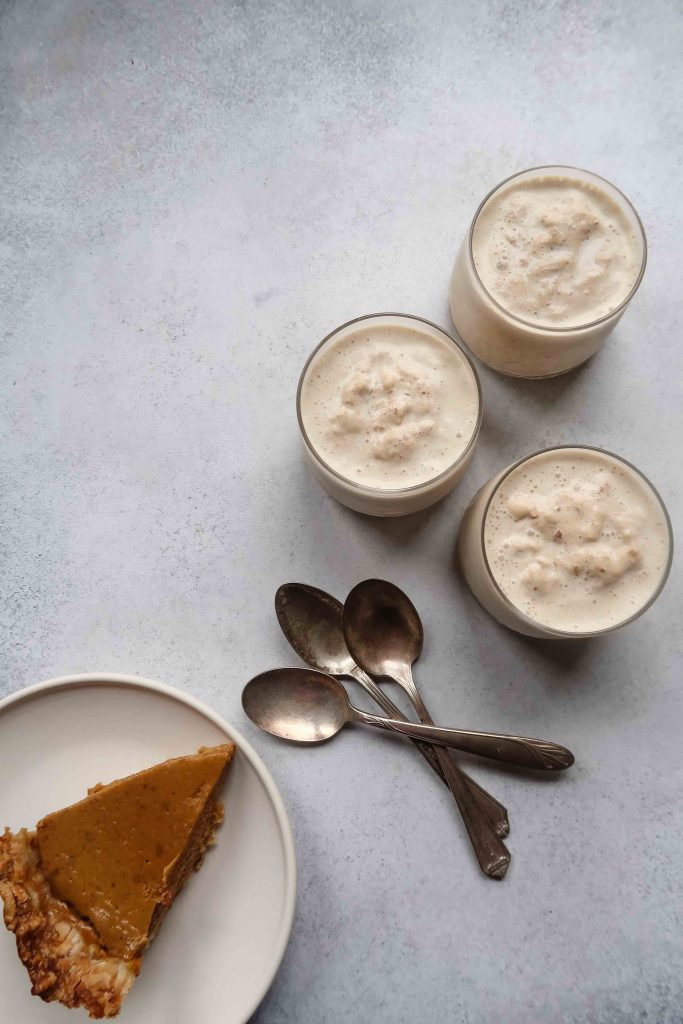 I'm on a mission of Thanksgiving leftovers reconsidered. Do you have leftover pumpkin pie? Before you even think about sneaking a piece onto your plate the day after, HOLD ON and consider the following: Pumpkin Pie Latte Shakes. In possibly the most meta-experiment of a pie-inspired drink coming back to the original concept and actually including pie in the drink without any of the funny food coloring or extras, there's nothing basic about this dessert.
Pumpkin Pie Latte Shakes
Not all coffee ice cream is created the same. For the recipe below, I used Haagen Dazs Coffee Ice Cream but you could also use Three Twins Milk Coffee too. Also, the spice level in each pumpkin pie filling differs, so if you tend to have a highly spiced filling in your pie, skip the garnishing of spices below. Otherwise, that extra dash of spice amplifies the oomph in the flavors.

Makes 4 servings
1 cup whole milk
1 pint coffee ice cream
1 hearty slice pumpkin pie, coarsely chopped
Ground ginger
Ground cinnamon
Ground nutmeg
Place the milk and ice cream into a blender keeping the pie within fingers' reach. Start on low and just as the milk and ice cream start coming together, lob chunks through the chute into the shake. Blend until just combined if you want any crunchy bits or until smooth if you'd prefer a creamy consistency. Pour into four rocks glasses. Sprinkle the ginger, cinnamon, and nutmeg on top.