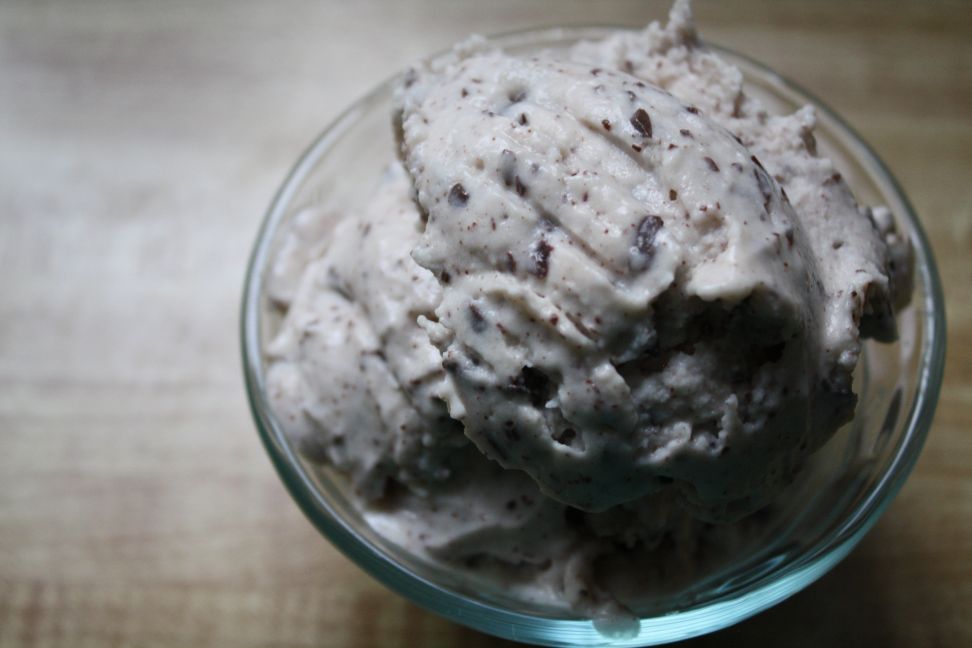 I'm a sucker for plain yogurt. It might be the one ingredient that is always in our refrigerator and definitely the one I lament when the container is emptied. Whether incorporating it into a savory or sweet recipe, plain yogurt- organic cow's milk and full fat if you please and more often plain goat's milk yogurt is one staple here to stay.
One of the main reasons we eat so much yogurt is for the probiotic qualities. Beck and I heartily concur on the benefits probiotics have brought about for us individually. We feel better. I, for one, am looking forward to a day when a visit to the doctor proffers a prescription of specific probiotic strains to cure what ails you and not just antibiotics which kill all bacteria- good and bad. While that day is long off, I could geek out about probiotics for a while and have written somewhat extensively about them elsewhere. Suffice it to say that lacto-fermented foods and kombucha have a found a fan in me.
If you're shopping the yogurt aisle with probiotics in mind, I would encourage you to check the ingredient label and company stance on probiotics in yogurt. Nancy's is a great example of this and they have a pretty thorough probiotics section on their website.
Back to yogurt though, several years ago when a Pink Berry created frozen yogurt pandemonium I became enamored of the new approach of a tart and tangy fro-yo rather than the cloyingly sweet variety. At one National Restaurant Association show I attended, I made a point to do a  tasting of all the tart plain fro-yo from the scads of suppliers and purveyors rating them on creaminess, tartness and sweetness.
That said, frozen yogurt is still an occasional treat. Most evenings when I want something creamy and cold, I opt for a few spoonfuls of plain goat's milk yogurt, sweetened with a tablespoon of mini chocolate chips. The slight sweetness of the chocolate chips with the mellowed tart flavor of the yogurt hit the spot. I decided to tackle this combination in a fro-yo version that recalls one of my favorite flavors of gelato (Rocher or some semblance of Gianduja being the other).
For making the frozen yogurt below, adding in a quarter cup of sugar is not a necessity but it definitely ups the ante of this treat giving an ever so slightly sweetness that plays off the texture of the chipped chocolate that defines Stracciatella.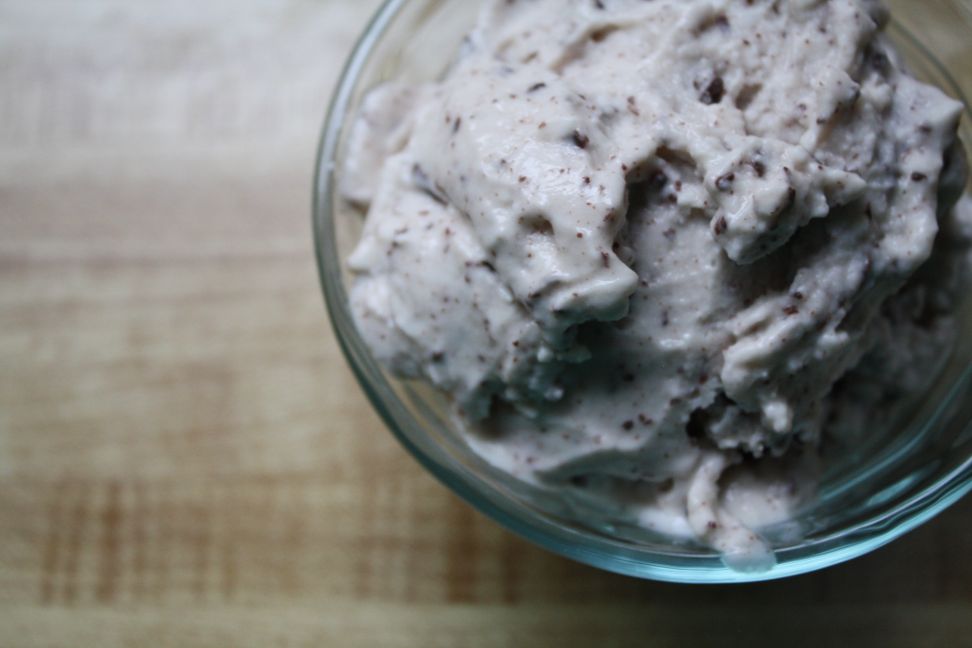 [print_this]
STRACCIATELLA FROZEN YOGURT
YIELDS: 8 servings (1/2 cup)
I find it's helpful to grip the chocolate in its wrapper as you're carefully chipping it. Think thin ribbons of chocolate rather than big chunks. By using the goat's milk yogurt, you'll get a slightly tangy but more mellow yogurt flavor than cow's milk yogurt. If you opt for cow's milk yogurt, go full fat as it really gives a deep tangy flavor with a rich creaminess. This frozen yogurt is not super sweet, and you could certainly use bittersweet chocolate rather than semisweet if you want. This frozen yogurt should be eaten the day it's made as it will freeze into one solid block in the freezer.
4 cups (32 oz.) plain goat's milk yogurt
1/4 cup sugar
1/2 cup semisweet chocolate (about 3 oz. chipped, noted below)
1. Place the ice cream canister in the freezer overnight so it's really cold when you're ready to make your frozen yogurt.
2. Take a chef's knife and carefully bring the knife down on the chocolate, chipping it from the block of chocolate until the chocolate is completely chipped.
3. In a large bowl, blend in the plain goat's milk yogurt, sugar and chipped chocolate. Once integrated, pull out your ice cream canister from the freezer and follow your ice cream machine's manufacturing instructions. Check on the frozen yogurt as it's solidifying, taking care to stop the machine and scrape the edges down if it seems to be sticking to the walls. Then start the machine up again until it reaches the right consistency. (My Cuisinart 2 Quart Frozen Yogurt and Ice Cream Maker takes about 20-25 minutes of active churn time.)
[/print_this]