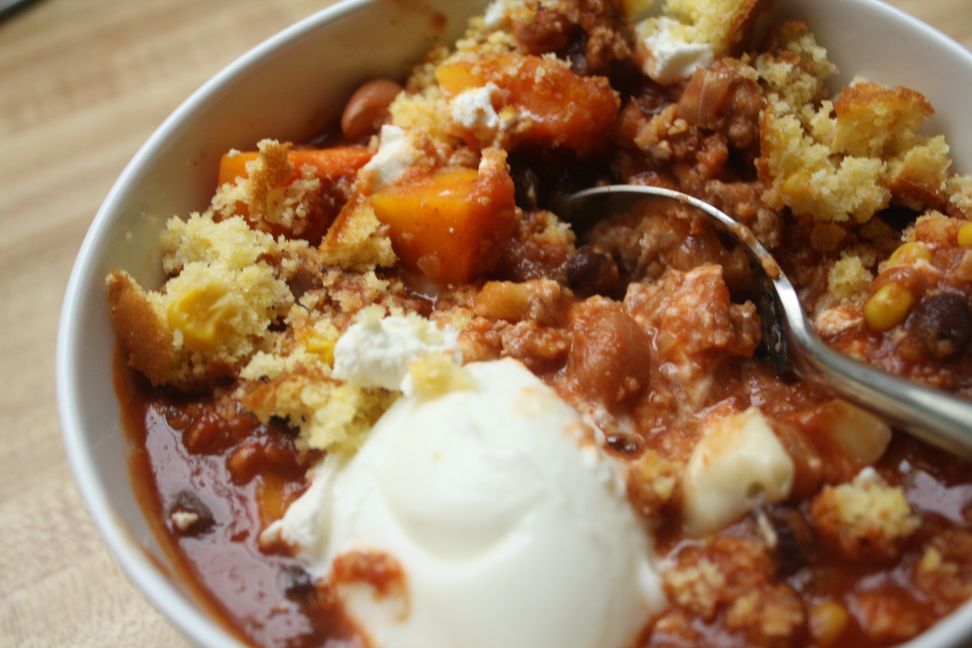 Firsts carry a certain lightness where potential and possibility lead the way.
I knew and Nathan knew after the first date that we'd found something rare and good in each other. Over Senegalese food, we bantered and talked for hours. Here was a guy whose eyes did not glaze over as I lightly rebuffed the inane, seemingly mandatory chit chat of first dates. No, instead we talked about homelessness and the difference between managing it and ending it. We talked of dreams and goals both short term and the ones that required time and tenacity to cajole them into being.
Our first Christmas together was so unlike what I would have expected: where I envisioned Nathan and my dad commiserating over a blind taste test of sipping small glasses of port, instead there was my dad´s absence and a desire that they might have had more time with each other. Lest you think it was all dour and no flecks of snowflake, we had bits and bobs of delight woven into our day.
It started with a butternut squash and an idea to build a new tradition. I had a feeling he might be hungry and it was rainy outside. A chili felt right amid the sweet pastry ideas clamoring at the edges of my mind. This also reminded me of eating hoppin johns and cornbread New Years' past, so it passed with muster. I wanted to make something spice-wise that would be reminiscent of those firsts in the very beginning. toasted cinnamon, Ginger, toasted ground coriander, toasted ground cumin and mortar and pestle sea salt. We garnished ours with crumbled fresh cornbread, a dollop of plain yogurt and some chevre.
Et voilà. We opened our gifts. Him a mobile stainless steel French press and me a book by Dan Simmons. Between spoonfuls of chili and lots of cuddling, this first Christmas was just right. Just enough ritual for our rather unorthodox selves.
We made the trek up to his parents' house for what definirely equated to a more traditional Christmas: a tree with gifts as roots spreading out. Nathan's sister tackling the family puzzle and conquering secured corners with her daughter. Her son playing video games. Nathan's mom stirring and simmering the peas as the holiday ham warmed in the oven. An incident with Texas mixed nuts merited the implementation of the dust buster. Nathan's brother practicing kicks in the upstairs loft. This clan evoked a cozy side of this first Christmas as one of their own.
And the chili? It tastes better the day after, much like marriage, like the investment of relationships.
[print_this]
Butternut Squash Chili
YIELD: 4-6 servings
1 medium onion, diced
2 garlic cloves, minced
1 teaspoon minced fresh ginger
2 tablespoons butter & 1 tablespoon canola oil
2 strips applewood bacon
1 pound ground turkey
1 tablespoon toasted Saigon cinnamon
1 teaspoon toasted cumin
1 tablespoon toasted ground coriander
1/2 roasted butternut Squash, chopped
1 large can pureed San Marzano tomatoes
1 can black beans, drained
1 can chili beans
Pinch of salt
Sauté the onions and garlic in a pan. When they've caramelized, place them in your stockpot over to the side to cool.
Cook the bacon in the pan for 8 minutes, flipping often. When cooked through, set on a plate with paper towel to cool. Drain bacon fat from pan.
Brown ground turkey with spices and salt in pan.
Once cooked through, add the ground turkey to the caramelized onion mixture in the stockpot. Add your chunks of butternut squash, along with the pureed tomatoes and beans.
Keep on low-medium heat for 10 minutes, stirring to ensure chili is well blended.
We served it with a dollop of plain yogurt, some chevre crumbled on top and a piece of cornbread. Delish.
[/print_this]