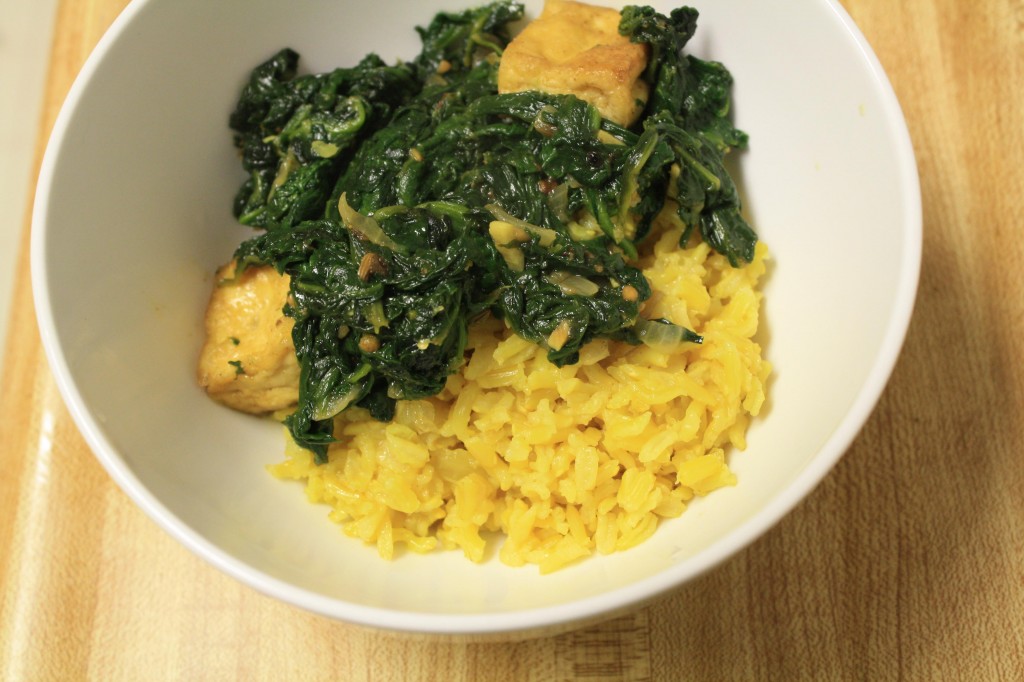 [print_this]
SAAG TOFU
From "The Inspired Vegan" by Bryant Terry
Bryant Terry figured out a way to make a Palak Paneer or Saag Paneer that's flavorful and not as heavy as the version I enjoyed in India. I'm a sucker for Indian food. The creamy and complex flavors coalesce into something that transports me back to a small walk-up restaurant during a visit to Delhi. This Saag Tofu dish mimics its namesake, Saag Paneer but swaps out the paneer cheese for cubes of tofu. While I wouldn't say this is exactly light fare, it sets a high bar for one of my favorite Indian dishes that feels healthier. This recipe comes together pretty quickly, so it makes a good meal for weeknights. You'll find the recipe for Terry's Yellow Basmati Rice in The Inspired Vegan, though you could easily swap in brown rice instead.
TIME: Around 40 minutes
YIELD: 4-6 servings
1 pound extra-firm organic tofu
1 teaspoon cumin
¾ teaspoon turmeric
¾ teaspoon mustard seeds
½ teaspoon fennel seeds
coarse sea salt
5 tablespoons extra-virgin olive oil
2 pounds fresh spinach, washed and trimmed
1 small yellow onion (about 1 cup), chopped finely
1 teaspoon minced fresh ginger
2 small green chiles, seeded and minced
½ teaspoon ground coriander
1 teaspoon freshly ground black pepper
4 large garlic cloves, minced
1 ½ cups unflavored rice milk
Preheat the oven to 450 degrees F.
Place the tofu cake on its side and slice in half. Lay the tofu down flat, keeping the layers together, and slice it, widthwise, into three even slabs. Slice each of those slabs into quarters widthwise, leaving you with 24 cubes. Set aside.
In a large mixing bowl, combine ½ teaspoon of cumin, ½ teaspoon of turmeric, ½ teaspoon of mustard seeds, ¼ teaspoon of fennel seeds and ½ teaspoon of salt and mix well with a fork. Add a tablespoon of olive oil and mix well. Add the tofu cubes and gently toss to coat with the mixture.
Gently transfer the tofu cubes to a parchment-lined baking sheet in a single layer.
Roast for 30 minutes, gently turning with fork after 15 minutes.
While the tofu is roasting, combine 3 quarts of water and 1 teaspoon of salt in a large pot and bring to a boil. Add the spinach and blanch until softened, about 1 minute, drain in a colander, and chill under cold running water. Squeeze the water out of the spinach with a clean kitchen towel, then chop coarsely and set aside.
In a medium-size saucepan, combine the onion with the remaining olive oil and the ginger, chile, coriander, and black pepper, and the remaining ½ teaspoon of ground cumin, ¼ teaspoon of turmeric, ¼ teaspoon of mustard seeds, ¼ teaspoon of fennel seeds, and ¼ teaspoon of salt. Saute over medium heat for 10 minutes, stirring often, until the vegetables are soft and browning. Add the garlic and cook for an additional 2 minutes.
Add the spinach and the rice milk to the saucepan and simmer over medium-low heat, covered for about 15 minutes, until the spinach is creamy. Add eight to 12 tofu cubes to the spinach, avoiding overcrowding the spinach with tofu, and simmer for 5 more minutes (reserve the additional tofu for later use in another dish). Season with additional salt if necessary. Serve hot.
*Reprinted with permission from The Inspired Vegan by Bryant Terry. Copyright 2012 by Da Capo Lifelong Books.
[/print_this]