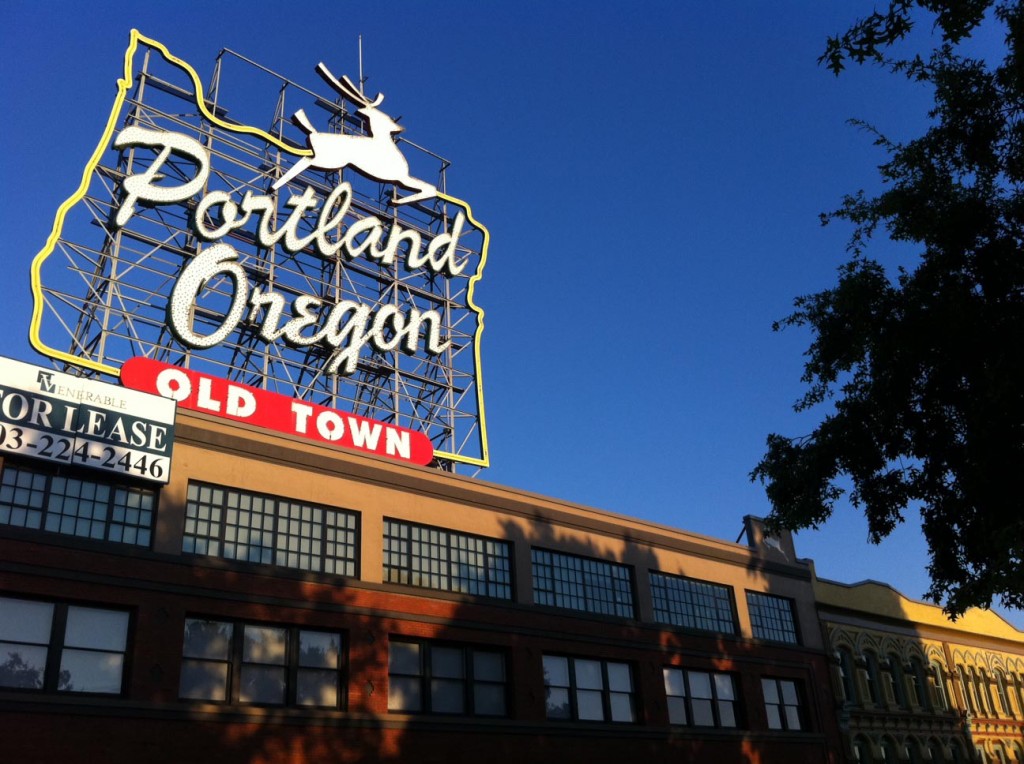 Few places have been so deeply ingrained into the urban subconscious through visual media like Portland, Oregon. The idea of creating an entire television show on the premise of characters you might find in a city as quirky as Portland has ensured its success and ambassadorship.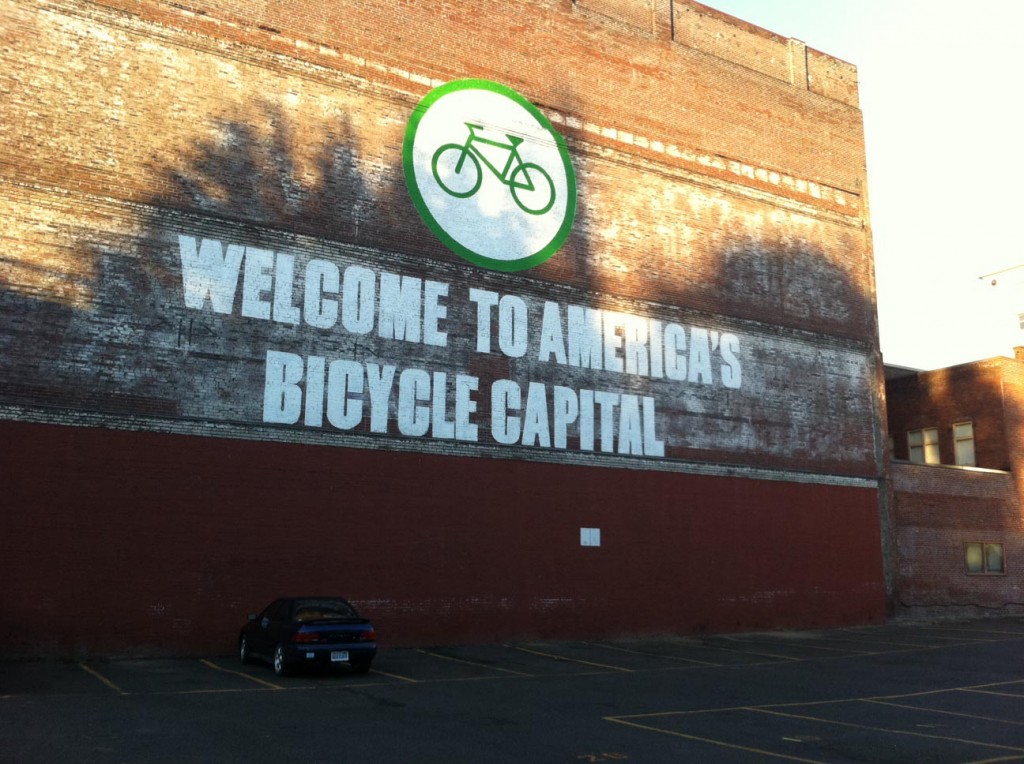 My first visit to Portland found me quickly enamored of the cyclists commandeering the streets or seeing a woman wearing fairy wings and waiting for public transportation. Somehow that sense of wackiness just fit and endeared me to a city that felt familiar from the Portlandia spoofs.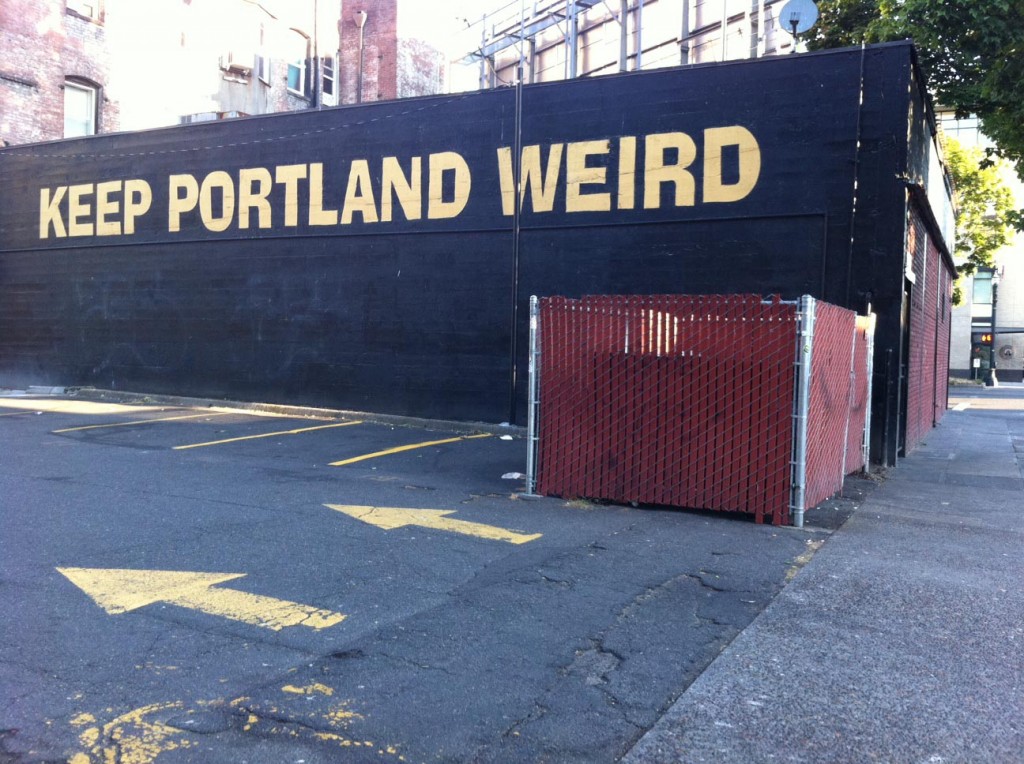 We attempted the food truck scene over at Pioneer Square and found a grilled cheese sandwich on gluten-free bread that took too long to serve up and Indian food that while economic in price just sufficed but didn't tantalize. So, rather than bore you with those criticisms, I've saved my recommendations for places that sizzle.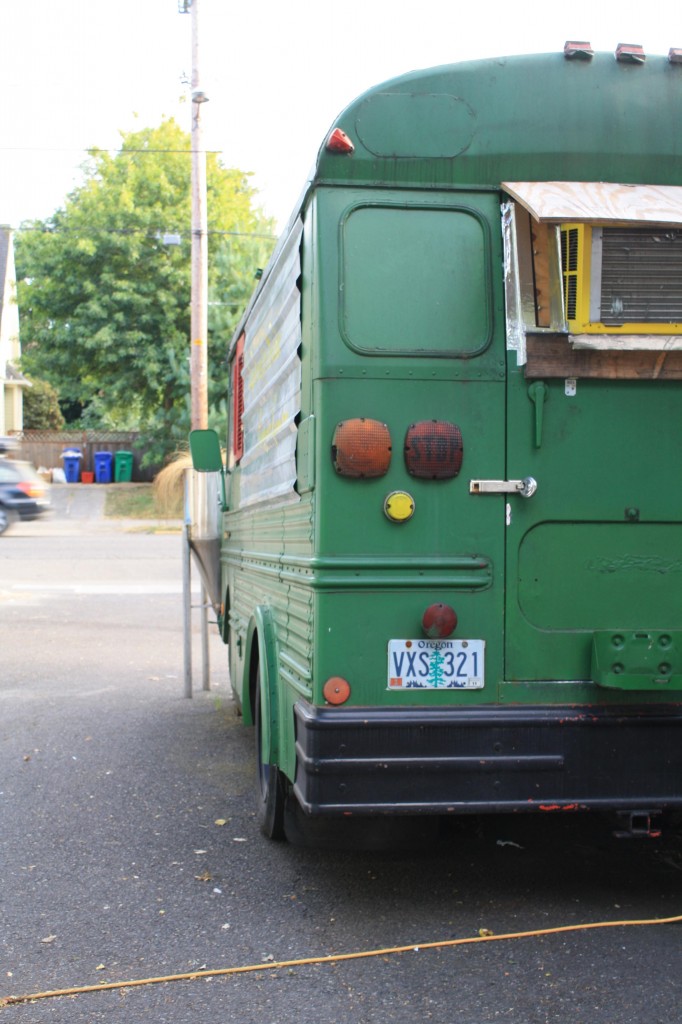 It might be safe to admit up front that most of the food adventures below included my good friend Char, the baker. We visited a number of bakeries, making our way on foot whether running or walking there and back. I like to believe this helped make up for the incredible calorie surplus. Regardless, as one who revels in discovering cities on foot, Portland welcomes walkers and cyclists alike.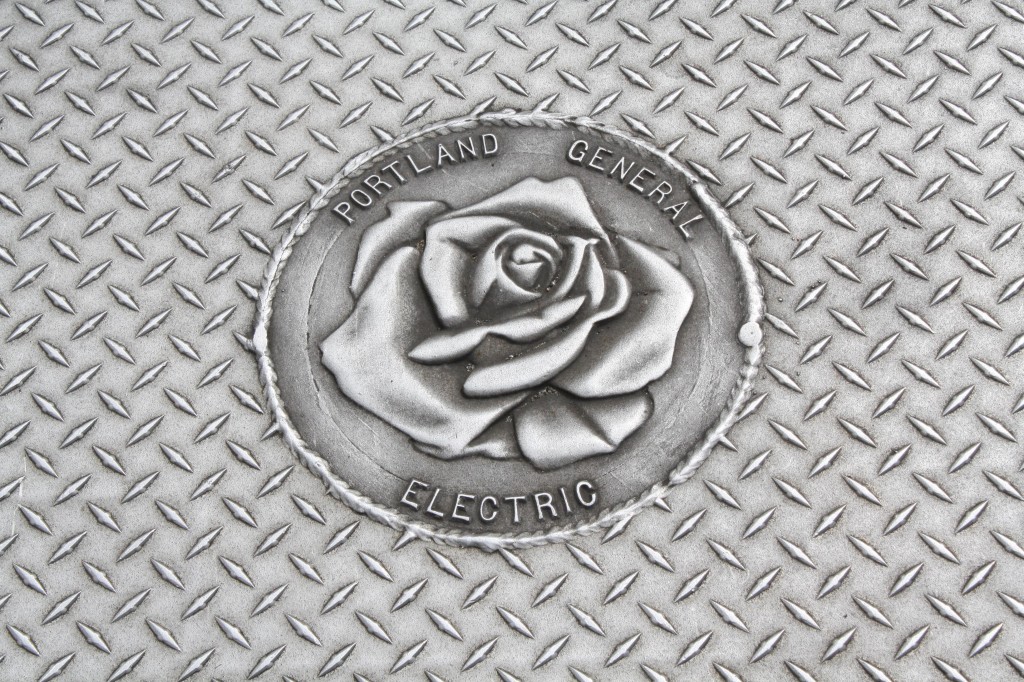 WHEELS
Dollar Rent-A-Car
When you visit Portland, it might just be worthwhile to rent a car for a day to visit nearby Milwaukie and if you find yourself in such a predicament, dial up Dollar Rent-a-Car on the outskirts of the Pearl district. If you're as lucky as I am you might encounter Stephen, the singer with a bent for karaoke. Helping you at the front desk, perhaps you'll meet Kevin, the consummate foodie with an opinion about any restaurant you can sling his way. And not to be forgotten, maybe the person handing you the rental keys and cleverly marking up a map with suggested areas to visit will be Tom, the tour guide. I rented a car for one day and set off on adventures that involve highways and winding roads outside of downtown. It was a wise decision that led to delicious discoveries.
EATS
For Portland visitors, a trip to Bob's Red Mill, in nearby Milwaukie, is a must. The iconic red mill store is flanked by a working water wheel and inside you'll find row after row full of bagged grains, flours, mixes and hot cereals. The mill store also features a café where the food is made daily and sandwiches are served on just baked breads. If you trek a mile away from the mill store, you can catch a daily tour of the mill itself, an interesting way to see and hear how the grains are stone-ground and what makes them different from processed grains. If you're lucky you might get to hear Bob play the piano and sing a tune. I am a personal fan of Bob Moore and Bob's Red Mill, not only for their emphasis on pure ingredients, high quality standards (including a dedicated gluten-free processing facility and testing) as well as the integrity of Bob himself, who on his 82nd birthday gave the company to his employees. If you were to open my pantry, you'd find jars of grains lined up offering the health benefits of whole grains with the variety of flavors found in amaranth, millet, oats, organic cornmeal, and quinoa.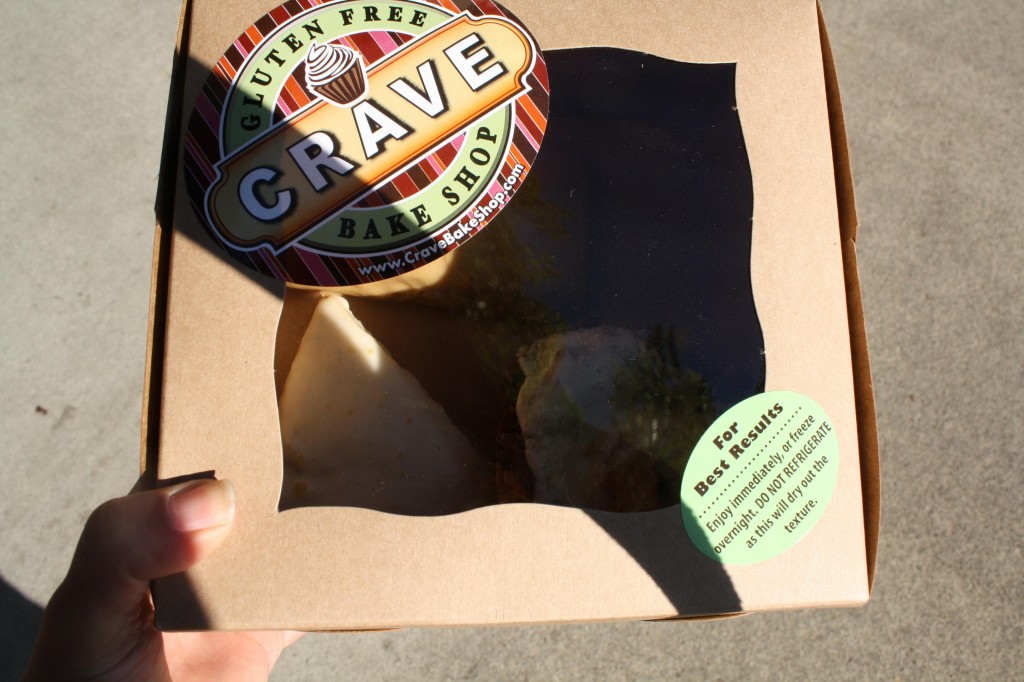 Crave Bakeshop
This gluten-free bakeshop is a neighborhood gem in Lake Oswego. Kira, the baker behind Crave Bakeshop competed on Food Network's "Cupcake Wars" and won with her gluten-free cupcake. Two times. I had met Kira and Jamie of Crave at a gluten-free show earlier this year where they treated us to their gluten-free dairy-free beer brownies and warm generosity, so I looked forward to seeing where all that baking happens.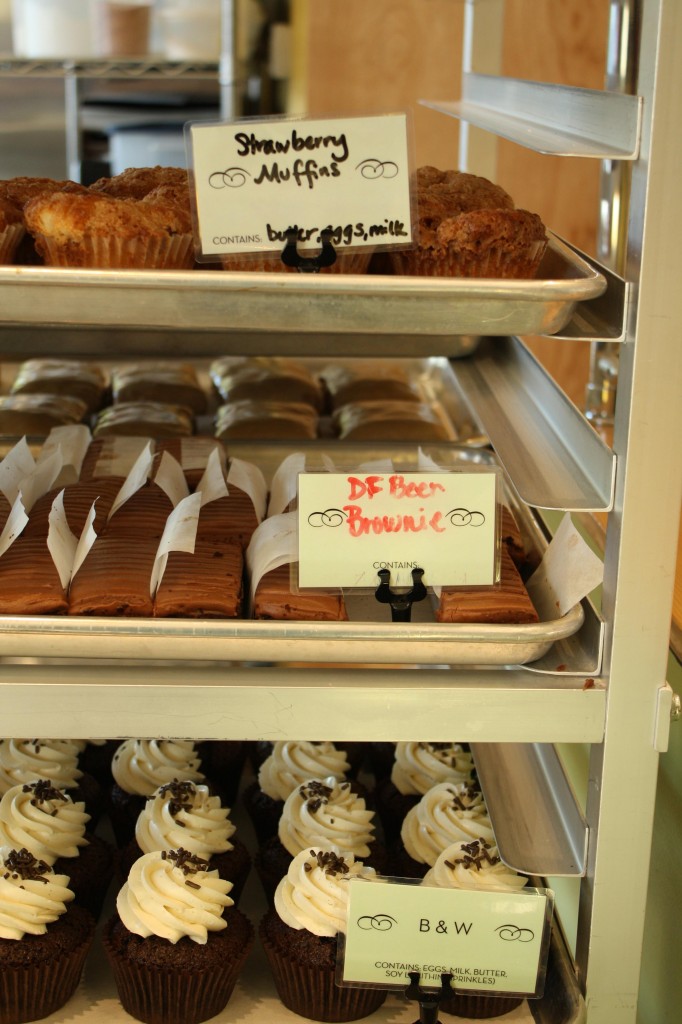 On this particular occasion, and goaded on by the tantalizing cinnamon blast greeting us when we stepped inside, we tried the Cinnamon Rolls and found them finger-licking good and laced with a generous helping of cinnamon and swirled with warm icing. Delicious.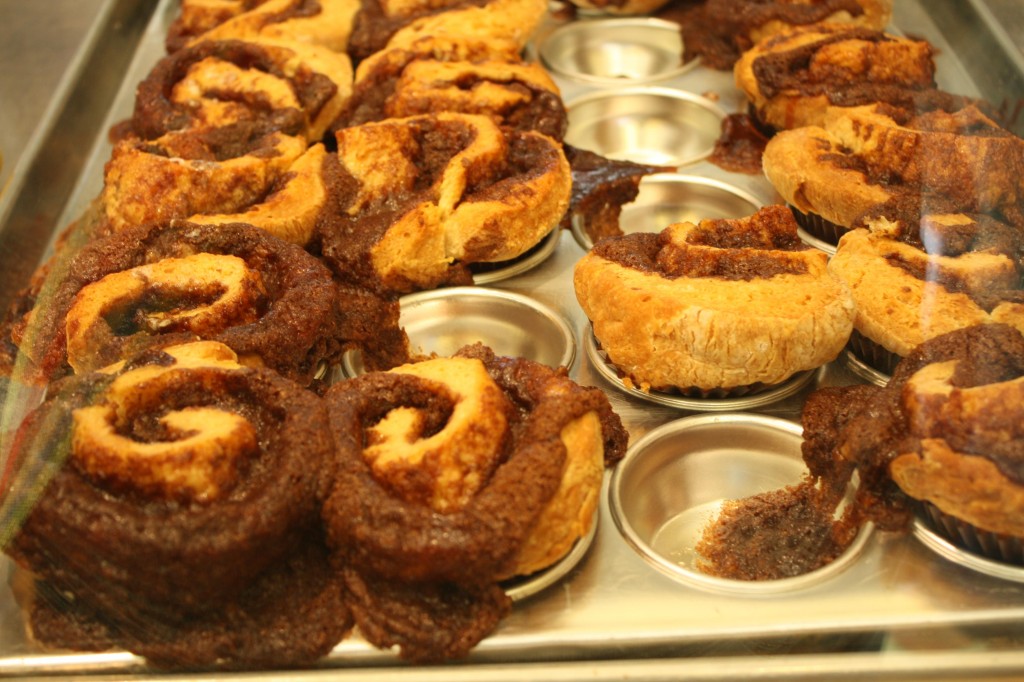 We also happened to walk out with a Maple Bar and one of their scones. While we noted that the Maple Bar would be a perfect fall treat, the spice that stood out was cloves. We nibbled at the scone but found our fingers continuing to search and pull off hunks of cinnamon roll on the drive back.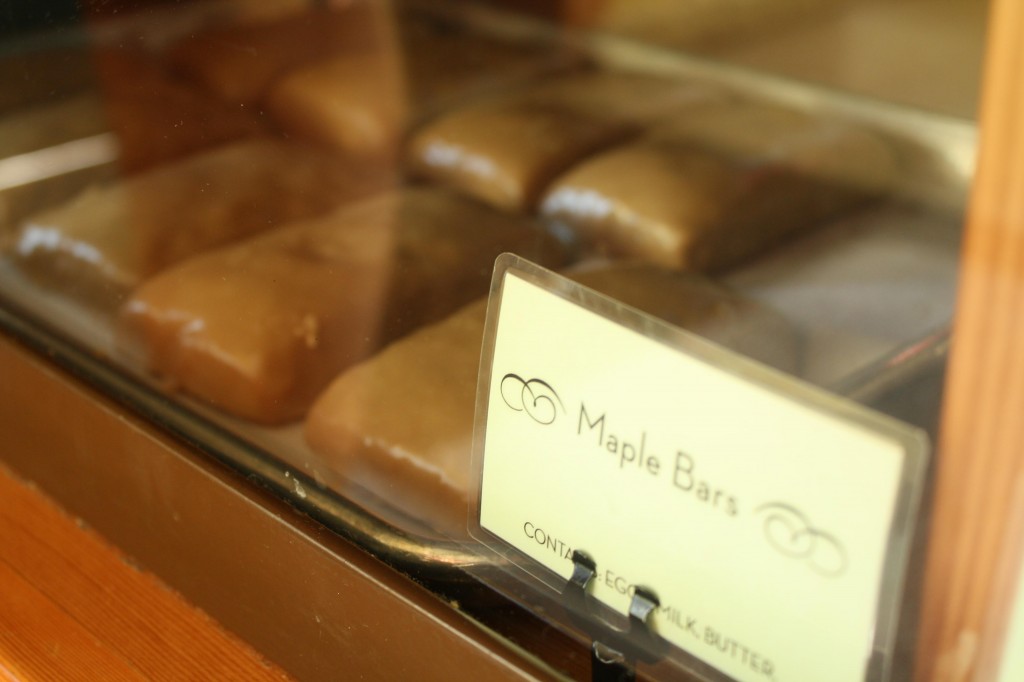 Boke
When you live in San Francisco, you get a smorgasbord of opportunities to locate and eat bao, steamed buns. I'm going to submit though that Boke has gone where no bao has gone before. I had the pleasure of sampling their Fried Chicken Bao with pickles and their Grilled Zucchini Bao with aioli. Both were equally delectable and stood out in a room full of local restaurant samples at a food blogger conference I attended earlier this summer. Upon reviewing their menu, interesting reasons to make a visit to Boke include their Ramen Bowls with housemade noodles and toppings like Caramelized Fennel Dashi. If you're gluten-free, they have yam noodles you can substitute which sound intriguing. They continue a fusion of Southern and East Asian foods with sides of pickled cucumbers or shiitakes, then leading into a dessert menu that features housemade twinkies. Be still, your Hostess loving heart, I suppose. Go for the Bao. Stay for the Coconut Kaffir Lemongrass Tapioca.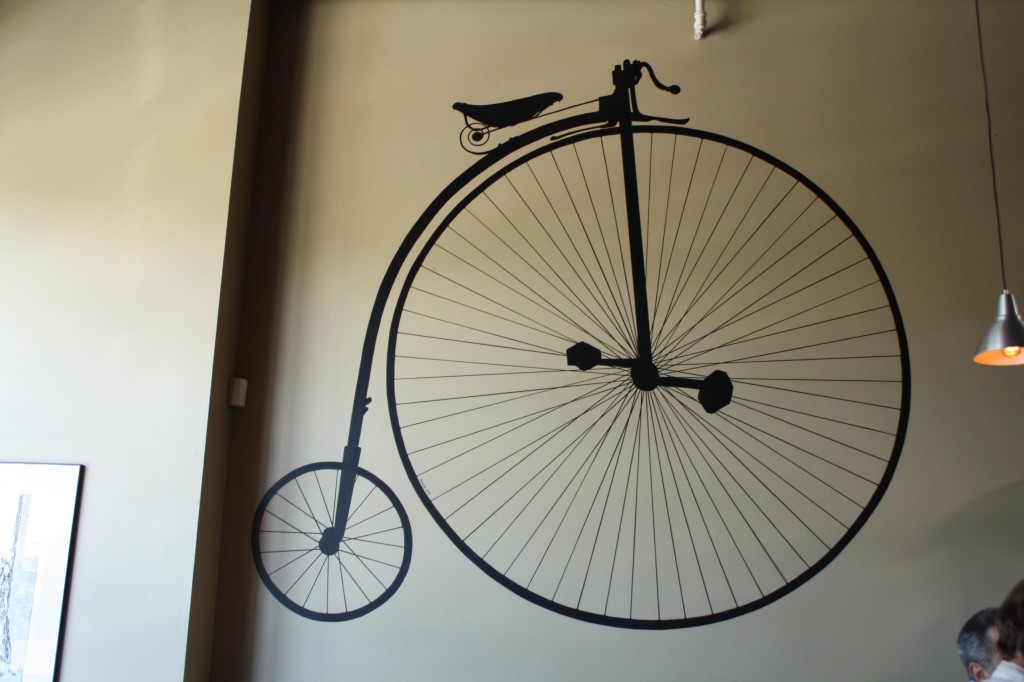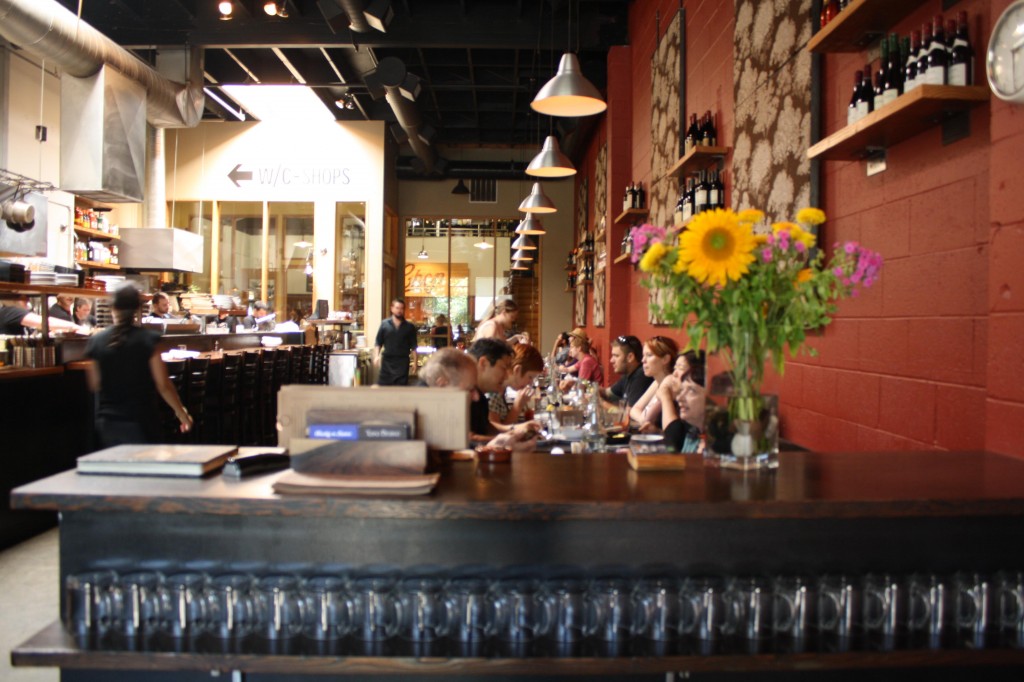 Tasty & Sons
Recommended by local friends, we met up at Tasty & Sons for lunch during our visit. The benefit of eating with a larger party allowed us to try a variety of dishes.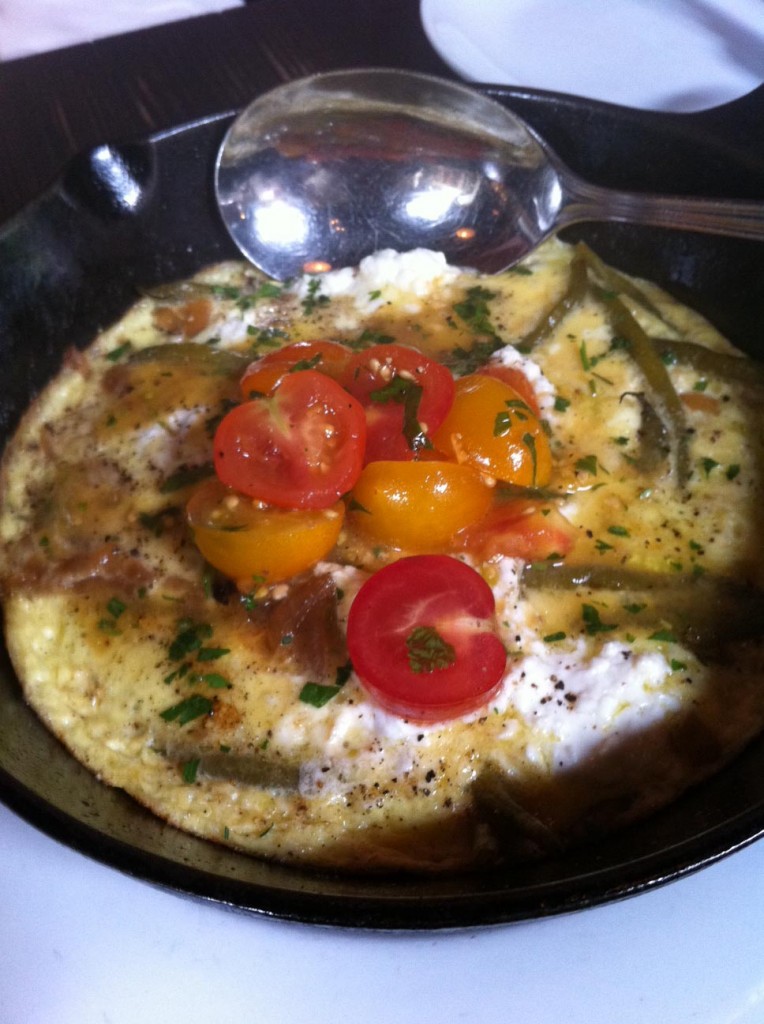 This included the Cast Iron Frittata with confit green beans, feta, caramelized onions and tomato salad that everyone agreed was a winsome combination of fresh and cooked ingredients.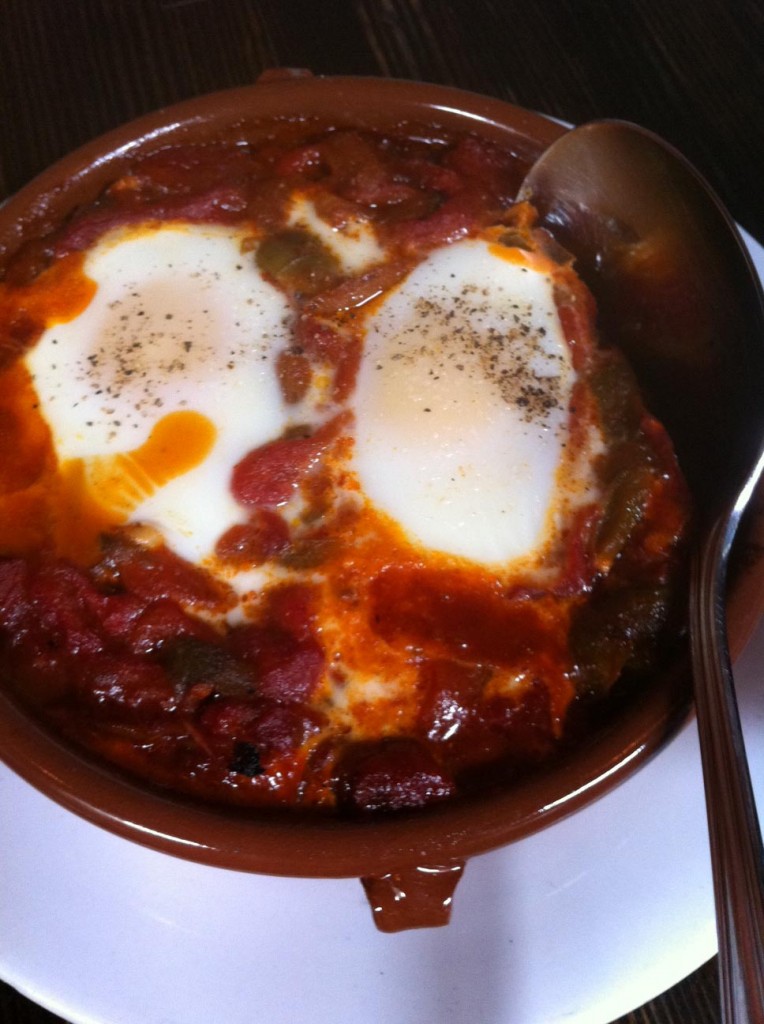 We moved onto the Shakshuka, a spicy red pepper and tomato stew with baked eggs. A few folks in our party noshed on the Burmese Red Pork Stew, commenting on it between bites with sounds and forks scraping the plate empty. Our server had accurately predicted this as one of their hot menu items.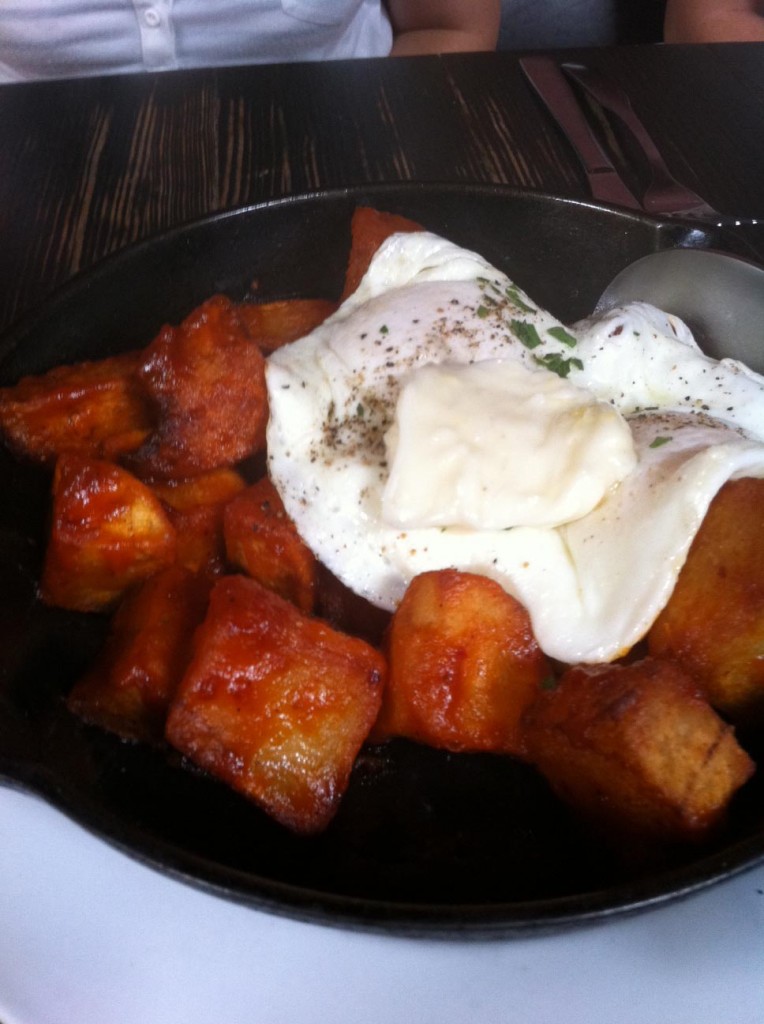 Apparently, the magazine, "Put an Egg on It" could have been inspired by all the eggy menu options that kept our mouths busy and stomachs more than satisfied as we even added an egg onto the paprika spiced Patatas Bravas.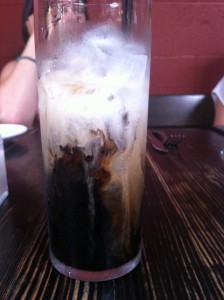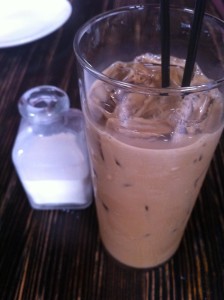 I sipped a Coffee Soda, which I'm considering recreating here at some point – I found this imported beverage effervescent, creamy and a delight.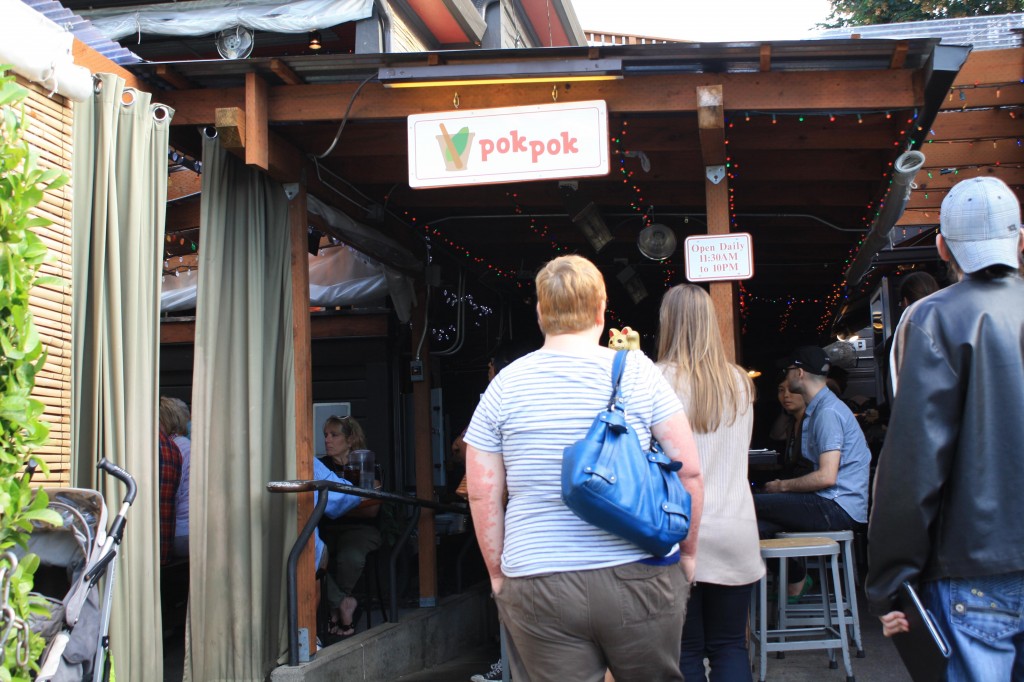 Pok Pok
What clinched my appreciation for this revered restaurant specializing in Thai street food involved reading the drink menu. There, listed among fanciful cocktails, "Drinking Vinegars stood out.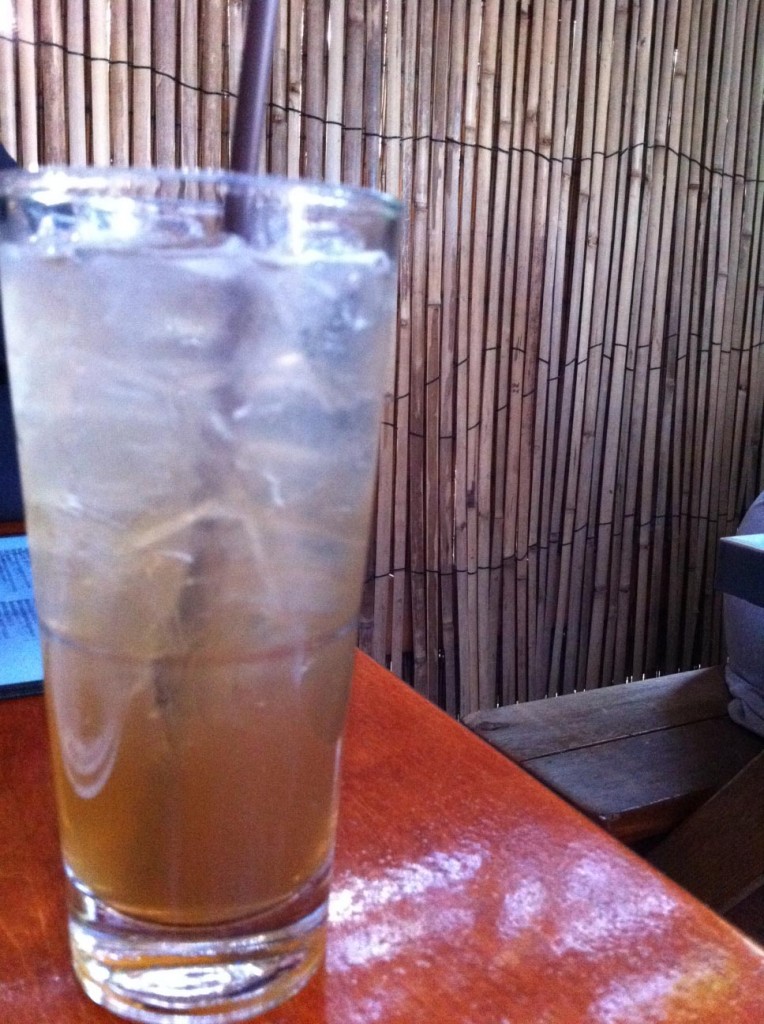 Oh my goodness. The question then became which flavor would be the one to give a go. I settled on the Tamarind Drinking Vinegar and am recreating it for Black Friday Feast by making up a Tamarind Shrub to stir into sparkling water. (Note: it ended up being more of a tamarind agua fresca.)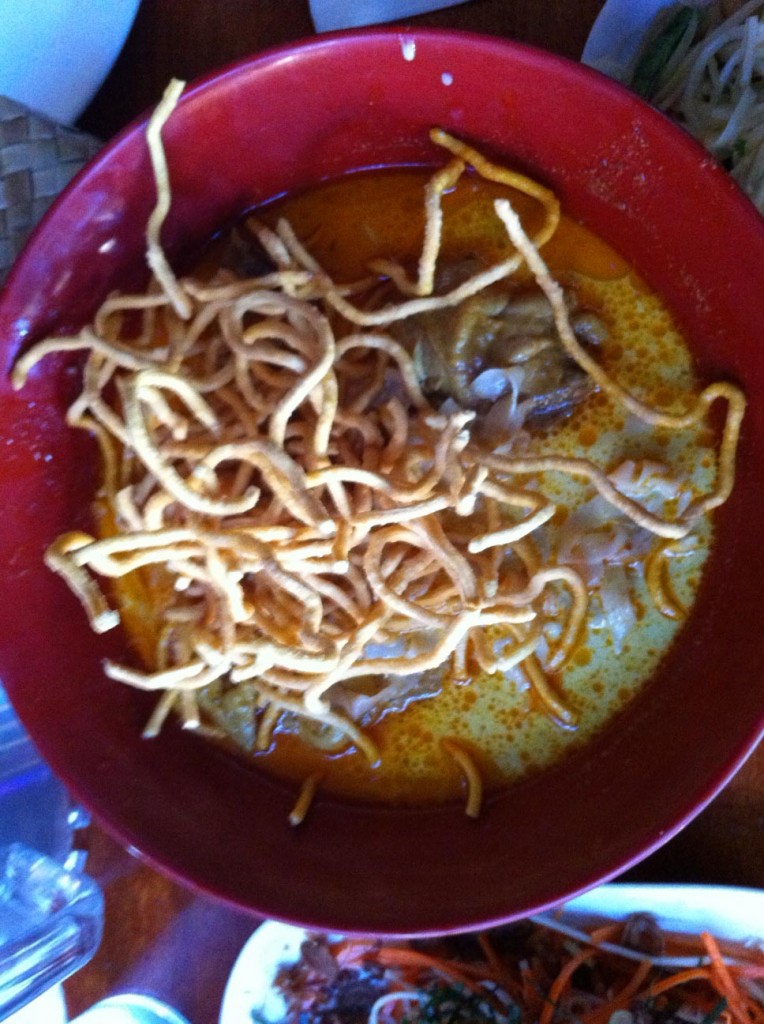 We also tried the Khao Soi, a personal favorite of mine at local San Francisco eatery, B Star. At Pok Pok, the mild curry sauce and chicken was served over yellow noodles with house pickled greens, but I found myself longing for the Kau Soi of B Star while eating at Pok Pok.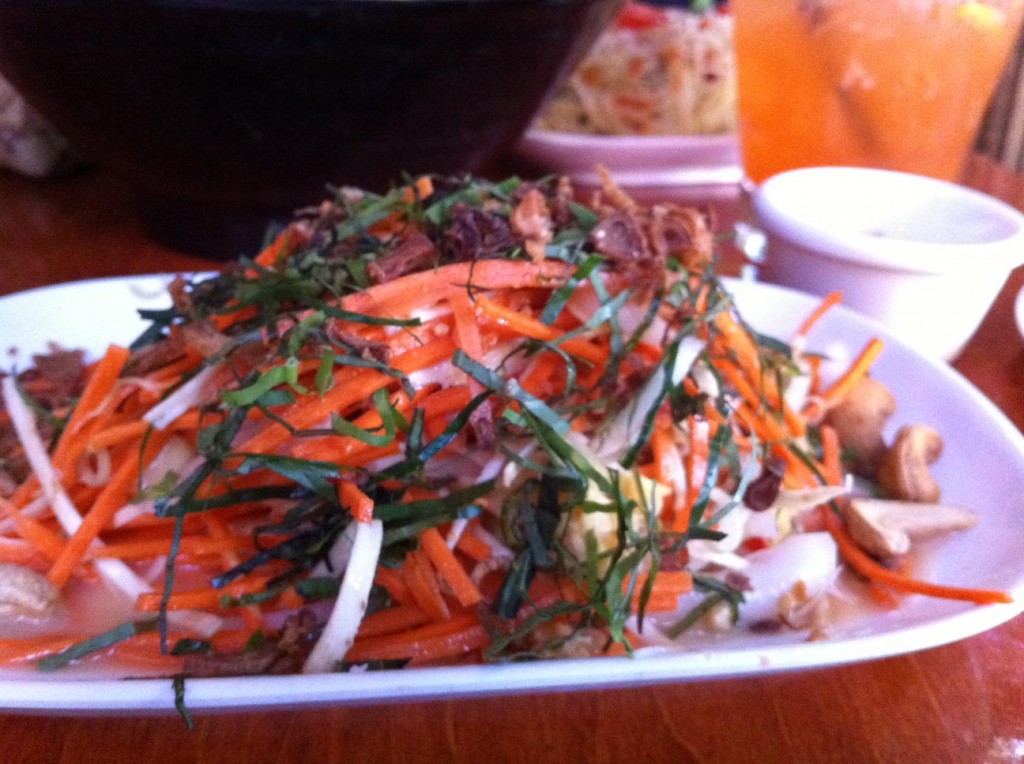 We also tried the Yam Samun Phrai, a Northern Thai salad of carrots, parsnips, cashews, white turmeric, betel leaf, lime leaf, lemongrass, fried shallots, Thai chilies and a coconut milk dressing.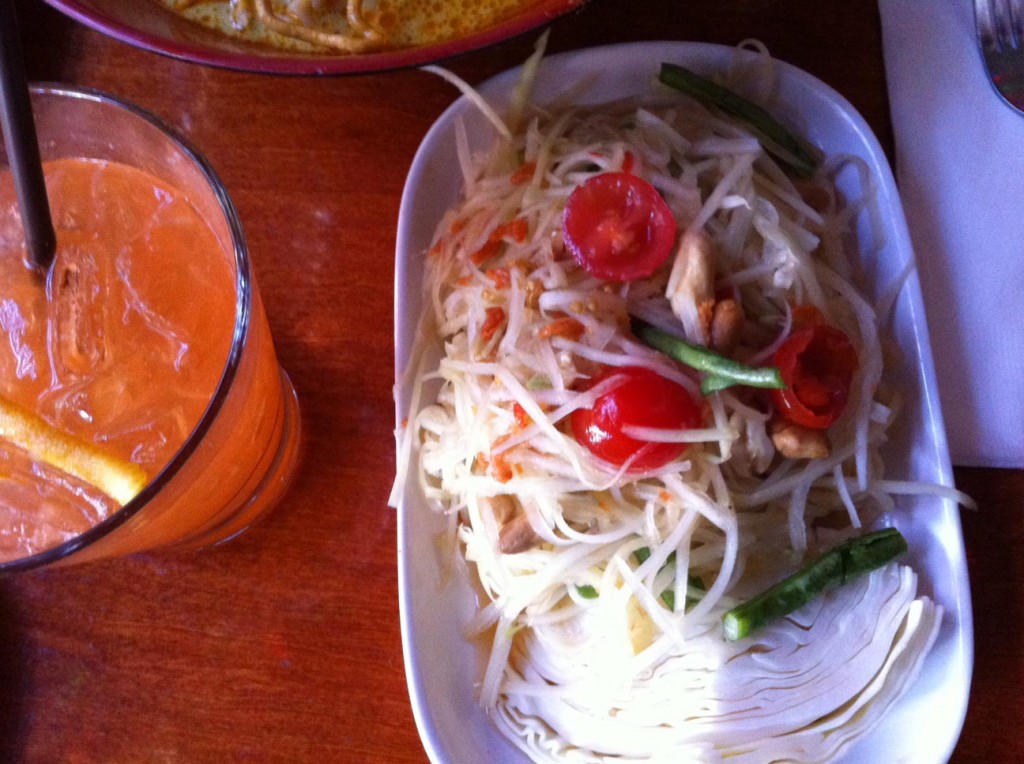 As I left Pok Pok, thoughts lingered of the Papaya Pok Pok Salad, their namesake dish that consisted of string beans, green papaya, tomatoes, Thai chile, tamarind, lemon juice, palm sugar, garlic, fish sauce and peanuts. What gave it an indelible impression was the interplay between sour and sweet. We heard that the chicken wings are a can't miss item on the menu, and thus a good reason to return to Pok Pok when travels take us back to Portland.
As an ice cream connoisseur, it doesn't escape my notice when an ice cream is praised as the best in the city. Imagine our surprise when we happened upon Salt & Straw while strolling down Division Street after dinner at Pok Pok. A happy coincidence, I think not. This humble stand serves up memorable scoops indeed and the line to show for it. I tried their famed Sea Salt with Burnt Caramel Ribbons and while that would be kryptonite for the caramel fan, settled upon a cup of their Sweet Corn ice cream that tasted fresh and like summer in a scoop.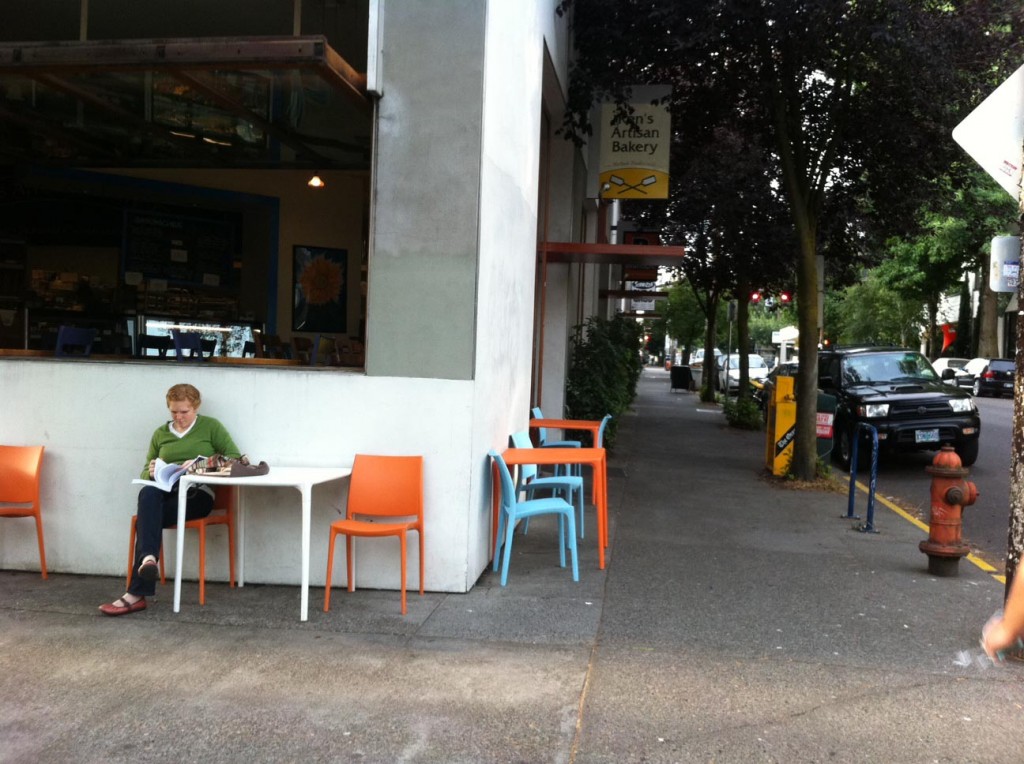 Ken's Artisan Breads
A San Francisco friend told me that Ken's pastries could give local San Francisco bakery darling, Tartine, a run for its money. A statement of this magnitude needed to be verified and so, one morning, we wound our way over to the quaint neighborhood in which Ken's Artisan Breads is located. As a sidenote, it makes for a lovely walk from downtown.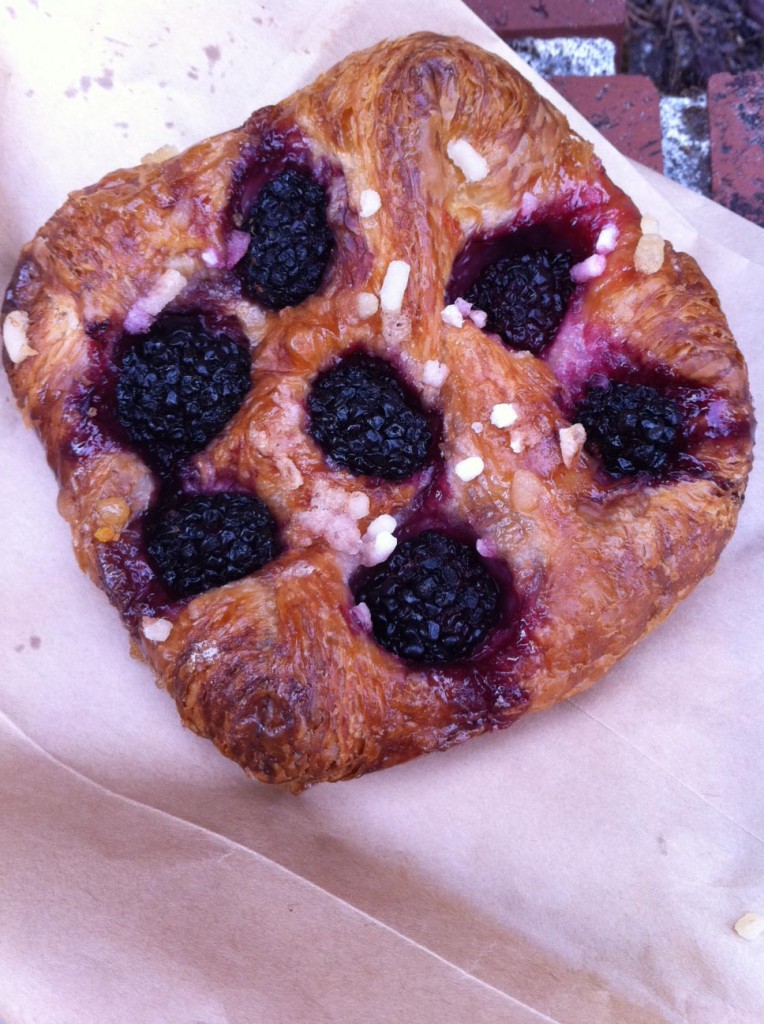 We picked up one of the Oregon Croissants, studded with Oregon blackberries, hazelnut cream and pearl sugar. That, with two lattes made for a decadent way to start off our day. The croissant did not disappoint and the combination of blackberries with hazelnuts contributed a melt-in-your-mouth tang of berries to the rich, creamy nuttiness. We spied a number of beautiful loaves of bread and a pastry case loaded with other decadent offerings. Note that the line at Ken's grows long quickly and even as the first ones in the shop, as we left, the line was already out the door. Be advised, go early. If you try the bread and pastries and find yourself swooning, you can also pick up the new baking cookbook, out this fall by Ken Forkish, called "Flour Water Salt Yeast."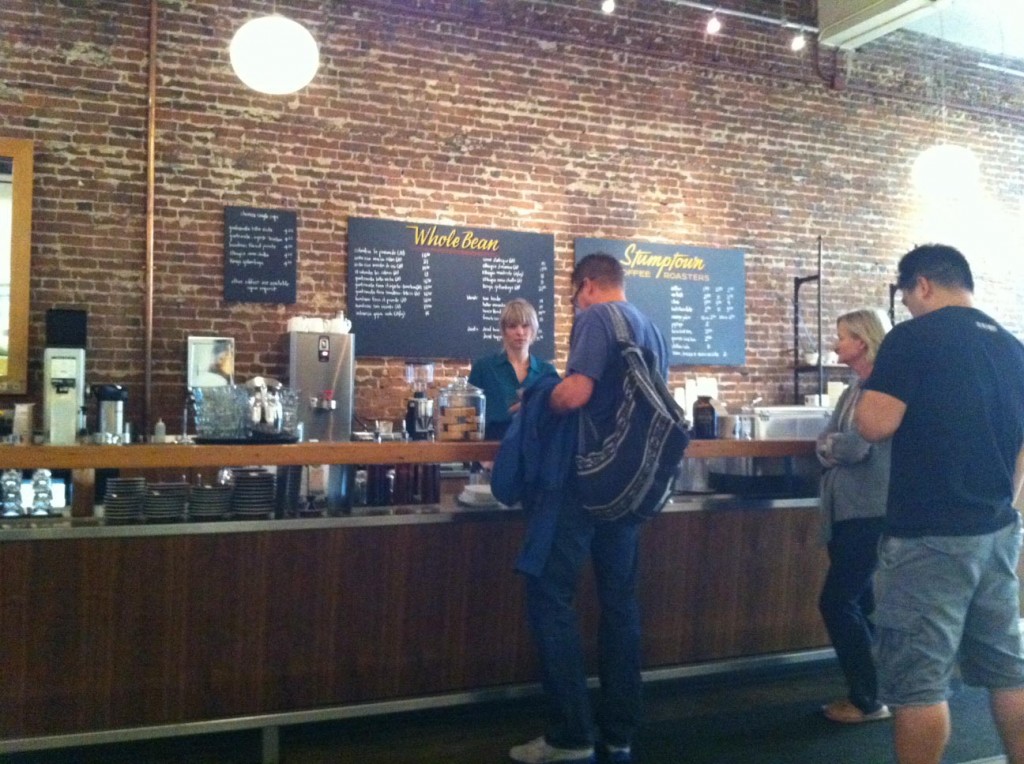 Stumptown Coffee
The popularity around this local Portland coffee roaster is pretty well known. And after trying one of their lattes or a cup of their house blend, I found myself easily joining the throng of appreciators. We wound our way on a morning run to the Chinatown Stumptown Coffee location and lingered over our coffee as the sounds of old country jangled from the record player in the back of the store.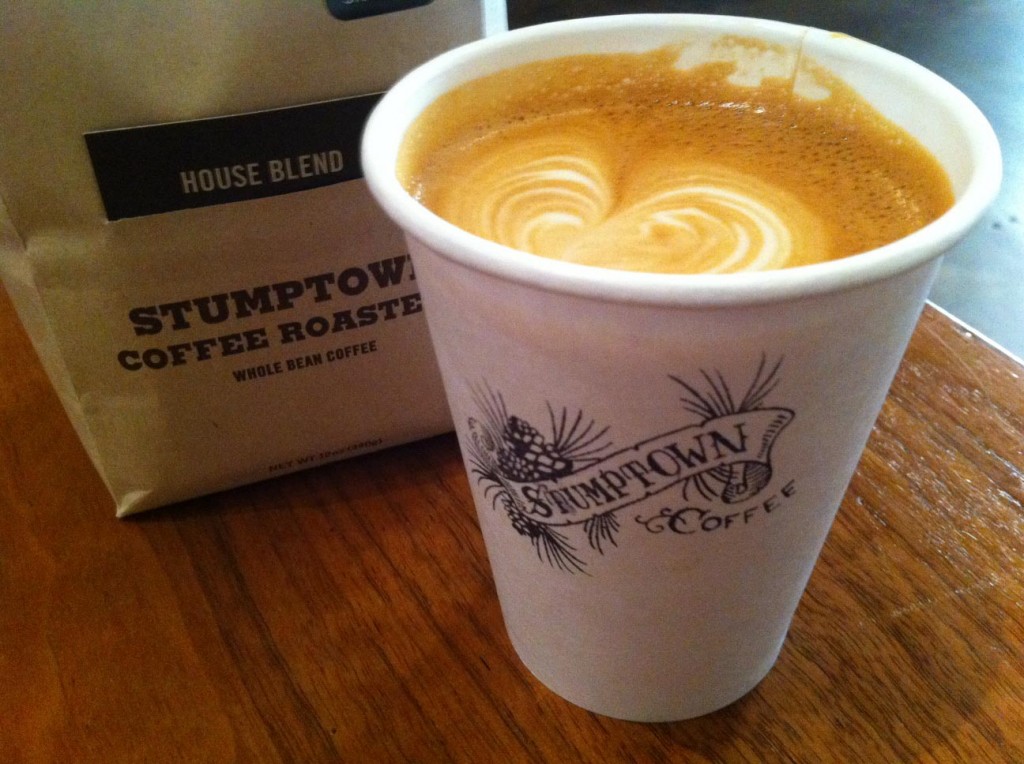 What makes the beans so intriguing might just be the nose. After smelling the house blend beans, I had an urge to bottle it or seal it into a slow-burning candle. There exists a happiness in the confluence of flavor and aroma to rival any other favorite smells or tastes. In my search to find the beans after returning from Portland and inspired by the flavor profile of the beans to make this Stumptown Coffee Chocolate Bark, I found all of the beans I had brought back from Portland consumed before my bark intentions could be realized. Until recently, the only way someone outside of Portland, say in San Francisco, could purchase the beans was from local co-op Rainbow Grocery, though Bi-Rite Grocery has gotten in on the act.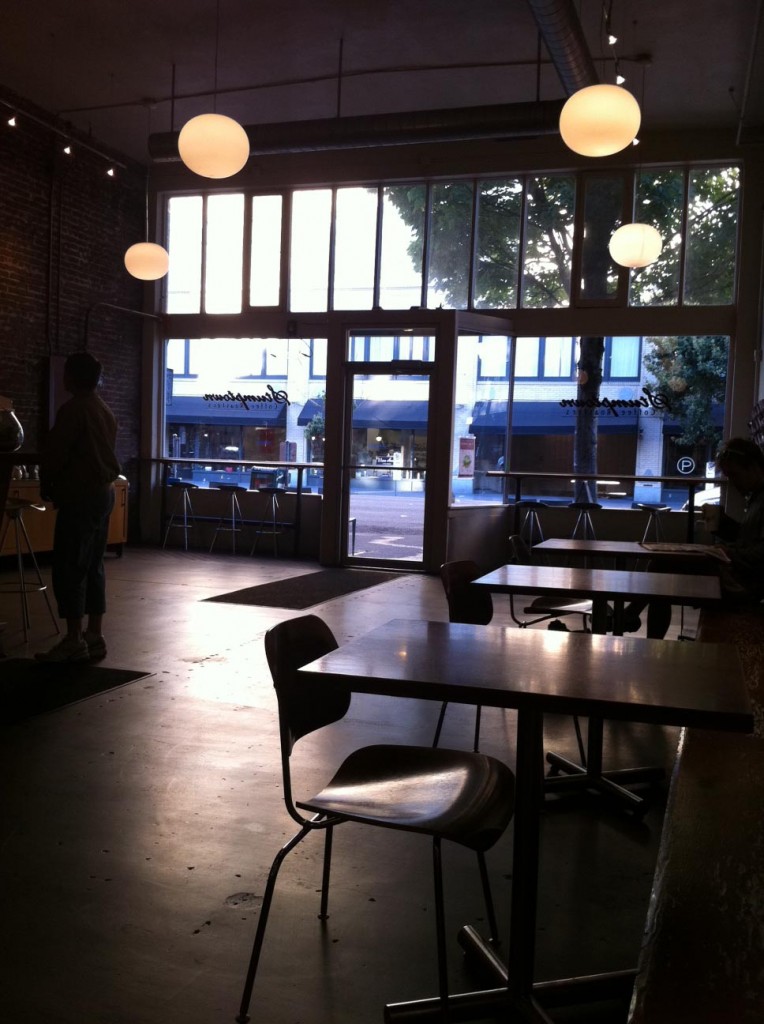 MORE EATS…
I'm planning to write up a separate excursion to Kim Boyce's Bakeshop, as we got quite the sneak peek and I'm pretty sure tried and relished everything on display that day. In summary, I appreciated the local, seasonal emphasis at the restaurants we visited and the rather experimental, yet down home experience of the food. Restaurants to visit next time are many, including a sandwich run to Kenny & Zuke's and I certainly want to dive deeper into the craft beer and interesting mixology happening in Portland.
READS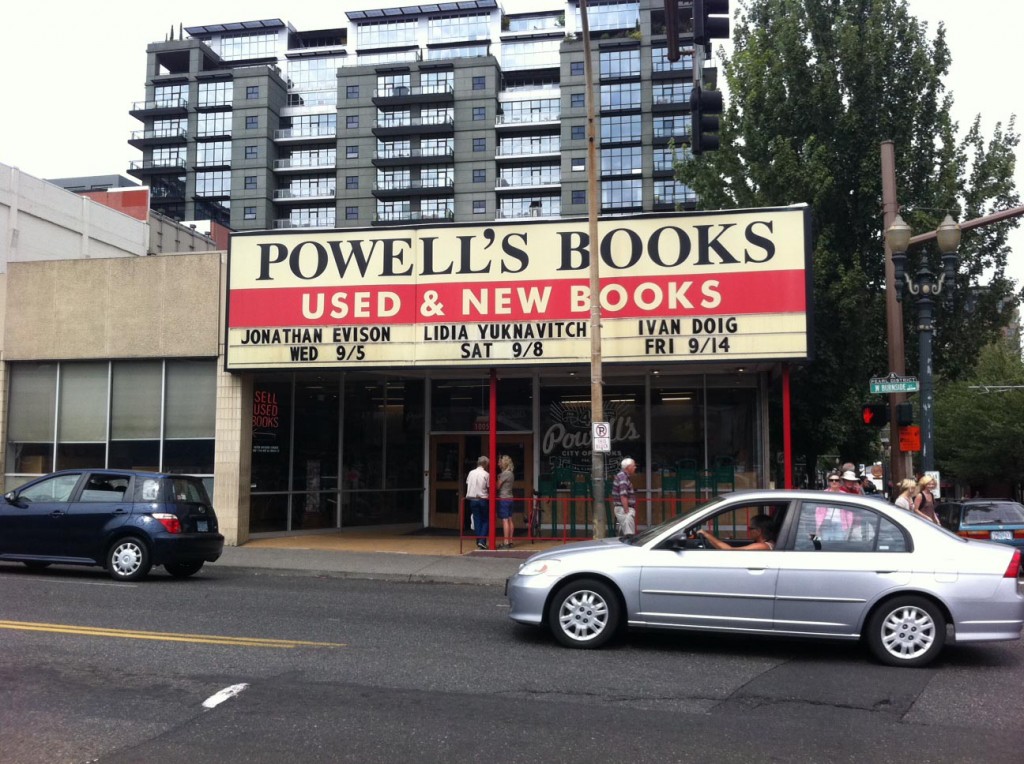 Powell Books
It's an odd thing when non-Portlanders describe their devotion for Powell's Books. Perhaps it's the cavernous rooms stuffed floor to ceiling with books. After doing a quick walk-through, I determined to focus on two sections of the store, not surprisingly, food and poetry. Both sections opened me up to books I hadn't seen before. Since I travel book-heavy, I limited myself to a single purchase- a slim volume by poet Bhisham Bherwani and felt the visit a success. Powell's exists as a cultural meeting point for locals and the literary lovers who consider bookstores second homes and touchpoints in unfamiliar cities and is worth setting aside a few hours to get lost in the stacks.