The meal after the Meal- I have been contemplating Black Friday in a new way this year. None of the scheming and planning for wee morning hour wake-up calls to shop. Oh, no. As home cooks across the country are putting into action this week's game plan for Thanksgiving, I've set my eyes on Friday.
Thanksgiving should require its own lexicon. It starts on Sunday when the candies get made. Tuesday might as well be dedicated to pie day as pie crusts get filled with gooey pecans and syrup or with spiced pumpkin puree. Wednesday becomes the day for making any side dishes that can sit overnight to let the flavors meld. And we all know what Thursday means, or at least our belts know what it means.
This year I wanted to take a different approach to the day after Thanksgiving, usually a repeat of leftover favorites refashioned into day-after delivery or served up in the array most beloved by each participant. This year, while in Texas, I wanted to bring a bit of California to the table or at least, the way we usually eat chez nous. It saddens me to think that while my Dad was alive I didn't really get a chance or make the effort to cook for him. I know that one Thanksgiving I had a chance to contribute a salad, done my way and he, the antagonist of "rabbit food" ate it and enjoyed it. And cooking is after all one of my love languages I can imagine many of us speak to the people we love.
So, in the spirit of bringing California to Texas, I've decided to make the meal vegetarian. It's not some sort of political statement, as I can put down smoked brisket with the best of them, but it reminds me of the home and style of living and eating we have cultivated in California. This opportunity arrives for me to make a succulent feast of fresh foods bursting with seasonal flavor. After all of the tryptophan and Red Rooster imbibing of Thursday, Friday is a chance to turn a corner in a different direction.
_________________________________
B L A C K   F R I D A Y   M E N U
Appetizer
Sweet Potato Crostini with Celery Parsley Salad, Lemony Yogurt and Pomegranate Seeds
Salad
Massaged Kale Salad with Persimmons, Cranberries, Chevre & Toasted Almonds
Main
Spanish Lentil Mushroom Stew
Grilled Organic Polenta
Dessert
Yogurt Pudding with Spiced Pear Compote
___________________________________
I kept my tastebuds open and exploring the past few months, testing recipes and ideas of foods that would work for this Black Friday Feast  and be family-approved. This Spanish Lentil Mushroom Stew below by Michael Natkin completely bowled me over. The sherry vinegar and paprika give a heartiness to the mushrooms and lentils. Below, the stew is served with sliced Early Girl tomatoes and basil. Since they are not quite in season right now, we will be foregoing them and I might opt to offer some quick-pickled onions or some such notion. Who knows, maybe this is a family tradition in the making?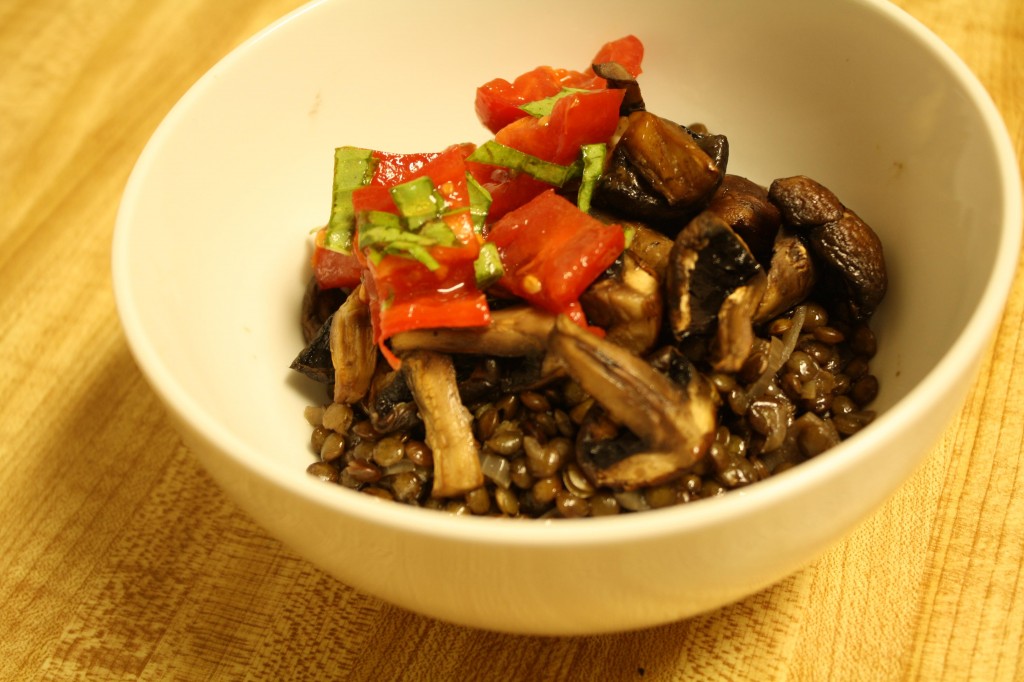 [print_this]
SPANISH LENTIL MUSHROOM STEW
From "Herbivoracious" by Michael Natkin. Reprinted with permission.
YIELD: 4-6 servings
5 tablespoons plus 2 teaspoons extra-virgin olive oil
1 small white onion, finely diced
3 garlic cloves, minced
kosher salt
2 cups French green lentils, rinsed and picked over
4 cups water
1 pound Crimini mushrooms, quartered lengthwise
1 teaspoon smoked paprika
1 tablespoon plus 2 teaspoons sherry vinegar
1 pint cherry tomatoes, halved
12 big basil leaves, rolled into a bundle and cut into thin strips (chiffonade)
freshly ground black pepper
1. Heat 3 tablespoons of the olive oil in a large saucepan over medium-high heat. Add the onion, garlic and a pinch of salt and saute until softened, about 3 minutes. Add the lentils and water. Bring to a boil, reduce to a simmer, and cook, uncovered, until lentils are tender but not falling apart, about 20 minutes. Drain.
2. While the lentils are cooking, heat 2 tablespoons of the olive oil in your largest skillet over high heat. When the oil is shimmering, add the mushrooms in a single layer and sauté, turning occasionally, until well browned, about 5 minutes. If your skillet isn't big enough to hold the mushrooms in one layer, work in batches. Season the mushrooms with 1/4 teaspoon salt.
3. Put the lentils in a mixing bowl and add the smoked paprika, 1 teaspoon salt, and 1 tablespoon of the sherry vinegar. Taste and adjust seasoning.
4. Toss the cherry tomatoes and basil with the remaining 2 teaspoons olive oil, remaining 2 teaspoons sherry vinegar, and 1/4 teaspoon salt.
5. To serve, divide the lentils among bowls. Top with the mushrooms, and top the mushrooms with the tomato salad. Give the whole thing a grind of black pepper and another dusting of paprika if you like.
[/print_this]