I've never been good at math. So when you say, "Annelies, three plus ten equals Thirteen" I agree with you.
Top ten sounds far better than top thirteen. It rolls off the tongue. And try as I might to think about writing "Annelies' Top Ten Eats of Jackson Square"- that list I fear would be far too short.
These outliers might not make the typical cut of North Beach recs., but I'm feeling generous and extending the boundary ever so slightly. Regardless, these addendums are worth the trip down neighboring side streets.
North Beach
EATS
1. Naked Lunch– as they are located on Broadway, this technically qualifies for North Beach. I love the scrappiness of this small team led by Ryan in front-of-house. They commandeered the to-go space of Enrico's restaurant, back when it was still open and served up some good food in what felt like a pop-up at the beginning. During the daytime, this is definitely more of a local's in the know restaurant. The menu is brief but features creative sandwiches like today's Manchego & Pear Sandwich served with Arugula, onions, thyme and blue cheese. Most recently, I noshed on their double cream cheese (similar to brillat savarin) sandwich studded with toasted sliced almonds, honey, rosemary, arugula and dates. I usually go for the vegetarian specialty sandwich option if I'm in the neighborhood. Make sure to pick up a cinnamon sweet tea to wash it down. One of the things I think Naked Lunch has done so well is to use twitter to grow their fan base. They change the menu frequently and tweet its offerings. I personally found them from hearing their menu tweeted. I'm excited to check out Txoko, their new restaurant going into the old Enrico's location next door when it goes in this walk-in is a good neighborhood standby.
2.
Bocadillos
– I could wax poetic about my appreciation for Bocadillos. Server Scottie and I are on a first name basis. He will take good care of you on weekdays for breakfast or lunch. I've eaten my way through vast pockets of the menu. I like that two of their
bocadillos
(mini sandwiches) at lunch come with greens and cost $10. It's a steal of a deal really. There is quite a selection of variety for the most discriminating palate, offering vegetarian choices or ones for carnivores. I like the tuna melt with Wild planet organic tuna. The roast beef with caramelized onions is pretty dang tasty too. One thing I appreciate is each menu features a whole grain specialty like
Kasha with globe artichokes and olives
. During the summer months, you want to try the
corn and roasted Poblano salad with champagne vinaigrette
. This is a favorite that I've turned friends onto. For dessert, I have an unhealthy fascination for their
kefir yogurt
. They drizzle it with honey, cacao nibs & thin slices of seasonal fruit. No better kind of dessert than one with probiotics. (hint: if you're in the neighborhood around breakfast, order the Greek yogurt- same kefir yogurt w/ only honey and almost half the price when listed as dessert).
Other breakfast notables: their frittata of the day is served with a small portion of the yummy patatas bravas with romesco sauce. Or if you want something to-go, try a basque wrap. OJ here is fresh squeezed and something I look forward to if it's an OJ kind of day.
3.
Cotogna
– You have to have an ace up your sleeve- something to get dressed up about. I had the pleasure of sidling up to the bar the day after Cotogna opened. I saw it as a treat. The
lamb ragu pappardelle
was pretty phenomenal. They roasted the lamb overnight in their wood-burning oven. The texture was silky and the flavor rich. I first tried their
carrots roasted with rooftop honey and anise
then. Whoa. This treatment of carrots brings out their naturally sweet side and the anise seasons them well. Just yesterday, I got a fine treat of a lunch on the boss at Cotogna. It was as rustic and sumptuous as I remembered. We split the Fava leaf sformato with grana padano.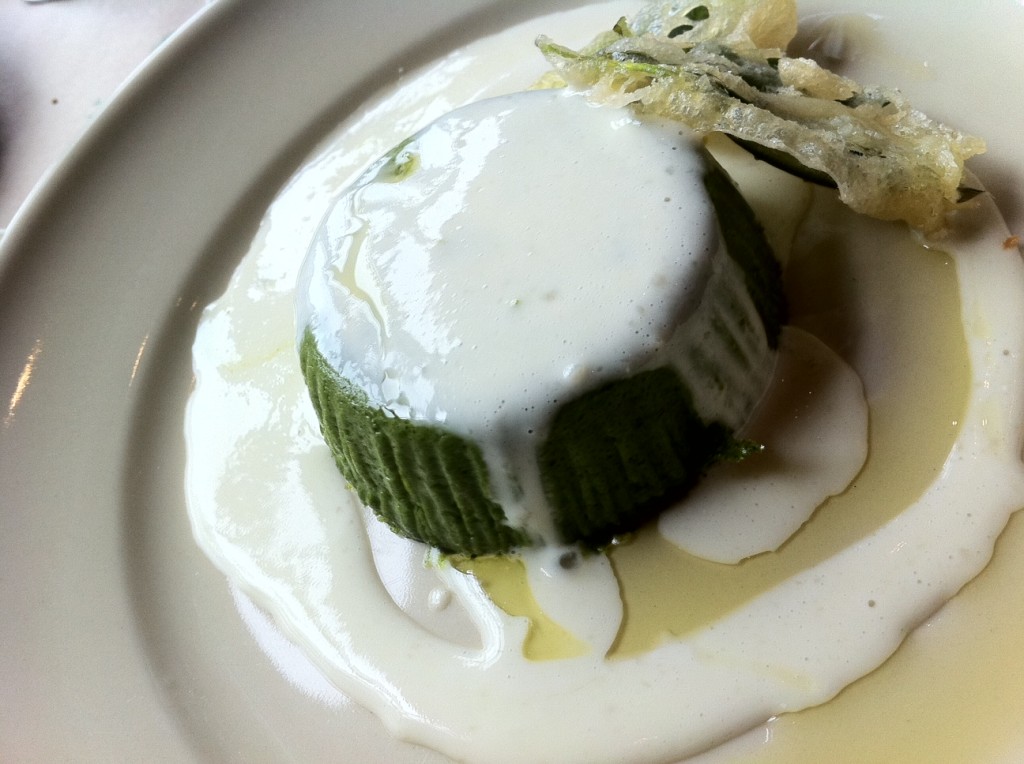 Moving on to the next course, out came the tagliatelle with duck bolognese.
Then the gnocchi with Fava and dungeness crab.
Of course we had to order the carrots and he scraped the empty Staub dish for errant anise seeds.
We then splurged on dessert and out came the ricotta bombolini with limoncello dipping sauce and candied kumquats.
The arborio rice pudding dotted with pistachios and dried cherries stood out as a favorite.
As you can see, North Beach is not short on good eats and drinks. Just make sure you've budgeted plenty of time to explore the neighborhood tongue-first!