This last week found not one but two visitors out in our fair city by the Bay. Both dinner-only. Both looking for a good time (in the form of a meal).
I will admit that the idea of touring people around town is not one that readily appeals to me. On my must-see list, I have carefully added in an aquarium store that I lovingly term, "Finding Nemo? They've got him here." Bad joke, but if you take a camera into the store and get snap-happy they will confiscate it or throw you to the eels in a tank toward the back of the questionable shop. I guess having a sense of humor would be required to endure the Annelies tour of San Francisco.
Eating your way through San Francisco is another matter entirely.
It occurs to me that for those of you who live elsewhere and are looking for good eats in San Francisco, you lucky rascals have many resources at your fingertips. Travel books. Travel blogs. Best of lists. Newspapers. But into that mish-mash of offerings, I'm throwing in my hat and taking it one neighborhood at a time. To be updated over time. I give you the Annelies' Top Ten Eats. Sure, you can find the "99 things to eat before you die" list and tack off one by one. My friend Joanne did just that several years ago and I still give her major brownie points for that coup. Major brownie points.
But here's the dirty little secret: taste is subjective. Our palates are not the same, the key is to find someone with whom you share an affinity taste-wise and then you have indeed found a culinary companion and guide.
Back to my Top Ten Eats. Walking home the other day, it occurred to me how much I love the cultural and culinary diversity in this city that has been my home now north of a decade. To try and experience it  and all it has to offer is to suck on the marrow literally.  And sometimes with a side of bergamot jam.  I intend to tackle the city using the stomach as guide and doorway, la puerta de la panza with you along for the ride if you join me, one neighborhood at a time.
Let's start with… North Beach.
When in San Francisco… North Beach
Ah, North Beach, you belle of the Bay. You scallywag of the Barbary Coast trail. You bastion of Italian flags and cafes flecking the sidewalks…
BRUNCH
1. Mama's– If you're jonesing for brunch and you find yourself in North Beach, you're going to have an awfully long line to wait in if you think you're headed to Mama's. Take it from me, get here early, say 7:30 a.m. and join the others with popped collars bracing that early morning chill, waiting for the doors to open. As a non-lover of French Toast, this is their specialty for a good reason. Home baked bread might have something to do with it. Expect large portions and to enjoy your meal quickly. They turn the tables quickly in this small restaurant to keep that line wrapped around the block moving forward.
EATS
2. Restaurant Ideale- So many restaurants abound in North Beach that it might be difficult to select one as being the most ideal (Pun intended). If you're hungering for pasta, I do think Ideale is a good choice in the sea of other choices with an exception, noted below. For starters, it's located on a quaint side street and off of the bustling thoroughfare that is Columbus Ave. I dreamed about the Amatriciana long after the plate was empty.
Gnocchi got your tongue? Head over to Volare for their housemade gnocchi. Light and delightful in pesto or marinara.
3. Tony's Pizza Napoletana- Craving pizza? Look no further than Tony's. This restaurant goes into the food memory bank as the one fellow employees and I ventured out to to celebrate my joining the team. We tried the Margherita– it won at the World Pizza Cup the accolade of best Pizza Margherita in 2007. The cheese, the sauce, the drizzle of basil and that wood-oven crunched crust make for an incredible pizza. While they serve things other than pizza here, Beck and I pretty much agree that if there is a type of food listed in the name of the restaurant, you should consider sticking with that recommendation.
SANDWICHES
4. Macellato, the Sandwich- Your head might bump the ceiling in this tiny cafe but it is not to be missed. The short menu should have arrows pointing to the Chickenwich. It. is. ridiculous. And meant to be shared unless you are really hungry. Not a sharer? You're in luck as they've got a menu item called the "Halfwich" for halflings like myself. Anywho, they use Fulton Valley Farms organic chicken breast for some of the best fried chicken you will find in San Francisco.  Served in a soft roll and topped with a bright lemony cabbage slaw, drizzle some Frank's hot sauce on there and you're golden. For the morning set, head in for a cup of chicory coffee ala C.C.'s and some made-to-order beignets.
5. Molinari- Interested in Italian sub sandwiches? You're in for a treat at Molinari. Act like a local in the know by going in on the early side for lunch and make sure to pull a number from the dispenser located near the front door. Next, head to the bread bin and pull out your roll- Dutch Crunch or Italian and you're ready to order. We like the Turkey sandwich with all the fixings hold the mayo but pile on the pepperoncini, lettuce, tomato, onions and basil sauce. This is one thick sandwich, piled high with ingredients and one to enjoy sitting at nearby Washington Square Park or on the steps of the St. Francis Mission if the church is closed.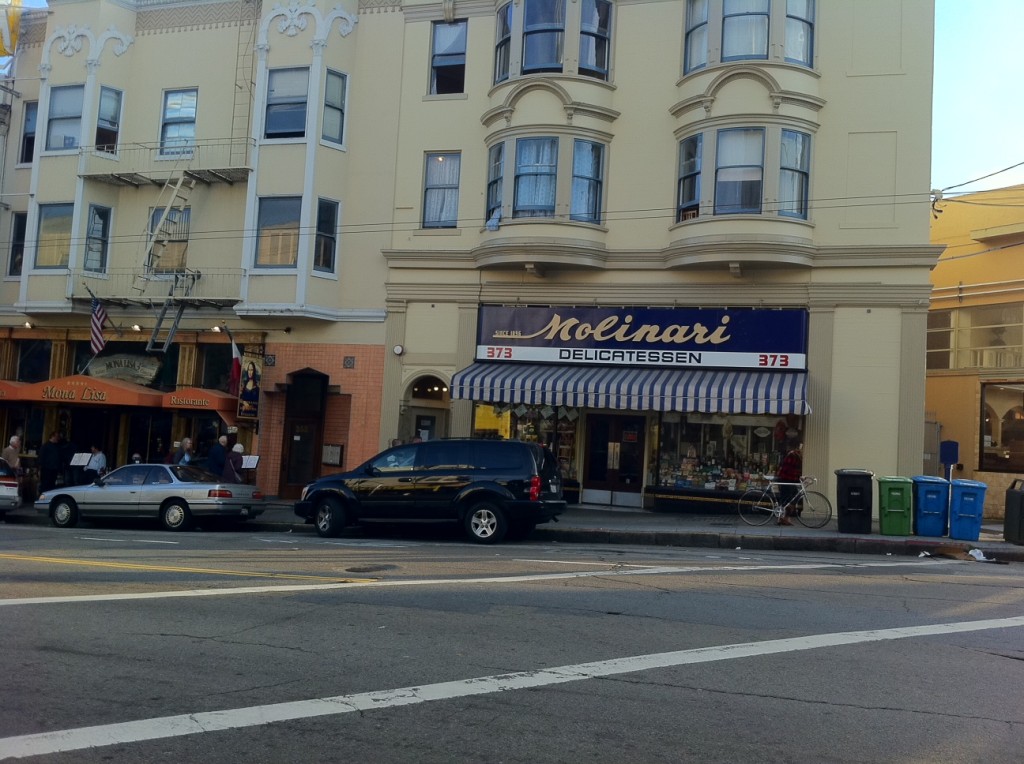 SNACKS
6. Liguria Bakery- When I was a recent transplant many moons ago, a friend brought in focaccia from this bakery. That filled brown paper bag boasted thin strips of fluffy focaccia smeared with tomato sauce and green onions. I tried a piece and was hooked. I meandered my way eventually to Liguria to pick up more and found this at the time unmarked bakery to be unpretentious and popular. They sell only five things on the menu- variations of focaccia and once they're sold out, they close. Go early and ask for the pizza focaccia. See if you can make it past Washington Square Park without tearing into the white packet tied with twine. I dare you.
SWEETS
7. Stella– When I was a bambina, I might have come out of the womb craving the tira misu at Stella. Don't get distracted by all the other pastries donning those glass cases up front. The one you want, the one you are looking for is on the lowest shelf, dusted with cocoa powder. A square of this tira misu is a bit lethal and is perfect for sharing with a friend or two. What makes their tira misu stand out is the texture of the cake slightly drunken in liqueur but still firm on the fork. The cream on top is not sweet, but lends another texture for your tongue to be enticed.
SIPS
8. 15 Romolo- Located just off a tiny alley, immediately on Broadway is this stellar bar. They are known for their creative cocktails and classic interpretations. The mixologists make the right alchemy of ingredients for some incredible cocktails. I tend to order off of their specialty drinks menu which changes. If you've got the nibbles, go for the "Challah @ cha Boy" sandwich" – challah bread toasted and slathered with Nutella, banana, bacon and pickle sandwich. Don't knock it 'til you try it. They'll make you a believer.
9. Comstock Saloon- Known for its cocktails, behind the bar you'll find top notch mixologists and this leads me to my next point about Comstock. The drinks are good. They would be my main reason to tell you to go and I would incite you to choose the "Barkeep's Whimsy" where you tell the waitress what you like and don't like and leave the rest- the cocktail alchemy to the bartender. But here's the thing, if you don't have a penchant for risk-taking, if your list of no's is long, this is not the drink for you. The menu is full of other good concoctions to entice you.
10. Caffe Greco– This cafe holds a special place in my memory for several afternoons spent lingering and lounging at one of the sidewalk tables. Vespas pulling up curbside, the people watching is bar none. It hasn't changed much over the years. This is the place you want to visit for an affogato. They brew up illy espresso and pour it over a scoop of gelato. I highly recommend a hazelnut affogato– espresso served with hazelnut gelato. The deep and slightly bitter tang of coffee is offset by the sweet nutty creaminess of the gelato that slightly melts into your cup. On an atypically warm San Francisco afternoon, this could hit the spot.

History buff & coffee lover? Caffe Trieste is the place for you. Noted writers and beat poets used to hang out in this eclectic space. They roast their own coffee and somehow I always feel either a bit cooler or not cool enough when I walk in there. This is not the place to go if you're into flavored coffee. In fact you might get some funny looks. I would heartily recommend ambling up the street to City Lights bookstore pre-Caffe Trieste so you can have a book or tome of poetry tucked under your arm.