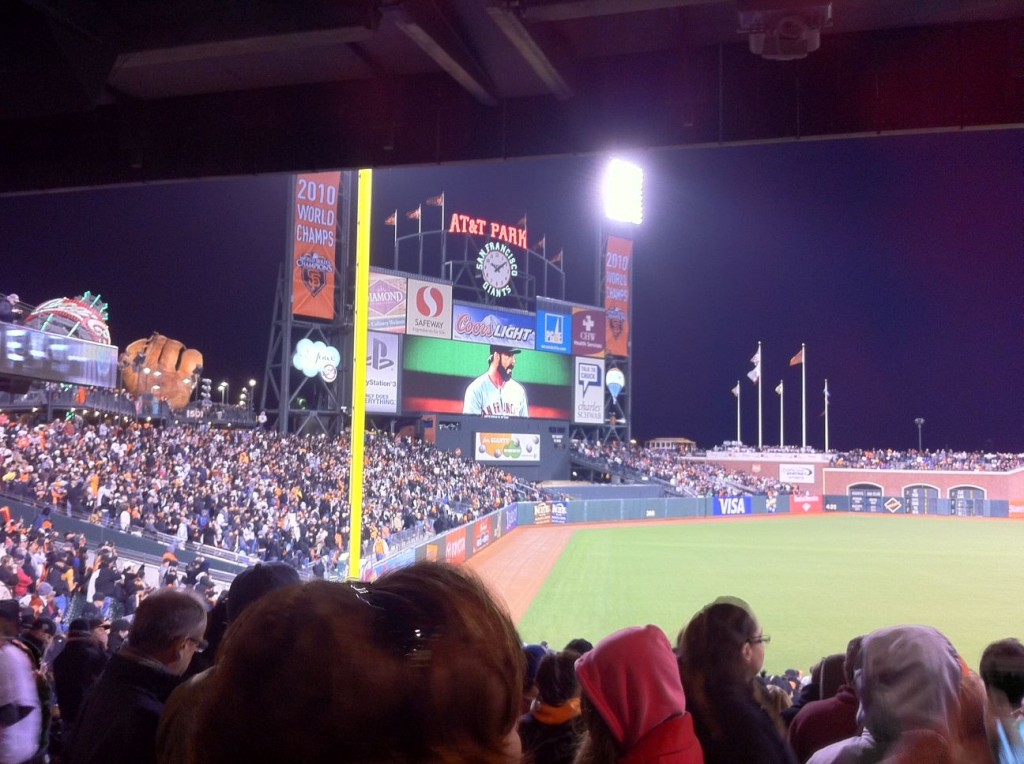 The end of March brought a cheerfulness to our home. When I say cheerful, I'm talking birds chirping in place of alarm clock, whistling on the way to work- that kind of peppy veneer on the shroud of the everyday. The reason behind all of the mirth really lay on the simple fact that opening day of baseball season was upon us.
As a surprise gift to Beck, I got us tickets to a Dodgers game. There is some serious team spirit and competitive rivalry against L.A. and S.F. when it comes to baseball. I'm not talking about the kind that literally beats up opposing fans, although that happened this year on opening day- a blight to what should have been excitement across the country for all baseball fans. Beck's love for baseball and particularly the Giants has been well documented here so for all of you visitors to San Francisco or dwellers in the city by the Bay who have not yet happened upon a game, I give you several reasons to go. Aside from the baseball, our ballpark serves up some tasty eats. Dinner and a show.
Garlic Fries at Gilroy Garlic
A highlight of any Giants baseball game includes an order of garlic fries. Minced garlic, presumably from Gilroy, is flecked with parsley and drizzled with olive oil before being scooped onto an order of fries that are tossed and served to you, the lucky patron. Oh dear. You will smell like garlic for days on end. Yes, your skin will be tinged with that garlic smell and you might want to think about covering your mouth when commenting to your seat-mate on Sandoval's catch. Is it smelly- you bet. Is it the best bite at AT&T ballpark- my answer would be absolutely and that would be partly because it's such a part of the San Francisco ballpark experience. Expect to share an order and a roll of mints.
Cha Cha Bowl at Orlando's
Let's say you want something healthy and the idea of ballpark food leaves you with a lot to be desired. Meander past the bleachers sections 136-142 over to the scoreboard plaza and look for Orlando's. The bright signs and festive blue hue visually let you know you're in for a good time. Olga's brother Wills swore by the Cha Cha Bowl when he regularly attended games. For nine bucks, you score a bowl filled with brown rice, black beans and chicken seasoned with jerk spices. With a dollop of mango zucchini salsa on top, you are set! Beck gave the Cha Cha Bowl a thumbs up for flavor and I give it one for its transportability- with its sturdy container, it can double as leftovers for an easy lunch the next day if you find yourself full.
On the off chance you are at the ballpark and the weather complies with the expectation of warm and baseball being a part of the same sentence, then head on up the side stairs to the Ghirardelli stand for a hot fudge sundae. Thick, gooey chocolate fudge sauces two scoops of vanilla ice cream before a swirl of whipped cream and maraschino cherry politely land on top. The sundae is big and also good for sharing.
Let's say that the fog has begun curling over the edges of the bleachers and you can see the condensation charging the field from your seat. This might be a grand time to seek out one of the walking concessioneers hawking their wares. Amid the call of "churros", "cotton candy", "peanuts" and the like, look for the guy wearing a cylindrical backpack, cleverly marked "Ghirardelli" with a photo of hot cocoa and whipped cream. Ghirardelli is my pick for those evenings or days when the turtleneck, fleece blanket and SF Giants ski cap still leave you chilled. (Hot cocoa not your thing? Head over to the Coffee Cart on the Promenade level in section 127 or 212 or you can also find them on the View level in section 311 and 325.)
Philly Cheesesteaks at 'Outta Here
Eating a Philly cheesesteak close to last year's play-offs series must have been a mutinous meal. And yet for all of the hot rivalry between the Phillies and the Giants, the ballpark in San Francisco makes a mean Philly cheesesteak sandwich. Located in the scoreboard plaza, you'll see a small hut advertising different types of cheesesteaks. You could go San Francisco for a chicken and grilled mushrooms riff on the classic. There's a vegetarian option made of shredded zucchini, tomato, mushrooms and onions sautéed and served with cheese. And of course there's the classic. Served on a soft white torpedo roll the juices of the meat and melted cheese sauce sop into the bread. We liked the options of sweet or spicy peppers. (Spicy for us, please). Our only complaint when sharing this hefty sandwich is it seemed rather bereft of meat. I could have easily enjoyed double the helping but the flavors altogether tasted in sync, just the amount of ingredients could have been beefed up. No pun intended.
So those are our top picks for eating inside the ballpark. Now if you're feeling spendy, pay for club level seats and you get a whole different slew of eatery joints and please comment here on your favorites. Then again, if you want to start early, head to Public House or Mijita by Traci desJardins for drinks and nibbles or head over to Amici's across the street for pizza.
We never quite make it to those places as those game tickets burn a hole in our hands and we want to catch as much of the action as possible-  the smell of the baseball green, the flash of sky to jumbotron, the crack of the bat on a smooth woven ball sailing into the stands… somewhere far away from our catcher's mitt.
Didn't see your favorite SF ballpark concession listed? Have another ballpark bite that has become part of the ritual and it's not in the ballpark. Share 'em in the comments. And until later in the fall, "play ball!"