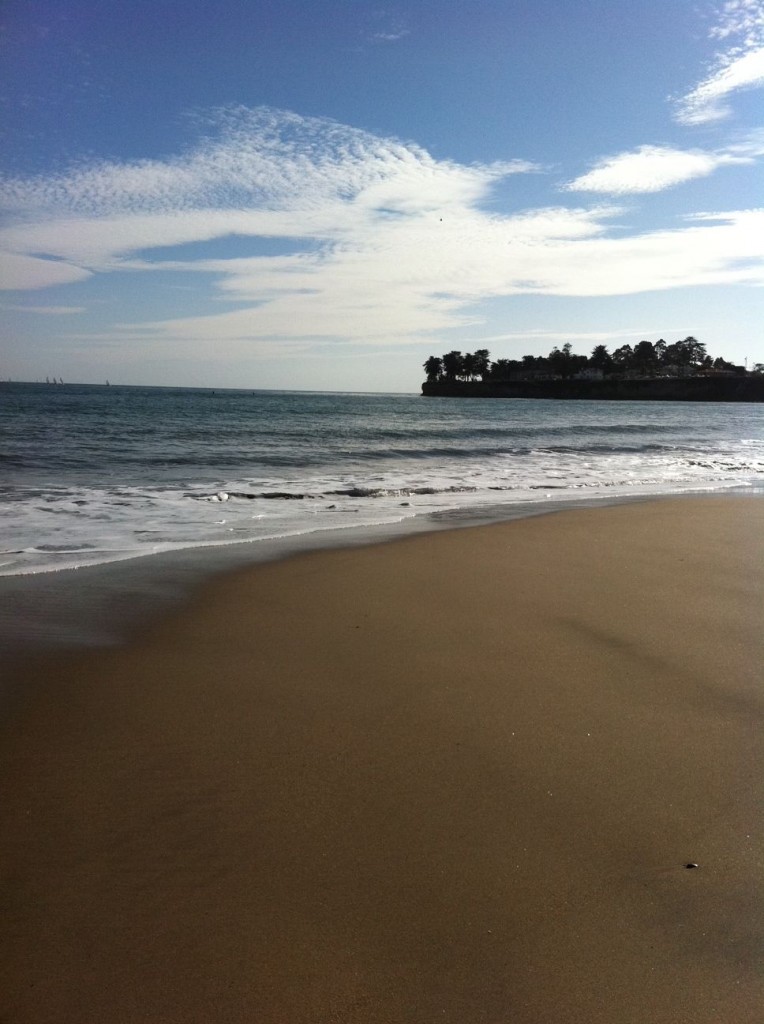 An hour and a half away from San Francisco resides the friendly seaside town of Santa Cruz. Flanking part of its public beach is its well-known boardwalk resplendent with theme park food and overcrowded beach turf. I'm starting with the boardwalk to get it out of the way as Santa Cruz is so much more than boardwalk. (Although if you are planning a visit to the Boardwalk, I would highly encourage a visit to the Picnic Basket for lunch, a large Verve iced coffee or a scoop of Penny Ice cream.) The historic district of Santa Cruz showcases darling gingerbread and craftsman houses. Pacific Avenue downtown is phenomenal for window-shopping and lingering. There are several ways to get to Santa Cruz, and if you have the time for it, take Highway One for a scenic drive and several of the following planned detours.

Duarte's
Located in the small town of Pescadero is the best olallieberry pie in the state. Strong words perhaps, but Nathan had talked about this pie during our early days of dating. He even missed a surprise party thrown in his honor for a slice of that pie with a friend. We arrived to pick up a slice for the road. At the cash register, a waitress took our order, letting us know that the pie was fresh out of the oven. Ensconced inside a to-go box, the purple berries blistered against the flaky golden crust. We made it all the way to the car before cracking open the box, fork in hand and attacked the pie with fervor. Wow. I'm not sure if the aroma or the flavor won me over more. We abstained from finishing it off then and there in favor of a reminder of our Santa Cruz weekend. Before leaving Duarte's, we also bought a bottle of their handmade olallieberry syrup, a treat to enjoy later at home. On the way back from Santa Cruz we drove by for a bowl of their artichoke soup or the green chile, but a throng of people milled outside. Duarte's is a popular place!
Chocolate
If you're looking for a downtown meeting spot, a place to enjoy dessert or a casual organic meal, you've put your finger on Chocolate. Much more than it's name lets on, Chocolate's savory menu has impressed me time and again. Their rosettes in Artichoke Pesto Cream Sauce inspired these. Their menu is extensive with a number of delicious salads like the Almond Tofu Salad made with organic baby spinach, marinated tofu, onions, toasted almonds and sesame vinaigrette. On this particular visit, we started with the Spicy Chocolate Barbequed Pork Roast appetizer, served on pie crust. I found the sauce well spiced with a distinctive chocolate flavor. I ended up ordering the Chicken Molè, served over pulled free-range chicken with a side organic baby greens and a slice of their polenta pie.  Their portions are pretty substantial, so half of this enteree sufficed. If you're hankering for something sweet and there's a chill in the air, try the Fuego Hot Chocolate, a spicy dark cocoa with organic cinnamon and chipotle chili. Yum.

Bookshop Santa Cruz
Right next to Chocolate and well situated downtown is Bookshop Santa Cruz. For bibliophiles, Bookshop Santa Cruz is a gem of a find. Smattered throughout this rambling book store are displays with staff selections, a discount book area for used books and a prodigious magazine display. I can spend an obscene amount of time in a bookstore and Bookshop Santa Cruz doesn't disappoint.

Cafe Brasil
When I polled friends recently about the one restaurant not to miss in Santa Cruz, the repeated response: Café Brasil. This bright green, yellow and blue house along Mission Street is a very popular breakfast and lunch spot, so go early. Also, their parking lot is tiny, so opt for street parking. Inside, we settled into the room that quickly filled with people and ordered an Acai smoothie made of acai berries blended with apple juice, strawberries banana and guarana to start off our meal. If I lived nearby, I know the Acai bowl of acai puree with sliced banana, strawberries and granola, would be a favorite light breakfast option, but their menu had too many other items that caught my eye. There's a very good chance I clapped aloud when I saw Gallo Pinto on the menu. In addition to this Costa Rican classic, the condiment of Salsa Lizano made me smile. I ended up ordering the Veggie Cocota with soft poached eggs atop baguette slices, spinach and mushrooms underneath a cocota sauce of toasted white flour with Tabasco sauce, Worcestershire sauce and salt. It came with a side of fresh fruit. Beck ordered the tasty Orfeu Negro, a hearty dish of black beans over baguette slices, topped with soft poached eggs, mozzarella cheese, Brazilian salsa and served with potatoes. You can opt for the Pingado if you're not very hungry which will serve up a pot of coffee, a pot of hot milk, a fresh baguette and fresh fruit. If you have a more robust appetite, try the Beef a Cavalo, featuring two eggs over easy served on top of steak laid over slices of baguette finished with tomato sauce and melted mozzarella cheese.
Stripe
I have a bit of a design crush on Stripe. Ever since a friend turned me onto this store and design group several visits ago, it's my one stop shop for inspiration or a dress. Imagine an independent store with the sensibility of Anthropologie and you're getting warmer to imagining Stripe. Upon entering,  several tiered chandeliers hang over a table dotted with glass domes hinting at invisible menageries. On one wall, handheld mirrors of different shapes and colors make for interesting wall decoration. Perched above the cash register is my favorite eye candy in the store- hundreds of keys hanging in a pattern that outlines the store name, Stripe. Clothing for men and women in the store has a handmade sensibility and I think the rocks glasses with painted curly black mustaches are all kinds of fun.
99 Bottles
True to its name, 99 Bottles has an incredible beer list.  Along the far wall are plaques with brass tags with names of people who have tried all 99 types of beer. They call it the wall of honor. We shared a bottle of Camp Jack apple cider from Washington state and then Nathan moved on later to Stone IPA. I was intrigued by Young's Double Chocolate Stout and had a sip. The bartenders were friendly and knowledgeable in making suggestions from their vast menu. This pub also has a pretty thorough food menu though we didn't peruse it or consider going for the food.
Penny Ice Creamery
Ah Penny Ice. I would be remiss if I didn't tell you they make the best ice cream around and this is no small thing. The closest comparison would be Humphry Slocumbe in San Francisco but Penny Ice is my current choice for best ice cream in or near the Bay Area. It's a good thing they are in Santa Cruz, not just down the street. A placard on the wall tells the Penny Ice story and states that they are the sole ice creamery in Santa Cruz to make the ice cream in-house. With Chef Lori Baker's chops from South Bay restaurant Manresa, the team at Penny Ice encourage patrons to suggest ice cream flavors. After several visits over my jaunts down to Santa Cruz, I have found their weird sounding flavors might very well be the most delicious. On this visit, I sampled a small spoon full of their Candied Grapefruit Pistachio and longingly considered a blend of Earl Grey with their Chocolate Sorbet, but instead settled on the Celery Raisin with incredibly subtle celery notes letting much of the sweetness come from the raisins. On a prior visit, the Basil proved to be heavenly. And yet another time, their Chili Smoked Chocolate caught my attention. I've never gone for the homemade doughnuts with ice cream or the ice cream bon bons listed on the menu but this clearly is worth an excursion to Santa Cruz alone.
515 Kitchen and Cocktails
We happened upon 515 Kitchen and Cocktails after doing some research looking for an appropriate celebratory restaurant. We considered well-recommended restaurants Oswald and Soif, but the twinkling lights of 515 and their relaxed cool demeanor inside won us over. The jazz music playing in the main front room downstairs matched the décor. Their cocktail menu had a number of clever drinks listed like Basil of Baker Street, a delightful nod to a childhood animated riff on Sherlock Holmes. I ended up trying Ron's Favorite Soda, my curiosity piqued by the addition of black pepper simple syrup to the final concoction that resembled a mock mojito with a kick. Nathan ordered the Porcini Mushroom Ravioli served in a gorgonzola sauce, rich and satisfying. My pan-roasted salmon came with red bell pepper and carrot matchsticks, green beans and grilled fingerling potatoes in a white wine pan sauce. Simple, satisfying, the salmon was cooked perfectly to my liking. We didn't stick around for dessert but if you find yourself at 515, ask for Erin and she will take good care of you.

The Abbey Coffeehouse
I'd heard about the Abbey from several friends as a great local coffeehouse with the right coffeehouse ambience. Tucked away off of Chestnut Extension, in the old fellowship hall of Vintage Faith Church, this full-service coffeehouse is a fun place to visit for local nighttime entertainment as they boast live music regularly. Who knows, you might even see us on the roster in the future performing at the Abbey. We stopped by one evening to hear a guitarist croon to a packed house. We loved the intimate feel and eclectic decor that made it comfortable and the kind of place where you'd want to linger. If I had my druthers, I could see myself becoming acquainted with long afternoons, papers spread out to tackle poetry revisions in this place. The next day we popped back in for a quick coffee for the road before heading back to the city. I appreciate that they use local Verve coffee and became giddy upon learning that their Matcha lattes used real Matcha sans sweetened concentrate from Art of Tea. Several other intriguing menu items included the Habit, a combination of white chocolate and milk chocolate mocha as well as the Bowl of Soul, an Earl Grey latte. Their garden out back is cultivated and a charming addition to their friendly environs.

Swanton Berry Farm
On our way to Santa Cruz, we passed a number of cheerful hand-painted signs inviting drivers like us to pull off and visit pumpkin patches. Last year around this time, I had been hankering for a visit to a bona fide pumpkin patch and throughout this weekend, I would chime in with "you pick!" which was a nagging reminder that a visit to the Swanton Berry Farm was in order for our return to San Francisco. Winding back up and right off Highway 1, we made a quick trip to Swanton Berry Farm where we selected a gorgeous and stalwart orange pumpkin from the field and hand-picked organic strawberries IN OCTOBER. Finding all red strawberries ripe for the plucking became a bit of a game. On the way into the store to pay for our pickings, we passed sunflowers, each stalk also for sale. Once inside, homemade pies with berries from their fields, jams and shortcakes sat on the shelves ready for purchase. Let's be honest Swanton Berry Farm rocks.