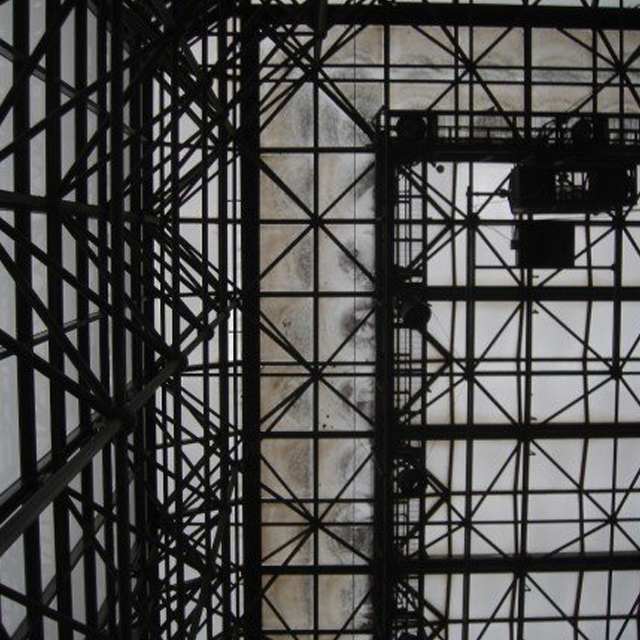 Culminating a marathon week of back to back tradeshows, I found myself in New York righteously upsetting several union workers. Amidst their yells and screams of "lady, you can't move that" my 5'2 stature heaved and shoved the largest of our crates waiting at the back of the Javits Center, the last vestige of our seven hours of waiting in plain sight. I yelled back as I pushed, "What, are you going to fine me?!" And then promptly came to my senses seeing our aisle blocked, running back to the booth, to my colleague Charlie and telling him the union workers were on yet another break. He and I scurried back to the crate, and as he waved at the foreman, he pushed and I guided the crate back to our booth space, giggling as I ran backwards.
The cause of this kerfuffle: Galway Kinnell's 80th Birthday Celebration at Cooper Union. It started at 7 p.m. and I was now pushing 7:20, so as much as I respected the union workers' rights to a 15 minute break, not on this leg of my watch… so we decidedly installed the bookcases, table and components into the crate and I sped off, haling a taxi in this great race against the clock.
My friend Sherry had called and recommended sneaking in straight through the basement since they had begun turning people away, which went off without a hitch. I walked quietly into the packed auditorium, seeing at least fifty standing in the back, reminiscent of the San Francisco opera. I walked in as Komunyakaa was reading. Kinnell, both a National Book Award recipient and Pulitzer Prize winner sat in the front row, as scores of poet friends read selected poems. The impressive list of readers included: E.L. Doctorow, Mark Doty, Cornelius Eady, Marie Howe, Yusef Komunyakaa, Anne Marie Macari (NEC prof), Sharon Olds, Grace Paley, Gerald Stern (NEC prof) and C.K. Williams.
C.K. Williams described Kinnell as not only one of the great poets of our time, but one of the great readers, as well. His poetry had people laughing and then just as quickly, cut off all noise, dousing it in silence. When Kinnell read some of his own work, I quickly warmed to Williams' description of the great reader in Kinnell. Macari said she had been sick and stashed away with some of Kinnell's poems finding in them great company and expressing honor to have them.
After the reading, we saw Anne Waldman walking in the throngs of people toward the front. Even after only a few weeks, it was like seeing a friend. She leaves for India soon to read some of her energetic poems at a festival. Sherry asked if we were working together this semester, and she said no, but that there was a connection between us (we both incorporate spirituality into our work and have an appreciation for South Asia). Afterwards, Sherry, her husband Sam and I wormed our way down to where Gerry and Anne-Marie were standing. She is on sabbatical from NEC right now, so we didn't really know each other, but I hope I get to work with her during my time in school. Jan Heller-Levi was standing with them and broke out into a big grin when she saw us. They all wished us their best on our first semester's homework. Sherry and I talked about our struggle of getting it all in, doing all the homework, so their best wishes we took with us. I also commented that in the U.S. where it seems most elderly people are not respected or appreciated as in Asian contexts, in poetry there is such a sense of homage and honor paid to these poets. They still have much to teach us before moving on toward Styx's shore.
Later, in the lobby, Sherry and I stood in line waiting to have Galway Kinnell sign our books. Just in front of us, Michelle Williams, that's right of "Brokeback Mountain / Dawson's Creek" fame stood also waiting for his signature. I loved that she who gives autographs often (was approached while in line by a girl asking for her signature, gushing about what a great performance she gave in BM), was now in the position of getting one. When Kinnell was signing her book, he mentioned to her that he had accidentally left a card inside the theater and asked her to retrieve it, which she did without any air of inconvenience.
Gerry and Anne-Marie were leaving and as they passed by, he looked at us. In his sonorous voice, he told Sherry, "Remember you're a poet." Then almost as an afterthought, he looked at me and said, "And you too." The thumped my nose with his index finger in an endearing way. He makes me laugh… Sam and Sherry drove me back to my hotel and I was so glad for this evening reading and time spent with friends in a city that one day could be lovely to call my own.