Over the course of one's life you meet people with whom you find a deep camaraderie. It can come about as easily as an introduction between two people, both far from home and overly jet lagged. Mercedes had flown in from Alaska, and I, from California. Both of us had arrived in Massachusetts on red eye flights, beleaguered, and began introductions over pizza before attempting to meet our new classmates at the beginning of our stint in poetry school. Small details, shared in common began sewing a thread to bind our two swatches into a friendship that has deepened over its eight year run.
Wendell Berry and Gary Snyder's friendship started from a mutual friend seeding them each other's work, and then, correspondence ensued between both poets. I've been reading selected letters of theirs, gathered and published in the book, Distant Neighbors, and thinking of my own distant neighbor, Mercedes. Where Snyder and Berry comment on each others' work through publication and even through criticism, Mercedes and I used to set aside time to swap poems and then workshop them on the phone. This practice began shortly after school ended and even when I could still easily call myself a newlywed. We charted those workshop waters while moored or even when paddling through brackish waves. Our phone workshops always reminded me of Anne Sexton and Maxine Kumin's practice too.
Yesterday, we reconnected again after a year of both of us pulled by our personal lives and projects. How good it was to hear her voice and word of her progress! She has been a cheerleader of my work and I, of hers. With two small children in tow, it pleases me to no end to hear how she has been carving a writing life that aligns with her growing family. It gives me hope that it's possible. Like Snyder and Berry, when we see each other, we resume old conversations and begin laying stonework for new paths of productivity and topics to plumb.
Some ingredients may not seem like they could be neighborly, but end up working together surprisingly well. Bulgur is most commonly associated with parsley and tomatoes for the Mediterranean salad, tabbouleh, but bulgur is so much more than a one-note actor. It makes an easy whole grain side dish that cooks in 10-20 minutes that I particularly like with sweet sultanas, crisp verjus and savory celeriac and salsify.
A good recipe is like friendship. For the whole to work, the various parts mesh together and impart what they are best at contributing. I draw comfort from seeing the date stamps on the letters between Berry and Snyder, reminded again that the writing life is a solitary one that comes together in community as possible. For now, I anticipate our full schedules and look forward to the phone calls best reserved for nap time when silence is the soundtrack to our conversation. Until then, I'm left wondering which poem to send her and awaiting the poem she sends me.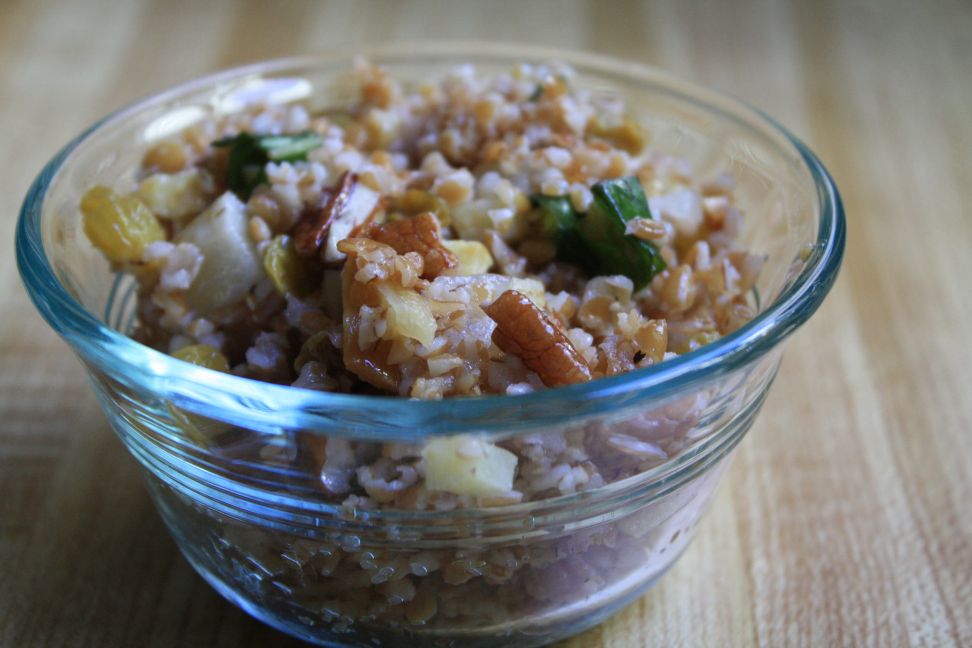 Bulgur Salsify Salad with Sultanas and Verjus Vinaigrette
Whenever I read salsify, my eyes do a double take because at first glance it appears to read, "satisfy." I'm beginning to think this is no coincidence. This root vegetable looks like a stick and, when peeled makes me think I'm preparing kindling for a fire. But the flavor of salsify offers an unexpected oyster-like flavor. This recipe comes together easily for a deliciously different side dish.
SERVES 6 side salad portions
SALAD 
2 teaspoons grapeseed oil
1/2 celeriac, peeled and minced
1 salsify root, peeled and minced
1 cup coarse bulgur
1 3/4 cup water
1/3 cup sultanas (golden raisins)
1/4 cup pecans, chopped and toasted
1 tablespoon basil
DRESSING 
1/3 cup Verjus
2 tablespoons shallots, chopped
1 teaspoon garlic, minced
1/4 cup grapeseed oil
1. Preheat oven to 450F.
2. Place the celeriac and salsify root pieces on a roasting pan and drizzle grapeseed oil over them. Jostle them until coated. Roast  for 30 minutes or until soft. Let cool.
3. While the celeriac and salisfy are roasting, place the water in a pot over medium high heat. Once the water is at a rolling boil, add in the bulgur and turn the heat down to medium-low. Cook for 10 minutes uncovered.
4. Whisk together the verjus, shallots, garlic, oil, and basil. In a large bowl, stir together the bulgur, celeriac, salsify, pecans, and sultanas in the dressing until coated.
SALSIFY SATISFACTION
Rich & Creamy Salsify Gratin on Food + Wine
Black Salsify Fritters by Hugh Fearnley-Whittingstall
Salsify Tempura with a Spicy Dipping Sauce by Hugh Fearnley-Whittingstall
Jerry Traunfeld's Root Ribbons with Sage
Salsify and Roasted Garlic Soup from Eat Like a Girl