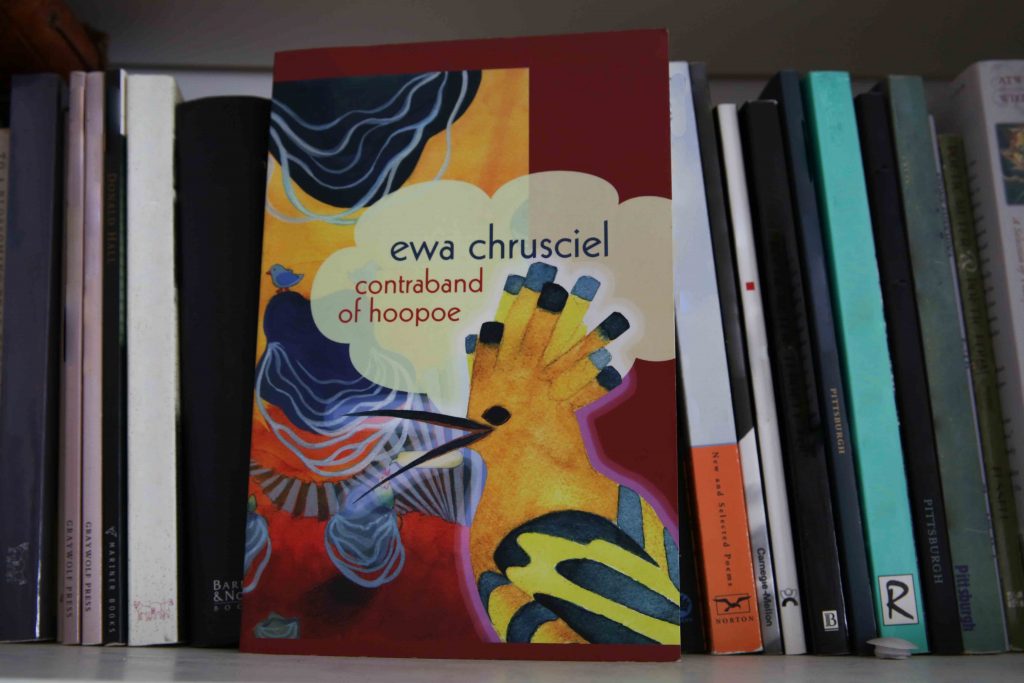 It's not a difficult thing to think that at a poetry festival, you might hear a poem that piques your interest. It's an entirely different thing to hear something– a way of offering words to a subject of already well-tilled ground in a fresh voice that makes you beeline to the bookfair area and snatch up the sole remaining copy of that poet's book. And so it was that I met Ewa Chrusciel, first through her reading from A Contraband of Hoopoe, published by Omnidawn and then later through sitting with her words and letting them journey inside me. I've read this collection several times and each reading offers new nuggets of insight. At the heart of Hoopoe is a collection exploring the immigrant experience. This focus on immigrants coming to the U.S., feels particularly pressing and timely right now, one to be kept on the front burner.
Food factors into her poems in surprising ways. Take a cue from the title–contraband courses through the pages of poetry too. "Gummy bears, the patron saints of contraband." (p. 43). Smuggling is a present theme in the poems and an ode to sausage paints a humorous picture of what sometimes gets taken away and becomes lost. Because make no mistake, a deep loss reverberates as a steady thrum even though joy resides in them too. "Smuggling will not seal the broken vases. It will make your grief one hundredfold, and carry it into other griefs." (p. 53)
She asks important questions of the immigrant: What do they carry with them? What do they leave behind? Her series on Ellis Island sometimes is arresting and in one instant, "Ellis X" is simply a single line–a question not easily answered. One poem is simply a list of the names of "the Righteous among the Smugglers," naming the Cracovians who hid Jews in their homes– inspired from visiting an exhibit in the Museum Factory of Oskar Schindler. Immigration might seem like a contentious issue currently, but Chrusciel reminds us in "Ellis XI" that "Both Ellis and Alcatraz at first served as miliary fortresses." (p.70)
Fear of the immigrant comes from fear of the other. And this is where, a re-reading of the Sausage poem illuminates conflict of two ways to define the terms. When you survey the poems, prayers pop up throughout them whether in title, "Split-Second Prayer through Customs" or in intimate lines where the reader almost feels like a voyeur, "Convert me back to wonder. Cure my heart of such morbid desires to come home." (p. 13).
Full disclosure, I have a horse in this race. My parents both immigrated from other countries and reading Hoopoe, I circled back to those underlying questions: What did they carry with them? What did they leave behind? What did they smuggle? Good poetry makes the universal, personal. And, Chrusciel's Contraband of Hoopoes is a crucial body of work for us to not forget the past, lest we be doomed to repeat it. It's an offering of understanding and hope. Its mascot, the hoopoe, "brings silence to the world of noises." (p. 20)