There's a pretty good chance this season has been one of indulgence for most of us. And why not? A lot of people let Christmas stand alone as a cordoned off season to bake a few dozen cookies, and keep tasting as they bake. This might have happened in the baking of 8 dozen of these cookies that I am glad to announce all made their way into other peoples' homes. Then again, a reason to get excited for the onset of Christmas includes a chance to experience traditions that come only once a year… like Christmas music. It can be a bit jarring to find yourself doused in Christmas music before Thanksgiving. Perhaps it's one holiday overlapping another and thus stealing its focus that makes me come undone. Christmas carols might be the sonic equivalent for many twinkling lights on a fir tree.
Their joyous melodies and contemplative moments of dissonance help revelers reflect on the reason behind the season. A few Christmases ago, a final Christmas, involved a piano, a bass and mezzo-soprano working their way through the songs being played. I look on that evening with the fondness of memory and a last call to sing with my Dad while he was still alive. Some things I know for sure. I know at some point I will want to wail a version of "O Holy Night" in the confines of my kitchen without worrying too much about the neighbors thinking a cat has been afflicted in some melee. I will want to attempt to sing the "Gloria" chorus of "Angels We Have Heard On High" using one single breath or to attempt the descant sung many years ago in grade school when my voice could easily reach those rafters. Recently I've been grooving to the jazzy interpretations of "Go Tell It!", finding my foot tapping along as the horn section swells and the double bass thumps its way through the songs.
This year, my thoughts keep turning to "Adeste Fideles / O Come All Ye Faithful." The song makes me consider what  it takes to be faithful in anything. Having faith that things will turn out for the best, looking to faith to help carry you through uncertain periods are certainly ways in which faith can find application. This season has been one of questioning, one of waiting… which can be good, but is not always easy. The Advent season is set apart as one of waiting. As I match my harmonies with the melody line and sing "O come let us adore Him," I am reminded that in spite of this season being one with potential external hardships, the internal landscape in all of us sometimes requires a wide space necessary to broach things that have not had time available for proper attention or perhaps that we have grappled with all year. The song is an invitation for others to join in to "behold Him".
In the challenge of writing advent poetry, namely "A Mother's Prayer", I found myself thinking about Mary more than usual and about the kind of faithfulness required for her specific task. If Thanksgiving calls us to consider what we are thankful for, then I would posit that Christmas calls us to consider that to which we are faithful. As "Little Drummer Boy" played in our dark car zooming north last night, we let the words enter our ears "I have no gift to bring, pa ru pum pum pum. I played my best for Him, pa ru pum pum pum, ru pum pum" and found these words to be true.
So, if you are like me and glutting yourself on the last remnants of Christmas carols and music that effectually will cease to play mere days from now, you have set your radio dial to Christmas 24/7. The fun and joy of seasonal songs that soon will be packed up only to unpack them again a year from now reflects my appreciation for cranberries. I can't get enough of them and know they will soon fade into a year that has passed before I expected it to take its leave. I tend to buy a few extra bags and freeze the berries so that if the urge for a cranberry craving strikes in summer, I can indulge it.
And this is where the Lassi comes in. I might reckon that the Lassi was the precursor to the Smoothie. A lassi is a simple combination of milk, yogurt and fruit with your choice of sweeteners. In India, you can order a Salty Lassi or sweet and the most popular version is easily the Mango Lassi. This drink makes a welcome accompaniment to rich foods as it helps with digestion. A Cranberry Lassi tastes a bit like Christmas in a cup- a little spicy and tart, but mostly sweet. So "joyful all ye nations rise, join the triumph of the skies" and as you raise another strain of song, here's a drink to match the music.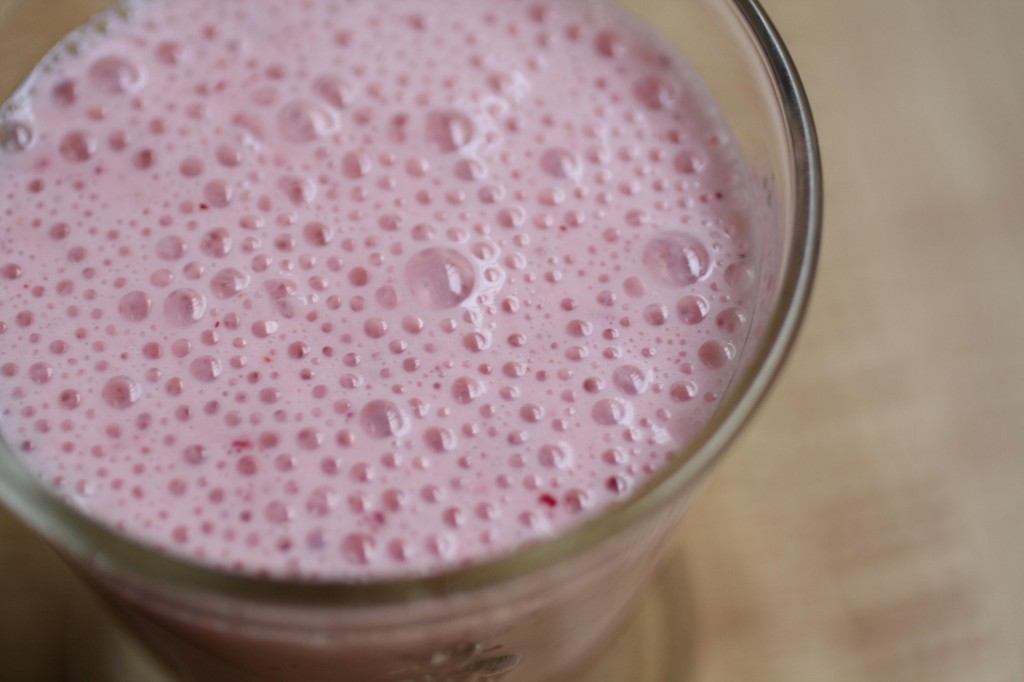 [print_this]
CRANBERRY LASSI
I let the cranberries macerate overnight and then even tried out a batch after a few days of the cranberries blending with the ginger, lime and sugar and found the Lassi tasting great. If you're interested in your cranberries being ready sooner than the allotted time belowset aside for only 30 minutes in the refrigerator and that will be fine too. For a sweeter Lassi, try using a small glug of maple syrup to make your drink merry.
YIELD: 2 servings
1 cup fresh cranberries
1 teaspoon grated ginger (a knob about 1 inch long)
splash of fresh lime juice
2 tablespoons sugar
1 cup plain yogurt
½ cup milk
Cut the cranberries in half and in a small non-reactive bowl, sprinkle the sugar on top of them. Grate the ginger into the bowl and stir. Then squirt fresh lime juice over the berries. Leave them in the refrigerator for 30 minutes to a day.
When ready to make your lassi, add your milk, yogurt and macerated cranberries to the body of a blender. Puree until smooth. Sweeten to taste.
NOTE: Let's say you just want to make a lassi for yourself – portion 4 tablespoons of the cranberry mixture plus ½ cup yogurt and ¼ cup milk in blender for each lassi.
[/print_this]