Lately, I've been thinking a lot about relationships between mothers and daughters. They can be so fraught of misunderstanding. My mother used to denounce my teenage years as the years I didn't talk to her. How could I explain the gulf of emotion and crisis upon which I was cresting outside of writing and reading my way through those four profoundly influential years?
Julia Wendell shares a story about cooking with her mother in the kitchen, how together they shared a secret that one of them knew and the other had yet to learn. Her mother's arthritic hands made certain small acts in the kitchen difficult for her but provided opportunities for her daughter to participate in the process. At the time, Julia questioned the validity of her contributions until she too developed arthritis in her hands year later, and with it, understanding of how important her help had been to her mom. Mothers and daughters can do a kind of circle eight dance, can't they? So many years later, my mother and I are the closest we have ever been but it has come at the cost of all of the lessons life has taught us through one another along the way.
Julia Wendell's new book, Take This Spoon explores this tenuous balance between mothers and daughters, grounding it in the food they make together. I caught a glimpse of her food poetry and knew that I wanted to share it with you. Be sure to read beyond her poem, "Cream of Tartar" for Julia's Cheese Souffle recipe that includes the secret ingredient alluded to in the poem above it.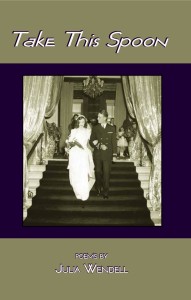 Cream of Tartar
by Julia Wendell from her new book, Take This Spoon
Pot-holdering a cloud
of toasted soufflé,
its voluptuous body
billowing over the dish,
we kept its infallible, flawless secret,
referencing the butter-
stained recipe card
by memory only.
Teamwork, we'd wink to each other—
and lots of stirring—never revealing
what separated mother and daughter
from our guests' amazement
at this seeming perfection—
fleeting, and only as good
as our shortcut:
a bitter white powder lodged
in a glass spice jar
that doubles in volume without fail
what it starts with, transforming
impossible into easy.
Julia Wendell's Cheese Soufflé
3 tablespoons butter
3 tablespoons flour
1 ½ cups shredded cheddar cheese
About 1 ½ cups milk
5 eggs, separated
½ teaspoon cream of tartar
In a double boiler, melt the butter. Then add the flour and stir until well blended. Add the milk, a little at a time, and stir until the sauce begins to thicken. Add the cheese, stir, and remove from the heat. Beat the egg yolks until light and sunny. Add to cheese sauce which has been allowed to cool slightly. Beat whites until stiff but not dry. Fold in cream of tartar and then blend cheese mixture into it. Pour mixture into a greased ceramic deep dish and place that dish into an oven-proof pie pan that has about ½ inch of boiling water added to it. Place dish and pie pan in middle rack of oven. Cook at 350 degrees for about 1 hour or until soufflé has risen and crust has browned and a knife inserted in center comes out clean. DO NOT open the oven door while cooking. Only check for doneness at the end of the hour. If the pie pan runs out of water within the cycle of cooking, open the oven door ONCE to add a little more boiling water.
Around my house, we always served the soufflé with baked potatoes, peas, and a "Seizure Salad"—but that's your call.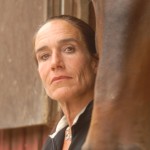 ABOUT JULIA WENDELL
Julia Wendell grew up in the Allegheny Forest of northwest Pennsylvania. Educated at Cornell University, Boston University, and the University of Iowa, Writer's Workshop, she left her mid-careers as teacher and editor for the world of horses and three-day eventing. Her children John Logan (a classical sitarist) and Caitlin Saylor (an actor/playwright), grew up with their mother and her husband, poet and critic, Barrett Warner, on their horse farm in northern Baltimore County, where Julia and Barrett still live and work. Julia is enamored of jumping horses over immovable obstacles while galloping cross country. Discover more of her work at JuliaWendell including her new book of poetry about food and the complexities of a mother-and-daughter relationship, Take This Spoon.