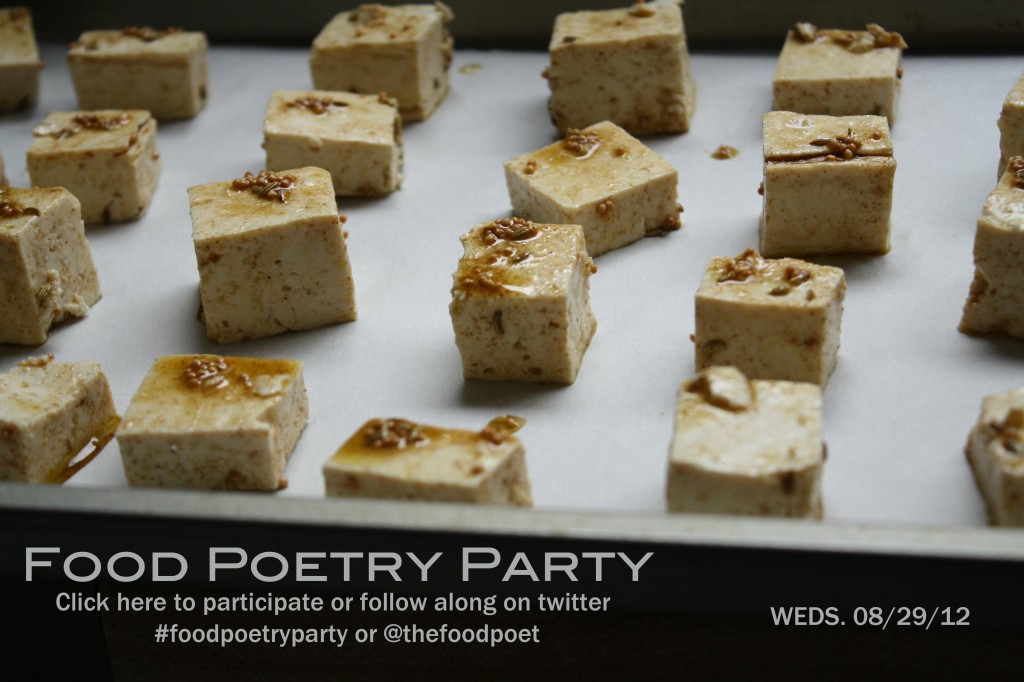 What a gift.
Things that are true often become cliche, but here we go. The best present is presence. And you all came out in droves on Wednesday to the food poetry party to celebrate the launch of The Food Poet!
Poetry and food make good bedfellows. This belief funneled the move to go wholeheartedly into sharing adventures as The Food Poet and make the transition from La Vie en Route. What I expected from the party of the occasional poem or recipe as "housewarming" gifts snowballed into those gifts giving the goodness of life and spirit that poetry imbues in its readers.
My, oh my, how the party really spoke to folks around the world as it elicited comments like:
"I love this- poems and cookbooks combined!!"
"I love reading all these- so fun!"
"I love all the food poetry being posted."
Isn't this the secret, though, of a good poem or story? I see it as a gift, of winding together the personal and the universal so that my story links into your story. So, thank you. If I could send each of you jars of handmade jam as our party favors, I would. The best parties are the ones that involve you.
Read on in the first section for a list of folks who either created their own recipes inspired by poems or shared poems and feedback. Section two includes all the lovely party-goers who shared poems at the party. What delicious words!
FOOD POETRY POSTS
Angela at Far and Wise shared "Kitchenette Building" by Gwendolyn Brooks & a recipe for Quick Pickled Onions
Charissa at Zest Bakery shared "Peach" by D.H. Lawrence & a recipe for Dandy Pluot Sorbet Topped Peach Shortcakes (gluten free)
Jean at Gluten Free Doctor shared "The Word Plum" by Helen Chasin & a recipe for Plum Cobbler (gluten free)
Jo at Jo Boston is a Foodie shared an original poem
Johanna at Low Sodium Blog shared an announcement  about The Food Poet (and some other very nice words & sentiments. I'm really touched.)
Michael at Food for the Thoughtless shared an original poem "I Won't Eat Kale" and a snippet of cocktail poetry by Dorothy Parker
Sean at Hedonia shared "Mushrooms" by Sylvia Plath
FOOD POETRY SHARED AT THE PARTY
Alison of McQuade's Chutney shared a chutney poem by anon
Amy of Wine Book Girl shared "The Egg Had Frozen, an Accident" by Jane Hirshfield
Ariel at Cakesharing shared "The Road Less Traveled" by Robert Frost
Beth at OMG Yummy! shared an original poem called "Savory"
Brona shared a quote from P.J. O'Rourke
Carina Ost shared "Ode to an Onion" by Erica Jong
Dawn shared a recipe for her grandmother's berry jam
Evan of Wannabe Chef shared a snippet of "Concession" by R.S. Thomas
Faith of Blog Appetit shared the snippet of a poem on beans
Gabi of Brokeass Gourmet shared "This is Just to Say" by William Carlos Williams
Gene Soboleski of Accountability shared "Charge of the Light Brigade"
Glenn shared a recipe for Beer Can Chicken & a snippet of Bukowski
Greg of Sippity Sup shared lyrics from the musical Oliver!
Heather of Heather in SF shared an original poem about Pho
Jeff shared from "Axe Handles" by Gary Snyder
Katie shared "The Love Song of J. Alfred Prufrock" by T.S. Eliot
Katy at Hikers Do It for the View shared a haiku and pumpkin chocolate bread photo
Kaye of Gastronomique en Vogue shared "If You Forget Me" by Pablo Neruda
Mary Fran Wiley of Frannycakes shared "Envirez-Vous" by Baudelaire
Melanie shared a chef she admires, Anthony Bourdain
Michele shared a chef she admires, Gordon Ramsay
Penni Wisner shared "The Traveling Onion" by Naomi Shihab Nye
Rona of Today I Wrote Nothing shared a snippet of a poem by Vladimir Holan
Sam of The Second Lunch shared a dedication by Elizabeth Bishop to Frank Bidart in the Fannie Farmer Cookbook
Susie of Nutty Fig shared literary food of a "Melty cheese Eudora Welty quesadilla"
Tess at The Blender Girl shared "The Guest House" by Rumi
Virginia at The Perfect Spot shared "Osso Buco" by Billy Collins