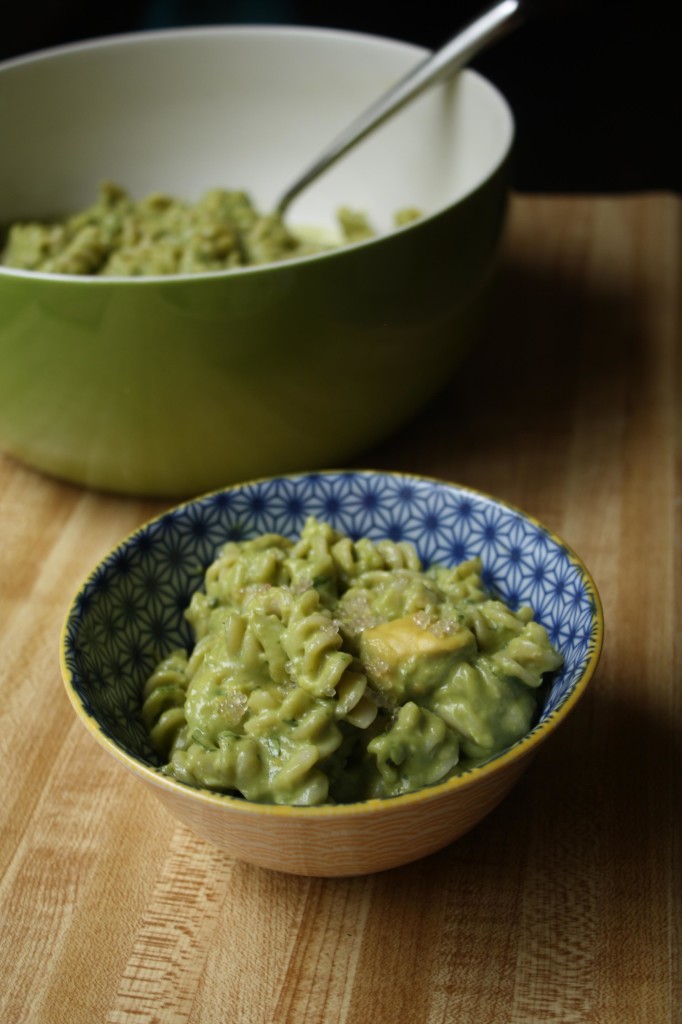 Some people take a server at her word when she chirrups, "save room for dessert!" My husband is not one of those people. His lack of a sweet tooth when paired with my overly enthusiastic one sets us up for an end of meal conundrum that more often than not entails a response of "check, please." That is, unless we visit a restaurant that equates end of meal indulgence with a cheese plate. Then all bets are off.  I tend to coo over the pairings that come with the cheese- the membrillo or fig cake, the scattering of nuts or wedge of honeycomb all thoughtfully curated to combine in a perfect bite that silences us as we arrive in a state of blissed out cheesy Xanadu.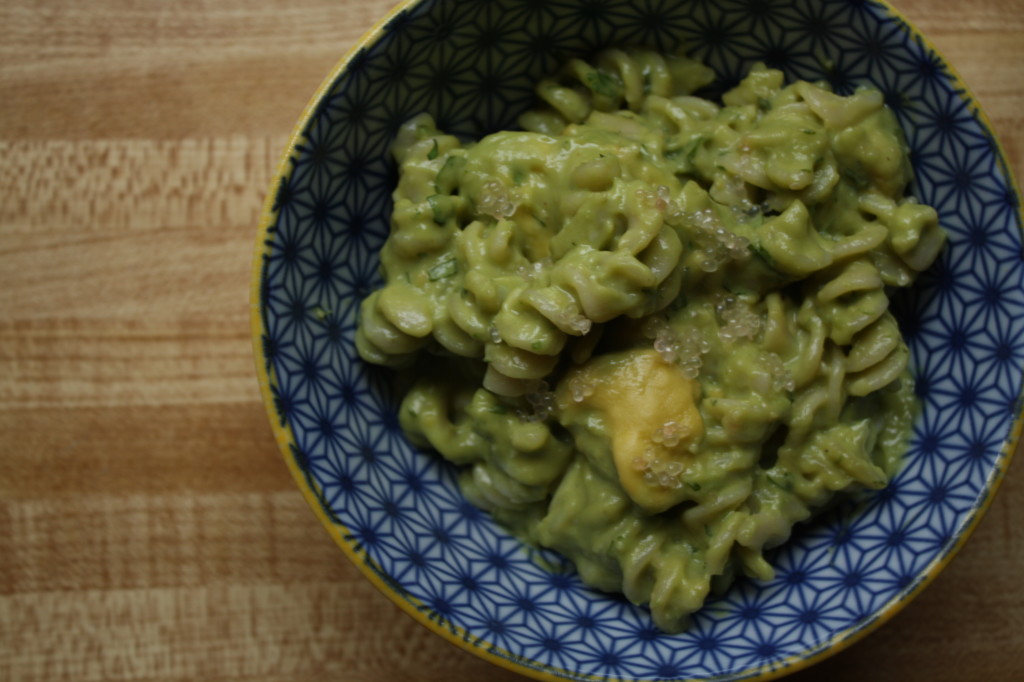 BEECHER'S FLAGSHIP CHEDDAR WITH AVOCADO, LIME AND SHELL PASTA 
Reprinted with permission from "Melt: The Art of Macaroni and Cheese" by Stephanie Stiavetti and Garrett McCord
A few substitutions were made in cooking this recipe. We swapped in gluten-free rotini instead of the shell pasta and used all 12 oz. of the pasta in the Bio-Natur bag, though Jovial noodles are usually the box of pasta you might find in our pantry. And if you've never eaten gluten-free noodles before, be advised they are not really palatable as leftovers, so plan ahead and invite some friends to partake of a freshly made pot of this mac and cheese. For the flour, I used King Arthur Gluten-Free AP flour to build the sauce. Also, and just because a bit ago I picked up some finger limes at IFBC, we cut them in half and squeezed out the lime arils, garnishing the pasta with that final pert burst of citrusy flavor instead of the lime juice called for in the recipe. The finger limes give an intriguing pop of flavor and texture to a dish already complex and completely decadent.
SERVES 4-6
INGREDIENTS
1 jalapeno pepper
zest of 1 lime
juice of 1 lime
2 green onions, green parts only, chopped
2 cloves garlic
3 ripe avocados, pits and skin removed, divided
10 ounces concighlie or other medium shell pasta
1 ½ cups milk
2 tablespoons butter
3 tablespoons flour
1 teaspoon sea salt
½ teaspoon freshly ground black pepper
10 ounces Beecher's Flagship Cheddar, shredded
¼ cup chopped cilantro
lime wedges for garnish
INSTRUCTIONS
Remove the stem from the jalapeno and cut the jalapeno in half. Remove the ribs and seeds- or keep them, depending on how much heat you like. Toss the jalapeno into the bowl of a food processor with the lime zest and lime juice. Add green onions, garlic and flesh of 2 of the avocados. Blitz together into a very smooth paste.
Cook the pasta in a large pot of salted boiling water until al dente. Drain through a colander and set aside.
To prepare the mornay sauce, heat the milk in a small saucepan over medium heat. As soon as the milk starts to steam and tiny bubbles form around the edges of the pan, turn off the heat. Place the butter in a medium saucepan and melt over medium flame. Add the flour and stir with a flat-edge wooden paddle just until the roux begins to take on a light brown color, scraping the bottom to prevent burning, about 3 minutes. Slowly add the milk and stir constantly until the sauce thickens enough to evenly coat the back of a spoon- a finger drawn along the back of the spoon should leave a clear swath, Remove from heat and stir in salt and pepper. Add cheese to sauce, stirring until completely melted. Add the avocado-onion paste and whisk together until uniform and creamy. The key word here, if you haven't guessed is smooth. Season with more salt and pepper to taste.
Add the pasta and cilantro to the sauce and stir together. Dice the last avocado and toss together with the mac and cheese. Serve immediately with a splash of lime juice.