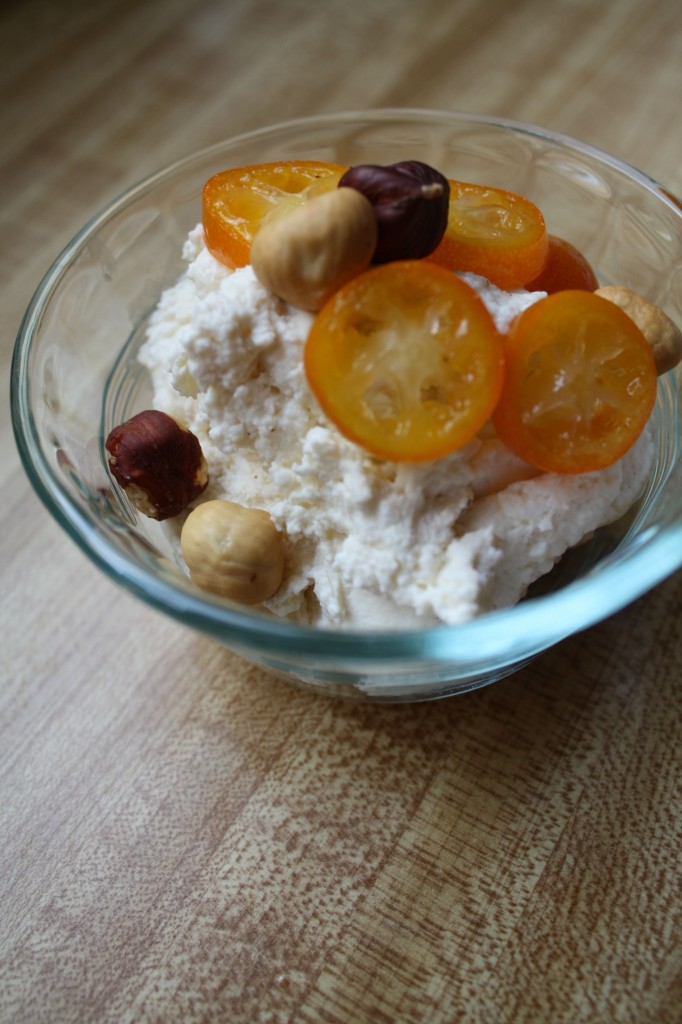 Ah, love.
Like most things in its infancy, time is marked off in months. As it matures and deepens, years replace months, then become double digit numbers worth exulting.
Among the myriad understandings learned in the last year is the importance of celebration of the moments. This whole notion appeals to the poet in me, the photographer, both seeking to capture and describe a moment in suspension. To capture it is to lose it, to watch it develop into something else entirely.
Several weeks ago, Nathan and I reached our six months married mark. Like any good wife, I wanted to give him something to commemorate the occasion. Like any good friend, I wanted to give him something that would bring him joy and elation.
Cheese.
His family originally hails from Wisconsin. In my mind I've developed a Willy Wonka type environs, except instead of all things sweet and replacing the chocolate river would be cheese. A parmesan cheese spray would burst forth from the silos where deep inside kneading of cheese and storage of cheese would take place. Bubbling up from that river of cheese- more cheese. And perhaps this might be a cheddar beer river because what goes better with cheese than beer. This can be attributed to my overactive imagination and a friend in college who would diligently wear a cheese hat during Packer games. That and Nathan's story of a t-shirt that used to be worn in the family "Beer, cheese and a couple of weirdos." If only I could find such a shirt as this…
He has taught me the art of picking a good wedge of extra sharp cheddar and I like to surprise him every now and then with some esoteric waxen wedge from Whole Foods. It's how he had his first run-in with the now much loved Brillat Savarin.
Six months into marriage and all is well.
My dad once told me, "Annelies, what you need is a strong man. What any strong woman needs is a stronger man." This said from my dad felt like a blessing- instead of recriminating my strong Latin American personality and disposition, he was ratifying it.
His dad being the wise guy that he is once told us, "in marriage, there are three of you: the husband, the wife and the marriage. Sometimes, as you're making decisions, you need to consider what's good for the marriage."
And this gift of cheese is definitely good for the marriage.
That morning, I had ventured out to the farmer's market. I had already begun concocting a plan to make homemade ricotta upon initially chatting with Jennifer Perillo on twitter a few weeks back. She had described how easy homemade ricotta is to make and I would not disagree with her. Her recipe is easy to follow and makes the silkiest ricotta you've ever tried. It kind of makes me want to give her a huge hug because Nathan sure did enjoy it! This particular trip to the farmer's market had me venturing into Sur la Table for cheesecloth. I left feeling victorious in my conquest.
Nathan had stayed home that morning working on several songs. I walked upstairs and heard the loud strum of guitar inside. My market bag boasted some of my morning's finds. As we began talking about dinner later in the day, I casually suggested several options and slipped in, "I think we should make cheese."
His eyes began glittering- that easy grin of his lit up his face as he declared, "really?" rather incredulously. "Oh, yeah," I uttered with a hearty bit of swagger. "We're going to make cheese."
This might stand out as an example of us: Milk and cream and buttermilk coming to a gentle boil: Him keeping temperature and me setting the cheesecloth over the colander: the dance and the song.
We ate our homemade ricotta that night with crusty bread and a lush squash garnish, a favorite pairing since friend Chris first introduced me to it at SPQR. The next day our dessert consisted of ricotta served in small baking prep bowls with sliced strawberries, cacao nibs and a lengthy chat about the future.
As lovely as the ricotta tasted both times, may I suggest a tertiary possibility? Homemade cinnamon ricotta with candied kumquats and hazelnuts. This might be a dark horse in the running dessert for those teaser nights in San Francisco where it's starting to heat up.
My first candied kumquat stands out as a vivid memory. Olga and I visited the Greek island of Corfu a few years ago. For an afternoon, we meandered its streets and perused its shops. One shop possessed all sorts of fruits candied and shellacked in a large glass case and as we stood in line, the order could have been unanimous. Candied kumquats. This sweet and tart citrus you pop whole in your mouth became decadent and downright delicious. Ever since, I've been a fan of candying them. If I close my eyes, they take me back to sleepy Corfu, making me crave a Greek iced coffee.
The cinnamon infused into the ricotta was subtle, and a bit of an experiment. If I was to describe my method of cooking in my kitchen, it would be experimentation. I threw in the hazelnuts as a nutty counterpoint to the somewhat smoky citrus notes sweet and yet melding with the creamy ricotta easily, like a good harmony laying over a solid melody.
Like marriage. The give and take. The sweet and the tart. The better if together.
[print_this]
Homemade Cinnamon Ricotta with Candied Kumquats and Hazelnuts
½ cup homemade cinnamon ricotta (recipe below)
30 candied kumquat slices (recipe below)
25 hazelnuts
Dish up the ricotta and sprinkle the candied kumquats and hazelnuts on top. Serve this dessert in ramekins or other small bowls. Perfect for early summer or even as a mid-afternoon snack if you're feeling the need for a luscious pick-me-up. If you want it a bit sweeter, you could always drizzle a dash of the kumquat simple syrup on top.
YIELD: Serves 6


CANDIED KUMQUATS
8 kumquats, rinsed
1 cup sugar
½ cup water
Slice kumquats.
Place kumquats into a pot of boiling water for one minute. As you let them boil, in a different pot, combine 1 cup sugar with 1/2 cup water and let simmer, stirring until sugar is dissolved.
Pour kumquats into colander and strain out the water.
Place kumquats into a new pot of boiling water for another minute. Then pour the kumquats back into the colander. Put them in the simple syrup for 15 minutes and turn off heat.
Place a vegetable steamer over a large glass measuring cup and carefully drain the simple syrup and kumquats into the strainer.
Let the kumquats dry. Reserve the kumquat simple syrup. Store kumquats for several days in the fridge.
*Note: That remaining kumquat simple syrup is like liquid gold. Pour it from the measuring cup into a jar or bottle and place in the refrigerator. Use as a base to salad dressings, as a splash to brighten up sparkling water or a smidge to sweeten the ricotta on its own. Let your imagination have its way!
~Makes ½ cup candied kumquats

HOMEMADE CINNAMON RICOTTA
adapted from Jennifer Perillo of In Jennie's Kitchen
~ makes about 2 cups plus a few spoonfuls for taste testing
NOTE: As mentioned above, for the Homemade Cinnamon Ricotta with Candied Kumquats and Hazelnuts, I added cinnamon to the ricotta-making process as an experiment wanting to see how the spice might affect the cheese. It's quite subtle but works well for this specific recipe. Jennifer Perillo's recipe does not include the cinnamon so omit it if looking for a simpler ricotta.
Keep in mind the ricotta will thicken in the fridge, so don't drain it too much, or it'll end up dry and cakey. I also like to let it come to room temperature before serving.
4 cups whole milk
1 cup heavy cream
3/4 cup buttermilk
1/2 teaspoon kosher salt
1/4 teaspoon ground cinnamon
Add ingredients to a 4-quart pot. Bring to a gentle boil over medium heat.
Meanwhile, line a sieve or fine mesh strainer with a few layers of cheesecloth and place it over a deep bowl or pot.
Once curds begin to separate from the whey (liquid temperature will be between 175º and 200º), remove from heat. Gently spoon or ladle the curds into the cheesecloth-lined strainer.
You may need to gently gather the cheesecloth at the top to help the curds drain.
Let curds sit in cheesecloth to drain liquid 15 to 30 minutes, depending on how creamy you'd like your ricotta. Store in refrigerator up to two days.
*NOTE: Perillo says the ricotta will thicken in the fridge. The first time we made this we drained too much liquid and the ricotta was very thick. The second time, we drained less liquid and found the consistency more to our liking. I think over time you get a deft eye for what is "right" to you.
[/print_this]