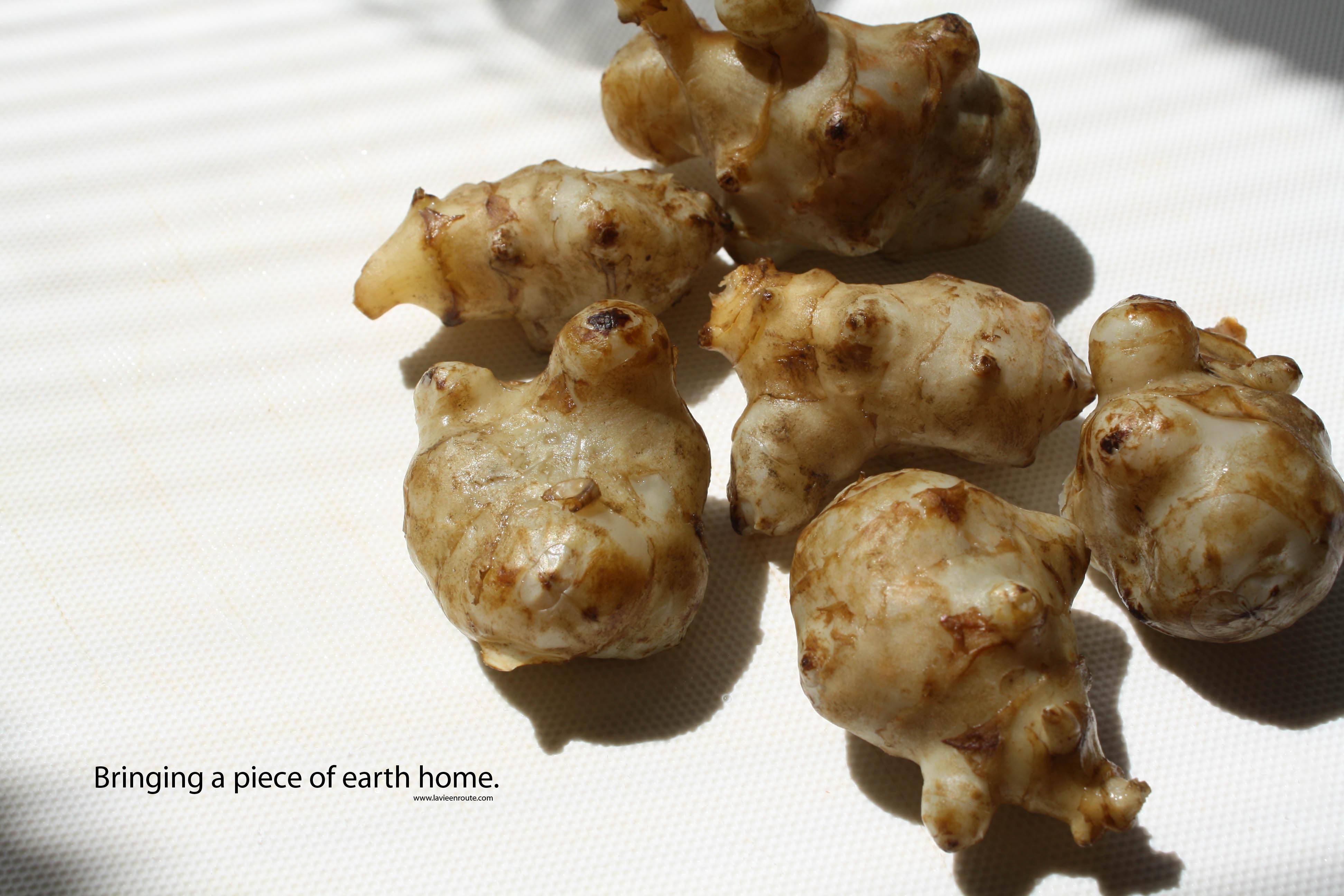 Growing up in an urban setting, and appreciating the earth may seem tricky.
On Saturday mornings growing up, I would sometimes wake to the whine of the blower or perhaps the wheeze of the lawnmower. Mama relished tending the garden. Every Spring, we could count on daffodils to pop their sunny heads out of the earth and on occasion we invested in tulip bulbs. The backyard would be flecked with crepe myrtles and then later on purple irises would accent the fringe of backyard. She planted monkey grass, and potted geraniums, a vine of English roses grew in close proximity to daisies. Mama's green thumb sustained life in plants and infused our lives with color.
When I think of a place that symbolizes childhood, our backyard comes to mind. The love and care, the sweat and work that she has put into it over the years speaks  volumes to me about what it looks like to be a steward of something precious. And I've been thinking about the earth and my relationship to it, in practical terms.
Ours was not a camping family.
To this day, I have never been camping both from opportunity and from the sheer factor of visitation rights. If you are camping in the woods and it happens that a bear lives in those woods, it is perfectly acceptable that he might want to come welcome you with a hearty roar, he may even want to give a handshake with his large paws. And that's the cost for visitation rights: bear hospitality can be brutal. The opposite and not to be overlooked reason is that there are men lurking in the woods with devious thoughts for your demise. You may not see them and that's because they're sneaky. They know how to hide in the thicket and when to advance soundlessly into your campsite.
Where silence at night in nature may bring about solace for some, it only conjures up an opportunity for my overactive imagination to kick into overdrive. Give me taxi cabs zooming down the street excitedly honking their horns, people ambling by on the sidewalk or the shrill tones of an ambulance. All of these distract and convince  me my instincts and lack of desire to subject myself to visitation rights and the lair of the devious are good. Give me civilization over wilderness. I might be amenable to try my hand at camping with a group of say 20 other campers because if I'm going down, I'm not going alone. So reconnecting with the earth by camping is not looking favorable anytime soon.
And then there's the green thumb that I did not inherit.
Over the years, growing up surrounded by plants inside our house and with a stunning garden so close within reach, I thought it was easy to recreate. On I would go to the gardening store and select several plants to pot, filled with joy at plunging my fingers deep into the dank soil. I found it enjoyable to scrape the dirt from my fingernails as a sign of labor and of a similar love that Mama had exemplified. The plants would last a few days and perhaps weeks, but in the end the outcome was always the same: wilting, dried and curling, blackening leaves. I have had no dearth of subjects that have succumbed to my plant graveyard. Recently, we've added a small basil plant to our home and it has begun unfortunately showing the signs.
Considering my connection to the earth can be overwhelming.
For the past few years messages of greening and environmentalism have increased in volume and pitch. "Save the Earth." "The greenhouse effect." "Global warming." And with these phrases come calls-to-action: recycle, compost, reduce your footprint. In California, it's easier to engage in these behaviors, which we do so the focus I'm talking about now is elsewhere.
What I'm talking about is getting back to the earth.
I have a feeling that like me, many of us don't have a connection to the earth. The part that interests me most is the implications of that to the kitchen. It makes me concerned for parts of the country that only get produce that's perfect, after being shipped in from several states away. It makes me sad to think that not everyone has an opportunity to taste a tomato that is GMO (genetically modified organism)-free or easy access to fresh fruits and vegetables. And this is a conversation for a different day.
Living in San Francisco, we get blessed with a wealth of home-grown foods.
At the Farmer's Market, we get to meet the people who tend the gardens and harvest the crops. From them, we learn to appreciate the earth again in a new way and remember how precious it is. From childhood, Mama would take me to the Farmer's Market and as an adult, I make a point to explore it as often as I can. It's fun to meet the people who have cared for and loved the earth and in its response, received the bounty of all the fruits and vegetables harvested within the Bay Area. It's important to fill the plate with veggies that are naturally nutritious.
Recently, I meandered through my usual route at the Farmer's Market and took a detour past a stand of heirloom tomatoes in their colorful array of reds, pinks, greens and yellows. Out of the corner of my eye, I spied an oversized basket of sunchokes. Inside, I started feeling giddy and made a beeline to the stand. I plunged my hand into the basket and began pulling out sunchokes, inspecting their curious ginger-like shapes with fascination. I don't know about you, but I have eaten them in restaurants but never had an opportunity to cook with them. The farmer and I happily chatted through his quick primer: rinse but don't peel and add a little cream of tartar while boiling to prevent them from going grey. Done. My canvas bag gobbled up the brown paper bag of sunchokes, also known as Jerusalem artichokes.
As it happened, the next stand over pulled me in with the enticement of peppers. A smaller basket held the largest Padron peppers I'd ever beheld. In talking with the farmer, she mentioned she'd grown shishitos before, another favorite of mine, but the Padron peppers develop deeper flavor as they remain on the plant. Her peppers included Crimzon Lee, poblanos, jalapenos and a fun find of fresh pepperoncini that I'm planning to pickle. But what tickled my fancy, what caught my eye were the Padrons. If you have occasion to pick some up or try them, I find they are perfect when just flash seared in a bit of olive oil with a sprinkle of sea salt. Words cannot do justice to this Russian roulette pepper. On I prowled looking for other finds at the market before the crowds became inhospitable.
I don't live in the countryside. I'm not a camper. But I can connect to the earth through others. My hands can plunge deep into the bowels of the fruits of their labors and I'm deeply looking forward to continued investment in the local farmers of our community, who take care of the land firsthand and like Mama bringing in a vase of flowers freshly picked from the backyard, bring a part of their earth back home with me.
It's a start, right?