A cookbook worth a permanent spot in an avid reader and cook's collection can resemble the best kind of salesperson giving a pitch meeting. First, it needs to dress for the occasion— easily communicating its ethos by the cover (and so much time is spent on the publishing side of things, considering what will become the cover!). Then, it needs to woo the reader into submission, not through suave messaging but instead (and in this way so similar to its fictional / memoir brethren) making them care about the main character (in this case, a way of thinking about food), broadening the landscape for the reader whispering new secrets, recipe pages that will soon-to-be-smudged, and in the case of the Israeli Soul cookbook, the newest cookbook by James Beard award-winning authors and restaurant collaborators, Michael Solomonov and Steven Cook, a one-way ticket for the armchair traveler to be transported to Israel and Philadelphia by way of their kitchen.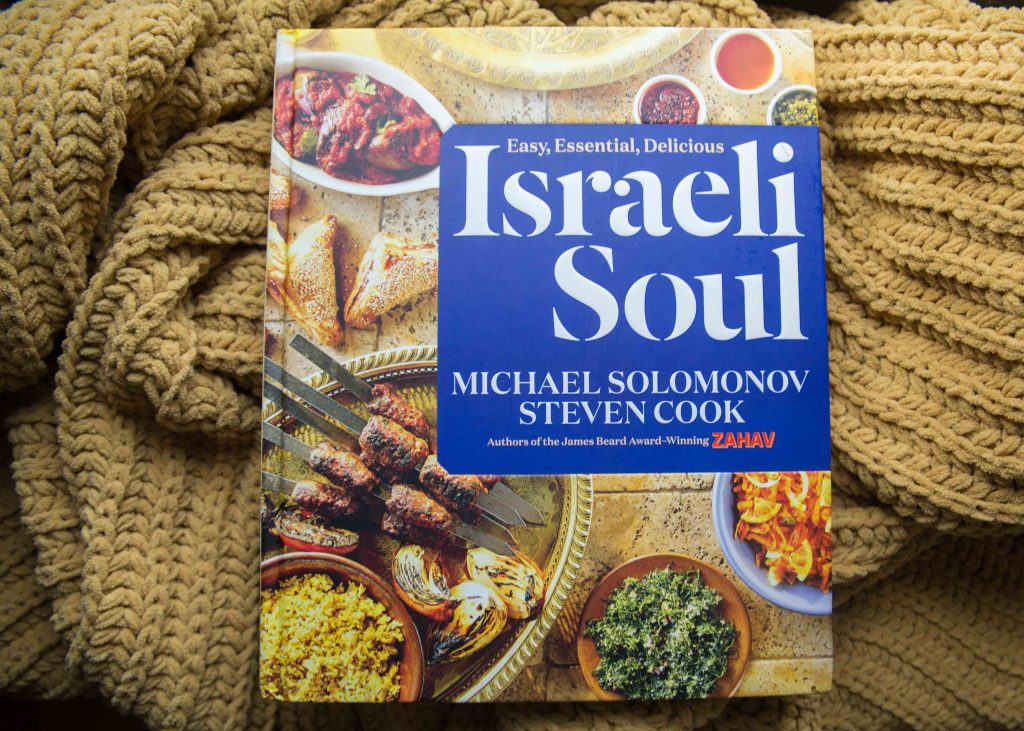 I need to start off by saying I'm horribly biased when it comes to this book. I hounded the PR team at the book publisher (well before my husband gifted me a copy for my birthday) and embarked on reading this book with a set of suppositions.  My first encounter with anything Zahav-related started with a friend who we will call the foremost expert in all things knives and kitchen knife skills dropping a hint that I should go immediately (good luck getting a reservation!), followed up by a great tip to go visit the raven of Edgar Allan Poe fame at the library. And, so on a subsequent trip to the city of brotherly love, I rang up another friend in food and we met up for one of those kinds of meals you know at the end of your life you will still look back on, salivating. It exceeded expectations and then some. I dragged my husband back to Zahav to ring in a new decade (the salatim! the lamb!) only to discover sitting at the table next to ours that evening, a couple from a small town in South Texas, also visiting the city actually knew my cousin. Small world. We continued eating our way through the Cook and Solo restaurant empire, agreeing that Abe Fisher might just be our number one favorite in Philly (get the salad—Caesar with grapes and bread pudding croutons! The savory rugelach amuse bouche! The mocktails! The broccoli kugel!) And, on yet another trip, I'd eaten at Dizengoff, scooping the smoothest hummus with puffed warm hunks of pita. If I could muster up strong feelings for fried chicken and doughnuts, I'm sure Federal would have been on my list even as I long to book another trip just to suck down a tehina shake with fresh falafel on the standby at Goldie's. So, please know that when Zahav, the cookbook came out, I promptly read it cover to cover, cooked from it deeply (spending almost a day making a lavish spread for vegetarian friends visiting California that then prompted them to buy the book to cook from at home in Texas). As soon as I heard about the Israeli Soul cookbook, it leapt to the top of my required reading list.
But anticipation can be such a double-edged sword—can't it? Would this book live up to the high expectations set by the James Beard award-winning first cookbook? Yes, it would. I bring up the Zahav cookbook because you can certainly just read and cook from Israeli Soul but without the Zahav cookbook nearby, you might not get the full context of some of the recipes. This is one of the things I particularly liked about the Israeli Soul cookbook—how it was in conversation with Zahav, crushing old methods that might work in a restaurant kitchen with a small legion of line cooks but could leave a home cook a bit bedraggled like their hummus. In Zahav, you soak dried garbanzos overnight with leavener (plan ahead!) and then pop off the skins like raincoats the next day before cooking. Israeli Soul updates the hummus recipe to 5-minute hummus with quick tehina sauce and cheekily states, "We believe 5-Minute Hummus to be a medium step forward for humankind," which it is. I made the hummus, intending to scatter on one of the suggested toppings (Carrots with dukkah! Roasted corn with long hots! Broccoli and pine nut pesto!) but we didn't get farther than ravaging it one afternoon with store-bought pita (there is a pita recipe in the book, updated from Zahav to Israeli Soul, now with process photos).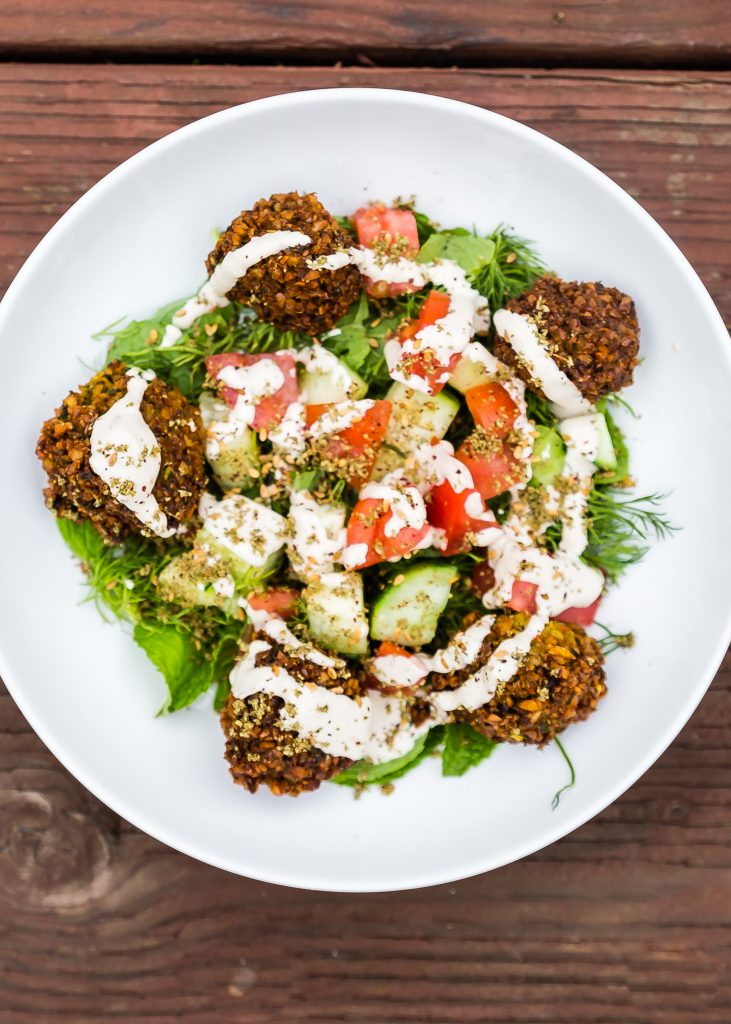 The Goldie falafel could easily be the kind of Sunday evening supper and meal prep for salads or stuffed pita throughout the week (if you can get past the fact that it won't be crunchy in that just from the fryer way, which we could). I particularly liked them stationed atop the herb and Israeli salad, full of chunked tomato and cucumuber with fresh torn herbs, labneh drizzle, and za'atar. Next time, I'm going to try baking the falafel.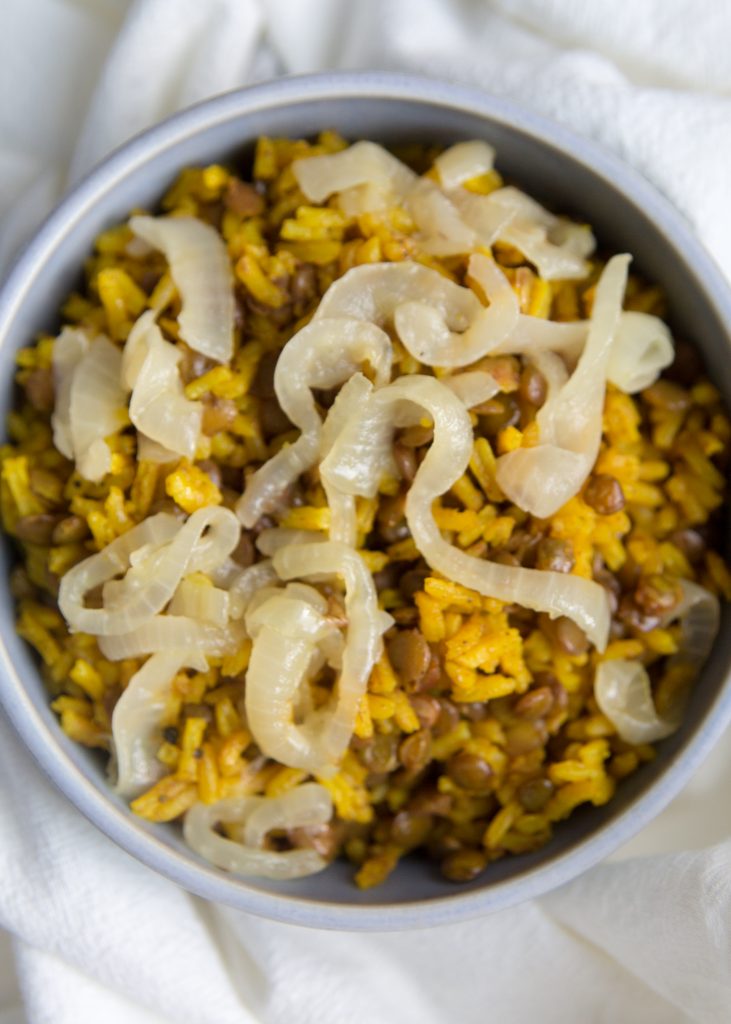 Since beginning my exploration of the book, I've stirred a stockpot of Opera bean soup—a slow-cooked affair of tomatoes, beans coaxed into creaminess and a touch of chile heat. Then, formed and cooked Persian meatballs with beet sauce (maybe my least favorite dish of the entire bunch, which is purely subjective since I didn't love how the paprika played with the other ingredients. I fell hard for the freekeh mujadara (made with rice since it's what I had on-hand, though I freak over freekeh. I couldn't help that last one.). We feasted on Bulgarian kebabs (so well-spiced!) and need to find the thick metal slat skewers to properly cook what I'm sure will be my next favorite: Arabic-style kebabs (they had me at lamb with baharat and grated onion). We've made two batches of the yellow rice (something you want to keep stocked in the fridge when the craving strikes because it will).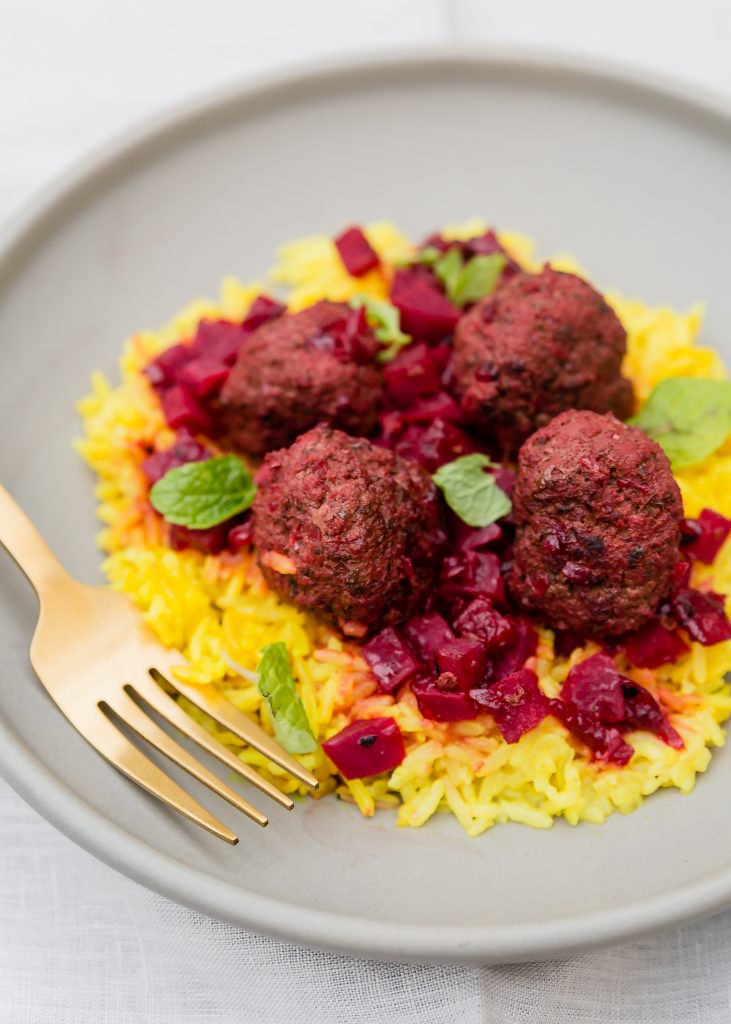 I'm intending to make the Druze mountain bread and a host of the vegetable salads. I've got bulgur in the pantry to make a pot of tomato bulgur. For a fun weekend project, I think it would be a kick to make homemade couscous (and have the semolina on hand to finally give it a go). Ditto the Abe Fisher beet salad—I can almost taste the zing of the prepared horseradish. Egg salad from Akko might be the most interesting way to train hard-boiled eggs into decadent submission (hint: it has everything to do with baharat). I keep grating carrots to make grated carrots with chiles (but then end up eating them in breakfast). And, several butternut squash have almost made the cut to whip up the Libyan squash salad, chirshi. When tomato season is in full force again, Matbucha, a Moroccan cooked tomato and pepper salad will be on the menu. My favorite quick lunch has easily become chickpeas with baharat, tomatoes, and brown butter.
Will I finally make the boreka, written about in Zahav and updated in the Israeli Soul cookbook with process photos? I'm a sucker for puddings the world over, so malabi is in my near future. And, the konafi with its long strands of kataifi (fine dough threads), saffron syrup, and buffalo mozzarella, make me want to locate kataifi locally. But the zalatimo dessert awakened a different kind of hunger in me.
While this is a cookbook, it also is a kind of guidebook to Israel, and a storybook of the people whose food inspires, in the tangible way that taste memories tie us to a place and a first experience. Reading stories of how each restaurant purveyor or chef first entered their cooking experience illuminates in that universal-personal way where we can see ourselves inside someone else's experience. The restaurant owner who failed and through advice from his mom to cook the food he'd eaten and grown up with at home, now has a thriving restaurant and is on a culinary cultural map. The owner who has made one dish all their life and is the master of that dish—with such singular focus, I wonder if in our scattered do-it-all existence, there is some sort of life truth nugget there for you and I. I've never been to Israel. It's one of my top travel destinations for food, but really for spiritual reasons and to see the culture first hand, beyond what gets spit out as headlines on this side of the Pond, only when something bad happens. But, we best experience another culture by entering it, right? The Israeli Soul cookbook gave me a deeper taste of what I'm missing by making a glimpse of it available to me at home.
"Comfort food is, by definition, a link to a time or place when we felt at ease, free of the anxiety of everyday life." And, in that way, I too can eat the food my hands prepare from this book and taste soul food even if those flavors come together in my taste binder for the first time. In Israeli Soul, I can see the soul of the place in the stories and recipes that offer a different kind of sustenance, one in which we need each other to feed each other through food, but also through shared experience that leads to greater understanding of what it means to be alive.