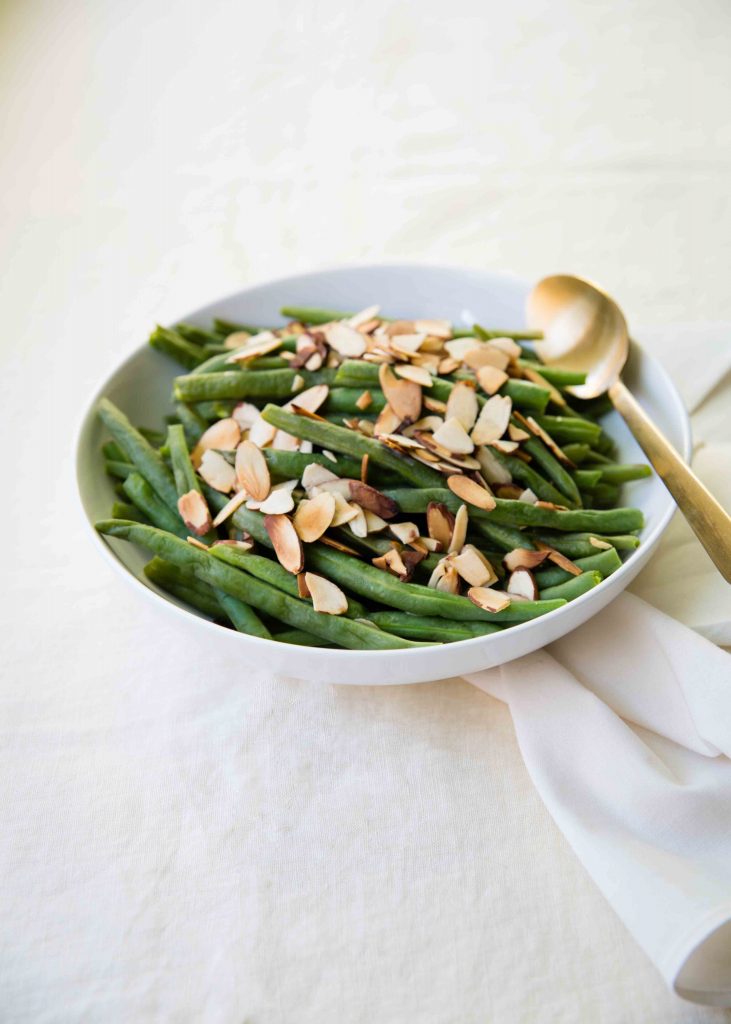 Truth or dare? I always go with dare, but will start here with a truth. At Thanksgiving, my two favorite dishes growing up starts with my Tita's dressing (I'm not alone there as my Tia doubles the batch so she can freeze half, defrost, and reheat whenever she has a hankering for her mother's cooking). The other dish at its core is more cream of mushroom soup concentrate and crunchy onions from a tin than green beans. One hopes that time outgrows habit and on that point, I still love my Tita's dressing and a good Green Bean Casserole, though now I prefer homemade mushroom cream and fried shallots.
This dish is not that dish and yet I dare you to swap out the heavy, creamy traditional side dish for this one. It's quick and the best part is the cooking time is about 2 minutes. Warm the lemon butter sauce in the microwave for 1 minute and as long as you've toasted the almonds ahead of time, you've got a new-to-the-Thanksgiving table side dish that takes less than 5 minutes but that also makes any evening meal a side dish cinch. You're welcome.
Lemon Green Bean Almondine
Who doesn't love recipes you prep in advance? Toast the almond slices the night before the big feast. Even blanch the green beans. Then on game day, reheat, toss, and serve. Easy
Makes 4 servings
1 pound green beans, trimmed
1 tablespoon unsalted butter
1 1/2 teaspoon fresh lemon juice
1/2 teaspoon kosher salt
3 tablespoons toasted almond slices
Blanch the green beans. Heat the butter, lemon juice, and salt for 1 minute until the butter is melted. Top with the almonds.