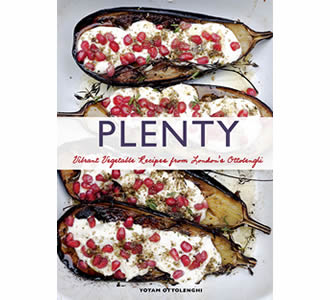 Yotam Ottolenghi is not scared of butter. In fact, his appreciation for the combination and results of a ratio of fat to vegetables really is something worth extolling in this book of 128 recipes. He gives you plenty of ideas from which to become a voraciously eager eater of vegetables. But this is no vegetarian cookbook for the solely health-conscious. He describes his first reaction to farro in his headnotes for Farro and Roasted Pepper Salad (p. 234) as tasting "a bit too 'healthy' for my liking." That admission makes me more endeared to Ottolenghi as he proceeds to describe his later attempts at farro and pointing out its flavor profile as what changed his mind.
I sometimes tend to be late to the party so when his cookbook launched late last year I found myself intrigued by all the buzz it received. Ottolenghi contributed several recipes to Bon Appetit and after I found I had cooked through each one (and even found occasion to host a party so I could share one of the recipes) I found myself with plenty of reasons to tackle this cookbook personally, finding his approach to imbuing his food with fresh herbs and often with a dollop of yogurt to be in line with my own cooking sensibility, though he describes this addition in a headnote to Cucumber Salad with Smashed Garlic and Ginger (p. 166) as "a terrible habit of adding yogurt or sour cream to almost anything that's been cooking for a long time, has got a lot of heat, is slightly greasy or just seems a bit heavy to me. " He sounds like my kind of cook!
"Plenty" by Yotam Ottolenghi is recipe-driven in the way that some restaurants can be described as ingredient-driven, which deserves an explanation. He opens the cookbook with a brief letter describing this recipe collection of contributions over the years in a column called "The New Vegetarian" to the UK newspaper, The Guardian. He is quick to point out he's not personally vegetarian but that designation doesn't stop him from crafting some of the most inventive and absurdly edible vegetarian recipes to make their way through my kitchen. This brief introduction spills out into a book of lush images and recipes. The high ratio of 68 photos (at last count) to recipes also endears me to the book.
His headnotes that start out each recipe are personable and often give suggested pairings, but sometimes are lessons in and of themselves, such as how he gauges selecting appropriate cheeses for melting in his headnote for Stuffed Portobello with Melting Taleggio (p. 56).  He introduces his Asparagus Vichyssoise (p. 184) as something similar to the chilled soup his father made for him when he sequestered himself at the family home to write all of the cookbook's recipe introductions.
In trying to imagine what Ottolenghi is like in person, I envision someone with great passion for good food, a zeal for perfecting recipes, and an underlying sense of humor. I imagine him to be prone to small pranks or a bit of a jokester. Perhaps I'm wrong.
Let's consider his intro for Eggplant Tricolore (p. 114) that suggests a "sacrilegious use of cilantro in a very Italian dish." He continues his admission, "I'd go even further into very dangerous territory by suggesting, God forbid, that fresh cilantro could fit perfectly in traditional Italian cuisine." Not convinced of his humor? The recipe headnotes for his Broccoli and Gorgonzola Pie, (p. 92) recalled a vehement letter received about the amount of fat in the pie that rattled his "normally-very-good-tempered-self." To that complaint, he responded, "I say, enjoy this pie fully!" And before we move on, he says as much himself in his headnotes for Swiss Chard, Chickpea and Tamarind Stew (p. 148) when he expounds on "I always want to add sharpness to slow-cooked, stewy type dishes, something to break down the heavy seriousness of the dish and introduce a little refreshing edge to it-  a bit of humor even."
Plenty evokes a philosophy of a zest for living and a cup half full mentality. This trickles out from the personality evidenced in his headnotes to surprising ingredient pairings that in other hands might be questionable, but not with Ottolenghi. I plunged safely headfirst into curious combinations and tried new-to-me ingredients, eschewing the familiar for the fantastic.  Some of his recipes bear that joyous verve for life in their nomenclature. His Tomato Party ( p. 131) is a spectacle of colors and textures and elsewhere in the book he boasts a Very Full Tart (p. 84).
But do the recipes in Plenty live up to the hype? Onward, we go.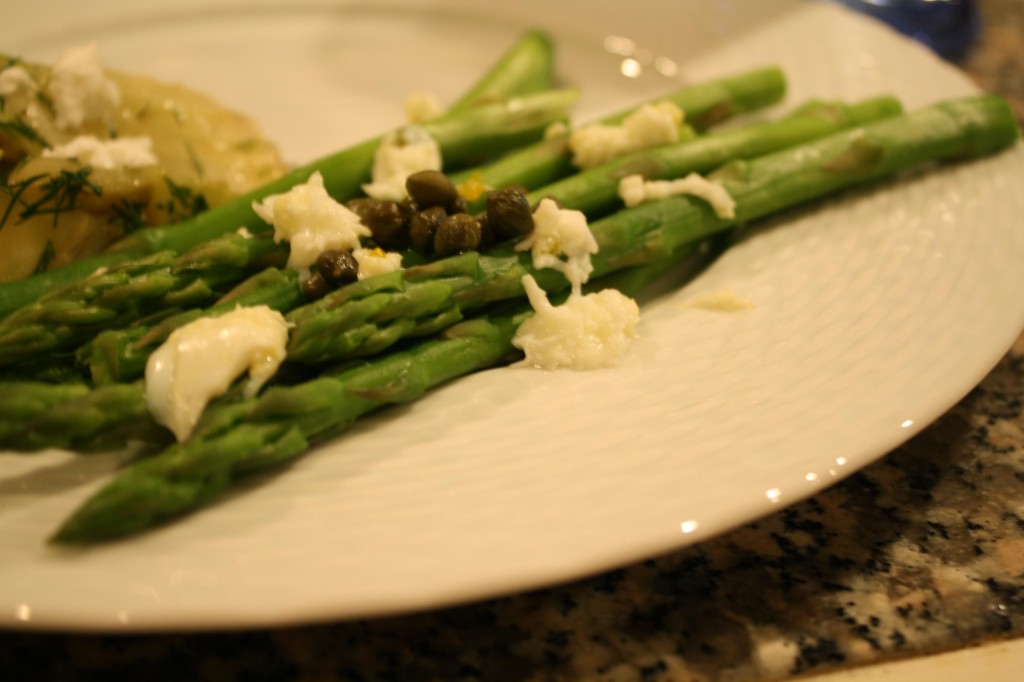 For a recent birthday party of three carnivores, I invited them to let me cook and entered into a delicious pact with myself to make the meal vegetarian. We started off the meal with the Asparagus Mimosa (p. 182) an easy appetizer with a contrast of flavors. The briny capers played off the mellow asparagus and creamy hard boiled egg.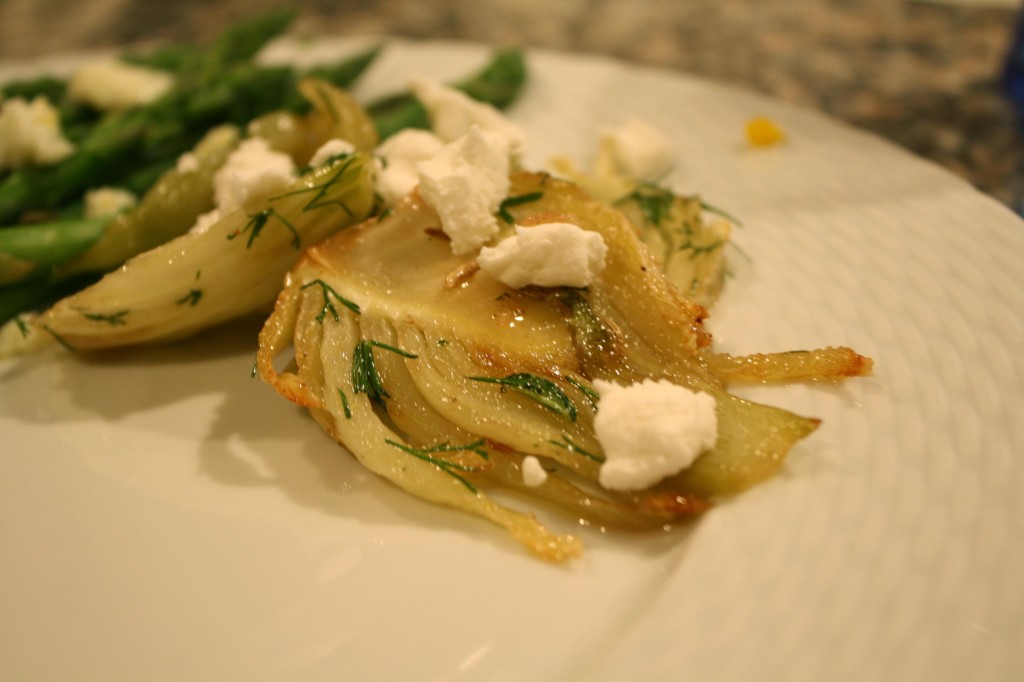 The star of the meal based on compliments and guttural sounds of approval was the Caramelized Fennel with Goat Cheese (p. 172). Here, he does something that completely bewitched and confounded my gourmande Tia B in his preparation of caramelizing fennel. This decadent side dish is made all the more intriguing with the punch of dill that rounds out the sweet flavors from the fennel and the tang of the goat cheese.
We capped off the meal with the Pasta and Fried Zucchini Salad (p. 254). Talk about a celebratory dish! Penne noodles with fried zucchini coins tossed in red wine vinegar playfully mingle with torn hunks of buffalo mozzarella, fresh basil leaves, lemon zest and a basil, parsley, olive oil sauce making this one refreshing summer entrée. That evening, the cookbook made its rounds from our set of hands into another as each guest took their time flipping through it after dinner and cooing over other recipes they wanted to try like the Roasted Garlic Tart (p. 38). Success!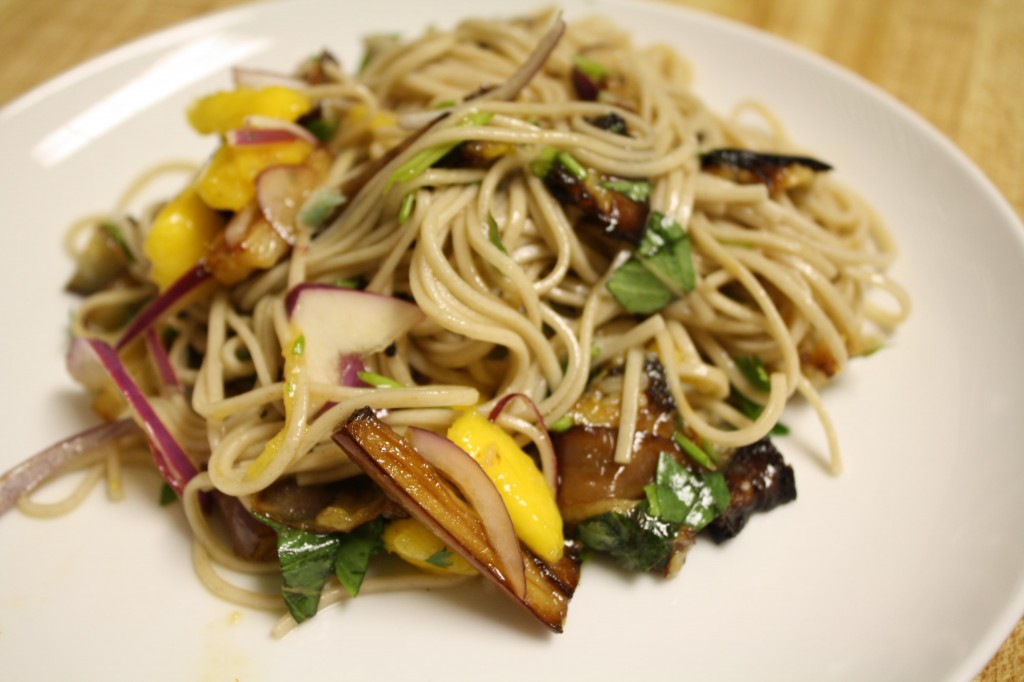 Cooking our way through the book included several stops in the Eggplant section. One evening, we prepped the next night's meal of Soba Noodles with Eggplant and Mango (p. 112), a wacky combination I knew we needed to try because of its curiosity. And sure enough the light dressing with the melt-in-your-mouth smooth eggplant worked well with the sweet burst of mango chunks and the ever so slightly heat of thin red onion slices. A pot of this happily fed us for a few days.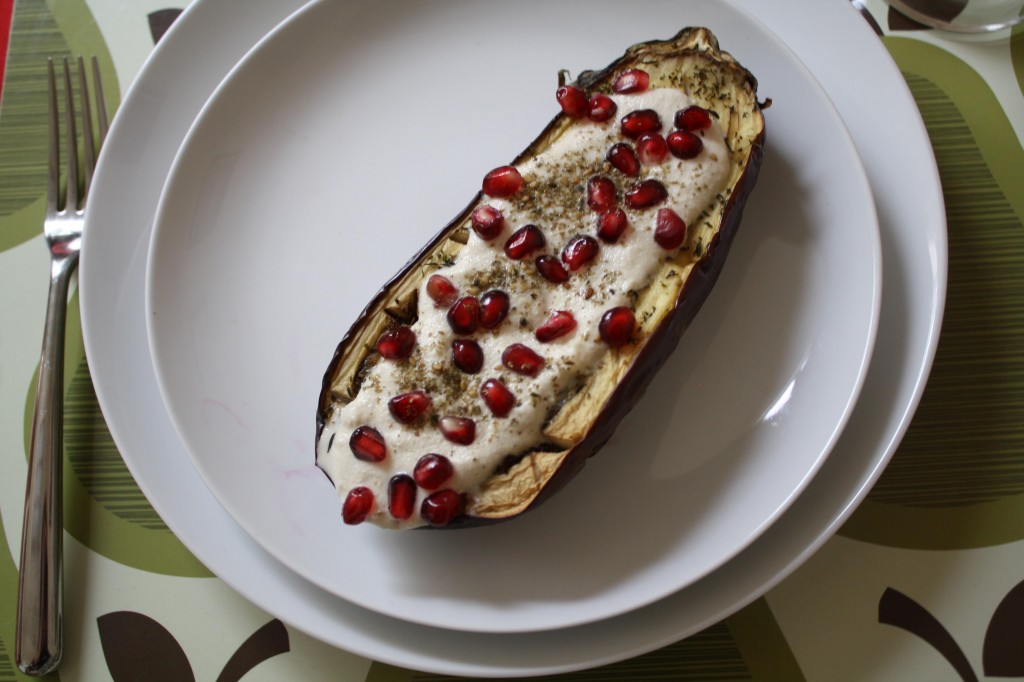 As an appetizer, I attempted the lush recipe photographed on the front cover of Plenty which incidentally has a lot of cookbook and author recognition from foodies in ways that most front covers don't usually evoke. His Eggplant with Buttermilk Sauce (p. 110) can truly make a believer out of those who might ignore eggplant altogether. Softened from olive oil and roasting, we swapped out a variation of the buttermilk sauce for a cashew crème sauce since one of our guests had an intolerance to dairy and let me tell you, that alchemy of visual color pop to flavor of ingredients was not disturbed. This is one sexy dish of food.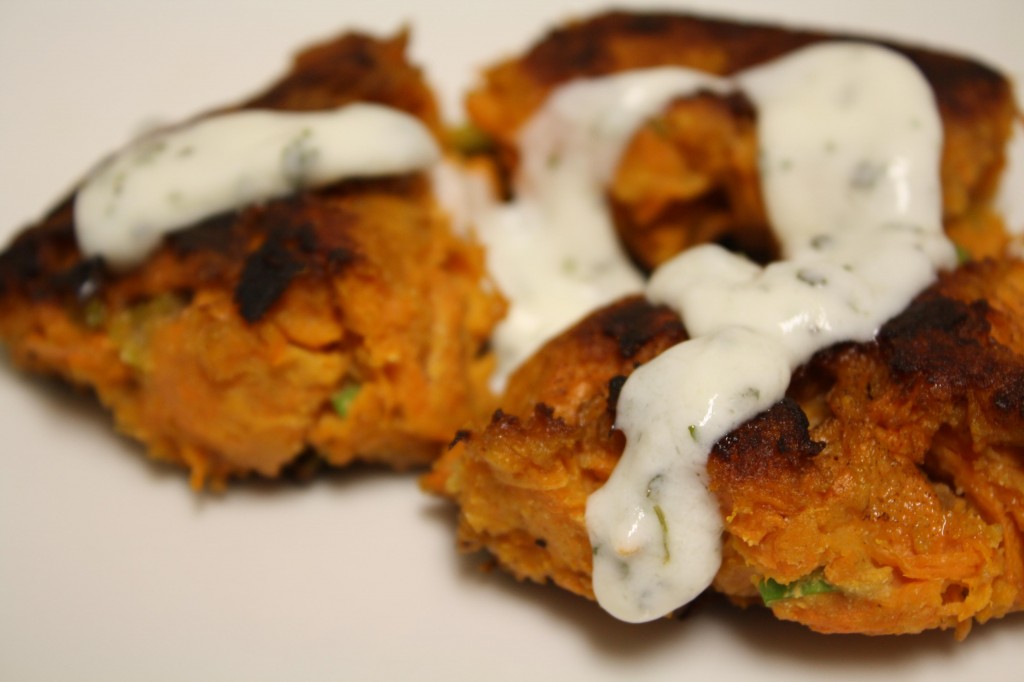 And the Sweet potato cakes (p. 32) with their mild sweetness subdued by green onions and a bit of minced green pepper came to life with the lemony yogurt sauce. Oh my goodness. I took several cakes to lunch the next day and shared one with my foodie boss telling him I was sharing a real treat with him as he scraped his plate with his fork trying to get as much of the yogurt sauce as possible on the tines of his fork.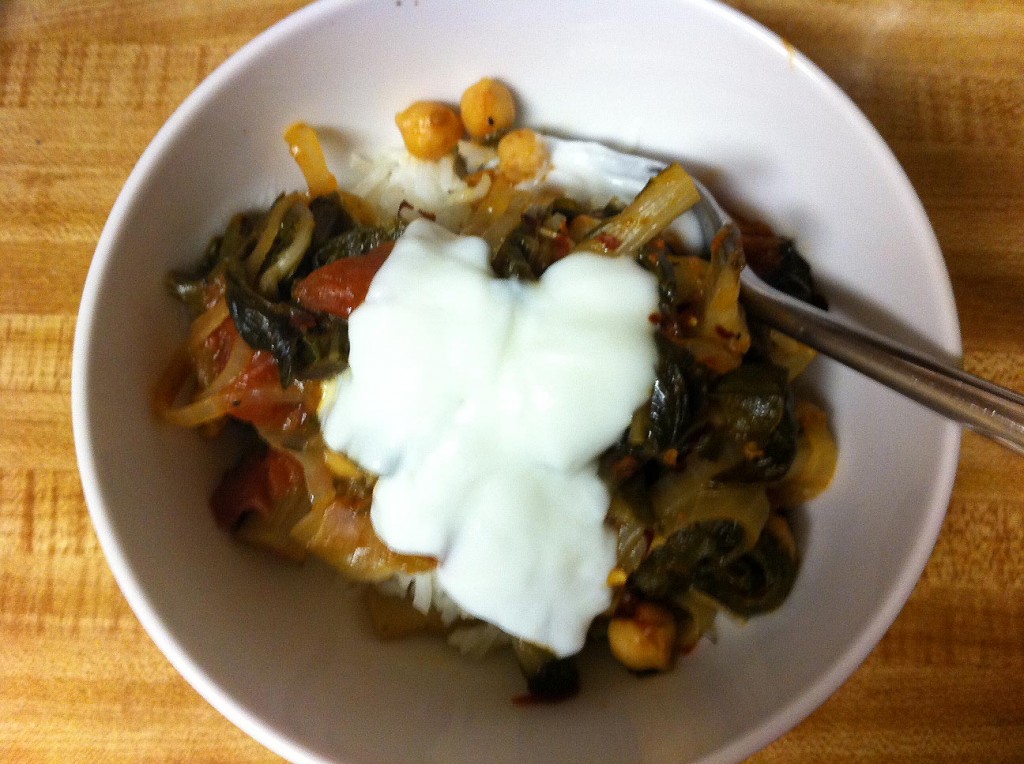 When San Francisco started showing the signs of our typical foggy summer weather, we pulled together the Swiss Chard, Chickpea and Tamarind Stew (p. 148), for an easy weeknight meal. The tangy essence of tamarind played off the rich garbanzo beans and the stewed Swiss Chard. With a dollop of yogurt on top and some buttery rice below, we tucked in well that night!
One evening as a side dish, we assembled the Spicy Moroccan Carrot Salad (p. 14) that truly lives up to its name and goes to another level with yogurt spooned atop. Next time I make this, I will cut back on the oil as we found it a bit slick and I'm not sure it would be remiss in that subtraction.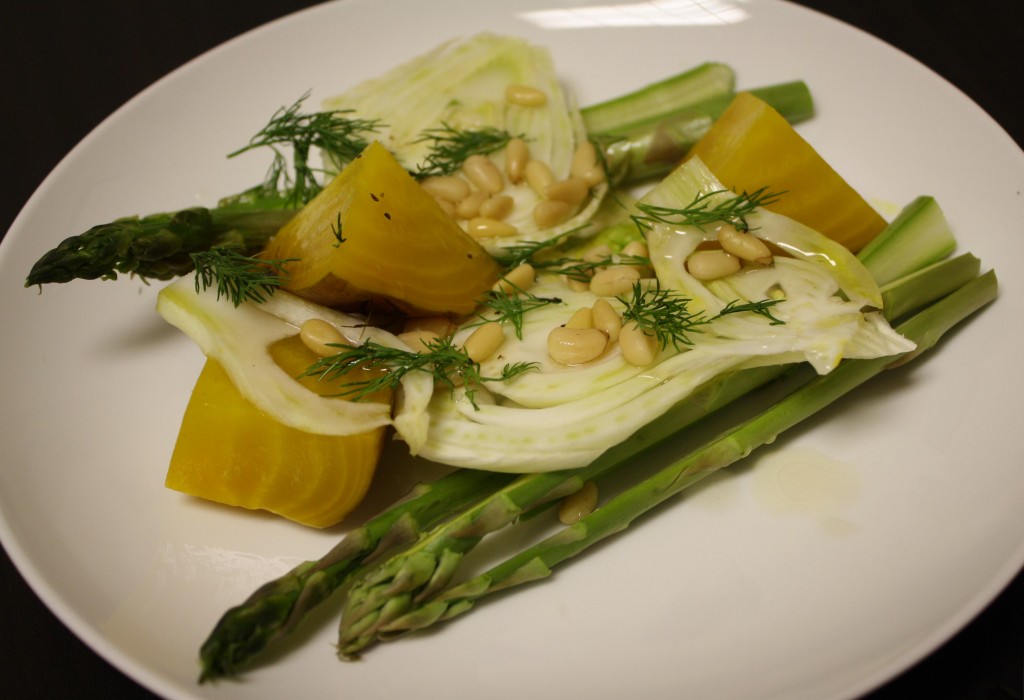 For a refreshing salad that's both lovely to look at and delectable in its simplicity of focus, the Asparagus, Fennel and Beets with Verjus (p. 170) was a good way to spend the dregs of our well-loved Navarro Verjus. It evoked a bit of summery crunch and flavor to the lush and ever so slightly mouth-puckering Verjus and sumptuous pine nut, dill combination.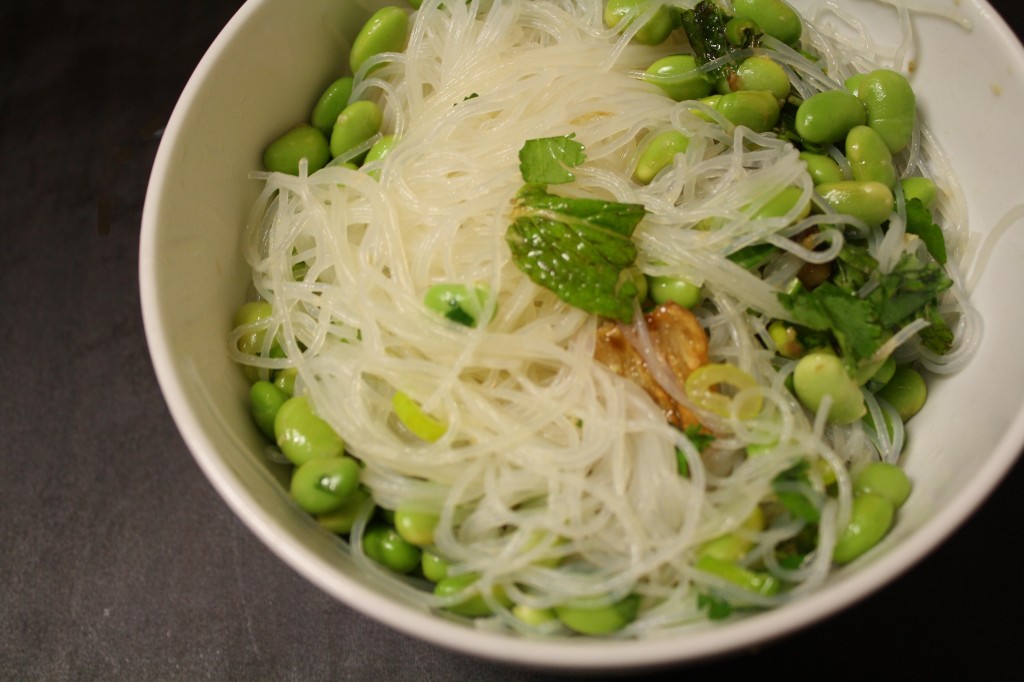 The Warm Glass Noodles and Edamame (p. 198) when compared to the myriad other recipes we worked our way through taste testing didn't stand out with the same oomph as the other recipes for us though we found the tamarind a welcome addition to this dish and the mint a sweet note.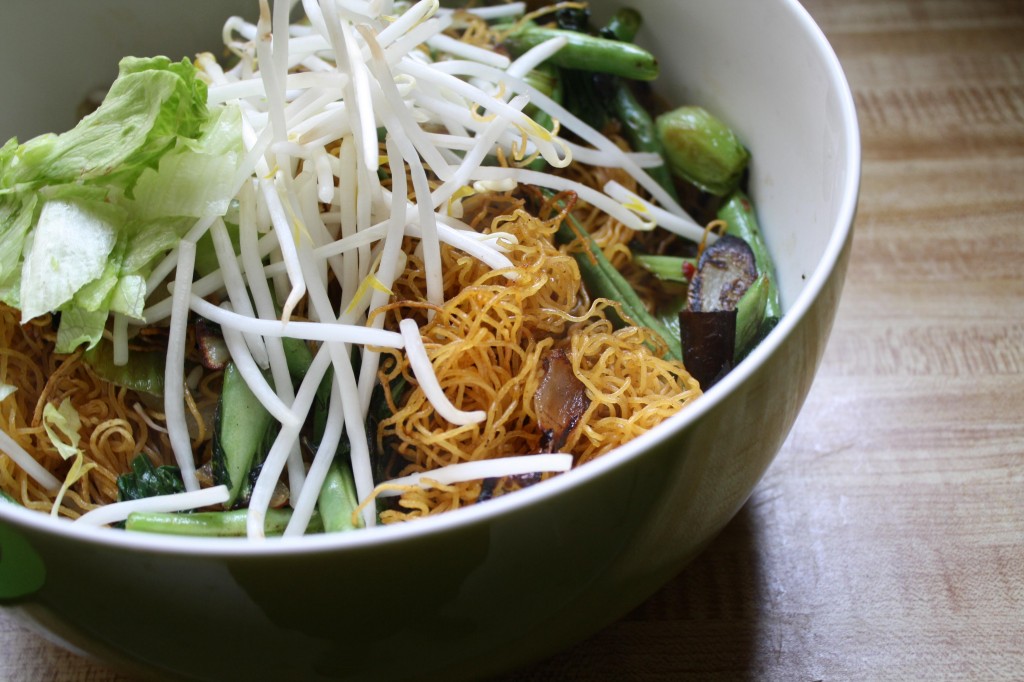 And what I might consider my own personal obsession du jour involved a taste test of one of Plenty's recipes served not once or twice in a three week span but three times. The Malaysian street food entrée Mee Goreng (p. 185) has wormed its way into our regular lineup of weeknight meals. We even recently noticed that our neighborhood Thai restaurant has it on their menu, but their version doesn't capture all of the fun and enhancements of the toppings recommended in Plenty. You're in luck too as I will be sharing the recipe with a few minor variations tomorrow.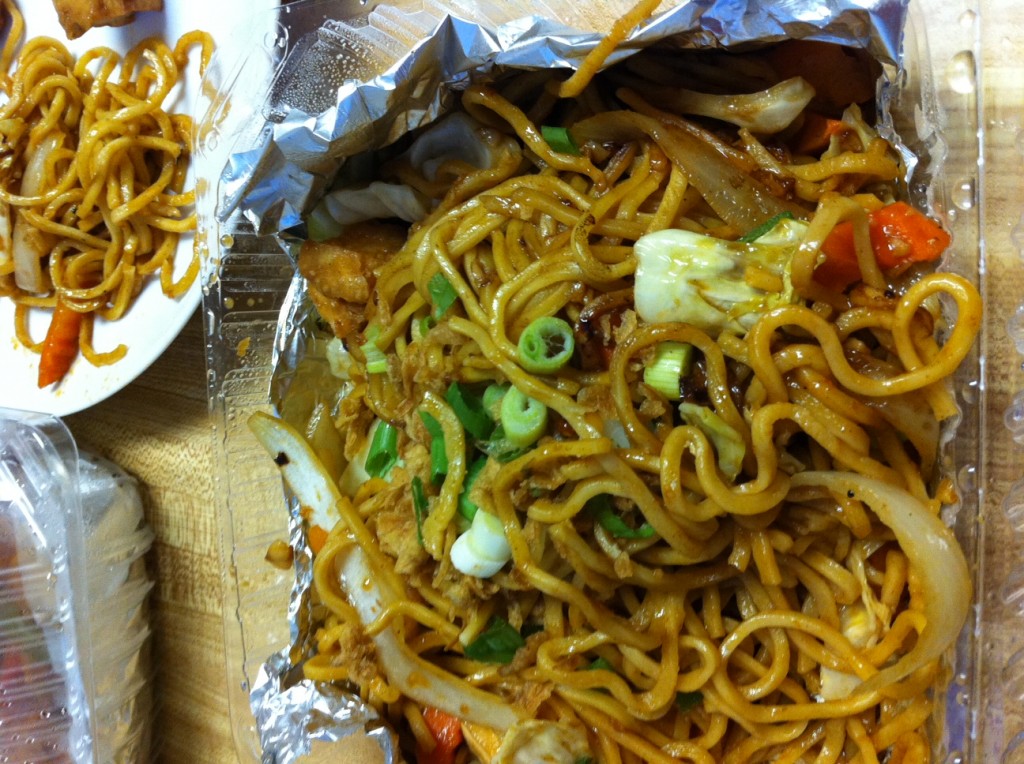 Often times, people say that vegetarian food and vegetables are boring. But people like Ottolenghi inspire me to color with all of the crayons in the crayon box – to experiment and cook for the joy of it. Plenty doubled me over with its creative combinations and the playful pairings of a New Vegetarian. From one to another, long live the mighty vegetable.
___________________
A special thanks goes out to Chronicle Books for sending Plenty for me to review. For the Plenty cookbook review, I did receive the  book from the publisher at no cost, but all the thoughts above, whether well intended or overly verbose are my own.