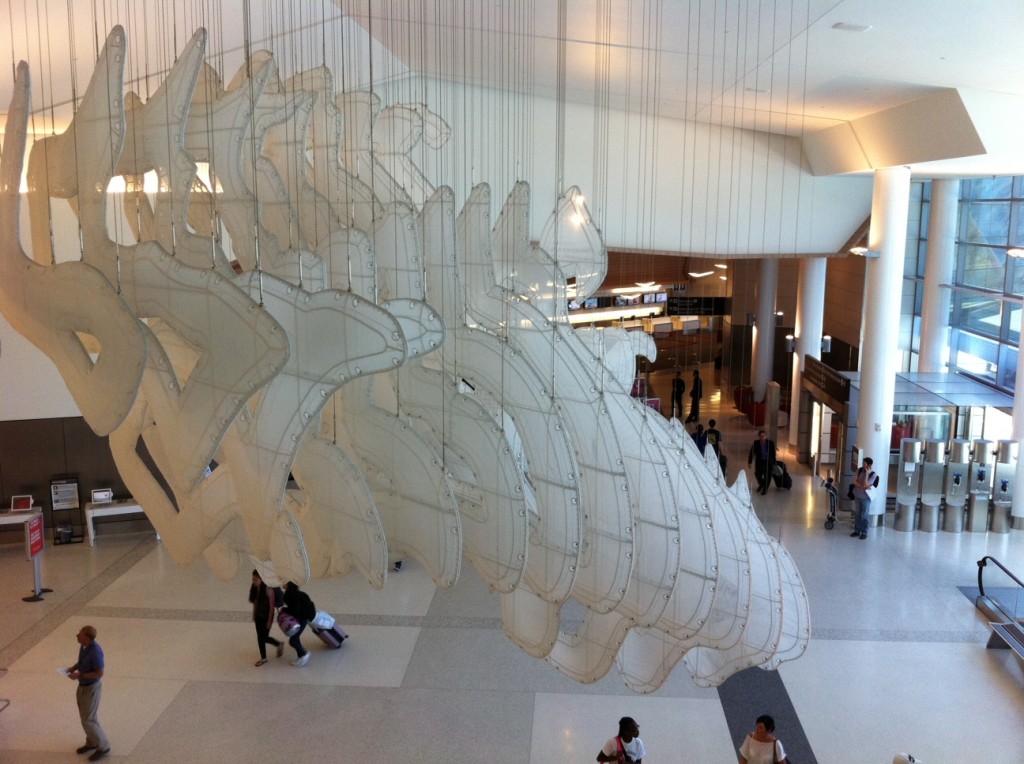 We've considered SFO Terminal 3 restaurant options for United flyers. Folks taking American Airlines or Virgin America are in for a welcoming treat that is SFO T2.
Walking into Terminal 2, you might first note that the frenetic energy expected in airports is missing. The tall ceilings evoke something you might find in a cathedral. Sweeping works of art dangle from above like the huge frozen bird of prey skeleton flanking the lobby near the escalator close to ticketing. Even the experience for those waiting the arrival of a loved one flying into SFO is comfortable as they recline in swivel high-back leather chairs.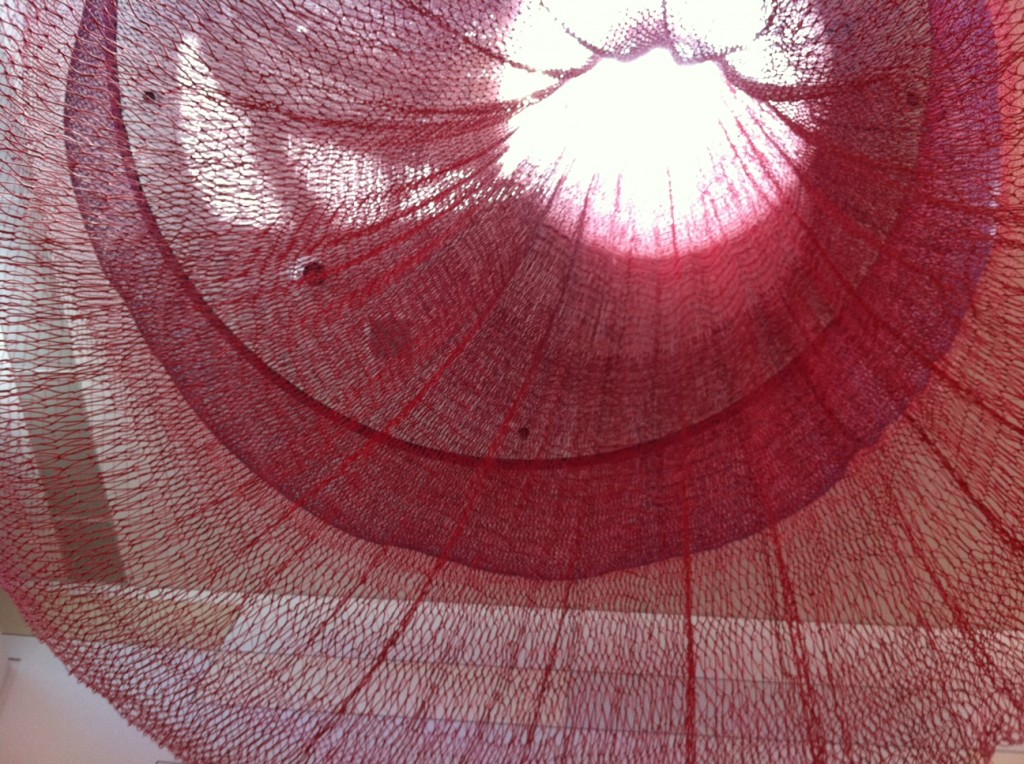 This is no typical airline terminal and even with my fond affection for the United Terminal 3, this is a place where I could definitely linger.
Let's explore the amenities that make T2 the swanky terminal from which to fly and those alluring SFO terminal 2 restaurants.
EATS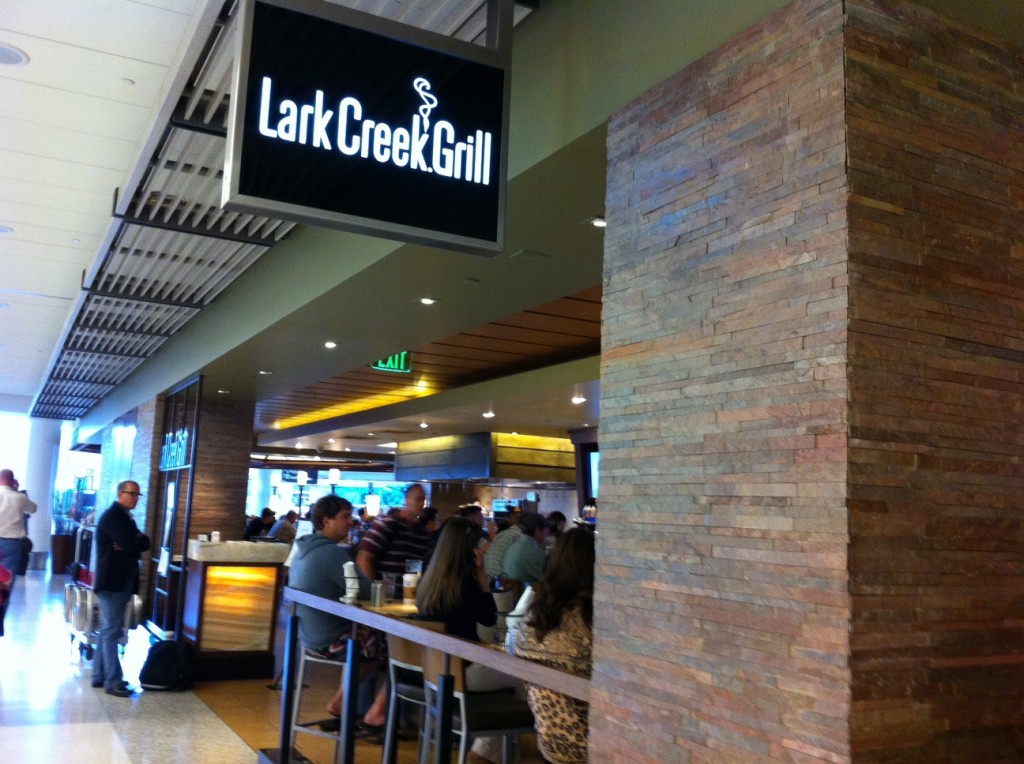 Lark Creek Grill
If you're nursing a long layover, consider settling in at Lark Creek Grill , an airport offshoot of the popular Larkspur and Walnut Creek outfits of Bay Area Chef Bradley Ogden. Starters include Crispy Fried Monterey Calamari and a Fuji Apple and Romaine Salad with bleu cheese. Under sandwiches, they offer a Grilled Pacific Snapper sandwich jostled up next to their Marin Sun Farms Grass Fed Chuck Burger. If you've got more of an appetite, check out the Barbecue Chicken Tamale Pancake or the Spaghetti with Slow Cooked Meat Ragu. Their Black and Tan Sundae with nut praline, vanilla ice cream, hot fudge, caramel and brandied cherries could certainly take the edge off of a long wait making it almost sweet. Expect the prices to be steep as Lark Creek Grill aims to bring fine dining to the airport.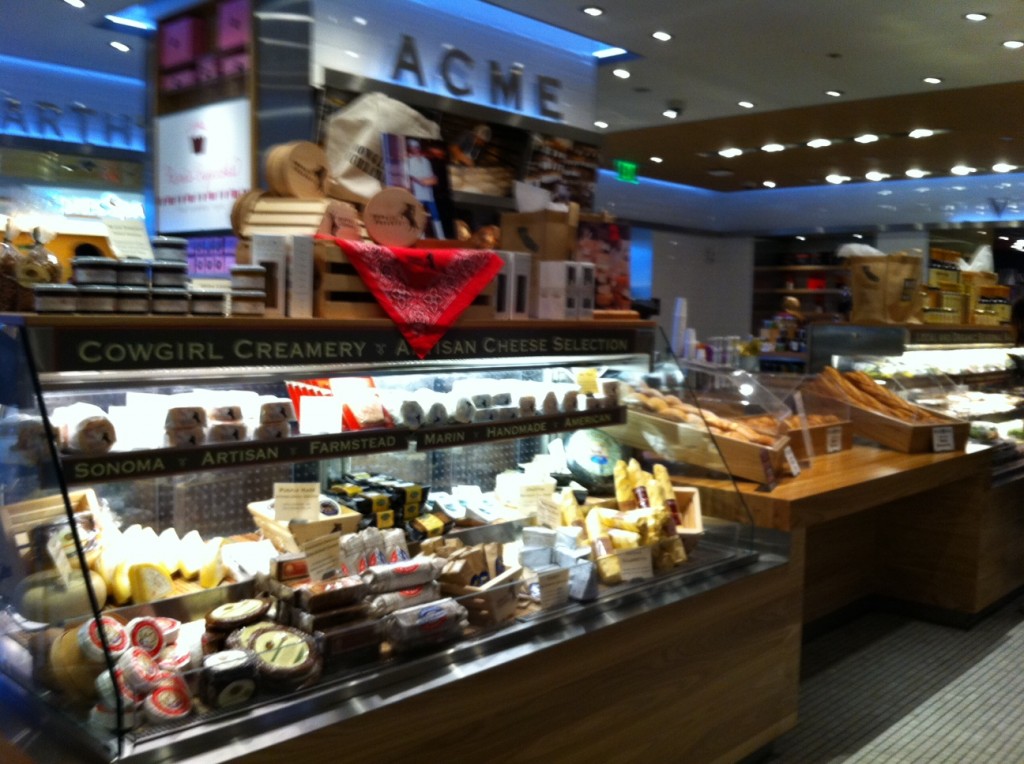 Napa Farms Market
This well curated market might be the best find in the airport as it is stocked with local favorites. You can purchase a baguette of Acme bread and a round of Cowgirl Creamery Mt. Tam or Redwood Hills Farm Goat Cheese within throwing distance from each other. Thirsty? You'll find wine bottles for the oenophiles and personal hot bevvie favorites Equator Coffee and Mighty Leaf teas. Curious about cupcakes – they carry Kara's Cupcakes (along with her gluten free option). Head over to the chocolate counter for your choice of local chocolatiers Tcho, Poco Dolce (Aztec Chile, please) and others. Perhaps you don't want to nosh on foods that might be so decadent. They also carry Lydia's Kale Chips and a hearty selection of GT's Kombucha (I snagged a Cranberry). If you've got more than a nibble some appetite, Tyler Florence Fresh or the Pizza Kitchen boast some tantalizing options.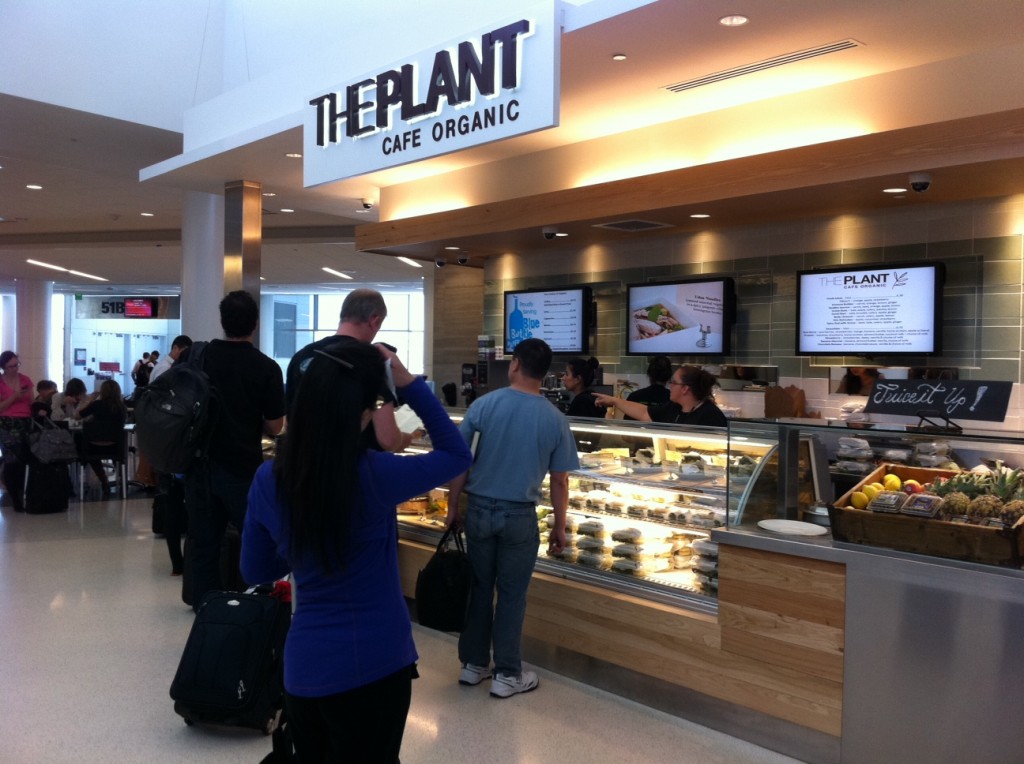 The Plant
This organic eatery definitely caters to the healthy, clean eating set.  In addition to the requisite organic salads and sandwiches, I particularly like their options of fresh raw juices, notably the Green Basic consisting of kale, parsley, celery, apple and lemon. If you're there around breakfast time, they have a breakfast burrito, made in a whole wheat tortilla. For lunch or dinner, consider the Mango Lime Chicken sandwich with avocado aioli or other intriguing options like the Quinoa Bowl (vegan and gluten free) or the Udon Noodles in lemongrass broth. And for you coffee drinkers, this is your one stop shop at SFO for a cup of locally roasted Blue Bottle coffee.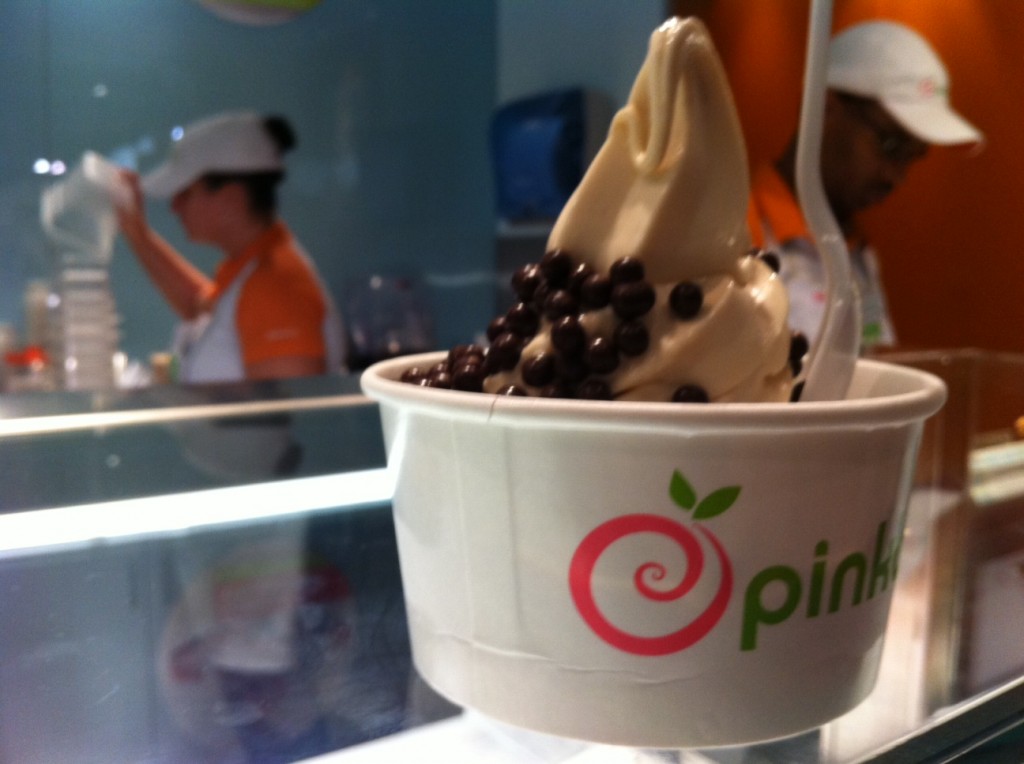 Pinkberry
I have a sad and oh-so minor obsession with the Berry that is Pink. A friend recently wrote about taking a long walk for a gourmet donut (that I may or may not have joined him to acquire- I take the fifth) and to that I would respond with this note to self: if traveling from LAX, make sure to book via Southwest due to proximity of Pinkberry. You can imagine my giddy response when San Francisco announced their own fro-yo haven in T2. This also means that it might be the highlight of all highlights for that midday or late day airport reprieve. The menu board suggested their summer pairing of Strawberry with Balsamic Glaze which while I'm sure is tasty cannot rival my go-to standard of their slightly tart and sweet Original flavor with fresh Raspberries or an indulgent cup of their sweet and salty Peanut Butter with Dark Chocolate Crispy Pearls. Goodness. Did I mention I dragged a friend 20 New York blocks one winter while at AWP just so she could experience Pinkberry? Well, that's only a half-truth. It was 23 blocks and I was jonesing for a swirl. Needless to say, this bastion of cultured fro-yo and cultural phenomenon gets a solid A+ in my airport alimentary repertoire.
Other Options
I would be remiss to not mention these other options for dining in Terminal 2, so take note. T2 is small enough that a myriad of shops (Kiehls, Compass Books and an art shop) are within close proximity and easy walking distance.
Cat Cora- small plates (grilled avocado cobb salad!), cocktails and such
Wakaba- noodles, sushi & bento boxes
Andalé- Mexican / Tex-Mex
Burger Joint – Niman Ranch burgers and the usual burger sides
Peet's Coffee- rev up
Vino Volo- for that in-terminal wine-tasting
MOVE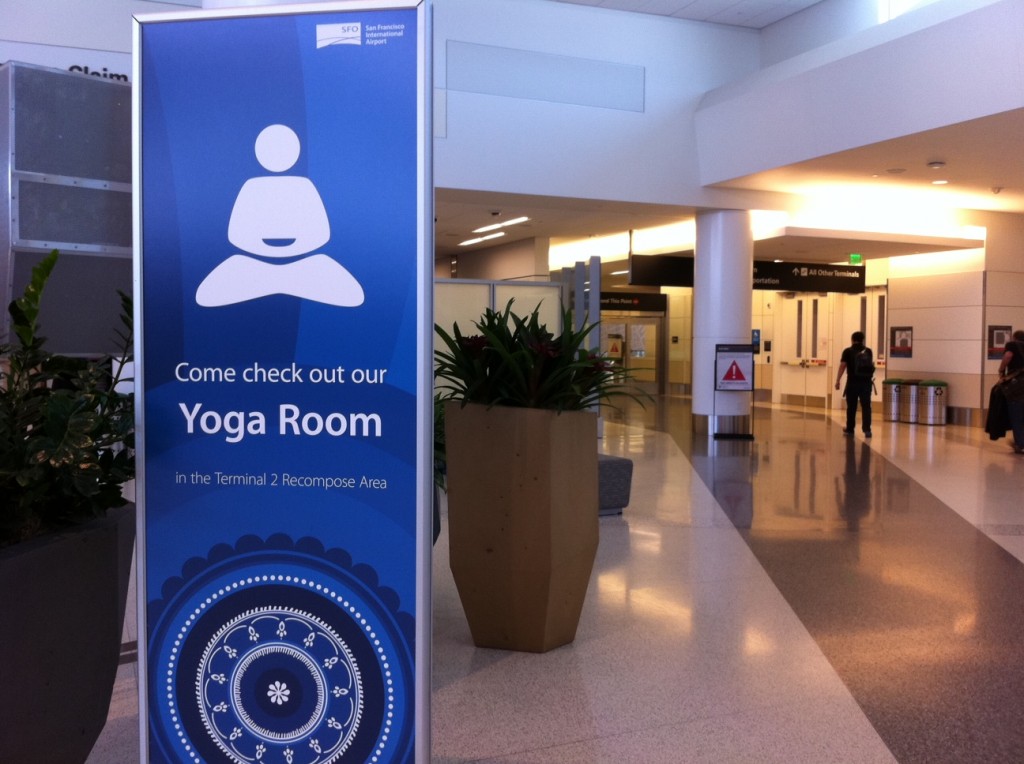 Yoga Room
It's safe to say that a yoga room in the airport should be standard issue. I've been thrilled to see the airport spas popping up around the country and can only imagine this addition to rival what I think could be a popular feature of sleep chairs with masks and headphones to draw in white noise. Until that happens, a Yoga Room will gladly suffice as the next best airport innovation. After all, you've been sitting cooped up like a chicken in the middle seat of an East Coast to West Coast voyage or even made the valiant effort of waking up in the wee hours of the morning to make the trek for the a.m. flight from who knows where in the Bay Area. You deserve a downward dog. And maybe a few sun salutations to open up your chest and shoulders. You might find the Yoga Room a respite in a day of hurrying about or as the antidote to long trips.
So there you have an exploration of SFO Terminal 3 restaurants and SFO Terminal 2 restaurants. Unless I hear differently from you in the comments I don't intend to cover Terminal 1 as I consider it to be in need of an eatery uplift. Quite simply in Terminal 1 you'll find Klein's Deli (sandwiches), Max's (sandwiches & soups), Willow Creek Grill (pizza, burgers and such), Go Bistro (Asian "fusion"), Legends of San Francisco (bar) and a Peet's. Buyer beware and pack your own.
Choose your flight wisely and you'll find your wait at SFO to be a delicious affair.