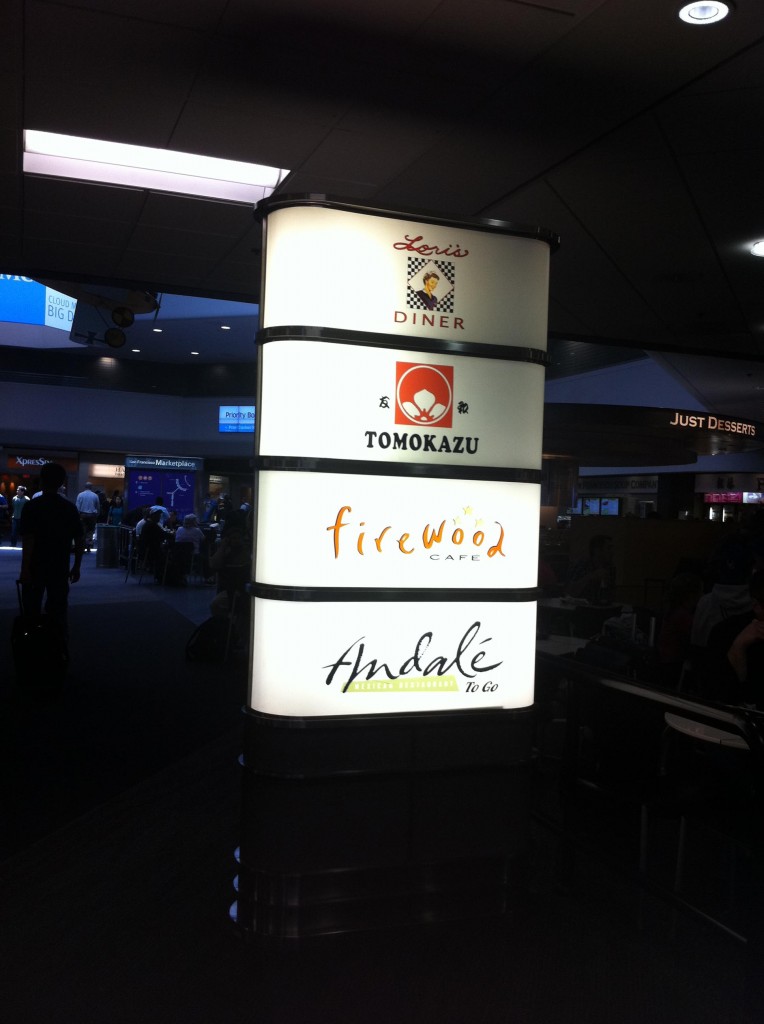 In my former life, I traveled a good bit. George Clooney's character in the movie "In the Air" made me chuckle out of a knowing familiarity. Weaving his way through security, Clooney's finesse resembled a steel ball shot through the shaft of a pinball machine. He coursed his way down the line, depositing toiletries, laptop and shoes with the deft skill of practice. While earning 1K travel is not on my bucket list, I have learned a few tips or two. Today, I'd like to share one with you: book travel by food.
While it may sound ridiculous on the outset, people book flights daily by schedule or cost. Perhaps the layover time factors in too. That layover city and its requisite mealtime it hits hold an opportunity for nourishment. Why spend your layover in an airport with shoddy food offerings after you've passed up the boxed food options in the refreshment cart or the shiny periwinkle bags of peanuts? I could easily number off reasons for choosing MSP over DEN through the simple fact of organic salad at French Meadow, though sadly, last time I checked, the decadent hemp brownies are no longer served in their F and G terminal cafes.
La Vie en Route started as I found myself living my life en route. Some things have changed like swapping the Super Shuttle for the easy and cheaper commute of BART, while others remain unchanged like traveling out of SFO. And while I often now make my lunch or breakfast in advance, tucked in my bag, some days I'm not quite as prepped in advance and pull from my travel food toolkit for SFO.
As luck would have it, I'm typing from one of those charming grey cubicles that's mid-stream of traffic at SFO. It is a haven in the great football field expanse for those that need to plug in. Let's explore SFO Terminal 3 restaurants, shall we?
TERMINAL 3
If you're flying through the United terminal, lucky you. It's not swanky T2 (we'll get to that terminal in a future exploration) and thankfully not T1 (let's hope they address more food options for this veritable airport food desert in the future). In T3, your food choices let you decide from dim sum to pizza, from sourdough bread sandwiches to Mediterranean, quite an airport array of cuisine.
READ
BOOKS INC
Do you like to have a few specimens of reading materials with you on the plane? If you rifled through what you packed and have a West Coast to East Coast flight, you might want to venture over to Books Inc to either pick up another magazine or choose from their pretty impressive in-airport selection. If your flight is going to take you deep into the bowels of Terminal 3, which means you're flying out of gates 76 – 90, make sure to visit this one-stop shop for reading materials. You'll find it conveniently located near the front of the terminal right after you head through security.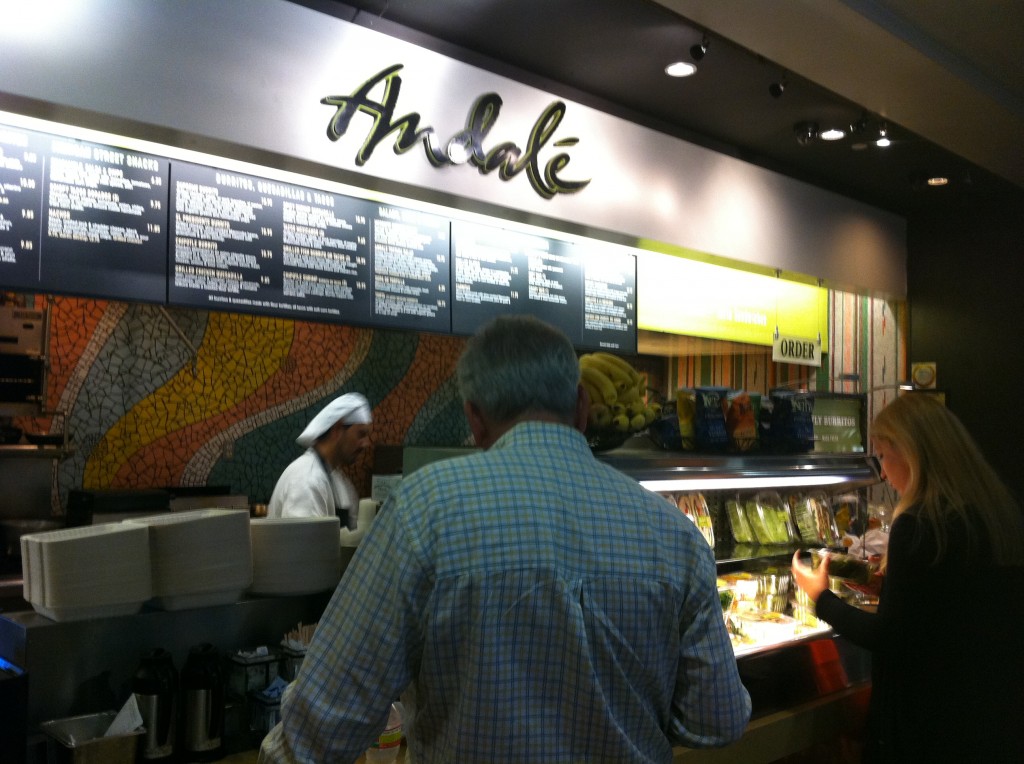 EAT
BREAKFAST
Yankee Pier
You get to the airport early because you want to avoid any last minute delays or snafus. You want someplace where you can relax before you take-off with your substantial appetite. Step into Yankee Pier where a floor length window separates you from the hustle and bustle of fellow travelers before you have to join the throng. The breakfast menu features vegetarian options like the Garden Fresh Vegetable Omelette with Yankee potatoes and toast or the Flat Iron Steak with Eggs for the carnivore. The service is friendly and fast without making you feel rushed.
San Francisco Soup Company
You're running late. Instead of heading for a scone or muffin, make a pit stop at San Francisco Soup for a to-go bowl of steel cut oats. Top it with raisins, chopped nuts and honey from their condiment area before your flight calls your name over the loudspeaker. The cost will not break your carefully planned travel budget either.
Andalé
You've got one long flight ahead of you. Andalé serves up a mean Breakfast Burrito. It lives up to the lore of all things burrito though and is about a pound worth of food rolled into a flour tortilla. If you opt for the burrito, perhaps bring a travel companion to share it with you or make it brunch.
Other Options
Gordon Biersch (breakfast sandwiches of the croissant and egg variety)
Max's the Greek (breakfast sandwiches or bagels)
Guava and Java (egg, cheese and sun-dried grilled panini sandwich)
Boudin (apparently the breakfast sandwich is a bit of a spectacle)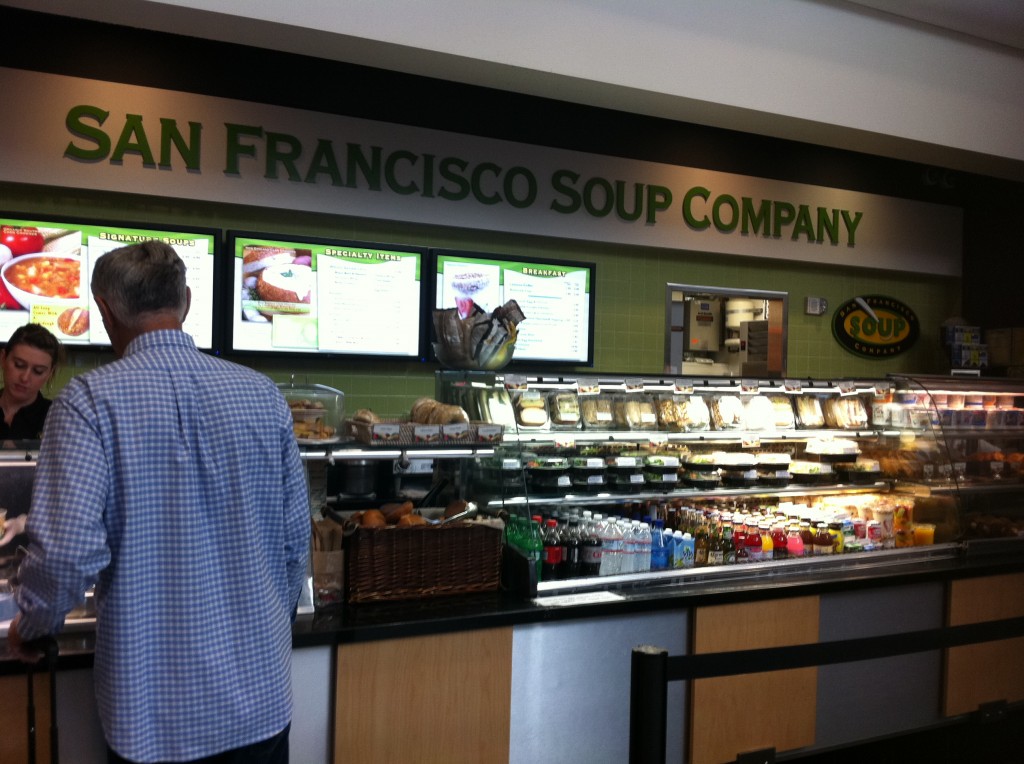 LUNCH & DINNER
San Francisco Soup Company
Soup for supper. San Francisco Soup Company offers two sizes for the moderately hungry and the substantially hungry. Pair a side salad with balsamic vinaigrette and a small soup for an airport home run. This local San Francisco chain features favorites, including Southwest Corn Chowder, Turkey Chili or Chicken Tortilla. If you have food allergies, all of their soups also list special designations.
Firewood Cafe 
If you're jonesing for a pizza, look no further. While you can also find pizza at Willow Creek Grill up the terminal, closer to the security area, Firewood Cafe is a better choice. Their crusts are slightly blistered from their brick ovens and their selection of flavors includes a Mushroom variety with several kinds of 'shrooms. They also have the requisite pasta and side salads available for consumption too.

Other Options
Peet's (for the coffee itch & pre-packed sandwiches)
Max's the Greek (Mediterranean fare)
Andalé (Mexican / Tex-Mex)
Boudin & Yankee Pier (Clam Chowder anyone?)
Anchor Brewing Company & Gordon Biersch (for a frothy glass of beer & pub food)
The Buena Vista Cafe (Irish coffee to warm you?)
Emporio Rulli (coffee run & Italian sandwiches)
Fung Lum (noodles & dim sun)
Lori's Diner (burgers & fries)
Just Desserts (go for the Ultra Chocolate)
Sankaku & Tomokazu (sushi & teriyaki)