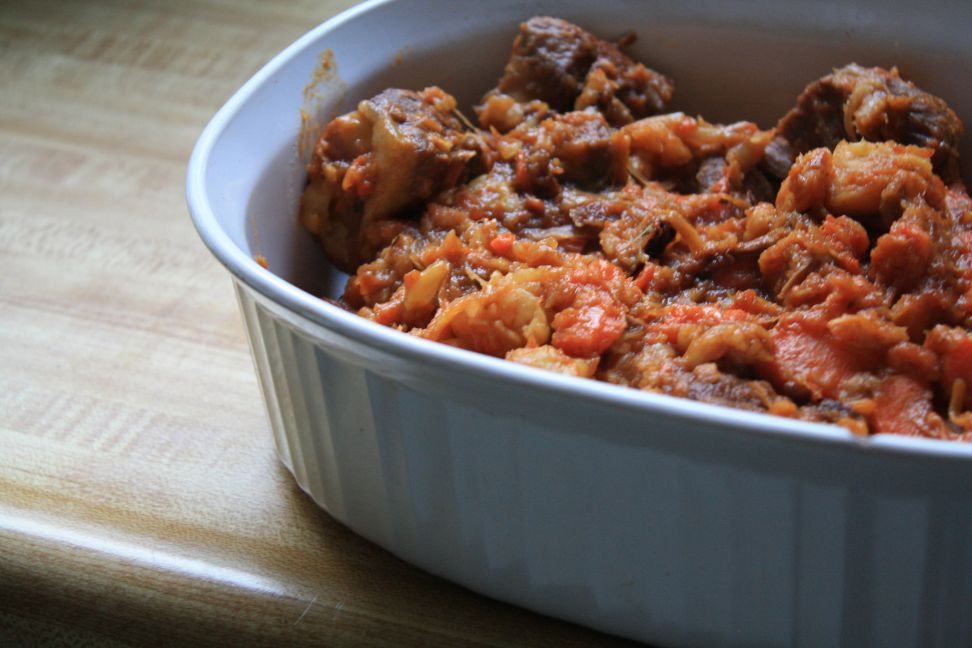 When I get cold in the winter, I go for a walk. Then again, if I want to remain fully endorphin entertained, I go for a walk. If I miss my daily walk, something feels amiss. That said, I'm going to let you in on two secrets. Part of what I anticipate on these daily walks apart from seeing the changing foliage and colorful people that make up San Francisco is a delightful podcast called Eat Feed. A friend introduced me to it and I haven't stopped listening since. If you like your food in the guise of playful information and history as well as succulent interviews with others equally as food passionate, you don't want to miss Eat Feed hosted by the lovely Anne Bramley. The first secret is out of the bag and the second one is probably no secret to many of you.
Your oven probably works as hard as mine does in the winter months. After being inspired by Eat Feed's braising episode, I've toyed with braising combinations in which to continue christening the Le Creuset French Oven, easily our most unexpected wedding gift. We tried our hand at braising beef and more recently concocted this gem of a recipe of Beer Braised Lamb and Leeks. Braising it on the stove top lets me tinker and check in on the process occasionally while it's happening, and I sure do like to tinker. What is so wonderful about braising is that apart from the initial prep work and browning of the meat, you let the method of low and slow cooking do its work while you are left time to do your work and I like meals that let me multi-task, don't you?
For those of you that see the word lamb and get turned off, pull up a seat. This lamb dish is not gamey in the way lamb is sometimes heralded. No, the beer gives a slight nuttiness and wheat-like tinge as an after-taste while the carrots and parsnips provide some sweetness and the celeriac gives a flavor of just enough celery. The melted consistency of the vegetables lend a very sensual element to this rustic dish, they're that soft. If you would like the veggies to retain a bit more of their shape, add them in after the lamb, leeks, spices, beer and stock have cooked for an hour.  Lamb is often over-looked in American kitchens, but it's a staple in ours. We think of it as the other brown meat. So this weekend, when you're thinking about cleaning the house or writing several thank you cards, why not put on a pot of Beer Braised Lamb and Leeks first? You'll tackle dinner, check off a few to do boxes and leftovers for lunch.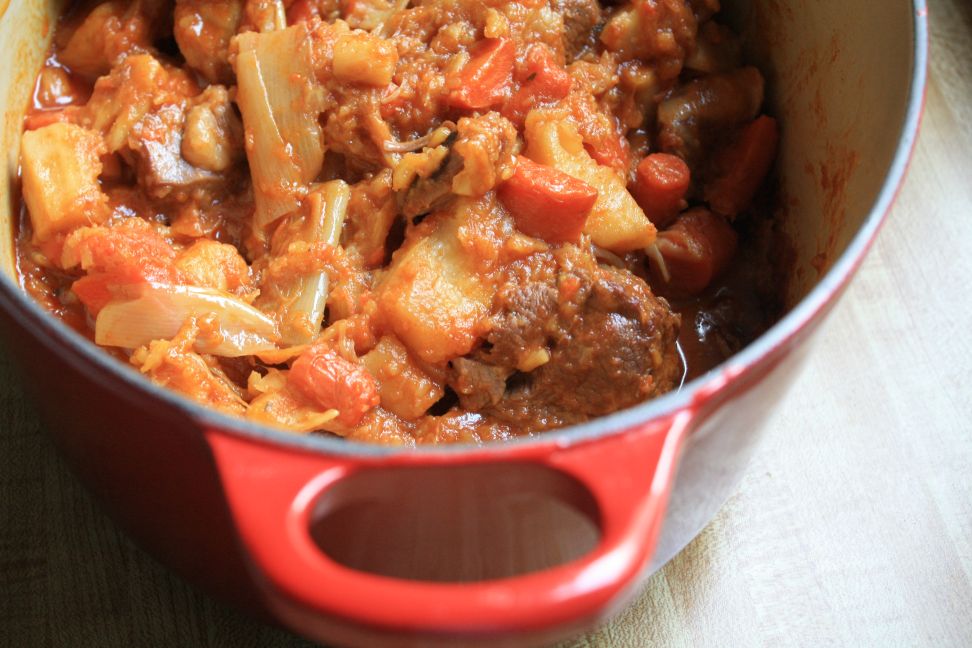 [print_this]
BEER BRAISED LAMB AND LEEKS
YIELD: 6 servings
2 tablespoons olive oil
1 cup Anchor Steam beer
2 leeks
4 carrots
2 parsnips
½ celeriac
1 pound lamb stew meat
2 cups mushroom stock
2 sprigs thyme
2 teaspoons of smoked paprika
salt and pepper to taste
Cut the white portion away from the leek fronds. Cut the white portion in half and rinse under water, taking care to make sure the water has a chance to clean off any dirt in between leaves. Coarsely chop leeks.
With a peeler, remove the skins on the carrots and parsnips. Take a paring knife and begin carefully cutting off the skin of the celeriac. Coarsely chop all the vegetables.
On the stovetop, place the olive oil in a Dutch oven over medium heat. Brown the leeks for 2 minutes. Remove them and place in a bowl. Set aside.
In the French oven, brown the lamb, turning the chunks so that all sides have a chance to get browned. Once browned, pour in the beer, mushroom stock. leeks and spices. Add salt and pepper to taste. Stir until combined and then add in the carrots, celeriac and parsnip chunks. Turn the heat to low.
Cover the French oven and let simmer for two hours. Check on the meat and stir the pot occasionally to make sure nothing is sticking to the bottom of the pot.
[/print_this]