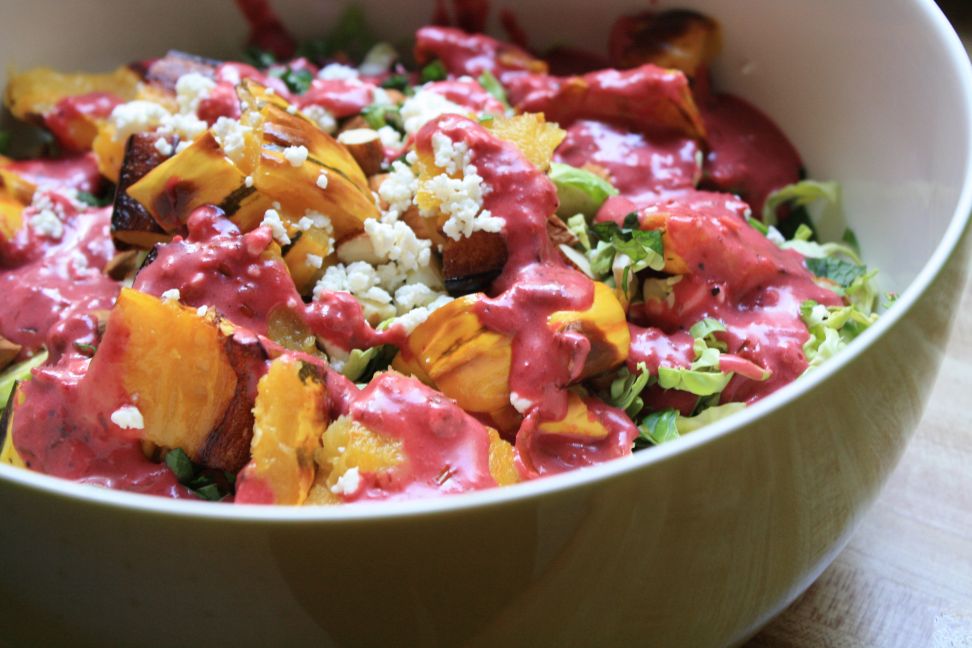 This salad combines the best seasonal flavors of Brussels sprouts, delicata squash and cranberries to infuse texture and color into the winter doldrums.
After a false start when I was a child, I developed a surly attitude toward Brussels sprouts.  A few years ago, under the tutelage of Stacey and Lisa, I tried them again, roasted and crisped in olive oil and sea salt and found them to be a revelation. Later my interest only deepened when Chris, then at SPQR, sent out their ridiculously good roasted Brussels sprouts. I had found my way back into Brussels sprouts. If you haven't tried them raw, they're like tiny heads of cabbage.
This year could easily be summed up as the year of the coming of the delicata. I've been courting the delicata squash for weeks. This squash with its edible thin skin has a flavor profile that's a bit milder than kabocha but just as complex. It can veer toward the savory or the sweet. Honestly, delicata squash is so good roasted in a little olive oil that it's quite easy to eat up as squash rings after they've cooled.
Enter the third player, cranberries and we have a trifecta that really makes up a special salad. My affection for cranberries runs deep and I get excited once I begin seeing those bright red berries in produce departments. Usually, all we see of them during their brief seasonal stint is baked into sweets or as a condiment with turkey. I wanted to try something savory. The dressing is mildly sweet and the feta gives it a bit of creaminess.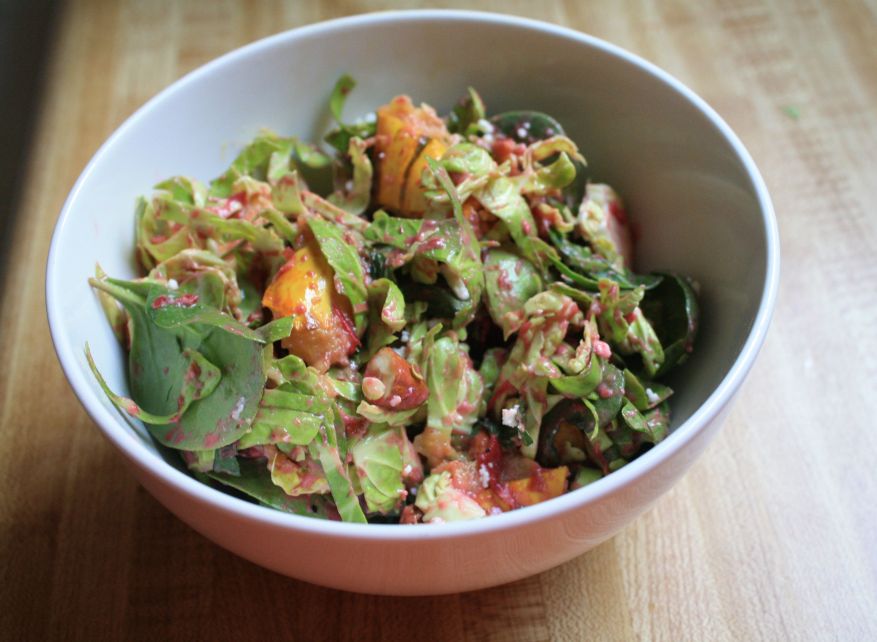 [print_this]
SHAVED BRUSSELS SPROUTS SALAD WITH WARM CRANBERRY DRESSING
YIELD: 6 side salads or 3 entree-sized salads
SALAD
15 medium Brussels Sprouts, washed
2 cups spinach leaves, rinsed and pat dry
1/4 cup almonds, chopped
1/4 cup feta
2 tablespoons fresh mint, minced
1 teaspoon extra virgin olive oil
1 delicata squash, seeded and halved
DRESSING
1/2 stalk leek, rinsed and sliced (3 tablespoons sliced)
1/4 cup fresh cranberries, rinsed
2 tablespoons extra virgin olive oil
1 tablespoon lemon juice
2 teaspoons raw honey
1 tablespoon feta
2 tablespoons cranberry juice concentrate
1. Preheat oven to 425 degrees F.
2. Slice Brussels sprouts thinly and chop off the bottom of each Brussels sprout. Place in a large bowl over the spinach leaves and set aside.
3. Take the delicata squash and scoop out the seeds. Brush the teaspoon of olive oil onto both sides of the delicata squash.  When the oven is at 425, place it, skin side up on a pan and into the oven for about 30 minutes or until skin begins to brown or is fork tender.
4. Meanwhile, toast chopped almonds by placing in a small saute pan over low heat and jostle the almonds in the pan for a few minutes or until toasted.
5. Remove almonds by placing them into a bowl and set them aside.
6. In the small saute pan, pour the 2 tablespoons of olive oil. Then over medium heat, saute the leeks until they begin to turn pale golden. Add cranberries to the saute pan and stir the cranberries around for about a minute or until they slightly pop.
7. Spoon cranberry leek mixture into a blender along with lemon juice, honey, cranberry juice, 1 tablespoon of feta. Add salt and pepper to taste. Pulse until smooth.
8. Let squash cool. Slice into half rings and then into chunks. Drop the delicata squash chunks over the shaved Brussels sprouts along with the now cooled toasted almonds, 1/4 cup of the feta and mint. Drizzle the cranberry dressing over the salad and toss right before serving.
[/print_this]