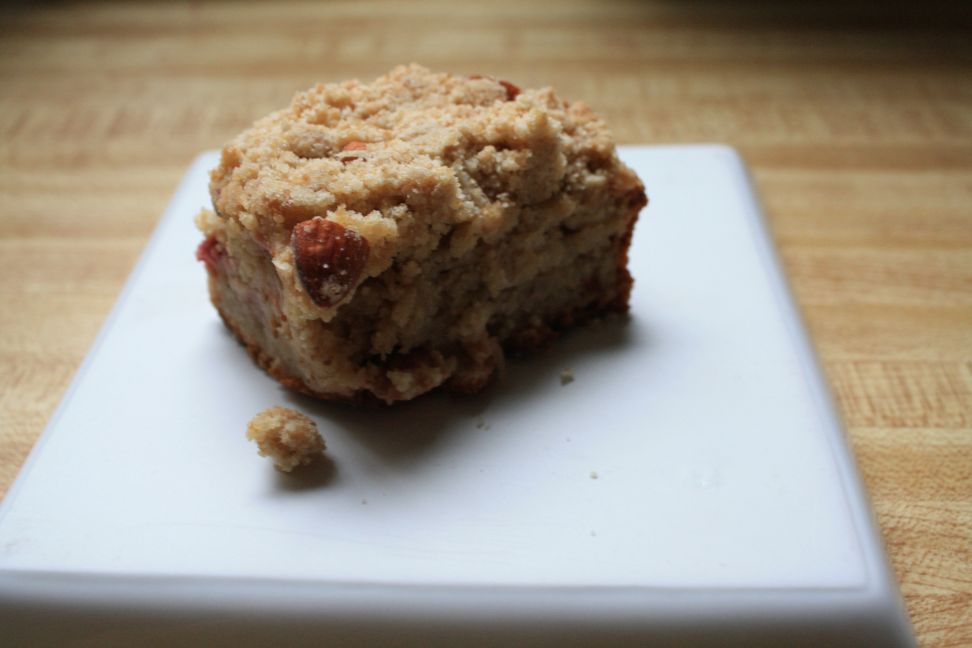 I know, I know. One more last minute idea to throw a wrench into a Christmas menu. Not exactly. This spruced up crumb cake is a treat to bake up after the weekend's festivities. The colors point back to a not-so-distant holiday while the ingredients point to the new year and those resolutions that somehow get recycled as if on repeat.
Initially I envisioned this as a muffin but then really searched deep in my soul and discovered that I think muffins are an excuse to eat cupcakes at breakfast. (I said it aloud and lightning has not struck me yet!)  Essentially, this is true, though my way of positing it might sound a bit extreme.  Hear me say this to you frankly, not like a gaggle of friends hovering in the other room waiting to jump out and yell, "surprise!" Let's just eat cake as cake and leave the muffins for the birds, (but remember to tear the muffins in small enough bits). I'm not even about to suggest a cake that is cloyingly sweet- you've had plenty of treats this season, friends, that would convince you to go that route.
Instead, let's save breakfast for the warmer and more filling repast of a good bowl of steel cut oats that will keep you going until lunch. And while we're at it, let's make this as chock full of almonds as we can stand it and then add in amaranth flour to continue pushing the quota of nuttiness. Those tantalizingly tart cranberries will thank you for it.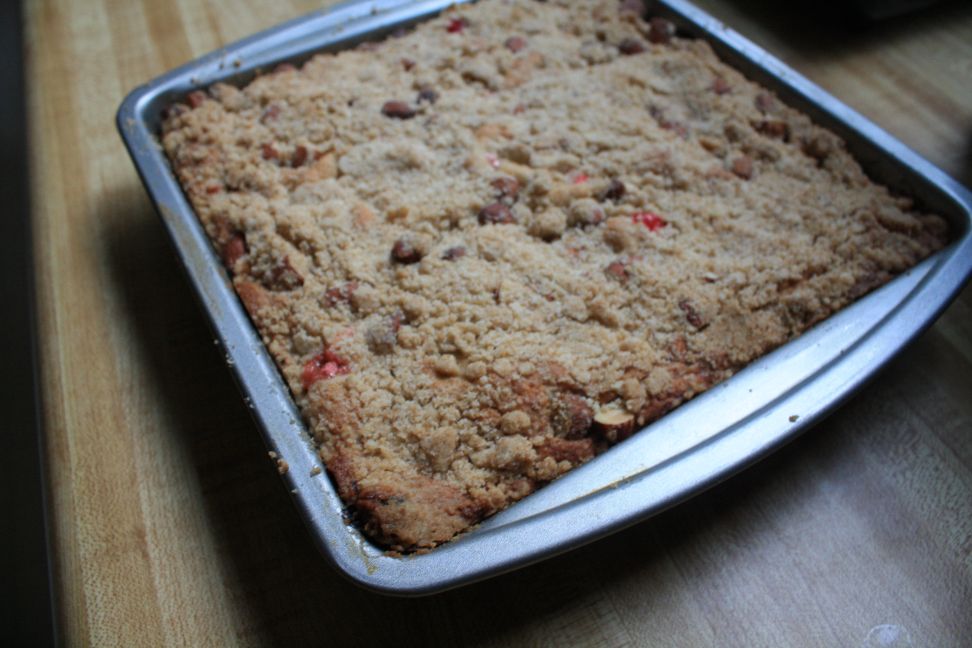 [print_this]
WHITE CRANBERRY ALMOND AMARANTH CRUMB CAKE
Adapted from Family Fun
CRUMB TOPPING
1/4 cup almonds, chopped
1/2 cup flour
2 tablespoons maple sugar
2 tablespoons light brown sugar
1/4 teaspoon baking powder
Pinch of salt
2 1/2 tablespoons butter, melted
CAKE
1 cup flour
½ cup almond meal
½ cup amaranth flour
¼ cup light brown sugar plus 1 ½ tablespoon brown sugar
¼ cup maple sugar
2 teaspoons baking powder
1/2 teaspoon baking soda
Pinch of salt
1 cup plain low-fat yogurt
1 egg, lightly beaten
1/2 cup unsalted butter, melted and cooled
2 cups fresh or frozen white cranberries
Heat the oven to 425º. Grease a 9×9 pan. In a small pan, melt 2 ½ tablespoons butter for the crumb topping. Pour into a bowl and let it cool. In the same pan, melt ½ cup butter and set aside for use in making the cake.
Begin by making the crumb topping and toast your chopped almonds in small pan on stovetop for a few minutes over low heat or in toaster oven. Mix together the flour, maple sugar, light brown sugar, baking powder and salt. Add the melted butter and toasted almonds when cool. Stir. With your hands, pinch ingredients together to create clumps of crumb topping. Set aside.
In a medium bowl pour almond meal. Then sift the amaranth flour, flour, baking soda, and baking powder into the bowl on top of the almond meal. Stir in the ¼ cup light brown sugar and maple sugar. In a large bowl whisk together the yogurt, egg and melted butter. Stir together. Slowly start stirring in the flour mixture until combined. In a separate bowl, bring together the white cranberries with the extra 1 ½ tablespoon of brown sugar until somewhat coated and then stir into the batter.
Scoop batter into the pan and even out the distribution of batter to all four corners of pan. Then spoon on the crumb topping onto the batter, taking care to press down onto the batter slightly, as you want the crumb topping to stick. Bake for 50 minutes or until a toothpick comes out clean when inserted into the middle of the cake.
SERVING SUGGESTIONS: Serve warm if possible. And let me just say this would taste dynamite with a small scoop of vanilla ice cream if you want to go all out with decadence or hear me out on this other serving suggestion. Serve it with a dollop of plain Greek yogurt with a smidge of brown sugar or maple syrup mixed in. You'll still get that dairy decadence without all of the sugar.
[/print_this]