In a neighborhood market, a giant flat screen TV played play-off games and then world series games for local shoppers to keep tabs on their hometown team. During a recent shopping trip, the checker invited me to sit down and watch an inning. So I did. She proceeded to explain that she didn't understand baseball but wanted to.
Down the street, one bar after another was packed wall to wall with people clad in orange and black. And even in a bookstore known for its quiet atmosphere, the pallor was ghostly as the usually packed aisles were empty and the dulcet tones of Johnny Miller called plays overhead.
Don't get me started about the neighborhood restaurant that rented speakers to boom games against the Reds out onto the sidewalk. I stood there, along with US Postal workers taking their breaks watching the close game and gritting their teeth. We wandered further inside and clung to the back wall with a fray of others not imbibing or eating, just watching the torture unfold. And then, just like that, the Giants won. Strangers exchanged high fives and hollers.
One particular afternoon, happy that two of my favorite clothing colors include burnt orange and black, I yelled into the opening mouths of buses at their bus stops, "Let's go Giants" to the bus drivers. They would honk the horn, shoot the peace signal or hit the air with a fist bump.
And this, friends, is what made this year's World Series and play-offs all the more exquisite. The game brought people together under a shared cause and regardless of socioeconomic circumstances or even knowledge of the game (Panda who?), San Francisco rallied behind a team where each player played a role and no one person swept the series.
Whether it was Hunter Pence with his inspirational pre-game talks and homers or Pablo Sandoval scoring multiple runs in a single game, we cheered on our team. Tweets built the enthusiasm coining "MVPosey", sharing Vogelsong's story, seeing Zito come alive, Timmy make it happen or touting Romo's latest strike-outs. And what about Pagan, Scutaro, Theriot, Baby Giraffe or Wolverine? Each player worked hard and kept going until the jubilant end. And former closer, Brian Wilson? While confined to the dugout due to an injury, well, he played piano on the other players' caps.
Everyone shared this victory. Their teamwork paid off.
Tonight, fireworks, throngs of people and even the absurdity of trash can fires demonstrated the kinetic energy of a city so excited at a team of misfits bringing the magic to the forefront of a series where the underdog prevailed. Together, we are Giant.
And with that, I thought it might be nice to recount recipes inspired by fandom or photos from our last world series win two years ago. So enjoy, preferably with a glass of bubbly.
RECIPES
Inspired by the San Francisco Giants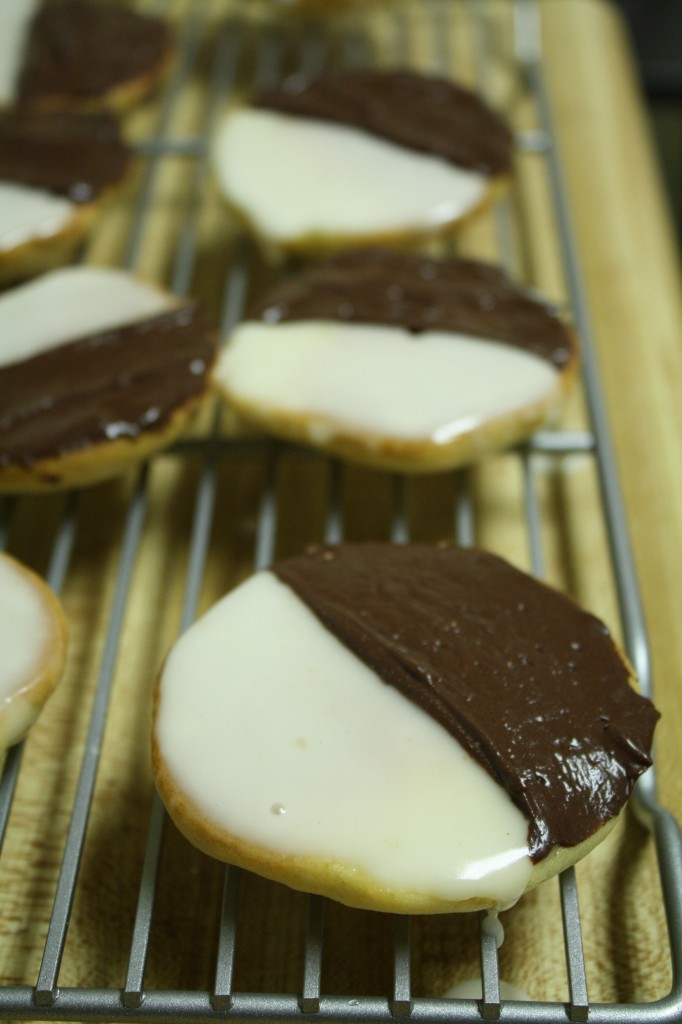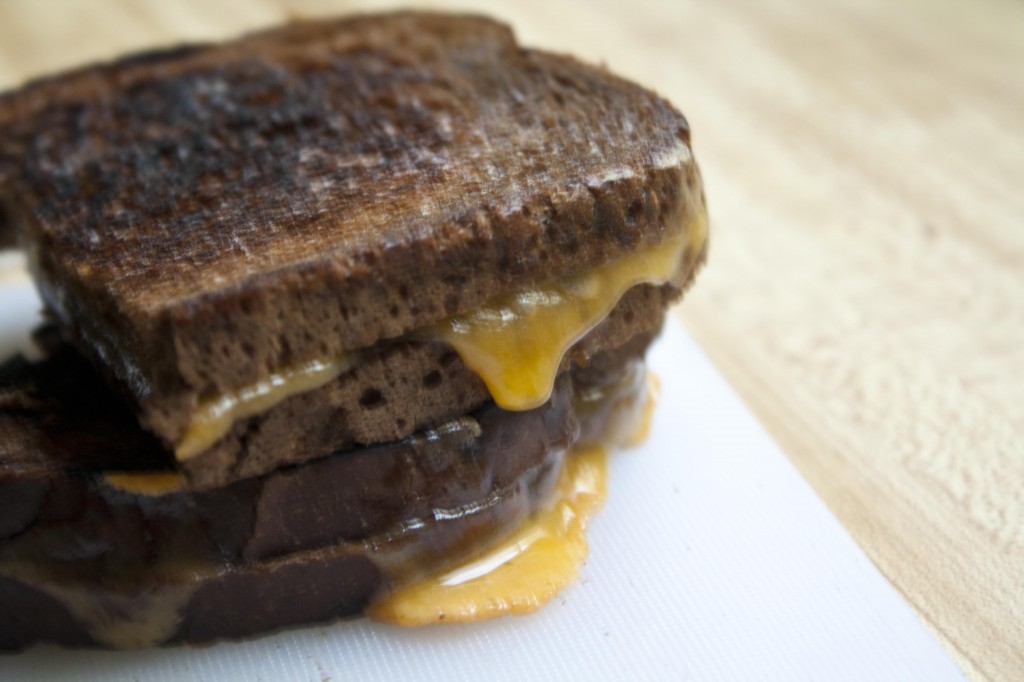 Dark Rye Grilled Cheese Sandwiches with Rubbed Garlic
PHOTOS
World Series Parade 2010
(Or when I devolved into a schoolgirl squealing at seeing former Journey frontman Steve Perry).
Click here for full story and 2010 parade recap.
Bruce Bochy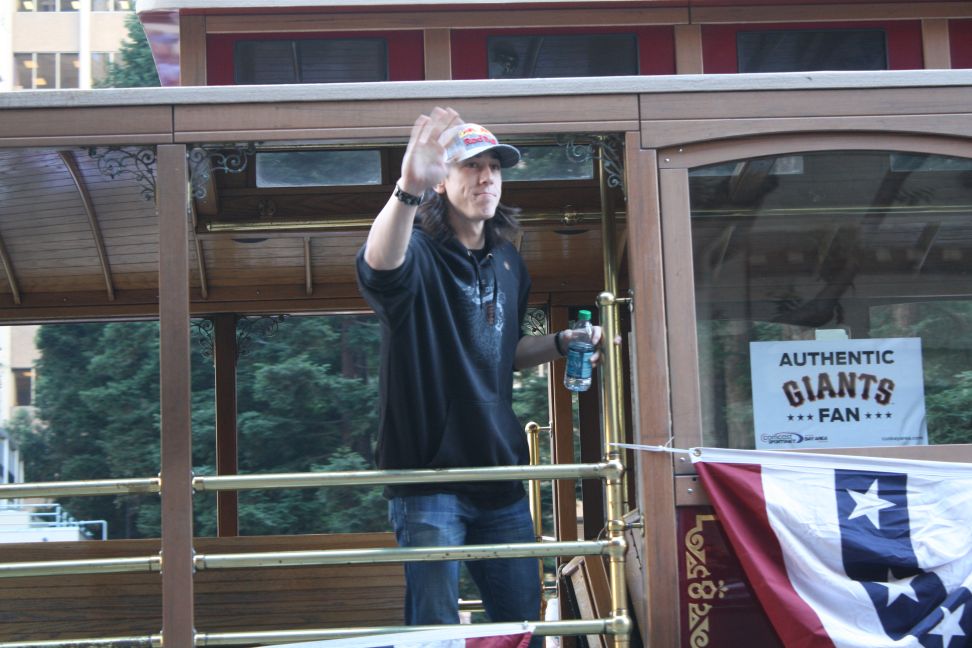 Tim Lincecum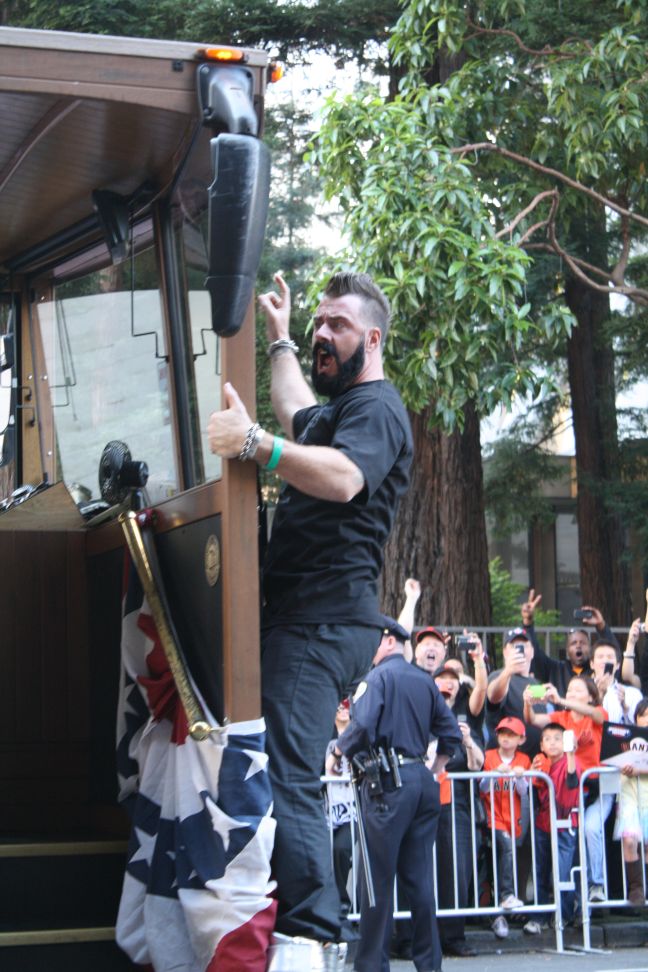 Brian Wilson
And finally, what would that 2010 World Series parade have been without Steve Perry?