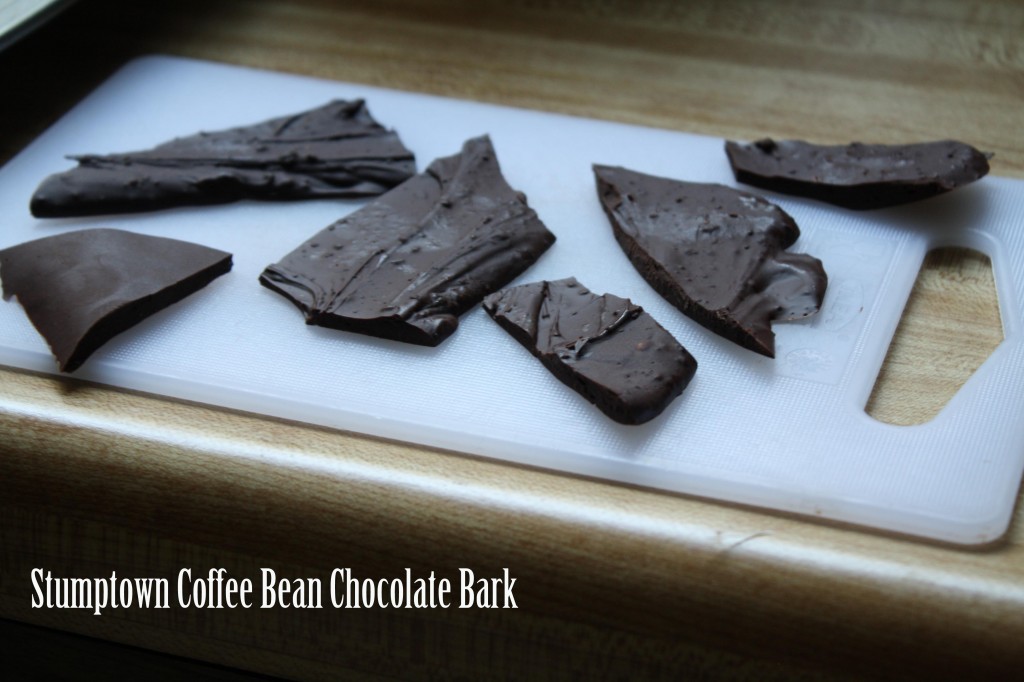 It's not often I'm met at the airport with an offering of chocolate. Usually, airport pickups include bottles of water to rehydrate and embraces to welcome me home. On this particular occasion, though, we had just shut the doors when a half-eaten bar of chocolate came out followed with encouragements to break off a chunk. I obliged. Lodged by my tongue against the roof of my mouth, the chocolate began melting onto said tongue with overt notes of espresso. The evening already had enshrouded us in darkness and I considered the consequence of this caffeinated welcome home carefully, crunching the slivers of ground coffee bean into oblivion and breaking off another square.
Adulthood brings its own chest of choices from which to set out discovering the world. If you think about trick or treating and the parade of young bumblebees or tiny swashbuckling pirates toting plastic orange jack o'lanterns, it becomes clear that Halloween is a holiday for children and funded by the American candy industry. Perhaps the dentists have a hand in all of that sugar-laden revelry too.
Halloween is not my holiday though. Somehow, our door is not darkened by little bats or the occasional princess bedecked in sparkly tiara and shimmery dress. Last year, I made a concerted effort to get home early, turn on the outside light and even pick up two bags of candy with the intention of finding an orange pumpkin for each snack size bar. To my chagrin, the doorbell did not ring. Upon further exploration, all those little goblins and spider-men seemed to be led by mini van or parents playing neighborhood docent across the street. Sigh.
Not one to admit defeat in the face of a challenge,  I took to the streets with my bags of candy and stationed myself as a sentinel of sweets at the entrance of our home, waiting for passersby. My tack changed. Instead of targeting children with pillowcases bulging with cheap treats, I began regaling passing adults."Trick or treat," I chimed as I held out plastic wrapped candy bars to surprised expressions. My new trick had found its footing and I slowly worked my way through the bags and got a chance to chat with neighborhood locals. Halloween suggested itself as an opportunity for community engagement in the most unlikely of guises: a worker passing out candy to other workers.
It bothers me to consider my hand in helping an overly active candy industry with its sometimes staggeringly long ingredient lists or suspect ingredients. If I was to consider what is a real treat to adults, I would venture to say we are not the easy sell, especially in San Francisco with its incredible panorama of specialty foods and ingredients to make your own fill-in-the-blank. Unlike children, once we get a chance to make our own choices, the world opens before us.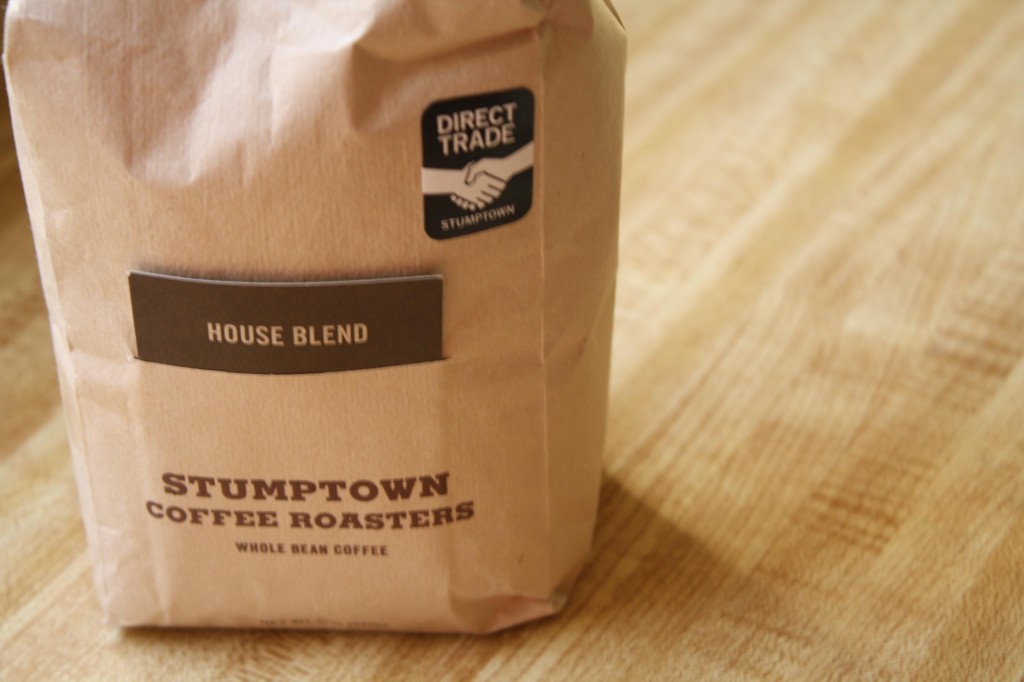 I started a tradition of bringing home locally roasted coffee beans to my favorite coffee drinker. It has since become a delicious souvenir of a place visited that we both can enjoy. In the spirit of Halloween, of loving an avid coffee drinker and a surprising new passion for a place "where the 90s is still alive", I knew I wanted to make chocolate bark as soon as I smelled the Stumptown Coffee Beans before nudging it into an over-crowded carry-on bag. The House Blend aroma already hinted at chocolate and berries. It begged to be paired with chocolate once unpacked from visiting Stumptown proper.
Somehow, the mythology of Portland tainted me long before I had ever stepped onto its streets. Armed with stories of local music club touring and asides from food magazines praising the food and drink scene, I harbored a suspicion of already liking a city I had not personally met yet.
Somehow, I kept expecting to run into Fred Armisen and Carrie Brownstein to no avail.  Perhaps among the legion of bicyclists, I would hear the rant of a cyclist bemoaning bicycle rights, also to no avail. No Kyle McLachlan mayor playing the bass in a reggae band and shirking his mayoral duties. No superfluous birds affixed to handmade goods for sale. No jars of unexpected foods to be pickled.
Instead, we wound our way through the downtown streets at ridiculously early hours. Running over one bridge and then back on another, we found ourselves marking our routes by bakeries visited. On our way weaving through cataracts of Chinatown, we passed a line of homeless folks waiting for a mission to open. We wended our way to Voodoo doughnuts if only to take in the spectacle of flavors, color and clash of sound emanating from the small storefront.
At the end of our run, though, the thing that kept propelling me forward was a single paper cup with a heart of stretched milk and espresso drawn by the lip of a pitcher. Yes, there would be foam of silky texture gathered in the corners of my mouth for my tongue to wipe away. There might be a game of deducing the different notes in the coffee and finding such a smooth cup of joe actually shushing me.
This bastion of locally roasted coffee beans and its soundtrack of Willie Nelson crooning to the few Portlanders winking into the coffeehouse stood out as a top ten moments of 2012 morning. A bag of beans in hand, we started our way back to the hotel as the city began waking up. Somehow, I felt myself the better for the experience- running with Char into unfamiliar terrain and finding it familiar, friendly with countless places yet to discover on foot.
Now, when the kiddies run amok on the sidewalks of a city devoted to a holiday of misfits and mischief-making, a holiday wearing the colors of our World Series winners (!), the  SF Giants, I offer a treat just for adults.The requirements are few because from worker to worker, we are busy bees.
If you can't get your hands on Stumptown coffee beans, which I'm glad to announce are now available at Rainbow Grocery or Bi-Rite, try using local Blue Bottle or Four Barrel beans, just make sure you pick a medium or dark roast to stand up to  dark chocolate. And maybe after you've made a batch of bark, after those little trick-of-treaters have collapsed from sugar overload, pinch off a corner to enjoy as a nighttime indulgence of caffeinated proportions.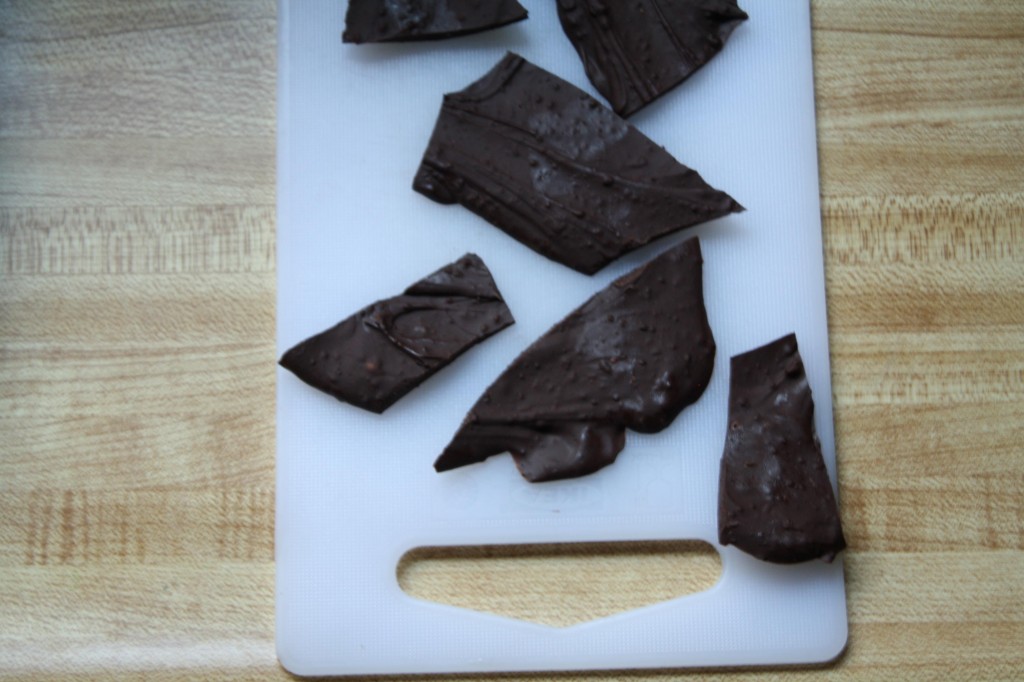 [print_this]
STUMPTOWN COFFEEN BEAN CHOCOLATE BARK
This is a two-ingredient recipe. Use high quality chocolate to pair with the high quality beans. See note below recipe for other alternatives. Also, keep refrigerated.
YIELD: Enough to share with officemates, spouses, neighbors, the nice checker at the local mini-mart, friends you haven't seen in a gazillion years, fellow San Francisco Giants fans grabbing their square of pavement for the parade on Wednesday or  teachers. Especially teachers.
2 cups Extra Dark Chocolate Chips
2 cups Semisweet Chocolate Chips
¼ cup Stumptown Whole Coffee Beans
4 cups water
– Pour coffee beans into a grinder and grind until almost fine. This allows for a bit more coarseness in the coffee beans for textural interest.
– Pour water into a heavy pot and set over medium heat. In a double boiler, pour in chocolate chips. Set double boiler over heavy pot.
– Ready a roasting pan with a sheet of parchment paper.
– Stir the chocolate chips as they begin melting and continuing stirring them until smooth. Remove from heat.
– Stir ground coffee beans into the smooth chocolate until well integrated. Spoon the chocolate coffee mixture onto the parchment paper, taking care to work it into the corners and try to maintain level surface.
– Place in the refrigerator for 3 hours or longer. Then break into chunks or chop with a heavy knife into the size pieces of your choice.
N O T E:
Beyond eating the bark on its own, there are several ways you could use it:
– CHOCOLATE CHIP COOKIES – Chop the bark into smaller pieces and use them as a mix-in for cookie dough instead of chocolate chip to give an unexpected espresso flavor to cookies that may just look like your standard chocolate chip variety.
– TRAIL MIX – Break bark into smaller chunks and stir into a trail mix of raisins, dried cranberries, and pecans.  Like the idea of a Hazelnut Mocha? Swap in dried apricots and roasted hazelnuts as your fruits and nut combination.
– MAST BROTHERS – On a recent trip to New York, I actually found that Mast Brothers makes a Stumptown Coffee chocolate bar. Let it be known that picking up one of these bars (see below for a peek) as a souvenir is as welcome as a pound of beans.
[/print_this]