art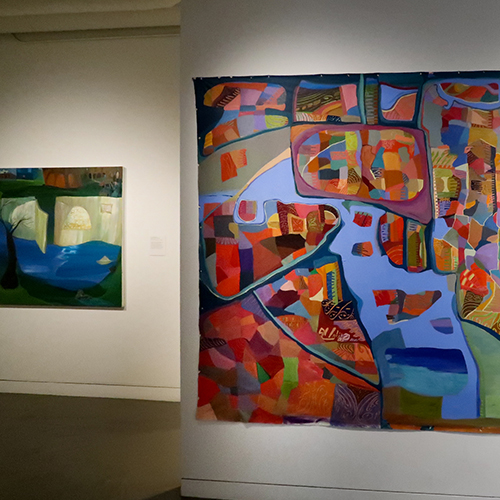 I first learned about artist Ficre Ghebreyesus after he died at the too young age of 50. His wife, poet, Elizabeth Alexander penned a memoir called Light of the World and painted such a picture of her husband that I needed to see more of his art. I've written about Alexander's memoir and there's a painting on the cover of a boat (a recurring theme) painted in jazzy blue and coral stripes. The colors and the composition depict stillness coupled with an energy and movement that compelled me to search for more. Google did not lead me astray. The images it pulled up were vibrant, some like a veritable patchwork that might have seemed too busy in any other hands, but in his, it all just worked. In the way that some art moves us and we can't quite reason the whole why, his art spoke to me of joy and peace.
Continue Reading
Poetry curated. Believing poetry can change the world, the intention here is to introduce and discuss compelling poems. My desire is to invoke a sense of longing in you to find a poem and a poet whose work speaks to your soul. When it happens, it can set your skin ablaze. In a good way.
Continue Reading
In college, I discovered that many things in life are free. Then again came the reality that a whole heck of a lot of things aren't. Sometime during my sophomore year, I stumbled upon a delicious secret. It kept my weekend evenings regularly packed. It kept me well versed and amused at the theater. I volunteered as an usher. By signing up in advance, taking tickets and pointing paid ticketholders to their seats, I received free entry. As the lights would go down, I would find a nook at the back of the auditorium to watch the play or musical performance. Many good nights were spent in the three theaters on campus.
Continue Reading
Last Sunday, the sound of rain pelting the window pane woke me up. Plans to lead a walk along the Golden Gate bridge were definitely off. One of my favorite past times and excuses to love rainy weather is the opportunity to ensconce myself in a museum. Two photography exhibits proved to entice me to visit the MOMA. New friends, Elina and Carolyn accompanied.
Continue Reading
For Halloween, as my friend Bryan walked to church, I yelled at him across the street, gesticulating wildly and told him about the afternoon planned. A happy captive, he joined me as we set out for the Hunter's Point artist colony open house and an afternoon of stepping in and out of people's subconscious. Art shows what is important to the person, like the subject matter that keeps a poet writing different lines about the same thing.
Continue Reading
"The artist is the antennae of the race." (pound)
"You must love your crooked neighbor with a crooked heart." (auden)
"You don't choose to be an artist, the art chooses you." (gioia)
"Poetry is a way of remembering what it would impoverish us to forget." (frost)
"Art is the light by which human things can be mended." (murdoch)
Continue Reading