For the true foodie, New Orleans is not to be missed. Sure, you can take a day trip and go visit nearby plantations or a swamp tour to catch sight of alligators. People who like antiquing will find themselves blissfully surrounded by gems and relics. Heck, I even found an incredible garnet pendant that spoke old world with new world prices during my last foray though it was not meant to be. Walking the French Quarter, taking a street car through the Garden District, even visiting the historical cemeteries and walking tours are all great ways to pass the time. Sneak in a music show at Preservation Hall while you're at it and sip a Hurricane or Mint Julep at Pat O'Brien's for more traditional ways to enjoy this classic grand dame of a city.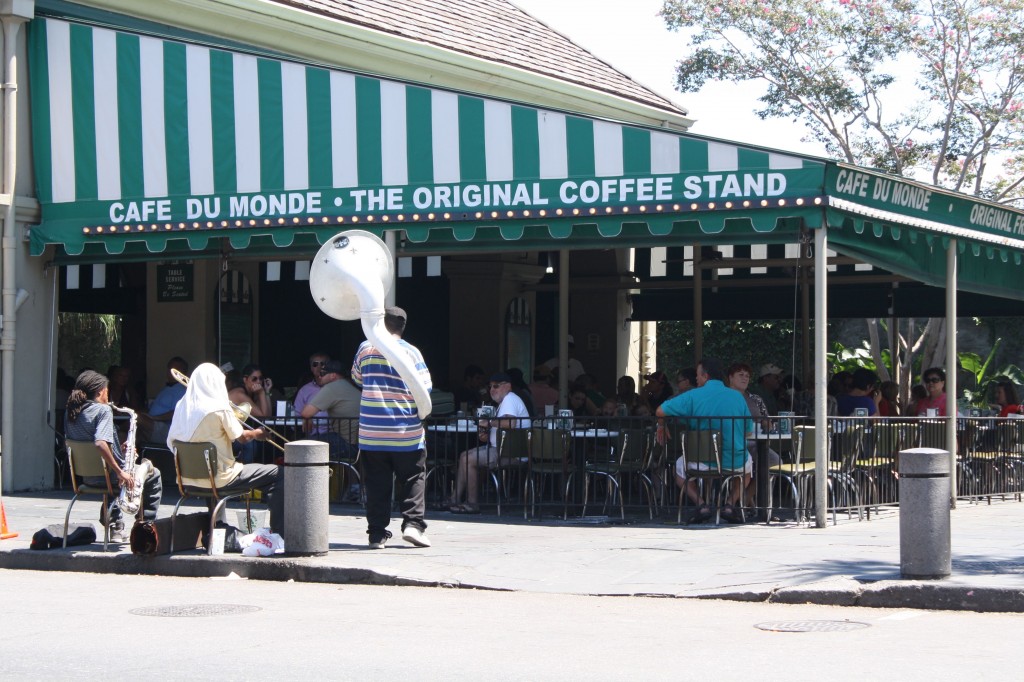 Or stroll down Pirate's Alley and order up some early morning beignets and cafe au lait at Cafe du Monde– the fried dough drenched in confectioner's sugar, the coffee bitter and strong. While I was in town, it seemed like all roads led to Cochon, but knowing that I was pretty much trying to avoid the le cochon (the pig), I decided against it and went with a few standards and a few new to me restaurants. As this is not a restaurant review per se, think of this as spending a weekend with me in New Orleans, doing what I believe this city applauds… eating your way through it.

Muriel's
On Jackson Square Park, right off of Chartres is the charming restaurant that is Muriel's. Recommended originally by a friend from Baton Rouge as the place they go when in New Orleans, it's become a main-stay in my restaurant list. This might be due to the quaint decor of old plates on the walls and chandeliers hanging from the ceiling. It might be the notion of several people attending you, but there is a definite sense of being in someone's home. I ordered the Shrimp Remoulade, a traditional favorite of mine that they served with shredded boiled egg that played well paired with the savory Gulf Coast shrimp, cool crispy greens and spiced remoulade sauce.  Piquant and refreshing. Next came the Pecan Crusted Puppy Drum. The fish rested atop wilted greens smattered with roasted pecans and Louisiana crab meat with the edges of the plate enrobed in a lemony butter sauce. Dessert came next- a black bottom butterscotch pudding with mini praline oreos. Of the entire meal, you might hear me oohing and aahing over the shrimp remoulade. Muriels also has gluten free options too. This meal reminded me of talking with a friend you see infrequently.
August
Chef John Besh circulated around this eponymous restaurant at the end of my meal. I don't usually start with the end first, but this point needs to be underscored. Seeing a celebrity chef come out of the kitchen in their chef whites these days is a real treat, as many chefs seem to be leaving the kitchen behind for other opportunities. My experience at August was superb from start to finish. The dining room consists of crystal chandeliers and brick walls with tables outlaid in white tablecloths. This is the kind of restaurant for celebrations or swanky business lunches as happened near my table. The staff is friendly, knowledgeable and attentive without being overbearing. I started off with an amuse bouche of a seafood custard served in an eggshell cup topped with roe for a creamy, delectable two bite precursor. The organic green salad description intrigued me as it boasted a pumpkin seed brittle, Pt. Reyes blue cheese and pumpkin seed oil vinaigrette. The presentation of the salad was striking and it was fun to break the brittle with my fork, just like it's fun to break the crust of creme brulee. Then onto the day's special appetizer of Maque Choux. Oh. my. goodness. This might be the best bite put into my mouth in New Orleans on this trip or any previous trip. While this might sound dramatic, the flavors of the maque choux were complex and nuanced, the textures varied. Farro kernels mingled with chopped baby corn and edible flowers. Two jumbo Gulf shrimp lay atop and this "appetizer" portion was perfect for lunch. At this point, I knew dessert was on the menu and feasted on a Celeste Fig and Almond tart paired with bourbon ice cream. The tart came to the table warm and inviting. I relished each bite along with a lively conversation with Matthew in the wait staff and the front-of-house manager. If you're in Nola and looking for fine dining, August was mighty fine indeed.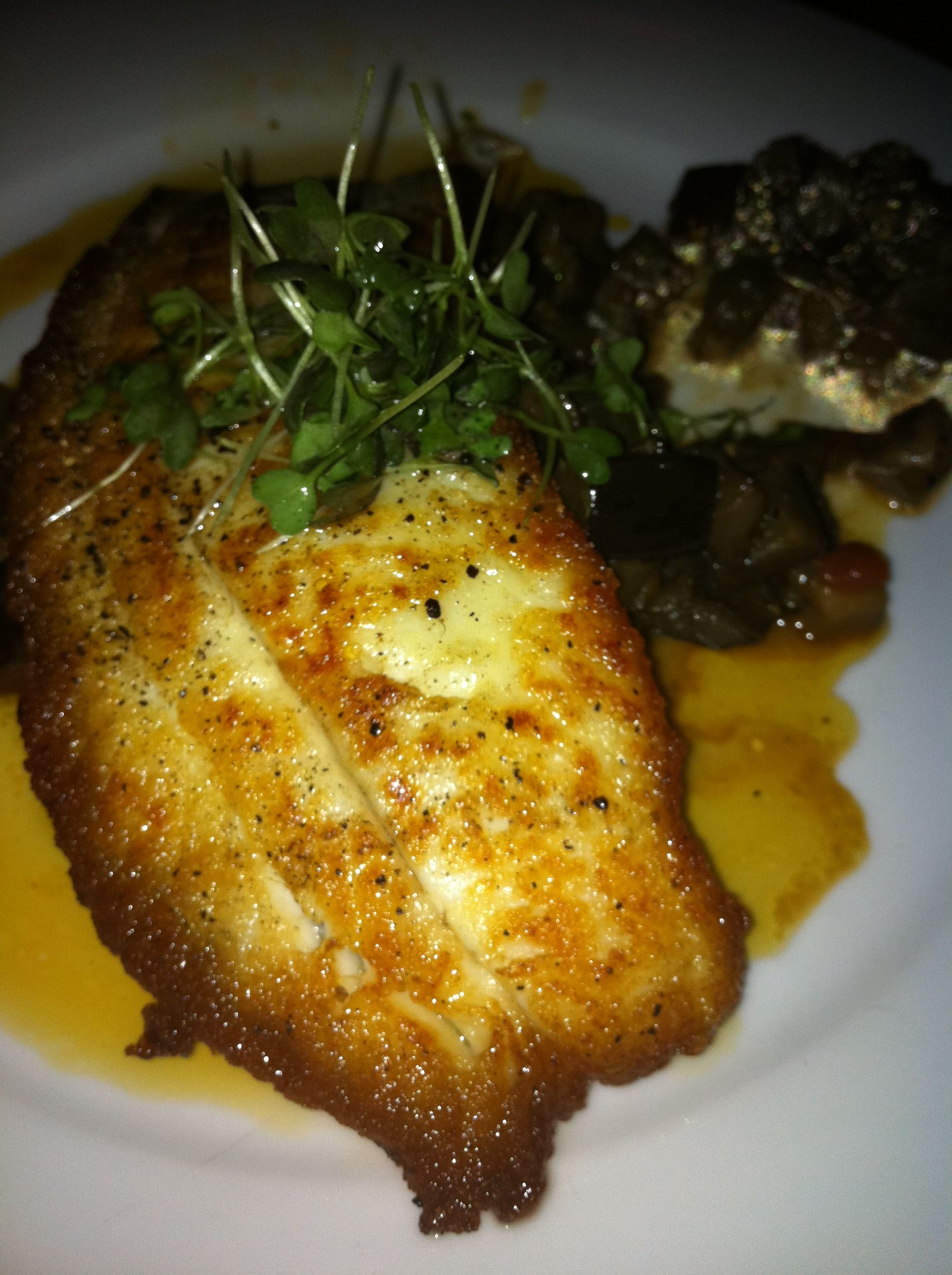 Sylvain
One evening a bunch of us crowded into the front tables of Sylvain. Located on Chartres, this eatery has classic Southern fare with a cosmopolitan twist. Their Ginger Ale featured housemade ginger syrup with pulp and a medium degree of heat at the finish. We ordered the Chili Roasted Almonds, which eventually made their way to our table (and made great airport snack leftovers the next day). We split the shaved brussels sprouts with apples, pecorino and hazelnuts. This salad was cool, crisp with flavors that worked symbiotically. We also tried the Heirloom tomato salad with ricotta salata, maras farms sprouts and basil vinaigrette and for a main dish tried their fish special of flounder with sautéed eggplant and kale. Sylvain made for a fun Saturday night out with friends.

Johnny's Po' Boy
When hankering for a po'boy, Johnny's will do you right. Walking in with a menu board boasting at least 12 variations of a po'boy is a good sign indeed and underscored his saying that "even my failures are edible." This quick casual eatery gives you a lot of food for the money. I ordered the shrimp po'boy and sidled up to the counter along the side of the room flanked with mirrors. It gave an illusion to a larger space, but this popular joint was packed to the gills and I got cozy with my counter-mates. The po'boy was huge and perfect for sharing. My po'boy was fully dressed in a soft roll almost bouncy to the touch- a nice detail. The shrimp battered in a spiced breadcrumb mixture that tasted just right with Crystal hot sauce dribbled atop. A sign on the wall boasts that their muffaletta is particularly good, fair warning for my next trip.
Palace Cafe
Wandering up Canal Street on a Sunday, I felt drawn in to check out the Palace Café, knowing it was part of the Brennan group. It holds an old world swagger that's modernized. Without putting a finger on it, you could tell this restaurant is part of a local chain in the same way you can tell with Kuleto's restaurants in San Francisco. This morning a roving jazz trio worked their way around the large dining room, serenading patrons. When they got to my table, they began chatting with me about where I was visiting from and soon after they began playing "I left my heart in San Francisco". At the suggestion of the bartender, I ordered their signature dish, a Crabmeat Cheesecake, baked in a pecan crust with a wild mushroom sauce and Creole meunière. He described it as a quiche, but I would go one step further and say it's more crab than custard. The pecan crust was delicate with good crumb and the mushroom sauce with its savory umami flavors made the dish. A few bites is all you need… Onto sweeter territory, I ordered a serving of Bananas Foster Beignets, drawn in by the idea of banana beignets. These small doughnut-like pockets came drenched in a classic bananas foster sauce of brown sugar, butter, rum, cinnamon and banana liquor. These small pockets of dough were a real sweet treat, especially since I knew this trip did not include a visit to Brennan's for their eponymous dessert the Bananas Foster. If you're looking for charm and a restaurant with an old feel, keep looking. But if you're looking for good food, head to the Palace for brunch and order a Rum Milk Punch.